What to Know in Washington: Biden Promises Bank Accountability
Bloomberg Government subscribers get the stories like this first. Act now and gain unlimited access to everything you need to know. Learn more.
President Joe Biden said that he ordered the Treasury Department and his economic advisers to address the failures of Silicon Valley Bank and Signature Bank, adding that those responsible will be held accountable.
"I am firmly committed to holding those responsible for this mess fully accountable and to continuing our efforts to strengthen oversight and regulation of larger banks so that we are not in this position again," Biden said in a statement Sunday.
The president said that he will be delivering remarks this morning to outline measures his administration is taking to bolster the banking system. Signature Bank was closed by New York state financial regulators Sunday in a shocking third banking collapse in a week, after the failure of fellow crypto-friendly bank Silvergate Capital and the seizure of SVB Financial Group's Silicon Valley Bank.
Members of Congress were briefed Sunday night on the administration's actions, according to a person familiar with the meeting.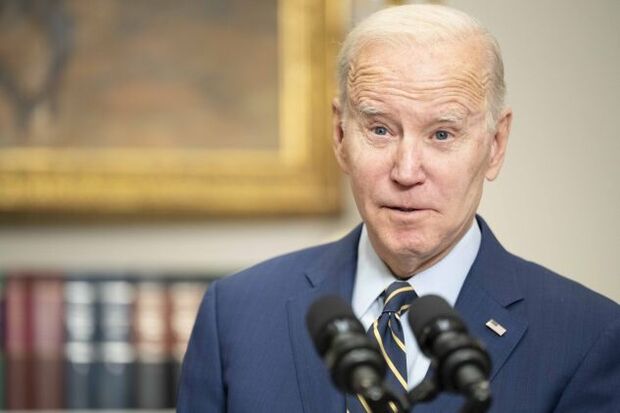 Biden's statement Sunday came after Treasury, the Federal Reserve and Federal Deposit Insurance Corp. jointly announced efforts to strengthen confidence in the banking system after SVB's failure spurred concern about spillover effects.
SVB depositors "will have access to all of their money starting Monday, March 13," the government said in a statement, pledging that taxpayers won't be responsible for any losses associated with SVB's resolution.
The government also said all depositors at Signature Bank will also have access to their money on Monday.
Biden reiterated that Americans should remain confident in the banking system. "The American people and American businesses can have confidence that their bank deposits will be there when they need them," he said. Akayla Gardner has more.
US authorities took extraordinary measures to shore up confidence in the financial system, introducing a new backstop for banks that Federal Reserve officials said was big enough to protect the entire nation's deposits. Read more
Barney Frank — the former congressman known for the Dodd-Frank Act, which overhauled US banking regulation to prevent another global financial crisis — said there was one thing lawmakers and regulators didn't reckon with back in 2008: cryptocurrencies. Signature Bank was closed Sunday after the failure of fellow crypto-friendly bank Silvergate Capital last week.
Signature Bank Closure Deals Another Blow to Crypto Industry
Frank himself is a board member at Signature Bank, which had been pulling back from digital assets, and he said clients may have overestimated Signature's exposure to crypto.
In 2018 — a decade after a crisis that nearly brought down the global financial system — then-President Donald Trump signed the Economic Growth, Regulatory Relief, and Consumer Protection Act into law. It freed up mid-sized firms like SVB from some of the strictest post-crisis regulations and cut their compliance costs.
More than a dozen Democratic senators joined Republicans in backing the measure.
Fast forward five years: three regional banks have collapsed in the past week and some are arguing that the lighter touch that SVB and others wanted so badly actually hastened their demise.
US taxpayers shouldn't bail out Silicon Valley Bank, Republican presidential candidate

Nikki Haley

said in a statement. Read more
Also on Lawmakers' Radars
CONGRESS' SCHEDULE
The House is in a district work period with no votes scheduled.
The Senate returns tomorrow.
Lawmakers warned Treasury Secretary Janet Yellen against sidestepping Congress in striking deals with allies on so-called critical minerals used in electric vehicles that would allow them to qualify for benefits in a massive new US green-investment plan.
The warning came as the US and European Union are seeking a preliminary agreement on the supply of critical minerals, a step toward Washington's efforts to reduce the global reliance on China for materials necessary for green-energy technologies. Read more
On Friday, a top adviser to Senate Minority Leader Mitch McConnell (R-Ky.) said the seventh-term Kentucky lawmaker is "doing well" and hopes to be released soon from a Washington-area hospital where he's being treated for a concussion.
Elections, Politics & Probes
If New York Democrats had won in House districts that preferred Biden for president, they'd still control Congress. Instead, Republicans run the House.
Michael Cohen, Trump's former personal lawyer and fixer, is expected to testify Monday before a grand jury weighing whether the former president should be criminally charged over his role in hush money payments to a porn star during his 2016 campaign, according to a person familiar with the matter.
Florida Governor Ron DeSantis sent his strongest signal yet that he's barreling toward a widely-expected 2024 presidential bid with his first visit to Iowa just as a state poll showed that he's neck-and-neck with Trump in terms of favorability among Iowa's Republican voters.
Meanwhile advisers to DeSantis are talking to Republican operatives about joining his team to work in Iowa. Read more
Former Vice President Mike Pence offered his sharpest criticism to date of Trump, holding his former boss responsible for the Capitol insurrection in early 2021 as he teased his own White House ambitions for 2024.
Former US Congressman Stephen Buyer (R) from Indiana was convicted Friday in New York of insider trading for making hundreds of thousands of dollars using confidential information he learned about two potential mergers through his consulting business.
Around the Administration
BIDEN'S AGENDA
At 8 a.m., Biden is scheduled to give a speech at the White House on maintaining resiliency in the banking system.
The president then travels to San Diego, California, and at 1:30 p.m. PDT participates in a trilateral meeting with Prime Minister Anthony Albanese of Australia and Prime Minister Rishi Sunak of the United Kingdom.
At 2 p.m. PDT, Biden will deliver remarks on the AUKUS Partnership, named after the three countries. Biden then holds two bilateral meetings: one with Sunak at 2:45 p.m. PDT, and one with Albanese at 4 p.m. PDT.
The president at 6:45 p.m. PDT participates in a Democratic National Committee reception in Del Mar, California, before returning to San Diego.
The leaders of the US, Australia and the UK will announce plans for a new fleet of nuclear-powered submarines Monday as they deepen the Aukus defense partnership aimed at countering China in the Pacific. Upgrading Australia's aging sub fleet is a lynchpin of that effort.
Meanwhile, Biden will be formally invited to the UK to mark 25 years since the signing of the Good Friday peace agreement, Prime Minister

Rishi Sunak

said, as he traveled to meet the US president in San Diego. Read more
Biden is limiting oil leasing in Arctic waters and sensitive areas of Alaska, taking steps to expand conservation as his administration prepares to approve a mammoth ConocoPhillips oil development in the region.
The Biden administration is working to further tighten restrictions on the export of semiconductor manufacturing gear to China, escalating rules aimed at preventing the country from developing an advanced chip industry.
The Pentagon's $170 billion procurement request for the new fiscal year focuses on replacing munitions supplied to Ukraine as well as well as weapons like long-range missiles, which would be necessary in a conflict with China, according to an internal budget document.
The US president's plane is getting a new paint job — and it looks a lot like the old one.
A growing number of long Covid sufferers have turned to the courts to fight for disability benefits after being turned down by Social Security or insurance companies.
To contact the reporter on this story: Michaela Ross in Washington at mross@bgov.com
To contact the editor responsible for this story: Brandon Lee at blee@bgov.com
Stay informed with more news like this – from the largest team of reporters on Capitol Hill – subscribe to Bloomberg Government today. Learn more.