What to Know in Washington: Biden Presses Putin, Not Wider War
Biden seeks to walk fine line, pressuring Putin without escalating war
Jan. 6 panel says emails indicate Trump committed crimes after election
The steady drumbeat of retaliatory actions against Russia for its invasion of Ukraine comes with some U.S. signaling that it doesn't want the crisis to spiral out of control.
The U.S. and European allies have led efforts to sanction Russian banks, target politically connected oligarchs, bolster Ukraine's defenses and rally international opinion against President Vladimir Putin's war. But the Biden administration has also held off in responding to what it sees as overt provocations from Moscow meant to inflame tensions further.
In the days after Putin announced on national television that Russia's nuclear arsenal was on a "special regime of high-alert combat duty," U.S. officials repeatedly said they saw little to justify a response. And the Biden administration went a step further yesterday, postponing a Minuteman-III intercontinental ballistic missile test planned for this week. Defense Secretary Lloyd Austin ordered the delay "in an effort to demonstrate that we have no intention in engaging in any actions that could be misunderstood or misconstrued," Pentagon spokesman John Kirby said.
Similarly, the administration has avoided potentially provocative rhetoric such as talking about regime change in Russia and has hesitated at times to confirm details of weapons shipments to Ukraine, such as its delivery of Stinger anti-aircraft missiles.
Several U.S. officials who spoke to Bloomberg News on the condition of anonymity said the approach reflected the Biden administration's desire to inflict economic pain on Putin while avoiding unnecessary risks with a nuclear-armed adversary. The caution was particularly important, the people said, as Putin faces increasing international isolation, as well as military setbacks in Ukraine. Read more from Peter Martin and Jennifer Jacobs.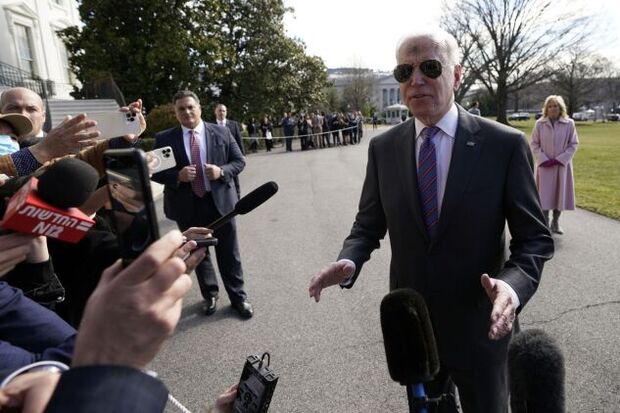 But while the sanctions the U.S. and Europe are slapping on Russia are unprecedented in scope, some experts wonder if these powers have made clear what actually needs to happen to get those restrictions lifted.
With each day bringing new punishments—against Russia's central bank, the airline sector, and more—Biden's focus has been on inflicting as much pain as possible and slowing Russia's invasion of Ukraine. The broad reach of the measures, and the coordination among the U.S. and other powers, has also demonstrated the international community's united anger at the invasion of the sovereign country. But there's concern that the administration isn't thinking hard enough about how to bring the conflict to an end. Read more from Nick Wadhams.
With a naval fleet reported near the Ukrainian city of Odesa and the city of Kherson taken, it's increasingly clear that Russia's invasion is gaining pace in the country's open and hard-to-defend coastal plains, even as its advance is slowed in the north. Along with Russia's shift to more aggressive artillery and aerial attacks on urban centers, that is tempering optimism over Ukraine's ability to sustain its so far effective organized resistance against a superior force. Marc Champion has the latest on the battle.
BIDEN'S SCHEDULE:
Biden will hold a secure video call at 9 a.m. with leaders of the Quadrilateral Security Dialogue, or Quad, to discuss the war against Ukraine and its implications for the Indo-Pacific. Australia Prime Minister Scott Morrison, India Prime Minister Narendra Modi, and Japan Prime Minister Kishida Fumio will participate.
Press Secretary Jen Psaki will hold a press briefing at 1 p.m.
Biden will convene a meeting at 2 p.m. with Vice President Kamala Harris and members of his cabinet.
At 5 p.m. Biden, Harris, Attorney General Merrick Garland, and Labor Secretary Marty Walsh will sign a bill passed by Congress last month to bar enforcement of agreements that require arbitration or ban class actions in cases involving sexual assault or harassment.
Panel Cites Evidence Trump Committed Crimes
Donald Trump adviser John Eastman's emails may have evidence the former president and his associates committed crimes in attempting to prevent Congress from certifying the 2020 election results, a House committee investigating the Jan. 6 insurrection said in a court filing. It's the first public signal that the committee is looking into criminal activity by those within Trump's inner circle.
The committee says the emails may contain evidence of obstruction of an official proceeding—a felony that carries a maximum sentence of 20 years in prison—a conspiracy to defraud the U.S. and common law fraud. "Evidence and information available to the committee establishes a good-faith belief that Mr. Trump and others may have engaged in criminal and/or fraudulent acts, and that plaintiff's legal assistance was used in furtherance of those activities," the committee said in a filing yesterday in federal court in Santa Ana, Calif.
Eastman sued to block the release of emails the committee is seeking, citing attorney-client and attorney work-product privileges. "Like all attorneys Dr. John Eastman has a responsibility to protect client confidences, even at great personal risk and expense," Eastman's lawyer Charles Burnham said in an emailed statement. "The Select Committee has responded to Dr. Eastman's efforts to discharge this responsibility by accusing him of criminal conduct. Because this is a civil matter, Dr. Eastman will not have the benefit of the Constitutional protections normally afforded to those accused by their government of criminal conduct. Nonetheless, we look forward to responding in due course." Read more from Billy House and Joe Schneider.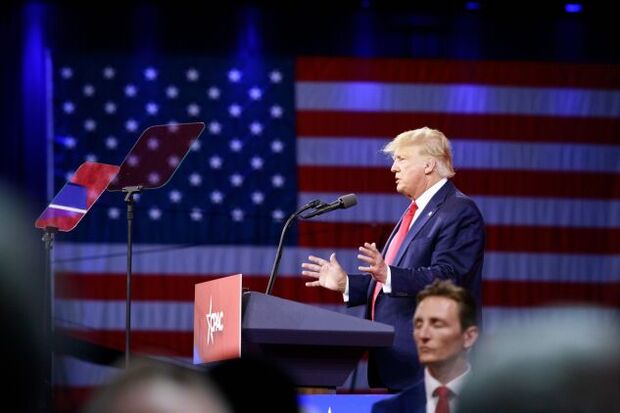 A U.S. national security official who said she was forced out during the Trump administration has been rehired by the Biden White House, according to people familiar with the matter. Ellen Knight was responsible for reviewing former National Security Adviser John Bolton's tell-all book on Trump for classified or sensitive information before its publication. She has said she was forced out of the National Security Council in 2020. She has been rehired as senior director for records access management, a spokeswoman for Biden's NSC said yesterday. Read more from Jennifer Jacobs.
Powell Fights Inflation With Rate Hikes
Federal Reserve Chair Jerome Powell is making the fight against inflation his top priority over the risks from Russia's invasion of Ukraine, backing a quarter-point interest-rate rise later this month.
In over three hours of testimony yesterday, Powell was peppered with questions about prices from lawmakers with constituents worried by the rising cost of living. The Fed chair suggested that if inflation doesn't start to ease, the central bank may have to get tough.
"I am inclined to propose and support a 25 basis-point rate hike" later this month, Powell told the House Financial Services Committee. "To the extent that inflation comes in higher or is more persistently high than that, then we would be prepared to move more aggressively by raising the federal funds rate by more than 25 basis points at a meeting or meetings." Powell will appear before the Senate Banking Committee at 10 a.m. today. Read more from Craig Torres and Steve Matthews.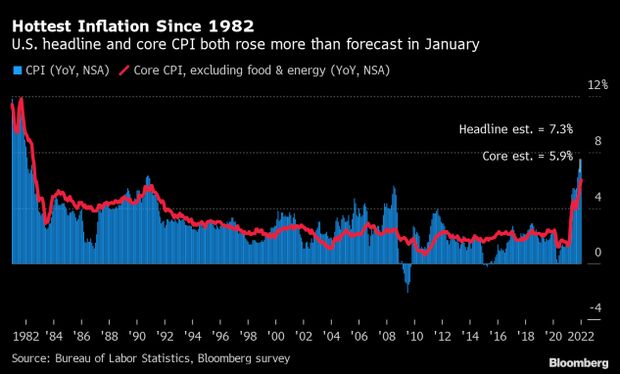 Biden declared Tuesday that the state of the union is strong. In his hometown of Scranton, Pa., the view is gloomier. The city looks like a success story. It's experienced a recent economic turnaround thanks in part to the growth of e-commerce outfits like Amazon and Chewy, a pet supplies company with a distribution center in the area. Yet locals say something about the nation doesn't work any more—inflation is soaring, wages aren't keeping up, labor shortages appear everywhere, government is dysfunctional, and the American dream seems just out of reach. Josh Wingrove checks in on how Biden's home town is faring under the president.
Meanwhile, one in three small businesses now say inflation is the biggest challenge facing the U.S. small business community, up from about one in four last quarter, according to a survey released today. To cope with rising costs, about two thirds of respondents reported raising prices over the past year, data from the MetLife & U.S. Chamber of Commerce Small Business Index survey showed. Four in 10 owners cited decreasing staff while some 39% reported taking out a loan in response to growing price pressures. Read more from Reade Pickert.
Happening on the Hill
CONGRESSIONAL SCHEDULE:
The House returns at 9 a.m. to vote on expanding VA benefits for toxic burn pit exposure.
The Senate is back at 10 a.m. for a vote to end the national Covid-19 emergency.
Republicans succeeded anew in voting to block a federal coronavirus vaccine requirement, but found there were limits to their pressure campaign against the mandates. No Democrats joined Republicans to oppose the vaccine mandate for health care workers, unlike a similar resolution in December. The measure to disapprove of the mandate under the Congressional Review Act was passed 49-44 yesterday, with six Democrats missing the vote. Read more from Alex Ruoff.
Advocates of helping farmers and ranchers fight the effects of climate change want Congress to invest $2.3 billion over five years in a "soil carbon moonshot," spying the next round of agriculture negotiations as a potential vehicle for the plan. As Congress readies the 2023 farm bill, lawmakers including Rep. Scott Peters (D-Calif.), and the climate-focused group Carbon180, are pushing for a coordinated, interagency program housed at the Agriculture Department to advance soil carbon research, education, and technical assistance efforts. Carbon180 unveiled recommendations today for policymakers and the administration to boost the agricultural sector's role in addressing climate change. Read more from Kellie Lunney.
Sen. Tim Kaine has battled the effects of Long Covid, and yesterday introduced legislation to help other Americans struggling with the same illness. Kaine (D-Va.) was diagnosed with Covid-19 nearly two years ago, but still suffers from moderate symptoms. And he's not alone. Thousands, potentially millions, of Americans have continued to cope with health concerns long after infection. The bill, co-sponsored by Sens. Tammy Duckworth (D-Ill.) and Ed Markey (D-Mass.) aims to expand long Covid research and improve access to treatment. Read more from Madison Muller.
The Biden administration is committed to expanding the Trump-era "Remain in Mexico" border program even as it opposes the policy, officials told a House panel yesterday. The Department of Homeland Security enrolled roughly 13 border-crossers per day in the program in January, while encountering some 5,000 migrants per day overall that month. Those placed in the program, formally known as the Migrant Protection Protocols, must wait in Mexico while U.S. officials review their cases for entry. Read more from Ellen Gilmer.
Congressional staff members who are seeking to unionize would run into some restrictions along the way, even with the backing of Democratic leaders, according to a representative of the office that would oversee the process. "The bread-and-butter issues really cannot be bargained," John Uelmen, the general counsel for the Office of Congressional Workplace Rights, told members of the House Administration Committee at a hearing yesterday. Read more from Emily Wilkins.
To contact the reporters on this story: Zachary Sherwood in Washington at zsherwood@bgov.com; Brandon Lee in Washington at blee@bgov.com
To contact the editors responsible for this story: Giuseppe Macri at gmacri@bgov.com; Loren Duggan at lduggan@bgov.com; Michaela Ross at mross@bgov.com