What to Know in Washington: Biden Presses Congress on Chips Bill
Biden backs bill to bolster competition with China
Senators visit Taiwan, warn China over Russia support
President Joe Biden called on Congress to pass legislation aimed at making the U.S. more competitive with China with provisions including $52 billion to bolster chip manufacturing.
"Congress needs to get this bill to my desk as quickly as possible," Biden said during a speech at North Carolina Agricultural and Technical State University in Greensboro, the nation's largest historically Black college and university. "Our economic strength is on the line and national security, as well, is on the line," Biden, who toured a robotics lab while on the HBCU campus, added.
The president highlighted his domestic manufacturing strategy and how Greensboro's economy could benefit from the passage of the Bipartisan Innovation Act. Lawmakers are hashing out differences between the Senate- and House-passed versions of the measure as the legislative window rapidly closes ahead of the November midterms.
A global shortage of semiconductors has caused major production delays and disruptions for sectors like autos and consumer electronics. "Other countries are racing ahead, but we can't afford to wait," Biden said. The measure Biden touted also includes provisions aimed at jump-starting innovation and bringing key industries back to the U.S. amid the global supply-chain crunch.
The North Carolina trip is Biden's second trip this week aimed at highlighting his domestic economic agenda amid inflation that's surged to the highest level in four decades. Biden once again on Thursday blamed Russian President Vladimir Putin's invasion of Ukraine for inflation that's now running at its highest in four decades—propelled by surging gas and food prices. Administration officials have frequently pointed to the innovation bill as way to ease inflationary pressures for items including used cars.
But the package has attracted opposition from conservatives and progressives alike, who take issue with its favorable treatment of companies seeking to invest in U.S. manufacturing. Sen. Ron Johnson (R-Wis.) questioned why the U.S. would create a new "industrial policy" where the government would invest in semiconductor manufacturing rather than simply slapping tariffs on goods from countries that subsidize their chip-producing sectors. Sen. Bernie Sanders (I-Vt.) decried the bill as "corporate welfare." Read more from Jenny Leonard and Jordan Fabian.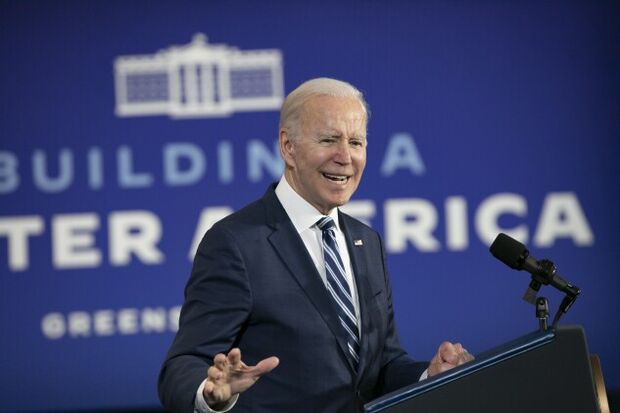 The Invasion of Ukraine
A group of senior U.S. senators delivered a message of support for Taiwan during a visit Friday, a move that China answered with a display of military force. Members of the delegation, including Sen. Lindsey Graham (R-S.C.), told China that the U.S. will start making Beijing pay a higher price for bullying Taiwan and supporting Vladimir Putin's war in Ukraine. Read more from Cindy Wang and Samson Ellis.
Four senators called on Biden to immediately appoint a Ukraine Security Assistance Coordinator. The bipartisan letter from Sens. Rob Portman (R-Ohio), Jeanne Shaheen (D-N.H.), Roger Wicker (R-Miss.), and Dick Durbin (D-Ill.) says the coordinator would would help to synchronize efforts within the U.S. government and improve response times in sending U.S. aid to Europe. Additionally, "this coordinator would be able to serve as a liaison to our domestic industry partners," they said, Lauren Dezenski reports.
A Senate Democrat said Americans will "struggle with maintaining focus and attention" on the war in Ukraine ahead of the November midterms. Sen. Chris Coons (D-Del.), a Foreign Relations Committee member, said he was "very troubled" by recent polling in which Ukraine "doesn't make the top five" of most pressing concerns for most Americans, who are more worried about inflation, the economy, the pandemic, crime, and the Mexican border. Read more.
The loss of the flagship vessel of Russia's Black Sea Fleet goes beyond wounded pride, robbing the military of important protection and capabilities as the war in Ukraine enters a crucial phase for Moscow. Ukraine said the ship was struck by two Neptune missiles, a new domestically developed anti-ship system of which just one battery exists. Russia's Defense Ministry claimed a blaze caused the warship's ammunition store to explode, without saying what started the fire. The ship then sank during its trip back to port, Russian news agencies reported late Thursday. Read more from Marc Champion.
Three Russian government officials were charged with conspiring to affect U.S. policy towards Russia with staged events and propaganda—including efforts to influence members of Congress. An indictment against Aleksandr Babakov, deputy chairman of the state Duma, Russia's lower legislative body, and two members of his staff was unsealed Thursday in Manhattan federal court. Babakov, Aleksandr Vorobev and Mikhail Plisyuk were accused of trying to influence members of Congress and others to advance Russia's interests, with one unidentified lawmaker being offered a free trip to Crimea in 2017. Chris Dolmestch has more.
Also on Lawmakers' Radars
The Biden administration's move to terminate Title 42, the pandemic-related border expulsion program, is continuing to spur turmoil on the Hill as Republicans push Democrats to hold hearings on the issue. Republicans on the Senate Judiciary Committee on Thursday called on Chairman Dick Durbin (D-Ill.) to call Homeland Security Department officials before the panel to answer questions on how they will manage an anticipated increase in arrivals.
A Judiciary spokeperson pushed back on the demands, touting a series of oversight hearings the panel held over the past year and arguing the committee ignored its oversight duties under Republican leadership during the Trump administration. Durbin said he's eager to work with Republicans on good faith, bipartisan immigration legislation, the spokesperson said. The Senate Homeland Security and Governmental Affairs Committee, where Republicans also pushed for a hearing on Title 42, will have a border security hearing in the coming weeks, Ellen M. Gilmer reports. Read the letter here.
House lawmakers have launched an investigation into ID.me, an identity verification contractor, according to a Washington Post report that cites a letter they sent to the company's CEO, Blake Hall. Lawmakers requested the company turn over records detailing its contracts with federal, state, and local governments. House Oversight and Reform Chair Carolyn Maloney (D-N.Y.) said in a statement that she hopes the probe leads to "more transparency and accountability" in the government's facial recognition usage, the Post reports. Read more.
A trio of top Senate Democrats want federal regulators to review student loan servicers' reported mishandling of a repayment program, the income-driven repayment program, according to a letter on Thursday. Senate Banking Chairman Sherrod Brown (D-Ohio), and Sens. Elizabeth Warren (D-Mass.) and Dick Durbin (D-Ill.), cited an NPR report that found the IDR program "is riddled with problems and mismanagement, even worse than the public previously understood, resulting in millions of borrowers becoming unable to obtain debt cancellation," Brianna Jackson reports. Read the letter here.
A bill establishing a federal standard for cannabis legalization and regulation is on track to be introduced before the August recess, according to Senate Majority Leader Chuck Schumer (D-N.Y.), Senate Finance Committee Chair Ron Wyden (D-Ore.) and Sen. Cory Booker (D-N.J.), Lauren Dezenski reports.
What's Next for Congress—BGOV Webinar: Join our webinar for insights on the key policy items Congress plans to tackle as it returns from its spring recess. Bloomberg Government's analysts will discuss what House and Senate leaders plan to prioritize for the remainder of the year, with an eye on what can be accomplished before the midterm elections or possibly left to a lame-duck session. They'll talk about the latest on bills to bolster U.S. manufacturing to compete with China, proposals to reauthorize key programs that committees are exploring, and whether there's any chance for a budget reconciliation. Register here.
Elections, Politics & Probes
Republicans who say big tech companies unfairly censor conservative views online are embracing Tesla CEO Elon Musk's push to buy Twitter. "Twitter's censors are freaking out about Elon Musk because they can't buy his silence," said Sen. Marsha Blackburn (R-Tenn.) in a tweet. "It's clear big tech can't handle people with a different viewpoint." Republicans were outraged by Twitter's and Facebook's decisions in 2020 to block access to a New York Post report detailing files found in Hunter Biden's laptop after it was abandoned in a repair shop, for example.
Musk in an April 13 letter to the chairman of Twitter's independent board, Bret Taylor, said he invested in Twitter because he believes in its potential "to be the platform for free speech around the globe." House Judiciary Committee ranking member Jim Jordan (R-Ohio) on Fox Business said he supported Musk's move to buy Twitter because Musk supports the First Amendment, while Rep. Ken Buck (R-Colo.), referred to Musk as a "benevolent billionaire" and claimed on Newsmax that Facebook has a vested interest in preventing Musk from transforming Twitter into a platform for free speech, Maria Curi reports.
Musk expressed doubt about whether he'll succeed with his $43 billion offer to buy Twitter in his first public remarks about the blockbuster deal. "I am not sure that I will actually be able to acquire it," the billionaire entrepreneur said on Thursday at a TED event in Vancouver. Musk said he has a Plan B if Twitter rejects his offer, without offering more details. Dana Hull, Ed Ludlow and Sean O'Kane have more.
Several vulnerable Democratic incumbent senators are raking in huge sums for their re-election campaigns, led by Georgia's Raphael Warnock,who's on pace to bring in a record first-quarter haul. They're using those funds to buy and reserve TV time at the lowest unit rate amid an expected sea of outside group spending. Warnock raised $13.6 million from January through March and had $25.6 million in cash, his campaign announced Thursday ahead of a Friday deadline for filing fundraising reports for the first quarter. Read more from Kenneth P. Doyle.
Donald Trump's endorsement of talk-show host Mehmet Oz in Pennsylvania's Republican Senate primary has deepened GOP angst over whether the former president's picks can win a statewide general election. Republicans aiming for a rout in November are anxious Trump is backing candidates who appeal only to party faithful. The fear is that in a general election, when candidates must compete for moderates and independents, a Trump seal of approval will be a negative. Mario Parker and Mark Niquette have more.
Republicans would probably gain four more seats in Congress—perhaps enough to oust Speaker Nancy Pelosi (D-Calif.) and her party from control — under a new district map put forward by Gov. Ron DeSantis. It's an aggressive gerrymander that includes 20 districts that went for Donald Trump in the 2020 presidential election and leaves eight districts that favored Joe Biden. That map on its own would be enough to offset any advantage the Democrats would gain if their New York configuration continues to survive court challenges. Read more from Greg Giroux and Jennifer Kay.
Texas Gov. Greg Abbott's bid to combat illegal immigration by ramping up truck inspections at the border risks a backlash at the ballot box if the delays continue to disrupt shipments of goods to retailers. Abbott, a Republican who is up for re-election on Nov. 8, has already come under criticism from his Democratic rival, business groups and even the state agriculture commissioner, a fellow member of the GOP. They argue that his order to require safety inspections on all trucks that cross from Mexico is doing nothing to deter illegal immigration, and is wrecking havoc on cross-border commerce. Shelley Hagan has more.
DeSantis signed a bill that bans abortions after 15 weeks of pregnancy, as other states including Texas and Oklahoma restrict access ahead of a pivotal Supreme Court decision. The bill was cleared by the state legislature last month and effectively reduces the window from the current 24 weeks. Though the law leaves a few exceptions for medical emergencies, the Florida Senate had previously rejected amendments that would have let women terminate pregnancies even resulting from rape or incest. Nathan Crooks has more.
Around the Administration
Biden will nominate Michael Barr, a Treasury Department veteran and one of the architects of the Dodd-Frank Act of 2010, as the U.S. Federal Reserve's chief banking supervisor. "Michael brings the expertise and experience necessary for this important position at a critical time for our economy and families across the country," Biden said in a statement released Friday by the White House. Barr's nomination as vice chair for supervision of the Fed must be approved by the Senate. Nancy Cook has the latest.
The Biden administration will send funds to states to improve how they screen applicants for unemployment payments, after fraud prevention software incorrectly blocked jobless Americans from getting checks in the pandemic. The initiative, highlighted Thursday and outlined by the Labor Department in August 2021, is part of a broader plan to improve how federal agencies serve marginalized groups, including poor Americans, people of color, and those with disabilities. Dozens of states held up Americans' checks because officials couldn't verify their identities—leaving jobless applicants without promised income to stay afloat. Read more from Courtney Rozen.
The U.S. is probing TikTok over how it handles child sexual abuse content, Financial Times reports, citing people familiar. The Department of Homeland Security is investigating how TikTok handles such material, two people said, while one person said the Department of Justice is looking into how a specific privacy feature on the app is being exploited by predators. TikTok is a perfect place for predators to meet and engage with children, Erin Burke, division chief of the child exploitation investigations unit at the Homeland Security Department's cyber crime division, told Financial Times. Read more.
The U.S.'s top antitrust enforcer, who flew from D.C. to Denver at the behest of a skeptical judge, struggled to convince the court that the Justice Department will be successful in its third trial over charges of collusion in the chicken industry. "We know that the evidence couldn't persuade 12 people," U.S. District Judge Philip Brimmer said during a contentious hearing Thursday, referring to previous mistrials in the case. "We've seen it happen twice." Jonathan Kanter, head of the U.S. Justice Department's antitrust division, insisted that the government's case this time around will be stronger, Bob Van Voris reports.
Federal Reserve policy makers and researchers who have been puzzled by the slow return of U.S. workers to the labor force during the Covid-19 pandemic may have found a new explanation: alcohol and drug abuse. Increased substance abuse accounts for between 9% and 26% of the decline in prime-age labor-force participation between February 2020 and June 2021, according to the study by Federal Reserve Bank of Atlanta researcher Karen Kopecky, Jeremy Greenwood of the University of Pennsylvania and Nezih Guner of the Universitat Autonoma de Barcelona. Read more from Steven Matthews.
With assistance from Ellen M. Gilmer, Maria Curi, and Brianna Jackson
To contact the reporter on this story: Brandon Lee in Washington at blee@bgov.com
To contact the editor responsible for this story: Giuseppe Macri at gmacri@bgov.com