What to Know in Washington: Biden Prepares Stimulus Victory Lap
President Joe Biden got his giant coronavirus relief bill. Now, he wants to make sure he gets credit.
The president will hold a ceremony tomorrow to sign his $1.9 trillion American Rescue Plan into law, kicking off a victory lap that aides and allies describe as a campaign to persuade the nation that he and fellow Democrats are responsible for preventing millions of Americans from enduring poverty and illness.
Biden, Vice President Kamala Harris and their spouses plan to fan out across the country and highlight Americans receiving stimulus checks and coronavirus vaccines, as well as businesses that have been able to stay afloat with government loans. That includes presidential travel Tuesday to suburban Philadelphia, where Biden is expected to tout the benefits of his bill.
At the same time, the White House is mobilizing a bipartisan coalition of state and local leaders, business groups, economists, and unions to urge their constituents to take advantage of the new federal aid. Cabinet members will also join the effort, targeting local media to call attention to the benefits for schools, vaccine distribution and food assistance, a White House official said.
And the administration is planning a series of theme days drawing attention to each of the 10 ways the bill will help Americans, from providing direct checks to Americans to providing support for small businesses and to reopen schools, White House deputy chief of staff Jen O'Malley Dillon said in a senior staff memo sent yesterday and obtained by Bloomberg News. Read more from Justin Sink and Jenny Leonard.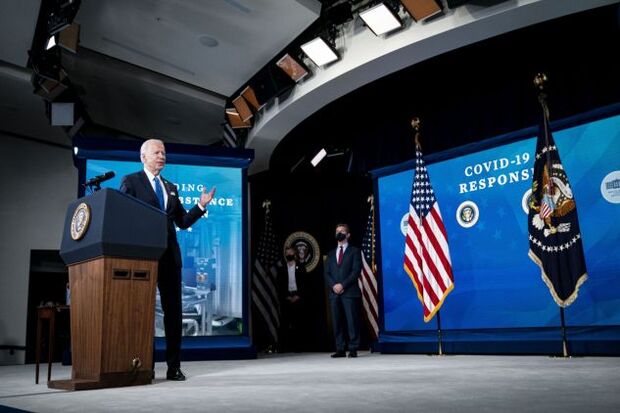 Republicans Tout Inflation Worries: Republicans are invoking the threat of inflation to attack Biden's spending plans. The strategy likely faces an uphill task to gain voter traction. Inflation has been subdued for decades, most economists expect it to stay that way, and there's little sign of public concern — even if gasoline prices have been rising. Read more from Mike Dorning and Christopher Condon.
White House Says Checks to Begin This Month: Households will begin receiving the $1,400 stimulus payments included in the pandemic-relief bill approved by Congress before the end of the month, the White House said. "The Treasury and IRS are working to ensure that we will be able to start getting payments out this month," it said in a posting. Agencies "are building on lessons learned from previous rounds of payments to increase the number of households that will get electronic payments," the White House post said. Read more from Laura Davison.
Most State Aid to California, Texas, New York: America's state and local governments are poised to receive a $360 billion lifeline from the bill, enough to virtually assure that budget cutbacks and public-worker layoffs won't weigh on the economic rebound. The states' fiscal recovery fund will guarantee at least $500 million for each and D.C. The bulk will be divvied up as needed, according to the share of unemployed workers in each state. Read more from Amanda Albright and Danielle Moran.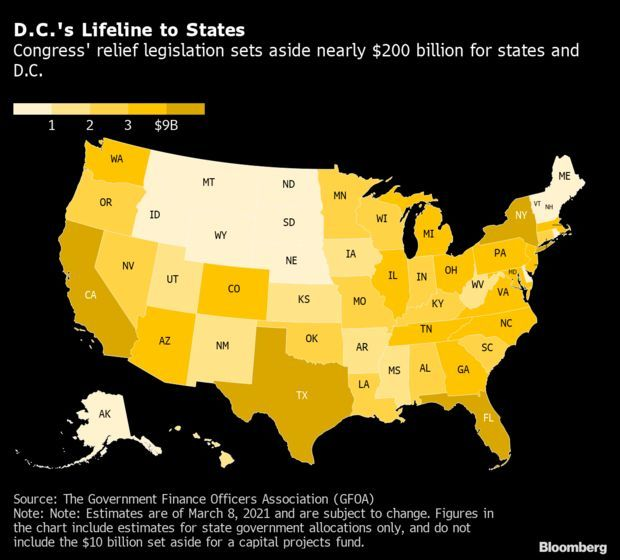 Happening on the Hill
Democrats Face Reconciliation Struggle on Highway Bill: Democrats will need GOP support for central parts of an infrastructure package, which can't pass through expedited procedures, analysts warn. The Biden administration and congressional Democrats have signaled they want to pursue bipartisan infrastructure legislation next, and haven't ruled out using reconciliation to do so. But reconciliation could make Biden's surface transportation agenda "look like Swiss cheese at the end because of things that will and will not fit," said Tori Gorman, policy director for the Concord Coalition, a nonpartisan group that focuses on the federal budget. Read more from Lillianna Byington.
Biden's $4 Trillion Industrial Policy Faces More Than Politics: Biden and his economic team are about to test whether Americans can accept a more interventionist role for government in the economy. Now that his relief plan has cleared Congress, Biden is gearing up to roll out a "Build Back Better" plan that envisions spending at least $4 trillion over 10 years on infrastructure and strategic industries such as semiconductors, renewable energy, and electric vehicles. He promises that government action will not just generate millions of jobs and help the U.S. compete with China but also reduce inequality and help battle climate change. Read more from Shawn Donnan.
McConnell Says Capitol Fence Evokes Afghanistan: Senate Minority Leader Mitch McConnell (R-Ky.) criticized the continued massive security presences in and around the U.S. Capitol since the Jan. 6 riot as an overreaction that doesn't match any threat. "I think we are way overreacting to the current need," McConnell said when asked about security measures. "It reminds me of my last visit to Kabul," he said of the tall fences erected around the Capitol grounds. Read more from Steven T. Dennis and Laura Litvan.
Newly confirmed Attorney General Merrick Garland will be briefed today by FBI Director Christopher Wray on the investigation into the Jan. 6 Capitol riot, the Justice Department said. Officials from the department's national security division will join the briefing, according to a statement late yesterday. Garland also will visit the U.S. Attorney's Office for the District of Columbia. That office is at the center of criminal cases arising from the assault on the Capitol by supporters of then-President Donald Trump. Read more from Chris Strohm.
Assembling the Biden Administration
Treasury Pick Quietly Starts Work to Rein In Wall Street: Nellie Liang, Biden's pick to serve as the Treasury's undersecretary for domestic finance, isn't waiting to be formally nominated before beginning the task of strengthening Wall Street oversight. Already working as an adviser to Secretary Janet Yellen, Liang has become the point person for cross-agency discussions on financial regulation and stability, according to more than half a dozen people familiar with the matter. That's an area where Democrats are keen to tighten rules after four years of deregulation under Trump. Read more from Christopher Condon, Saleha Mohsin and Jesse Hamilton.
Senate to Tee Up Becerra's Nomination: The Senate will tee up the nomination of California Attorney General Xavier Becerra to lead Biden's Department of Health and Human Services today. His nomination has so far seen only Democratic support, making him likely to be Biden's first Cabinet choice to be confirmed along party-line votes. The nomination will need four hours of debate and a majority vote for the chamber to bring it up for a final vote. Read more from Alex Ruoff and Laura Litvan.
The Senate today will hold a vote on the motion to invoke cloture, or limit debate, on the nomination of

Deb Haaland

to be secretary of the interior. A final confirmation vote on Haaland is expected next week due to opposition from some Republicans.
The Senate Energy and Natural Resources Committee plans to vote this morning on the nomination of David Turk to be deputy energy secretary.
The Senate Foreign Relations Committee will consider the nominations of Wendy Sherman to be the deputy secretary of state and Brian McKeon to be deputy secretary of state for management and resources.
Regan Confirmed to Lead EPA: The Senate confirmed Michael Regan as EPA administrator, putting the former North Carolina environmental chief in line to chart broad federal policies combating climate change and countering pollution. The Senate's 66-34 vote to make Regan the head of the Environmental Protection Agency reflects wide support from Democrats and concerns by some Republicans he would advance regulations that stifle economic growth as well as pollution. Read more from Jennifer A. Dlouhy.
Also Around the Administration
Biden Loads Up on Extra Shots, Fueling Vaccine Gap Worldwide: Biden has ordered almost enough Covid-19 vaccine to fully inoculate every American adult twice, expanding production as he faces both uncertainty about domestic needs and calls from shot-starved allies to share the U.S. supply. Biden announced yesterday that he'll double the U.S. order of Johnson & Johnson's single-dose vaccine to 200 million shots, after the company struck a deal last week with Merck to bolster production. "A lot can happen, a lot can change, and we need to be prepared," Biden said at the White House, praising the companies. Read more from Josh Wingrove and Riley Griffin.
Biden Weighing More Nord Stream 2 Sanctions: Biden is weighing additional sanctions to prevent the Nord Stream 2 pipeline project from being completed, Secretary of State Antony Blinken said yesterday. "We oppose, the president opposes Nord Stream 2," Blinken told the House Foreign Affairs Committee, adding the government is reviewing other possibilities for sanctions going forward. He said that work on the pipeline from Russia to Germany began in 2018 and is now 95% complete. Read more from Daniel Flatley.
Also from Blinken's testimony, the secretary dismissed as untrue reports that the South Korean government is sending $1 billion to Iran to resolve a dispute over sanctions. The report is "incorrect," he said in response to a question from Rep.

Greg Steube

(R-Fla.). "Unless, and until, Iran comes back into compliance, they won't be getting that relief, and the report you're referring to is simply incorrect." Flatley has more.
Military Emissions Eyed by Climate Working Group: The Pentagon has created a climate change working group that will oversee new efforts under the Biden administration to curb military energy consumption and emissions, an official said yesterday. The move by Defense Secretary Lloyd Austin brings the federal government's biggest energy consumer on board with a January executive order from Biden that required climate change to be factored into national security. Read more from Travis J. Tritten.
Biden Drops Defense of Trump 'Public Charge' Rule: The Justice Department told courts it will no longer defend a Trump administration rule that sought to withhold legal status from most immigrants who rely on government benefits. The "public charge" rule sought to deny green cards to migrants who used Medicaid, food stamps, housing vouchers, or other forms of government help. Groups that sued in 2019 said the rule effectively imposed a wealth test on immigrants, Bob Van Voris reports.
Biden Scraps Roadblock for Investments in ESG: The Biden administration is scuttling rules put in place during the last days of Trump's presidency that many fund managers viewed as a direct attack on socially responsible investing. A division of the Labor Department announced yesterday that it wouldn't enforce regulations approved last year by the Trump administration that required pension funds and 401(k) plans to put economic interests ahead of other goals. Read more from Jeff Kearns.
Biden Sanctions Myanmar Coup Leader's Children, Their Businesses: The U.S. sanctioned the adult children of Myanmar coup leader Min Aung Hlaing along with their business holdings, saying they "have directly benefited from their father's position and malign influence." The U.S. Treasury Department put the children — Aung Pyae Sone, 36, and Khin Thiri Thet Mon, 39 — on a list that prohibits American citizens from doing business with them or their six businesses. Their operations include a restaurant, gyms, a gallery, and a media production business. Read more.
U.S., China Clash Over How to Describe Crucial First Meeting: The U.S. and China laid out differing expectations for a key first meeting next week, showing the domestic pressure on both sides to avoid looking weak while reopening relations. The encounter between Secretary Blinken and National Security Advisor Jake Sullivan and their Chinese counterparts in Alaska would represent the highest-level meeting between the two sides since Biden took office. But the two sides quickly disagreed over whether the exchange was a "strategic dialogue," a reference to regular talks that fell apart under Trump. Read more.
Politics & Influence
Democrats End Blacklist Invites, Prompting Joy and Skepticism: Progressive lawmakers and campaign consultants claimed victory after the House Democrats' campaign arm reversed a formal ban on working with firms linked to incumbent primary challengers, but some acknowledged the move may be more symbolic than substantive. There may be reason for skepticism. Ian Russell, a Democratic consultant who served as a top operative at the DCCC in the 2014 and 2016 elections, said he's doubtful there will be much of a practical effect. There was no formal ban at the DCCC when Russell was there, but the committee was cognizant of firms' client rosters. Read more from Emily Wilkins and Greg Giroux.
Corporations Weigh Criteria for Political Donations: Employees and shareholders are poised to have more influence over how dollars flow from business political action committees, as corporations and trade associations re-examine their approaches to political giving in the wake of the insurrection at the Capitol. In the days after Jan. 6, at least 27 business PACs announced policies that would take the election certification vote into account when making donations, according to an analysis by Bloomberg News and Bloomberg Government. At least 40 more halted all PAC contributions. When or if the pauses are lifted, freezing out the members of Congress who objected to certifying the election could be only the start, as stances on equality issues, climate change, and social justice policies are taken more into account. Read more from Megan R. Wilson.
Geraldo Rivera Pondering Run for Senate: Television journalist Geraldo Rivera said that he may run for Senate seat now held by retiring Sen. Rob Portman (R-Ohio). Rivera, in a tweet tagged from Siesta Key, Fla., said he was "pondering running" for Portman's seat. Rivera, 77, has lived in Shaker Heights, Ohio, since 2017 and has hosted a radio show "Geraldo in Cleveland" since 2018. Rivera was a longtime ally of Trump until their relationship soured in 2020. Read more from Emma Kinery.
To contact the reporters on this story: Zachary Sherwood in Washington at zsherwood@bgov.com; Brandon Lee in Washington at blee@bgov.com
To contact the editors responsible for this story: Giuseppe Macri at gmacri@bgov.com; Loren Duggan at lduggan@bgov.com; Michaela Ross at mross@bgov.com