What to Know in Washington: Biden Plots Vision of Party's Future
Joe Biden will send an unmistakable message about his vision for the Democratic Party tonight, and it will sound a lot more like him than the party's progressive wing.
Rather than the traditional convention keynote that can fuel one star's rise — like young Senate candidate Barack Obama in 2004 — Biden's team chose 17 people to share in delivering the coveted slot, all of whom largely share his center-left philosophy.
The move, despite Sen. Bernie Sanders's (I-Vt.) plea for unity last night, frustrated progressives for not sufficiently highlighting the left wing of the party — Rep. Alexandria Ocasio-Cortez (D-N.Y.), for example, is the only member of the Squad of four liberal first-term congresswomen to get a speaking slot and it's only one minute.
At 77, Biden has made it clear he sees himself as a "bridge" to a new "generation of leaders." He has already anointed future leaders in Sen. Kamala Harris (D-Calif.), his running mate, Michigan Gov. Gretchen Whitmer (D) and former South Bend, Ind., Mayor Pete Buttigieg. The list of keynote speakers fills out the deeper bench of Democrats that Biden wants to elevate.
They are not the flame-throwing progressives unseating longtime Democratic members of Congress. Most are not vocal advocates for "Medicare for All" or the Green New Deal. Instead, the group of speakers includes two moderate members of Congress from swing districts, three openly gay men of color and four women of color.
"It's a look toward what a Joe Biden and Kamala Harris administration will look like," said Long Beach, Calif., Mayor Robert Garcia, one of the speakers, who first endorsed Harris when she ran in the presidential primaries and then backed Biden. "Vice President Biden has consistently talked about being a bridge to the future and that's what this is, all the different and diverse young voices."
But it is their policy preferences that are most noteworthy. None of the progressives backed by Justice Democrats who knocked out incumbents in primary contests this year, including Jamaal Bowman, Cori Bush and Marie Newman, are part of the program.
Rather, the keynote speakers include Reps. Colin Allred (D-Texas) and Conor Lamb (D-Pa.), both political moderates who flipped Republican seats after Donald Trump was elected. Other speakers were prominent Biden supporters during the primary: South Carolina State Sen. Marlon Kimpson, Nevada State Sen. Yvanna Cancela and Pennsylvania State Rep. Malcolm Kenyatta. The most high-profile speaker is Stacey Abrams, who narrowly lost her 2018 gubernatorial bid in Georgia that would have made her the first Black woman to lead a Southern state. Read more from Tyler Pager and Jennifer Epstein.
Tonight's Schedule:Emma Kinery runs down the main events, starting at 9 p.m. Washington time, and where to see them.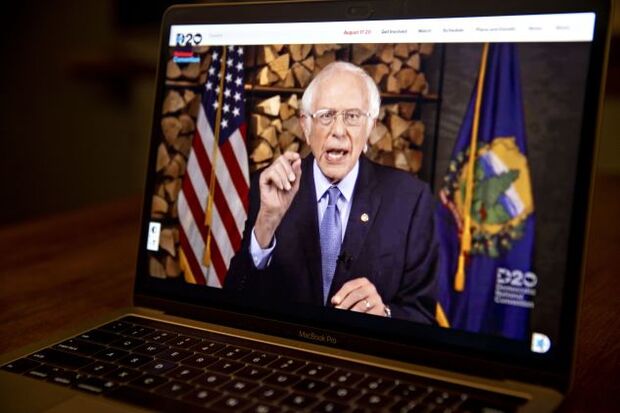 Democrats Open Convention: Democrats unleashed sharp attacks on Trump as the party opened its virtual convention last night with a range of speakers including four moderate Republicans, Michelle Obama, and Sen. Sanders, who urged voters to join them in supporting Biden for president.
The Democrats abandoned plans for a live convention in Milwaukee due to the coronavirus, and the challenge of putting on an event solely through recorded video and speeches without a live audience quickly became apparent, as the affair lacked the drama and emotion of a raucous arena. But there were powerful moments — and sharp attacks on the Republican president on the coronavirus pandemic, racial justice and the shattered economy. Read more from Jennifer Epstein, Tyler Pager and Mark Niquette.
More Convention Updates:
A woman whose father died of Covid-19 blamed Trump for his death during the opening night of the DNC. A St. Louis lawyer who brandished a gun at protesters will speak at the Republican convention. And a group of progressives is lobbying for Rep.

Alexandria Ocasio-Cortez

(D-N.Y.) to get more speaking time, Ryan Teague Beckwith reports.
Meanwhile, Sen. Marco Rubio (R-Fla.) criticized actress Eva Longoria, who emceed the first night of the Democratic convention. "Brilliant move! No one is more in touch with the challenges & obstacles faced by everyday Americans than actors & celebrities," he wrote on Twitter.
Trump Makes Misleading Claims About Biden: Meanwhile, Trump unleashed a barrage of attacks against Biden during a string of rallies in Midwestern states that were designed to counter the start of the Democratic convention. Over the course of three speeches, Trump described Biden as an existential threat to the U.S. and made a swath of misleading and exaggerated claims to make his point.
The president said in Minnesota that Biden is a "puppet of left-wing extremists" who would "eliminate our police" and "indoctrinate our children." Biden, whose career in politics has been marked by his support for moderate policies, would cause the U.S. to become a "large-scale Venezuela," Trump said in another event in Wisconsin. The president there claimed that violence in Chicago, which has a spike in shootings this summer, is worse than Afghanistan, Iraq and Syria. Read more from Jordan Fabian and Saleha Mohsin.
DNC Head Wants End to Caucuses: Democratic National Committee Chairman Tom Perez told the Associated Press yesterday that the 2020 election should be the last one in which Democrats hold caucuses—hours-long in-person meetups where members decide how they'll distribute their delegates to the presidential candidates. Perez's term as DNC chairman will end before the party makes that decision, but he said that he will "use the bully pulpit as a former chair" to press them. Read more from Ryan Teague Beckwith.
Ex-Trump Appointee Comes Out for Biden: A former Trump-appointed senior official came out for Biden yesterday, arguing that the president is "dangerously chaotic." In an op-ed in The Washington Post, former Homeland Security official Miles Taylor says that Trump ignored problems like terrorism and cybersecurity while focused entirely on political concerns. "He was one of the most unfocused and undisciplined senior executives I have ever encountered," he said. Beckwith has more.
What to Watch Today
Congress: The House meets in a pro forma session at 11:30 a.m. The Senate convenes in a pro forma session today at noon.
White House: Trump at 9 a.m. participates in the signing of a proclamation on the 100th anniversary of the ratification of the 19th Amendment, which gave women the right to vote.
The president then is scheduled to travel to Cedar Rapids, Iowa. Trump is also slated to receive an update on border wall construction and give remarks on border security in Yuma, Ariz.
Trump added the trip to Iowa to his schedule as his support slips in a swing state that's recovering from a calamitous storm even as it was already suffering the economic effects of the coronavirus. Trump's decision to visit the state — days after a trip by Vice President Mike Pence — illustrates his concern over a state he won by nine points in 2016 but is now up for grabs in his race with Biden. Read more on Trump's trip from Jennifer Jacobs.
Elections: Alaska, Florida, and Wyoming hold primary elections today.
Rep. Ross Spano (R) is trying to fend off a primary challenger amid an investigation into the financing of his 2018 campaign. In two other districts in Florida, winners of crowded Republican primaries will be favored to succeed retiring incumbents and join the 117th Congress.
There's also voting in Alaska, where House Dean Don Young (R) wants to continue a congressional tenure that's nearing half a century, and Wyoming, where voters will begin the process of picking a successor for the retiring Sen. Mike Enzi (R). Greg Giroux previews the races.
Policy Outlook
Democrats Press Attacks Over Postal Service: Congressional Democrats have launched a multitiered offensive against Trump over the U.S. Postal Service, seizing on an issue that they believe will resonate with voters. Speaker Nancy Pelosi (D-Calif.) is calling the House back on Saturday to vote on legislation to halt post office cutbacks and give the agency $25 billion in additional funding. The centerpiece of the campaign may be a House oversight hearing next Monday with Postmaster General Louis DeJoy.
DeJoy, a Trump donor, has recently taken steps, including targeting workers' overtime and transportation costs, that critics say have led to backlogs and service interruptions just as greater-than-ever-numbers of Americans are expected to vote by mail this November. The Postal Service has issued warnings to 46 states that it may not be able to deliver their ballots on time to be counted. DeJoy is voluntarily appearing before the committee at the hearing, which is scheduled for the same day the Republican National Convention gets underway. Read more from Billy House.
Republicans Plan Scaled-Back Proposal: Senate Republicans plan to introduce a scaled-back stimulus bill amid the stalemate over a new virus relief plan that's dragged on for weeks, according to two Senate Republican aides. The legislation would include a $300 a week enhanced unemployment benefit, money for small business relief, additional U.S. Postal Service funding and protection for workers against lawsuits stemming from Covid-19 infections, according to the aide.
The proposal would represent a slimmed-down version of the $1 trillion bill that GOP senators introduced at the end of July as a counterpoint to the $3.5 trillion proposal House Democrats passed in May. There were no immediate signs that Senate Majority Leader Mitch McConnell (R-Ky.) plans to call members back from their August recess to vote on it. Any legislation would need to get at least some Democratic support to get through the Senate, and that's unlikely at the moment. Read more from Billy House.
Facial Recognition Lobby Urges Caution on Regulation: The trade group representing many of the largest technological security companies is urging regulators not to overreach on facial recognition restrictions even as U.S. lawmakers push to rein in police use of the software. The Security Industry Association, which represents NEC, France's Idemia Group, Japan's Ayonix, and others, will release today a 10-point framework urging policy-makers, companies and governments to embrace the benefits of the technology, while upholding certain ethical principles.
SIA is defending government use of facial recognition at a time when some civil rights advocates, companies, and lawmakers are calling for police departments to stop using the technology. Critics want better guardrails to ensure facial recognition doesn't promote racial biases in the criminal justice system. SIA's policy principles, obtained by Bloomberg News, caution lawmakers not to adopt a "one-size-fits-all legislative framework." Read more from Naomi Nix and Rebecca Kern.
Outdoor Recreation Consulting Group Launched: Signal Group, a public affairs and government relations firm, today launched a consulting services focused on outdoor recreation policy, Kellie Lunney reports. Signal Outdoors, led by a bipartisan team of former Capitol Hill staffers, will advocate for clients who want to shape the debate on policies related to conservation, public lands, recreation, and climate change.
Signal Outdoors will be led by Charles Cooper, who served as chief of staff to the House Republican Policy Committee as well as to former Rep. Adam Putnam (R-Fla.); Madeline Wade, a former aide to Rep. Greg Walden (R-Ore); and Blake Androff. Androff served as executive director of the House Democratic Policy and Communications Committee for Pelosi and led communications for Interior secretaries Ken Salazar and Sally Jewell during the Obama administration.
Lawmakers Seek Ammonium Nitrate Rules: Lawmakers are calling on the Occupational Safety and Health Administration to update its ammonium nitrate handling standards after the massive explosion in Beirut that killed nearly 200 people and laid waste to the Lebanese capital's seaport. Three House Education and Labor Committee members wrote to Labor Secretary Eugene Scalia urging him to have OSHA make updates to its 50-year-old standards for the highly reactive ingredient in the blast. Read more from Fatima Hussein.
The Coronavirus Pandemic
States Look to Economize in Rollout of Aid Boost: A first wave of states has lined up to administer the latest federal boost in unemployment benefits, but there is little sign they plan to fund their share of the expanded assistance. At least seven states got approval for lost wages assistance grants the president established via executive action this month, the Federal Emergency Management Agency announced. But four of them said that they would hand out only the FEMA-funded $300 increase. Read more from Chris Marr.
Medicare Boosts Hospitals' Payments for Virus: Hospitals will get a little help to recover some of their pandemic revenue losses when Medicare boosts reimbursements by 20% next month for beneficiaries with Covid-19. The payment bump takes effect on Sept. 1 and will apply to all Medicare patients with Covid-19 who needed to be hospitalized, according to new guidance issued yesterday by the Centers for Medicare & Medicaid Services. Read more from Tony Pugh.
Greenspan Says U.S. Virus Failure Aids China: The failure of the U.S. to handle the pandemic threatens to derail the economic recovery and puts the country at a significant competitive disadvantage in its long-run battle with China for global hegemony, former Federal Reserve Chairman Alan Greenspan said. In an article written for Advisors Capital Management, Greenspan said the U.S. has, at times, looked like it "has lost its way," while China has enjoyed continued success. Read more from Rich Miller.
Facebook Sued Over Vaccine Warning Labels: Facebook's practice of putting fact-checking warning labels on anti-vaccine posts triggered a lawsuit accusing the company of censorship. Children's Health Defense, a nonprofit group, filed the complaint yesterday in federal court in California. The labels "appear to flag disinformation, but in reality censor valid and truthful speech," according to the complaint, Robert Burnson reports. The lawsuit comes as a drop in vaccination rates this year has some lawmakers worried that Americans won't trust a Covid-19 vaccine. Alex Ruoff has more.
Around the Administration
Barr Readies Report on FBI Probe: Attorney General William Barr is promising more revelations from a probe of the government's investigation into Russian meddling in 2016, but he may be running out of time. Barr said last week's formal charge against a former FBI lawyer is just the first of several "significant" developments he expects to come out before the Nov. 3 presidential election. But Barr's critics say Justice Department policy states that he has until about Sept. 4 to make any information public. The attorney general disagrees, and Trump — lagging in the polls — has made clear he expects his top law enforcement officer to press on. Read more from Chris Strohm.
Trump's Plan to Redirect Jobs From China: Trump said he'll punish American companies that move jobs abroad and reward firms with tax breaks for shifting work from China to the U.S., proposals aimed at hastening the decoupling of the world's largest economies. "We will create tax credits for companies that bring jobs from China back to America, and we'll impose tariffs on companies that leave America to produce jobs overseas," he said in a speech yesterday in Minnesota. Read more from Brendan Murray.
DHS Says GAO Report on Wolf 'Baseless': A Government Accountability Office finding that says acting Homeland Security Secretary Chad Wolf and his deputy Kenneth Cuccinelli are ineligible to serve in their roles is "brazenly partisan" and "flawed," the Homeland Security Department said in a statement yesterday. The DHS succession order "was lawfully and unambiguously amended," and the new GAO report "ignores key evidence," the statement says, Victoria Hodge reports.
LGBT Health Discrimination Rule Blocked: A federal district judge blocked the Health and Human Services Department from allowing health-care providers and insurers to discriminate against LGBT people. Judge Frederick Block of the U.S. District Court for the Eastern District of New York yesterday halted the HHS from enforcing a rule that stripped gender identity and sex stereotyping from anti-discrimination protections under the Affordable Care Act, a day before the new rule was set to take effect. Read more from Lydia Wheeler.
Wireless Carriers Fight Lifeline Changes: Federal Communications Commission Chairman Ajit Pai may have thought he was doing wireless carriers a favor when he slashed by nearly two-thirds a potentially costly requirement that they increase data for low-income subscribers starting in December. Instead, budget carriers are fighting his plan, leaving an uncertain future for Lifeline, the FCC's program to help low-income Americans pay their phone and broadband bills. Read more from Jon Reid.
Lack of Diversity Seen at FEC: The country's campaign finance regulator, which has never had a Black commissioner in its 45-year history, needs people of color in leadership, according to its employees. Sixty-six Federal Election Commission staffers — nearly a quarter of the agency's workforce — wrote a letter to the White House and Senate leaders yesterday urging the nomination and confirmation of "Commissioners of color." Read more from Kenneth P. Doyle.
Automakers Finalize Emissions Pact With California: Ford, Honda, Volkswagen, BMW, and Volvo legally finalized agreements with California yesterday that would see them cut tailpipe greenhouse gas emissions more than under federal rules. The agreement makes enforceable a voluntary pact struck between the companies and California's clean air regulator in July 2019, under which the automakers will boost the fuel efficiency of autos sold in the U.S. through 2026. Stephen Lee has more.
What Else to Know Today
Citi Loan Blunder Heads to Regulators and Court: Citigroup's accidental payment of about $900 million to Revlon's lenders is facing scrutiny on two fronts — in private talks with regulators and a public fight in court. Read more from Jenny Surane, Chris Dolmetsch, Katherine Doherty and Jesse Hamilton.
Purdue Cost U.S. $2 Trillion, States Say: Purdue Pharma, the bankrupt maker of OxyContin painkillers, inflicted more than $2.1 trillion in financial damage on the U.S. economy while pushing highly addictive opioid drugs on Americans for decades, dozens of states told a judge. Read more from Erik Larson.
China Reiterates Dialogues for U.S. Relations: China believes that dialogue and nonconfrontation are still what the people in both countries want, Foreign Minister Wang Yi said yesterday. Wang's comments came in remarks at Beijing airport to staff of China's Houston consulate, which the U.S. ordered to close. Read more from Bloomberg News.
Stone Drops Appeal of Conviction: Roger Stone is no longer appealing his conviction, weeks after Trump commuted his sentence. In a five-page court filing yesterday, Stone asked to withdraw his appeal, ending a case that had stirred controversy from the start, with his televised arrest. Read more from Tina Davis and Erik Larson.
Kim Jong Un Calls Meeting on Mystery Issue: North Korean leader Kim Jong Un is convening a key ruling party body on Wednesday for the first time in eight months to address a "crucial" mystery issue. The state's official Korean Central News Agency offered few clues about the gathering of the Central Committee, saying it will "discuss and decide on an issue of crucial significance in developing the Korean revolution and increasing the fighting efficiency of the Party." Read more from Jon Herskovitz and Jeong-Ho Lee.
Court Can't Link Hezbollah Leadership to Hariri Death: Judges at the United Nations-backed Special Tribunal for Lebanon in the Hague said they had no evidence that Syria and the Hezbollah leadership were directly involved in the assassination of former Lebanese Premier Rafiq Hariri 15 years ago. Read more from Dana Khraiche and Yasna Haghdoost.
To contact the reporters on this story: Zachary Sherwood in Washington at zsherwood@bgov.com; Brandon Lee in Washington at blee@bgov.com
To contact the editors responsible for this story: Giuseppe Macri at gmacri@bgov.com; Loren Duggan at lduggan@bgov.com; Michaela Ross at mross@bgov.com