What to Know in Washington: Biden Pleads with Congress on Guns
Biden called for a ban on assault weapon sale
House Judiciary advances gun control package
President Joe Biden called for a ban on sales of assault weapons and high-capacity magazines, pleading with Congress to toughen gun laws following a spate of mass shootings.
"We need to ban assault weapons and high capacity magazines," Biden said in an evening address from the White House.
But he acknowledged that Congress is unlikely to ban the weapons, adding: "We should raise the age to purchase them from 18 to 21, strengthen background checks, enact safe storage laws and red-flag laws, repeal the immunity that protects gun manufacturers from liability, address the mental health crisis deepening the trauma of gun violence."
Recalling recent meetings with families of shooting victims in Texas and Buffalo, Biden said, "They had one message for all of us: Do something. Just do something. For God's sake, do something."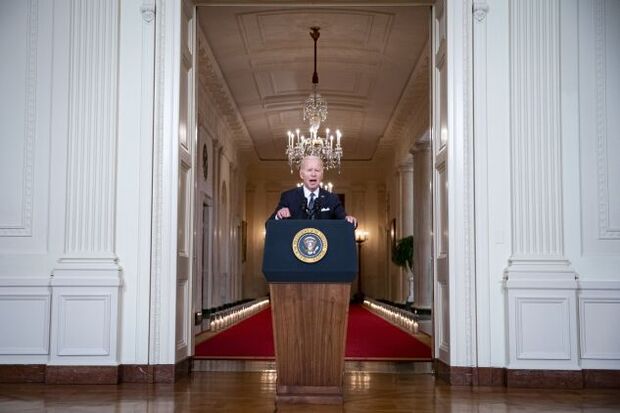 Biden said responsible gun owners shouldn't be concerned that their rights will be curtailed.
"Machine guns have been federally regulated for nearly 90 years and this is still a free country," Biden said. "This isn't about taking anyone's rights. It's about protecting children. It's about protecting families, while protecting whole communities."
"I support the bipartisan efforts that include small group of Democrats and Republican senators trying to find a way," Biden said. "But my God, the fact the majority of the Senate Republicans don't want any of these proposals even to be debated, or come up for a vote, I find unconscionable."
Polling shows strong support for additional restrictions in the aftermath of the Texas elementary school shooting and ahead of November's crucial midterm elections. Read more from Justin Sink and Jennifer Jacobs.
As Biden spoke, a House committee approved a package of gun legislation that would raise the minimum age to purchase some semiautomatic rifles and prohibit sales of high-capacity ammunition magazines in the latest attempt by Democrats to respond to mass shootings across the nation.
The Judiciary Committee voted 25-19 along party lines Thursday to move the legislation to consideration before the full House, which could come as soon as next week. But it's not likely to get traction in the Senate because of Republican opposition to many of the provisions.
Separately, a bipartisan group in the Senate led by Texas Republican John Cornyn and Connecticut Democrat Chris Murphy is attempting to come up with a compromise on gun legislation that could attract at least 10 Republicans, whose votes would be needed to get any bill passed.
Murphy said this week there's little chance more far-reaching proposals — such as a ban on the military-style semiautomatic rifles or prohibitions on high-capacity magazines — would get enough support in the Senate to pass. Read more from Jarrell Dillard and Steven T. Dennis.
Related:
Meanwhile, Democrats on the House Homeland Security Committee sent a letter Thursday asking the Department of Homeland Security on whether the agency plans to bolster school security initiatives in light of last week's mass shooting in Uvalde, Texas, Ellen M. Gilmer reports.
The president's proposed budget for fiscal 2023 wouldn't allow the expansion of a Secret Service prevention training program for schools and communities through its National Threat Assessment Center. But Rep. Dutch Ruppersberger (D-Md.) plans to seek an increase for the Secret Service program and is still working out the details, according to his spokeswoman Jaime Lennon.
Early Look at Next Week on the Hill
Senators return Monday, with plans to act on Alex Wagner's nomination to be assistant secretary of the Air Force for personnel and to hold a procedural vote on a House-passed bill (H.R. 3967) to address the health of veterans exposed to burn pits. Senators unveiled a substitute amendment that would be offered if the chamber takes up the legislation.
Also waiting in the wings are confirmation votes on 10 other nominations that Majority Leader Chuck Schumer (D-N.Y.) and Minority Leader Mitch McConnell (R-Ky.) agreed to hold. Schumer may seek to reconsider a procedural vote on a House-passed domestic terror bill (H.R. 350), while McConnell might force another vote on a resolution (S. J. Res. 46) seeking to overturn the administration's border asylum rule.
The House is back Tuesday – with plans to leave by noon on Thursday to accommodate the Summit of the Americas. The chamber will vote on a gun-control package that includes raising the age to buy a semi-automatic weapon to 21 from 18 (H.R. 7910), Speaker Nancy Pelosi (D-Calif.) said in a statement. Pelosi also said the House would vote next week on legislation from Rep. Lucy McBath (D-Ga.) that would implement a nationwide extreme risk law and encourage states to enact such laws.
The House also will soon hold a hearing on banning assault weapons, Pelosi said, Catherine Dodge reports.
Work will kick off on the fiscal 2023 defense authorization, with four House Armed Services subcommittees set to mark up H.R. 7900 on Wednesday and three on Thursday.
House Staffers' Union Effort Moves Forward, Open Questions Aside
US House staffers' ability to negotiate key aspects of employment remains up in the air as they prepare to go to the bargaining table under newly granted union rights.
Capitol Hill staff are scrambling to define the boundaries of a resolution the House passed last month that allows them to unionize and bargain collectively. Senate Democrats have said they will do the same, but face much greater hurdles to adopting a similar measure.
Regulations from the Office of Congressional Workplace Rights will take effect July 18, and the Congressional Workers Union, a conglomerate of staffers who have been publicly organizing since February, said there's a willingness to move forward. Read more from Ian Kullgren and Paige Smith.
Elections & Politics
Former Attorney General William Barr was interviewed privately Thursday by the House Committee investigating the Jan. 6, 2021 insurrection at the US Capitol, an official familiar with the meeting said. One of the committee's interests in Barr is his interactions with former President Donald Trump. Barr has said he told Trump after he lost the 2020 election that his claims of widespread voter fraud were not true. Read more from Billy House.
Trump endorsed venture capitalist Blake Masters over Attorney General Mark Brnovich in the crowded Aug. 2 GOP primary for the US Senate in Arizona, a nod that could offer a significant edge in a close contest that will determine who faces vulnerable Democratic Senator Mark Kelly. Trump says that Brnovich didn't do enough to overturn the 2020 presidential election in his favor. Read more from Laura Litvan and Mark Niquette.
A Pennsylvania judge ruled that counties must count mail-in and absentee ballots with no handwritten date on a return envelope and report the results, a victory for former Bridgewater Associates Chief Executive David McCormick in his too-close-to-call Republican US Senate race with celebrity physician Mehmet Oz. Read more from Mark Niquette.
Around the Administration
BIDEN'S SCHEDULE:
At 10:30 a.m. Biden is scheduled to deliver remarks on the May jobs report.
Children under age 5 are poised to be able to receive Covid vaccines as soon as the week of June 21, Biden's Covid-19 czar said, if regulators ultimately authorize the shots. "We expect that vaccinations will begin in earnest as early as Tuesday, June 21, and really roll on throughout that week," Ashish Jha said at a briefing on Thursday.
The Biden administration continues to call on Congress to pass a new round of pandemic funding, warning that the government will otherwise run out of vaccines and treatments and also risks a collapse of Covid-19 test production. Read more from Josh Wingrove and Jennifer Jacobs.
High-risk Americans are having a tough time getting Covid-19 antiviral pills as prescribers grapple with limited guidance on who is eligible and how many are available, specialists say. Over 2,500 Test-to-Treat sites are set up across the US where patients can get tested and prescribed Pfizer's Paxlovid or Merck's molnupiravir by a health provider at a single location. But some providers are reluctant to prescribe them due to obscure guidance. Read more from Celine Castronuovo.
A Department of Health and Human Services watchdog will review FDA's actions leading up to the infant formula recall at Abbott Laboratories's Sturgis, Mich., facility in February the department said. The move seeks to determine whether the FDA followed proper procedures for conducting inspections of the manufacturing facility and for overseeing Abbott's infant formula recall, Maria Luiza Rabello reports.
Advocates are pushing Congress, as part of the next farm bill, to help low-income, underserved communities gain access to fresh and healthful food. The Biden administration this week announced another $155 million toward a program meant to help the more than 18 million people—or 6% of the US population—who live in food deserts, according to Agriculture Department data. Read more from Maeve Sheehey.
The Social Security system's retiree fund will be able to fully pay scheduled benefits until 2034, bolstered by higher-than-expected tax receipts stemming from a strong US economic recovery, according to the Treasury Department. That gives the key fund an extra year compared with forecasts made last year, the Treasury said in a report Thursday. Read more from Christopher Condon and Tony Pugh.
The US added 71 entities based in Russia and Belarus to the so-called Entity List that prohibits American firms from doing business with them without getting a government license, Ana Monteiro and Eric Martin report. Thursday's action raises the number of parties on the list to 322 since Russia invaded Ukraine on Feb. 24, the Commerce Department's Bureau of Industry and Security said in a statement.
To contact the reporter on this story: Michaela Ross in Washington at mross@bgov.com
To contact the editors responsible for this story: Loren Duggan at lduggan@bgov.com; Brandon Lee at blee@bgov.com