What to Know in Washington: Biden Pleads for Assault Weapons Ban
Bloomberg Government subscribers get the stories like this first. Act now and gain unlimited access to everything you need to know. Learn more.
President Joe Biden pleaded for US lawmakers to again enact a ban on military-style semi-automatic rifles, outlining measures he believes would combat a scourge of gun violence in remarks at a vigil for shooting victims.
"We can do it again," Biden said Wednesday, citing a 1994 federal assault weapons ban that has expired. "We did it, and guess what? It worked."
Biden spoke at a church on Capitol Hill, where he was joined by House Speaker Nancy Pelosi, survivors of gun violence and families of victims.
"Together, we made some important progress; the most significant gun law passed in thirty years, but still not enough," Biden said, referencing gun-safety measures he signed into law earlier this year.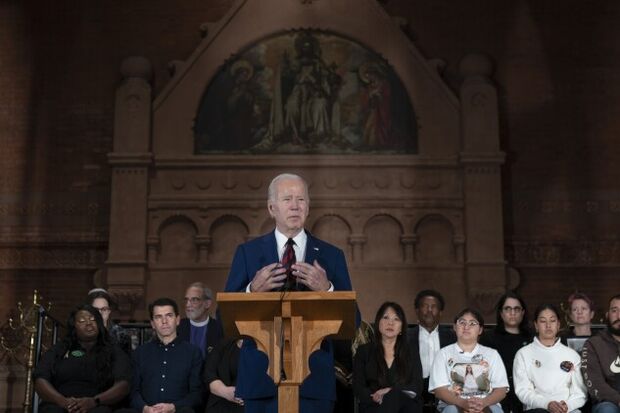 "The work continues to limit the number of bullets that can be in a cartridge, the type of weapon that can be purchased and sold," he added. "A whole range of things that are just common sense. Just simple common sense."
But highlighting the challenging political landscape, Biden did not lay out a timeline for when those measures could move through Congress. Republicans, most of whom steadfastly oppose all but the weakest gun-violence measures, are poised to take control of the House of Representatives in January.
The vigil comes ahead of the ten-year anniversary of the Sandy Hook Elementary School shooting on Dec. 14, and just weeks after Biden said he would press lawmakers to pass additional gun-control legislation before the new Congress is seated in January.
Lawmakers have instead focused their attention during the lame-duck session on other matters, and the coming Republican takeover of the House has dimmed hopes for a new assault weapons ban or any other measures to reduce gun violence. In July, House Democrats passed legislation banning the sale of semiautomatic assault weapons or large capacity ammunition feeding devices, but the bill stalled in the Senate, where 60 votes are necessary to overcome a filibuster.
Biden was able to sign the first gun safety bill in decades earlier this year after mass shootings at an elementary school in Uvalde, Texas, and a grocery store in Buffalo, New York. Read more from Akayla Gardner and Justin Sink
Happening on the Hill
CONGRESS' SCHEDULE
The House meets at 9 a.m. to vote on clearing a bill to protect same-sex marriages and the compromise annual defense authorization measure.
The Senate gathers at 11 a.m. to vote on judicial nominations.
Senate Democrats are set to bolster their strength on the chamber's committees, a result of Georgia Sen. Raphael Warnock's re-election this week.
Sen. Raphael Warnock's (D-Ga.) win in Tuesday's election gives Finance Committee chairman Ron Wyden (D-Ore.) new powers in the next Congress with a Democratic majority on the panel, opening the door to more easily fill IRS vacancies and issue subpoenas.
US Senators Sherrod Brown (D-Ohio) and Patrick Toomey (R-Pa.) have asked Sam Bankman-Fried to testify at a hearing about cryptocurrency exchange FTX's collapse on Dec. 14, according to a letter issued Wednesday.
House Financial Services Committee Chairwoman Maxine Waters (D-Calif.) denied an earlier CNBC report that that she doesn't plan to subpoena former FTX CEO Sam Bankman-Fried to testify at a hearing on Dec. 13, according to her tweet. Read more
House Democrats plan to unveil legislation, obtained exclusively by Bloomberg Government, to give immigrant survivors of domestic violence and human trafficking broader access to legal protections and ensure they aren't detained or deported while their cases are pending, Ellen M. Gilmer reports.
The bill has no clear path forward this session, with just weeks remaining. But top sponsor Rep. Pramila Jayapal (Wash.), head of the Congressional Progressive Caucus, said in a statement that lawmakers are "reiterating our commitment to protect immigrant survivors." Jayapal is unveiling the bill today with Reps. Jan Schakowsky (Ill.), Adriano Espaillat (N.Y.), and Jimmy Panetta (Calif.).
Two House Democrats want Elon Musk to outline what he's doing to stem what they say has been a sharp rise in hate speech and other harmful content on Twitter since he took over. "There has been an extreme spike in the number of tweets that include slurs, the level of engagement with these tweets, and the popularity of spreading this harmful rhetoric," Reps. Adam Schiff and Mark Takano of California wrote in a letter to Musk dated Thursday.
Elections, Politics & Probes
Former President Donald Trump's lawyers are searching his properties for additional documents with US classification markings that need to be turned over to the Justice Department as part of a criminal investigation into whether he broke laws, according to a person familiar with the matter.
Trump's lawyer argued that presidential immunity would protect him from lawsuits even if he had urged his supporters to "burn Congress down" while in office.
Key Supreme Court justices expressed wariness about a far-reaching constitutional argument that would give state lawmakers more power to set the rules for federal elections.
New York Attorney General Letitia James said an independent investigation substantiated sexual-harassment allegations against her longtime chief of staff, Ibrahim Khan, whose resignation was revealed last week.
Sandy Hook Elementary School shooting victims' families will investigate more than $10 million in donations the right wing conspiracy theorist Alex Jones received from fans, their lawyer told a bankruptcy judge.
Florida Governor Ron DeSantis has invited some of his main donors to a meeting in Miami Sunday following a landslide reelection victory that fueled speculation he might jostle Trump for the Republican party's 2024 presidential nomination.
Around the Administration
PRESIDENT'S SCHEDULE
Biden at 2:10 p.m. is scheduled to give a speech at the White House on boosting the economy for union workers and retirees.
At 12:30 p.m. Press Secretary Karine Jean-Pierre will give a briefing.
Biden will announce a $36 billion bailout for the Central States Pension Fund, helping to shore up one of the nation's biggest multiemployer plans and delivering help to union allies after a contentious rail deal that frayed ties with organized labor.
Ramping up critical mineral mining in the US to meet the Biden Administration's clean energy goals requires using the "lightest footprint possible," Interior Secretary Deb Haaland told governors of western states.
The Biden administration is appealing a federal court's order striking down Title 42, a pandemic-era border expulsion policy that's set to end Dec. 21.
LGBTQ suicide prevention efforts are in line for Biden administration funding boosts as conservative state lawmakers launch legislative and political attacks that health experts say compromise queer and transgender mental health.
A wave of retirements and an inability to keep pace with private-sector salaries have caused staffing to plunge at key offices. The Farm Services Agency, which provides front-line help to farmers nationwide, now has 2,000 fewer workers than it did in 2006, a nearly 40% decline. The country's largest agricultural lobbying group has deemed the staffing shortage a top priority for next year.
Wells Fargo & Co. has been at the center of some of the biggest banking scandals of the last decade, but it's facing a new challenge within its labor force that is being watched across the financial services industry.
Clinical trial diversity must be a more prominent priority among health research administrators, FDA Commissioner Robert Califf said Wednesday as the agency readies updated guidance on the topic.
The Biden administration's push to use emergency wartime powers and dole out billions in energy efficiency rebates to back electric heat pumps has spurred protests from natural gas utilities defending their turf.
The Biden administration told the US Supreme Court that social media companies in some cases can be held liable for promoting harmful speech, partially siding with a family seeking to sue Alphabet's Google over a terrorist attack.
More than a dozen members of Congress, a coalition of state attorneys general, and Facebook whistleblower Frances Haugen urged the US Supreme Court to limit the scope of a foundational internet law that for two decades has shielded online platforms from lawsuits over content created by their users. Read more
Defense & Foreign Affairs
Alphabet, Oracle, Microsoft and Amazon will build the Pentagon an enterprisewide cloud system as part of a contract worth up to $9 billion.
Dutch officials are planning new controls on exports of chipmaking equipment to China, according to people familiar with the matter, potentially aligning their trade rules with US efforts to restrict Beijing's access to high-end technology.
The US Secret Service allegation that a Chinese hacking organization stole tens of millions of dollars in US Covid-19 relief funds broadens the threats the nation and its citizens face from the cybercriminals, according to cybersecurity professionals and attorneys.
For months, Chinese President Xi Jinping's government insisted that his Covid Zero policy would "stand the test of history," and vowed to punish anyone who questioned the approach.
With assistance from Ellen M. Gilmer
To contact the reporters on this story: Michaela Ross in Washington at mross@bgov.com
To contact the editors responsible for this story: Andrew Small at asmall@bgov.com
Stay informed with more news like this – from the largest team of reporters on Capitol Hill – subscribe to Bloomberg Government today. Learn more.