What to Know in Washington: Biden Plans More Meetings on Agenda
President Joe Biden will continue courting Democratic progressives and moderates today, as he seeks to reach a deal to advance his economic agenda before the end of the month.
Biden is attempting to push the party's two competing factions toward an agreement with separate meetings with each group planned for today. The president will meet with progressives at the White House at 2 p.m. He'll then meet with a group of moderates at the White House at 4:30 p.m. Vice President Kamala Harris and Treasury Secretary Janet Yellen plan to join both meetings, according to Biden's schedule.
Sen. Joe Manchin (D-W.Va.), whose vote is pivotal in the 50-50 Senate, said yesterday there's little chance that Congress can complete work on Biden's agenda by the end of the month deadline set by his party's leaders. "There is an awful lot to go, I don't know how that would happen," Manchin told reporters at the Capitol. "Once you come to a meeting of the minds, you might be able to work something out."
Biden met with Manchin yesterday, along with Sen. Bernie Sanders (I-Vt.) and Rep. Pramila Jayapal (D-Wash.), both progressives.
House Democratic leaders have said they are intending to vote on the two main pieces of Biden's domestic plan — a bill with $550 billion in new funding for infrastructure and a multi-trillion-dollar tax and spending package — by Oct. 31. That's when a temporary extension of highway maintenance funding runs out again, forcing some kind of congressional action, and Senate Majority Leader Chuck Schumer (D-N.Y.) has called on Democrats to resolve their differences on the second bill by then. Read more from Erik Wasson, Justin Sink and Laura Litvan.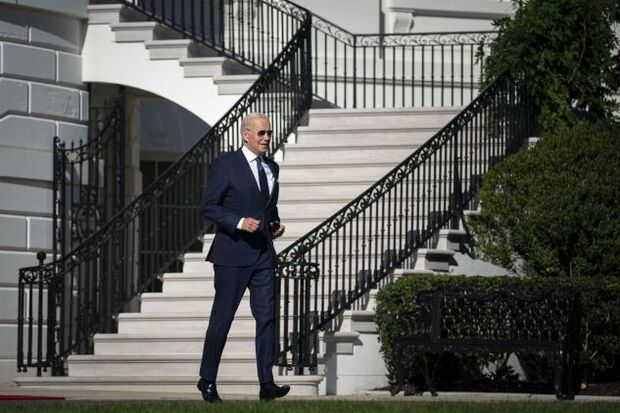 Senate Democrats to Unveil Scaled-Back IRS Bank-Reporting Plan: Senate Democrats are set to unveil a proposal requiring that banks report some accounts to the Internal Revenue Service in their latest effort to come up with ways to finance Biden's economic agenda, according to an aide familiar with the plan. Senate Finance Committee Chairman Ron Wyden (D-Ore.) and Sen. Elizabeth Warren (D-Mass.), a member of the panel, will outline the proposal on a call with reporters this afternoon, according the aide, who spoke on condition of anonymity as the plans aren't yet public. Read more from Laura Davison.
Democrats Struggle to Replace Climate Program: Democrats struggled to fill the void created by Manchin's opposition to a key climate program, with hopes fading that Congress will reach agreement on climate legislation before world leaders gather in Scotland for a summit on global warming. The Clean Electricity Payment Program has been a major priority for the White House and Biden's goal of de-carbonizing the nation's electric grid by 2035. The program, which would pay utilities for using clean energy and penalize those that don't, is on life support after Manchin recently told the White House he wouldn't support it.
Sen. Sheldon Whitehouse (D-R.I.), one of the strongest advocates of climate change legislation in Congress, says he's searching for alternatives to the clean electricity plan. Read more from Ari Natter, Erik Wasson and Steven T. Dennis.
Happening on the Hill
Today's Agenda:
Senate Democrats Seek Domestic Spending Boost: Senate Democrats released their nine remaining annual government funding bills yesterday, six and a half weeks before the Dec. 3 shutdown deadline. Republicans slammed the bills and lawmakers appear no closer to a bipartisan spending deal. Nondefense programs in the nine bills would get a 13% increase, while defense programs would get a 5% hike, according to a summary from the Senate Appropriations Committee.
Republicans criticized the bigger increase for domestic programs compared to military spending, the end of key restrictions on abortion funding, cuts to the Department of Homeland Security, and a boost to Internal Revenue Service funds. Appropriations Vice Chairman Richard Shelby (R-Ala.) called the top-line numbers "a fantasy land" proposal by Democrats. Both the nondefense and defense hikes will have to be closer together for lawmakers to reach a deal, he said. Jack Fitzpatrick has more.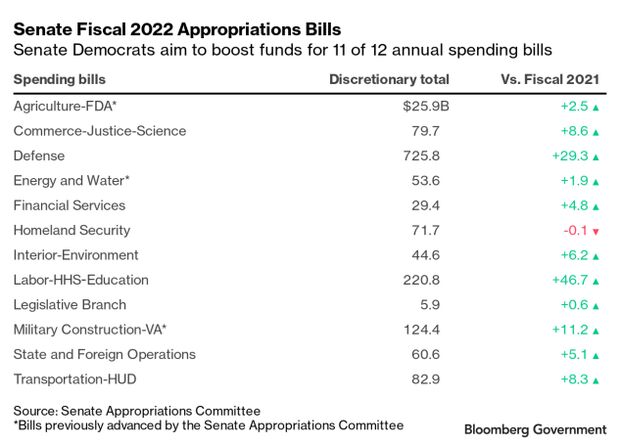 States Fret as Highway Patch Nears Lapse: Some states are struggling to plan future road and bridge projects without assurance that long-term federal funds will be available in the coming months. With less than two weeks before a short-term extension of federal transportation programs expires, and perhaps only months before the Highway Trust Fund runs out of money, state officials and industry representatives worry more costly and disruptive delays are on the way. "We just don't have any assurance of what federal funds will be available and when they'll be available," said Susan Howard, program director for transportation finance at the American Association of State Highway and Transportation Officials. "Is that federal investment going to be there after October 31?" Read more from Lillianna Byington.
Democrats Announce Retirements Ahead of Midterms: Both parties are watching to see who's next after three senior House Democrats announced their retirements in the past week. Reps. David Price (N.C.) and Mike Doyle (Pa.) said yesterday they won't run again, six days after Rep. John Yarmuth (Ky.) said the current 117th Congress would be his last. Price heads the House Appropriations Transportation-HUD Subcommittee, Doyle is chair of Energy and Commerce's Communications and Technology Subcommittee, and Yarmuth leads the Budget Committee.
A brisk run of powerful incumbents opting against seeking another term has in past midterm cycles signaled a difficult cycle for the party in power. Democrats, defending against a serious Republican campaign to take the chamber in 2022, said these particular retirements aren't worrisome, but others from the party campaign committee's list of most vulnerable would be. Read more from Greg Giroux and Emily Wilkins.
Yellen Says Treasury Must Extend Special Measures on Debt: Treasury Secretary Janet Yellen warned congressional leaders that while the recent law boosting the federal debt limit should tide federal finances over until Dec. 3, her department must again use extraordinary measures to avoid breaching the ceiling. Read more from Christopher Anstey.
Trump Sues to Keep Records From Jan. 6 Panel: Former President Donald Trump sued to block the release of documents to the U.S. House committee investigating the Jan. 6 attack on the Capitol, arguing that lawmakers have made an over-broad request for presidential records. In the complaint filed in federal court in Washington, Trump asked a judge to stop the national archivist from releasing the records to Congress. The archivist told Trump the records would be turned over to the panel on Nov. 12 "absent any intervening court order," according to the complaint. Read more from David Yaffe-Bellany.
Biden Border Pick Faces Lawmakers: Critics of Biden's handling of immigration will get their first chance today to examine his nominee to head a key border agency. Chris Magnus, the president's nominee to lead U.S. Customs and Border Protection, goes before the Senate Finance Committee, where he's likely to face aggressive questioning from Republicans concerned about how the Biden administration is managing record numbers of unauthorized border crossings. Ellen M. Gilmer has more.
Biden Pick Gustavo Gelpi Confirmed to First Circuit: The Senate confirmed Gustavo Gelpí to the Boston-based federal appeals court, making him Biden's sixth appellate nominee to join the bench. Gelpí was confirmed in a bipartisan 52-41 vote yesterday to a Puerto Rico seat on the U.S. Court of Appeals for the First Circuit. He received support from Sens. Susan Collins (R-Maine), Lindsey Graham (R-S.C.), and Lisa Murkowski (R-Alaska). Read more from Madison Alder.
Around the Administration
FDA Has Options for Mixing Covid Boosters: U.S. vaccine regulators have broad authority to allow mix-and-match Covid-19 vaccine boosters under its emergency powers, even if Johnson & Johnson and other companies don't apply for it. The Food and Drug Administration appears poised to clear heterologous boosting, which would allow someone who's eligible for a booster to get an additional shot that's different from their original vaccine. Preliminary results from a National Institutes of Health study indicate mixing Covid-19 vaccines as a booster can produce the same or even more antibodies compared with using the same vaccine for all shots. Read more from Jeannie Baumann.
Army's Quest to Muscle Up Stirs Row: The U.S. Army is overhauling its physical fitness test for the first time in 40 years to make its soldiers stronger and less injury prone. That's created a need for a huge amount of weight-training equipment that can stand up to heavy use by thousands of soldiers, indoors and out, in extreme conditions. Yet what should be a major contracting opportunity has some American-owned suppliers worried that a new acquisition process will allow gear sourced from a key adversary, China, to save money. Key lawmakers say they're concerned there's no clear oversight of the ambitious new approach to health and physical prowess that includes the new Army Combat Fitness Test. Read more from Roxana Tiron.
U.S. Denies Making Any Financing Offers on Turkey's F-16 Request: The U.S. has not made any financing offers on Turkey's request to purchase F-16 warplanes, State Department spokesman Ned Price said yesterday, adding that the Defense Department remains in consultations with Turkey on a blocked order of F-35 warplanes. Turkish President Recep Tayyip Erdogan on Sunday said that the U.S. has offered Turkey a fleet of upgraded F-16 fighter jets in reimbursement for the $1.4 billion payment it made to procure F-35 jets. Read more from Selcan Hacaoglu.
U.S. Envoy to Afghanistan Stepping Down: Zalmay Khalilzad, the U.S. envoy who has frequently served as America's liaison to Afghan leaders since the Sept. 11 terrorist attacks, is stepping down, Secretary of State Antony Blinken said. Khalilzad, who held posts in the administrations of Ronald Reagan, George W. Bush and Donald Trump before Biden's inauguration, will be replaced by his deputy, Thomas West, Blinken announced in a statement yesterday. Read more from Nick Wadhams and Bill Faries.
North Korea Likely Fired Submarine Missile: North Korea appears to have fired a submarine-launched ballistic missile for the first time in two years, adding to a series of tests demonstrating Kim Jong Un's pursuit of nuclear-capable weapons that can evade U.S. interceptors. The regime is suspected of launching an SLBM today from the eastern port of Sinpo into waters between the Korean Peninsula and Japan, South Korea's military said. Read more from Jon Herskovitz.
To contact the reporters on this story: Zachary Sherwood in Washington at zsherwood@bgov.com; Brandon Lee in Washington at blee@bgov.com
To contact the editors responsible for this story: Giuseppe Macri at gmacri@bgov.com; Loren Duggan at lduggan@bgov.com; Michaela Ross at mross@bgov.com