What to Know in Washington: Biden Pivots to Lower Court Backlog
Move follows success in putting Jackson on Supreme Court
State AG candidates loyal to Trump could disrupt 2024 election
President Joe Biden comes off the victory of Ketanji Brown Jackson's confirmation to the Supreme Court with a backlog of lower court vacancies that don't have a pending nominee, including 19 circuit court seats.
Biden moved quickly to fill judicial vacancies in his first year in office but put forward only one nomination since Justice Stephen Breyer announced plans to retire in late January. The White House must pick up the pace if it wants to fill judgeships—including two seats on the powerful D.C. federal appeals court—prior to midterms that could end Democrats' narrow Senate majority.
"There certainly is another opportunity to have a year similar to 2021," said John Collins, a professor at George Washington University who focuses on judicial nominations, pointing in particular to the circuit vacancies. "But they are starting to approach the point where they're going to lose valuable time to hold hearings if they don't start sending more nominees forward."
Sen. Lindsey Graham (R-S.C.) underscored what a GOP-controlled Senate would look like for Biden's judicial nominees at Jackson's Judiciary Committee markup, where he warned, "the process you started to go to a simple majority vote is going to rear its head here pretty soon when we're in charge. Then we'll talk about judges differently."
Democrats eliminated the 60-vote requirement on executive and judicial nominations under Barack Obama after Republicans stymied his nominees. Republican Donald Trump also used those procedures to his advantage to appoint a trio of justices and reshape lower courts with younger conservatives with the help of a GOP-led Senate.
In his first 12 months, Biden outpaced every president since John F. Kennedy with his appointments, according to the Brookings Institution's Russell Wheeler. His nominees have been diverse in terms of gender, race and ethnicity, and professional experience. The Senate moved on lower court nominees during Jackson's confirmation process, but new nominations essentially paused after Breyer's announcement, with only a single new nomination announced Feb. 2. Read more from Madison Alder.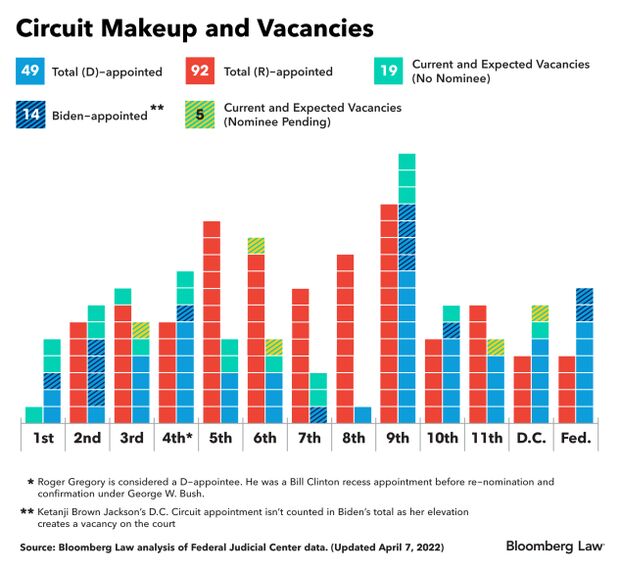 Also Happening on the Hill
A once-obscure border policy created chaos on Capitol Hill this week and showed the increasingly fraught nature of immigration politics, and some unexpected avenues for bipartisan action. Opposition to the White House's plans to nix a pandemic-related border restriction known as Title 42 derailed a Covid-19 aid measure in the Senate, gummed up an unrelated House vote, and sparked legislation to rebut the move. The change was opposed by moderate Democrats, some of whom face challenging fall elections. Read more from Ellen M. Gilmer.
Members of Congress punted on raising their own pay again last month, and the prospects are dim for it to happen anytime soon. Despite inflation and cost-of-living increases, the fiscal 2022 omnibus spending law marked the 13th straight year Congress froze lawmaker salaries, which are automatically adjusted upward unless members vote to reject the annual increases. The poor political optics of doing so continue to sink the possibility. House Administration Chair Zoe Lofgren (D-Calif.) said there's been no discussion among members about a salary hike. "There doesn't seem to be a lot of appetite to change that," she said. Read more from Greg Giroux.
Schumer teed up two of Biden's four Fed nominees for votes by the full chamber later this month. Schumer took a procedural step before the Senate left for a two-week break seeking to limit debate on Lael Brainard's nomination for vice chair, as well as Lisa Cook's nomination for Fed governor when lawmakers return. Biden's other two nominees—Jerome Powell for another term as Fed chair and Philip Jefferson for Fed governor—have widespread support and may not face attempts by Republicans to extend debate. Read more from Steven T. Dennis.
Senators confirmed long-stalled nominees for key positions in the Commerce and Transportation departments on Thursday after a Senate Republican dropped the hold he had placed on them over supply chain concerns. The chamber confirmed by voice vote Mohsin Raza Syed to be an assistant secretary of transportation, Grant Harris to be an assistant secretary of commerce, and Laurie Locascio to be undersecretary of commerce for standards and technology, among others. Movement on the nominations came after Sen. Rick Scott (R-Fla.) ended the procedural tactic to slow progress. Lillianna Byington has more.
David Weil, an Obama-era official whose nomination was defeated in the Senate, is withdrawing his name from consideration for the role of the nation's chief wage-hour regulator. Weil's decision, announced in a tweet from Labor Secretary Marty Walsh, reflects the political realities in the Senate after a public loss last month. The White House later confirmed the withdrawal in a statement. See Paige Smith's latest for more.
House Republicans proposed legislation to block imports of wood products from Russia and Belarus, and ramp up domestic timber harvesting on public lands and national forests. The No Timber From Tyrants Act, sponsored by the top Republican on the Natural Resources Committee, Bruce Westerman (Ark.), would direct the Agriculture and Interior secretaries to harvest more timber from already authorized plans to substitute for the loss of the imports. The U.S. in 2021 took in $500 million of such products from Russia and Belarus last year, the Congressional Research Service reported. Read more from Kellie Lunney.
Senator Tim Kaine said Putin deserves the "Slobodan Milosevic treatment" and the U.S. should do everything it can to bring him up on war crime charges at the International Criminal Court in the Hague. "When you target civilians, that's a war crime," Kaine (D-Va.) said in an interview. "Will we see him in the Hague? We need to do everything we can to make sure that he is." Milosevic, a Serbian strongman who pursued bloody conflicts against other Balkan nations after the dissolution of Yugoslavia in the 1990s, became the first head of state to be charged with war crimes. He died on trial. Read more from Daniel Flatley.
Dozens were killed Friday morning as Russian troops allegedly shelled people waiting at a railway station for special evacuation trains to transport them out of the Donetsk region in eastern Ukraine ahead of expected heavy fighting there, officials said. Tetyana Ignachenko, a regional spokeswoman, said Ukrainian railways were using the station in Kramatorsk to evacuate civilians. A rescue operation is under way, she said. Ukraine's defense ministry put the death toll at more than 30, with more than 100 injured. Follow the latest in the Bloomberg News Ukraine Update.
As Russia refocuses its invasion of Ukraine on the east, recognition is growing in Kyiv and allied capitals that the window to prevent the nation's partition and a long war of attrition may be narrow. The recent withdrawal of Russian troops from around Kyiv represents a defeat, after Ukraine's military stalled their advance with a combination of urban warfare and attacks on supply lines. Yet to roll back, or even contain a grinding advance by reinforced Russian units across the eastern Donetsk and Luhansk regions would mean taking the fight to open battlefields, requiring more than just the light anti-tank and anti-aircraft missiles the U.S. and Europe have supplied so far. Read more from Marc Champion, Natalia Drozdiak and John Follain.
Elections, Politics & Probes
Candidates in 2022 attorneys general races in 10 states that tried to invalidate Biden's 2020 election will be in a position to again disrupt a presidential election in 2024. Their loyalty to former President Donald Trump and a willingness to advance his claims of election wrongdoing have become part of the campaign debate in those races. Attorneys general—states' chief legal officers—have the power to allege and criminally prosecute violations of state laws, including election laws. Several have used their investigative powers to promote ballot challenges and elevate claims of election fraud. Stephen Joyce has more.
Hillary Clinton's presidential campaign and the Democratic Party might be improperly withholding evidence from the probe into the origins of the FBI's 2016 Russia probe, Special Counsel John Durham said. In a court filing Thursday, Durham suggested that the campaign and Democratic National Committee improperly asserted attorney-client privilege over communications with investigative firm Fusion GPS subpoenaed by his team. Those documents did not relate to legal advice and the assertion "would appear to stretch and potentially contravene the appropriate bounds" of the protection, he said. Erik Larson has more.
Around the Administration
BIDEN'S SCHEDULE:
Biden, Vice President Kamala Harris and Jackson will speak shortly after noon from the White House about Jackson's confirmation to the Supreme Court.
Press Secretary Jen Psaki holds a press conference at 2 p.m.
Biden spent an hour with Nancy Pelosi in the two days before she tested positive for Covid, including an embrace and a kiss on the cheek—yet the White House insisted Thursday he does not qualify as a "close contact" of the House speaker. Biden—who just received his second booster dose of the Pfizer vaccine—tested negative on Wednesday. Because he wasn't deemed to have spent enough time around Pelosi (D-Calif.), he won't follow CDC guidance that close contacts wear a mask for 10 days, his spokeswoman said, Josh Wingrove and Billy House report.
Treasury Secretary Janet Yellen is counting on the support of corporate America for a recently agreed global tax deal to help win passage in Congress — a crucial step for its worldwide success. The problem with that plan: Big business is nowhere near backing the proposal. Executives at eight major U.S.-based multinational corporations interviewed by Bloomberg said that far too much remains unknown about the deal, whose fine print is still being negotiated. Read more from Christopher Condon.
A government lawyer faced questions about Biden's termination of the National Labor Relations Board's head Trump-era lawyer during appellate court oral arguments over the president's authority to fire board general counsels before their terms expire. No prior NLRB general counsel had been sacked before Biden fired Trump administration NLRB general counsel Peter Robb, Judge Jennifer Walker Elrod of the U.S. Court of Appeals for the Fifth Circuit said Thursday. Elrod also indicated she was troubled by the prospect of presidents firing Senate-confirmed appointees at any agency. Robert Iafolla has more.
The federal Medicare program finalized a plan to cap coverage for Biogen's Alzheimer's therapy to patients in certain clinical trials, while still offering a road map to cover drugs that show clinical benefit in the disease. The move announced Thursday will effectively prevent most patients with Alzheimer's disease from receiving Biogen's Aduhelm. But Medicare officials said that the policy would provide broader coverage to future drugs that show a clear clinical benefit in large trials of the disease and get full approval from the Food and Drug Administration. Read more from John Tozzi and Robert Langreth.
Medicare's decision is already spurring calls for the administration to lower the program's largest-ever rate increase this year. The standard monthly premium for Medicare outpatient, or "Part B," coverage jumped from $148.50 in 2021 to $170.10 this year, in part to shore up contingency reserves in case the program began to cover Aduhelm. The costly drug was first priced at $56,000 a year, but has since been lowered to $28,000. Read more from Tony Pugh.
Federal workers will face renewed pressure to get Covid shots or risk losing their jobs under a court ruling. A federal appeals court on Thursday told a trial judge to throw out a challenge to Biden's vaccine mandate covering 2.1 million federal government civilian employees. A Texas judge had previously blocked the presidential order nationwide. The verdict echoes the Supreme Court decision green-lighting Biden's similar requirement for federally funded health facilities. The crux of the debate is whether Biden, as CEO of the federal workforce, can enforce mandates for medical procedures. Read more from Laurel Brubaker Calkins.
To contact the reporters on this story: Giuseppe Macri in Washington at gmacri@bgov.com; Brandon Lee in Washington at blee@bgov.com
To contact the editors responsible for this story: Loren Duggan at lduggan@bgov.com; Michaela Ross at mross@bgov.com