What to Know in Washington: Biden Order Targets Competition
President Joe Biden will sign a sweeping executive order designed to promote competition across American industries, calling on regulators to increase scrutiny of technology companies, drug prices, shipping and more.
The president's action will prompt the federal government to set new regulations on everything from airline luggage fees to non-compete clauses, according to a White House fact sheet. He will sign the order today after delivering remarks on the American economy.
Read a fact sheet on the order here.
The order will direct federal agencies to scrutinize tech companies' use of consumer data and more closely examine industry mergers, in a nod to concerns that companies like Facebook, Amazon, Apple and Alphabet Inc.'s Google use that data to gain excessive market power.
The order will also ask the FCC to reinstitute net neutrality rules that barred internet providers from blocking or slowing certain content or speeding up delivery for a price. Those rules had been implemented under former President Barack Obama but rolled back under former President Donald Trump.
The president will also call on federal health officials to increase work to drive down prescription drug prices by working with states to come up with plans to import medicines from Canada, where they are cheaper. Trump had also encouraged that idea. Biden will also urge the Federal Trade Commission to stop pharmaceutical manufacturers from paying their generic counterparts to delay entry of lower-price versions of medications into the market. That idea is part of pending legislation in the Senate and aligns with campaign promises Biden made last year. Read more from Justin Sink.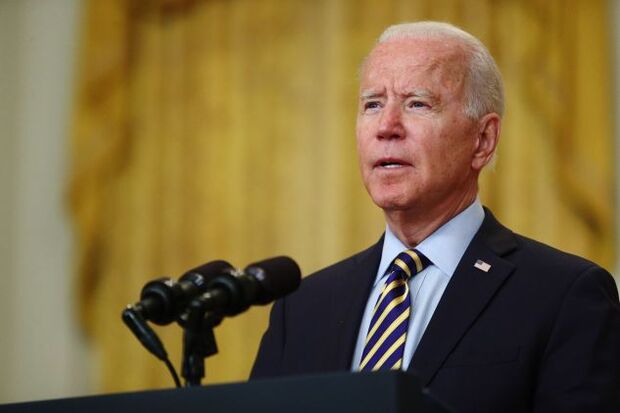 Happening on the Hill
Pelosi Slams Drugmaker Buybacks, Wants Price Cuts in Bill: Speaker Nancy Pelosi (D-Calif.) said yesterday she is pushing to attach drug price cutting legislation to the major budget bill carrying most of Biden's $4 trillion economic agenda in the coming months. The top Democrat slammed drug companies for the level of stock buybacks and dividends in recent years and argued that cuts to prices will not harm research and development spending given new findings on buybacks.
The House Democratic bill would allow Medicare to negotiate drug prices, and then force drug companies to lower the prices they charge private insurers or impose huge fines on the companies. Pelosi said she wants it to be part of a special budget bill that can pass the Senate without Republican support since it is immune from the filibuster. Read more from Erik Wasson.
Waters Says Biden Committed to Housing in Reconciliation: Rep. Maxine Waters (D-Calif.), chairwoman of the House Committee on Financial Services, said in a statement that Biden assured her housing would be included in budget reconciliation legislation, Max Zimmerman reports. "As I have followed all of the discussions on the bipartisan infrastructure deal, housing has not been part of the discussions. So, I spoke directly with President Biden on the need to include housing in reconciliation," Waters said in the statement.
Brady Cautions Yellen on Global Tax Framework: House Ways and Means ranking member Kevin Brady (R-Texas) said in a letter to Treasury Secretary Janet Yellen he's concerned with OECD negotiations for a global minimum tax and negotiators mustn't cede U.S. interests. "Congressional support for an agreement at the OECD will hinge on protecting American workers and the U.S. tax base," Brady said in a letter co-signed by Senate Finance Committee ranking member Mike Crapo (R-Idaho), Brody Ford reports.
G-20 finance ministers are set in their communique this week to endorse a global tax overhaul and call for finishing work on the details of a deal by October, according to people familiar with the discussions. Finance ministers and central bankers are meeting today and Saturday in Venice, and they're expected to release a statement at the gathering's conclusion. Alessandro Speciale and Alex Morales have more.
Politics & Influence
Labor, Business Lobbies Back Infrastructure Bill: The largest U.S. business and labor organizations are joining forces with more than 20 other interest groups to press lawmakers to enact the $579 billion infrastructure deal brokered by bipartisan senators with Biden last month. The U.S. Chamber of Commerce and AFL-CIO, together with groups representing manufacturers, retailers and builders, announced yesterday the formation of a coalition that will advocate for passage of the infrastructure package. The alignment of business and labor organizations that are more known for being at odds with each other underscores the urgency surrounding the infrastructure package. Read more from Jennah Haque.
Meanwhile, conservative political groups are organizing in opposition to the tentative infrastructure deal, urging Republican lawmakers to reject the White House-Senate framework. A letter signed by six prominent conservative advocates, including former Trump Federal Reserve Board nominee Stephen Moore and Americans for Tax Reform president Grover Norquist, asked conservative members of Congress to establish four preconditions to any deal, including that any new spending be paid for by reprogramming already approved funding. Read more from Colin Wilhelm.
Civil Rights Groups Vow Protests, Lobbying to Fight Voting Curbs: A group of civil rights leaders told Biden and Vice President Kamala Harris that Americans will march this summer to pressure Washington to pass voting rights legislation as Republican-led state legislatures make it harder to cast ballots. Leaders including Marc Morial, president of the National Urban League, Al Sharpton, leader of the National Action Network, and Johnnetta Cole, leader of the National Council of Negro Women, among others, said they conveyed to Biden the urgency of protecting the right to vote. Read more from Mario Parker, Nancy Cook and Justin Sink.
Texas GOP Bills Overhaul Elections: Poll watchers in Texas would be entitled to move more freely at voting sites, and drive-through and 24-hour polling locations used during the 2020 elections would be outlawed, under proposals to change state election laws state lawmakers are considering in a special session. Public hearings are scheduled for tomorrow for the Senate and House bills that contain similar language to the measure stopped by Democrats when they left the House floor in May and denied a quorum for a vote in the waning hours of the regular legislative session. Read more from Paul Stinson.
Toyota Halts Donations to Anti-Election Republicans: Toyota backtracked on its political giving policies, re-adopting a ban on donations to the 147 Republicans who voted against certifying Electoral College votes for Biden on Jan. 6. The automaker's PAC had donated $56,000 this year to 38 members who opposed the count, according to a report by the Citizens for Responsibility and Ethics in Washington. Read more from Bill Allison.
Around the Administration
U.S. Frets Time Low to Save Iran Nuclear Deal: Biden's team is beginning to grapple with the possibility that the 2015 nuclear accord with Iran he promised to revive may soon be beyond saving. Hopes for a quick re-entry to the accord that Donald Trump abandoned have dimmed after six rounds of negotiations in Vienna, with little sign of when a seventh might start. The stalemate is compounded by Iran's technological advances and the election of a new hard-line president, raising doubt about whether the agreement reached in 2015 would be sufficient to constrain the country's nuclear ambitions anymore. Read more from Nick Wadhams.
Taliban Resurgence Raises Terrorism Fears: The Taliban's lightning-fast advance to control more territory in Afghanistan is raising alarms from Russia to China, as Biden's move to withdraw troops disrupts a balance of power in South Asia that has held steady for about two decades. Read more from Eltaf Najafizada, Faseeh Mangi and Sudhi Ranjan Sen.
Pfizer Outlines Booster Plans While Regulators Signal Caution: Pfizer plans to request U.S. emergency authorization in August for a third booster dose of its Covid-19 vaccine, based on early data showing that it can sharply increase immune protection against the coronavirus. At the same time, however, federal health officials signaled that they would take a cautious approach to potential booster shots, and underlined that the currently available vaccines are effective at keeping people from being sickened by the coronavirus. Read more from Robert Langreth and Josh Wingrove.
Vietnam Meets With U.S. Trade Reps on Currency, Timber: Vietnamese officials held a virtual meeting with the U.S. Trade Representative's office this morning Hanoi time to discuss timber exports and other trade issues, according to people with knowledge of the situation. The USTR has been investigating imports of timber from Vietnam that it suspects are illegally harvested or traded, while the U.S. has also been considering whether to move forward on imposing tariffs over currency actions. Read more from Nguyen Dieu Tu Uyen.
U.S. to Add China Firms to Xinjiang Blacklist: The Biden administration will add at least 10 Chinese entities to its economic blacklist as early as today over alleged human rights abuses and high-tech surveillance in Xinjiang, Reuters reported. It's not yet known precisely how many entities are involved or their identities, a Reuters report said, citing two unidentified sources. It added that the White House and the Commerce Department declined to comment. Read more.
To contact the reporters on this story: Giuseppe Macri in Washington at gmacri@bgov.com; Brandon Lee in Washington at blee@bgov.com
To contact the editors responsible for this story: Zachary Sherwood at zsherwood@bgov.com; Loren Duggan at lduggan@bgov.com; Michaela Ross at mross@bgov.com