What to Know in Washington: Biden Open to New Oil Reserve Sales
US to unveil big barrel release from oil reserves
Biden to ask Congress for more Ukraine powers
The Biden administration plans to release 15 million barrels from US emergency reserves, and may consider significantly more this winter, in an effort to ease high gasoline prices that have become a liability for Democrats in next month's midterm elections.
President Joe Biden will announce the plan Wednesday, senior administration officials told reporters Tuesday evening on condition of anonymity to preview his remarks.
It's the final tranche of oil from a program the White House began in the spring to release a total of 180 million barrels of crude from the Strategic Petroleum Reserve to address high gas prices stemming from Russia's invasion of Ukraine among other factors.
The president is also prepared to conduct additional, significant SPR sales this winter if conditions require it, according to a senior administration official. Biden will speak at 1:15 p.m. Washington time, the White House said.
In addition, the White House announced new details on its plan to replenish the emergency stockpile, which has the capacity to hold about 714 million barrels and contained 405.1 million barrels as of Oct. 14. The administration plans to initiate purchases when West Texas Intermediate crude prices are at or below $67 to $72 per barrel, according to a senior administration official. Read more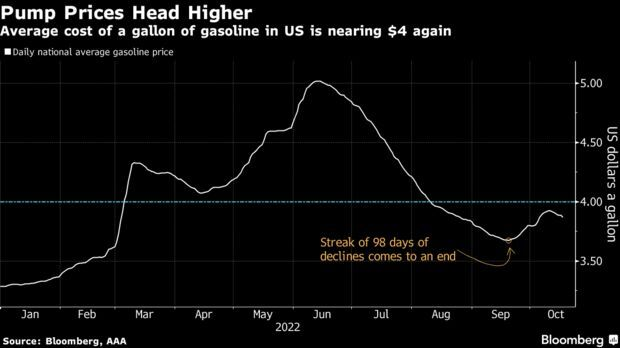 Happening on the Hill
The Biden administration is pressing Congress for new authorities to speed up production and transfer of weapons for Ukraine and allies as part of the annual defense policy bill.
Sen. Mark Warner (D-Va.) said that, in retrospect, Biden's $1.9 trillion pandemic relief package last year was too large, though he played down its influence in spurring US inflation.
Warner, chairman of the Senate Intelligence Committee, said he's "disappointed" that companies such as Apple and Tesla tout their ESG bona fides but neglect glaring environmental or human rights issues when relying on China for supply chains and sales.
Two US senators said they will hold a hearing in November on Kroger's planned $24.6 billion takeover of Albertsons that would highlight its impact on competition among grocery stores.
The FDA should implement more rigorous clinical trial standards for new antibiotics, doctors and infectious disease policy analysts say, as Congress considers legislation to fund antimicrobial development.
Senate Rules and Administration Chair Amy Klobuchar (D-Minn.) Tuesday applauded the ratification of a new labor agreement between Senate restaurant workers and Restaurant Associates. Klobuchar's panel has oversight over the Architect of the Capitol and has pressed for a "fair contract," she said in a statement.
Elections & Politics
Join Our Election Webinar Today: Bloomberg Government's election guru, Greg Giroux, will be providing a high-level update on the midterm elections and will take your questions on our Oct. 19 webinar. Register here .
Political party committees would be able to tap more money from big donors to pay for campaign ads under draft rulings released by federal regulators Tuesday.
A military veteran who stormed the US Capitol with the Oath Keepers testified that members of the far-right militia group were set on stopping the certification of the 2020 election on Jan. 6, 2021, with violence, if necessary.
Former Trump Justice Department official Jeffrey Bossert Clark asked a federal court to intervene in and block disciplinary charges brought against him over claims he attempted to help overturn the 2020 election.
A business analyst who was the primary source for a 2016 dossier on Donald Trump's alleged ties to Russia was acquitted of charges he lied to the FBI, in a blow to the special prosecutor probing the agency's investigation.
Georgia voters turned out in record numbers on Monday, the first day of early in-person voting in the state, where Democratic Senator Raphael Warnock is facing a tough challenge from Republican Herschel Walker, and Republican Governor Brian Kemp is in a rematch against his 2018 opponent, Democrat Stacey Abrams.
Around the Administration
PRESIDENT'S SCHEDULE
At 1:15 p.m., Biden will give a speech at the White House on his plans to lower energy costs.
At 3 p.m., the president will give a speech at the White House on the bipartisan infrastructure law.
At 12:15 p.m., White House Press Secretary Karine Jean-Pierre gives a briefing.
The SEC is months away from finalizing expansive new climate disclosure requirements as the agency juggles investor demands for more transparency, tech glitches and a tough Republican legal threat.
The Treasury Department's Federal Insurance Office is seeking public comment on its proposal to collect insurance companies' data to assess climate-related financial risk, a move to evaluate whether homeowners have enough insurance protection against global warming.
High-risk, high-reward research grants will continue at the National Institutes of Health as a separate biomedical accelerator continues to ramp up, the agency's second-in-command told Bloomberg Law.
The US Department of Justice is pursuing permanent injunctions against six e-cigarette manufacturers on behalf of the Food and Drug Administration, the FDA said Tuesday.
Defense & Foreign Affairs
Hyundai Motor and the South Korean government are ratcheting up lobbying to loosen restrictions that Sen. Joe Manchin (D-W.Va.) fought to include in this year's US climate law, arguing the rules could blunt the automaker's rapid growth in the market.
Biden and Mexico President Andres Manuel Lopez Obrador discussed joint migration management efforts, according to a statement from White House.
SpaceX is losing about $20 million a month providing its Starlink satellite internet service to Ukraine, Chief Executive Officer Elon Musksaid on Twitter.
Rivals of Elon Musk's Starlink satellite communications are gaining attention from the Pentagon as Musk draws criticism for Starlink's unavailability in contested areas like Ukraine.
To contact the reporter on this story: Michaela Ross in Washington at mross@bgov.com
To contact the editors responsible for this story: Giuseppe Macri at gmacri@bgov.com; Brandon Lee at blee@bgov.com