What to Know in Washington: Biden on Road to Tout Infrastructure
President Joe Biden will look to sell his economic agenda to the public this week, speaking today about how his tax and spending plan aims to reduce the cost of prescription drugs and on Wednesday about the benefits of the bipartisan infrastructure law. Meanwhile, the president is preparing for a video call with President Vladimir Putin tomorrow following a buildup of tensions with Russia's neighbor Ukraine.
Here's what Bloomberg Government is tracking for Monday.
Congress Agenda:
The Senate meets at 3 p.m., and will hold a procedural vote on Biden's pick to lead the Federal Communications Commission.
The House is not in today, and returns tomorrow.
Lawmakers in both chambers this week are working on a path forward on the annual defense policy bill, legislation to avoid breaching the debt ceiling, and Democrats' roughly $1.75 trillion tax and spending plan.
Click here for a complete list of today's hearings and markups.
Biden's Schedule:
Biden will speak at 2 p.m. from the White House on his tax and spending agenda's plans to address prescription drug costs.
Tomorrow, Biden will hold a call with Russian President Vladimir Putin. The president on Wednesday will travel to Kansas City to tout the bipartisan infrastructure law. Biden will host a virtual Summit for Democracy on Thursday and Friday with more than 100 participants.
Biden's Urgency Belies Infrastructure Rollout
Biden's multi-state tour to tout a $1.2 trillion infrastructure plan is designed to boost Democrats in the midterm elections, but the slow-moving wheels of government won't allow him to show off many new roads or bridges next year—or even in time for the 2024 presidential election.
Unlike the pandemic relief bills passed since last year, the infrastructure package is a five-year authorization bill with money spread through 2027. Not all of the money is mandatory, either—some discretionary programs will need Congress to continue to fund them year after year. "This funding isn't going to show up tomorrow. It will take a little time to stand these programs up, but we're ecstatic and ready for it," said Jimmy Wriston, secretary of the West Virginia Department of Transportation.
Some provisions of the bill will take even longer than five years. A $1.2 billion upgrade of the Washington subway system won't be fully paid until 2030. A drawdown of the strategic petroleum reserve could take until 2031. And some port infrastructure funds don't have to be spent until 2036.
That timeline could blunt the law's effectiveness as a campaign issue as Democrats struggle to keep control of Congress next year, and it won't be an immediate panacea for the inflation and supply-chain problems that have dogged Biden's poll numbers. He plans to visit Kansas City on Wednesday, his first trip to promote the public-works bill in a state that voted for former President Donald Trump. Read more from Gergory Korte.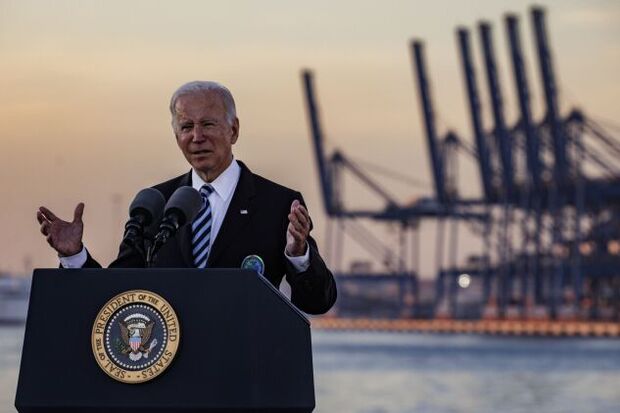 Biden Plans to Raise Ukraine With Putin
Biden will reaffirm U.S. support for Ukraine's sovereignty in the face of a Russian military buildup when he holds a video call with President Vladimir Putin tomorrow, according to a White House statement.
The diplomatic effort, which the Kremlin announced earlier Saturday, follows weeks of escalating tension over Russian encroachment on its neighbor. A senior administration official said Friday that U.S. intelligence had concluded the Kremlin was planning an offensive against Ukraine as soon as next year involving an estimated 175,000 personnel.
"President Biden will underscore U.S. concerns with Russian military activities on the border with Ukraine and reaffirm the United States' support for the sovereignty and territorial integrity of Ukraine," White House spokeswoman Jen Psaki said in the statement.
Biden said Friday he anticipates a "long discussion" with Putin about the threat of an invasion of Ukraine, and dismissed the Russian leader's warning that deployment of Western weapons or troops represented a "red line." Read more from Laura Litvan.
Russia said it will protest officially to the U.S. about an incident over the Black Sea Saturday, when civilian aircraft had to divert from their routes because of a U.S. spy plane. "Increased U.S. and NATO warplanes activity near Russian borders creates risks of dangerous incidents for civilian aviation," Russian Foreign Ministry spokeswoman Maria Zakharova said on her Facebook page yesterday. Read more from Ilya Arkhipov.
Secretary of State Antony Blinken and Russian Foreign Minister Sergei Lavrov had a testy exchange over Ukraine at a dinner with dozens of their colleagues last week, according to people familiar with the discussions. The verbal tension erupted as the U.S. and its European allies seek ways — including possible sanctions — to counter the threat of a Russian invasion of Ukraine after Putin's troop buildup on the neighboring country's border. Read more from Alberto Nardelli, Jennifer Jacobs and Nick Wadhams.
Putin will visit New Delhi today as billions of dollars of Russian weaponry flow into India that would normally attract U.S. sanctions. Eager to draw India into its efforts to contain China, the U.S. may look away this time. Putin is making his first foreign trip in nearly six months for talks with Prime Minister Narendra Modi as India takes delivery of Russia's S-400 advanced missile-defense system that's part of a $5 billion weapons deal. A similar purchase by NATO ally Turkey prompted the U.S. to ban Ankara from its advanced F-35 fighter jet program. Read more from Archana Chaudhary and Ilya Arkhipov.
Austin Says U.S. to Counter China: Defense Secretary Lloyd Austin said the U.S. will stand up to an "increasingly assertive and autocratic" China in the Indo-Pacific region and beyond, calling its activity "disturbing." One way to counter China's military modernization, growing nuclear capabilities and technological advances is to strengthen U.S. alliances in the region, Austin told a security conference in California on Saturday, fresh from a visit to South Korea. Read more from Tony Czuczka.
The space rivalry between the U.S. and China is suddenly heating up after a top Chinese scientist said his nation may be able to send astronauts to the moon for the first time by 2030. Read more from Bruce Einhorn.
The U.S. is poised to announce a diplomatic boycott of the Beijing Winter Olympics, CNN reported, a move that would create a new point of contention between the world's two largest economies. Read more.
ALSO AROUND THE ADMINISTRATION:
Happening on the Hill
Drinking Water Funds Fall Short of Need: Biden's ambitious $45 billion request to completely remove lead from U.S. drinking water systems finds itself on the cutting room floor as Democrats' negotiate their tax and spending bill through a narrowly divided Congress. An early House version of Biden's economic package pared the initial request to $30 billion in funds to replace 100% of lead service lines across the country. That figure is about half of the $60 billion the American Water Works Association estimated the complicated project will ultimately cost. The bill the House eventually passed on Nov. 19 contained less than $10 billion for lead remediation and replacement projects. The Senate's bill, which will have differences from the House legislation, isn't likely to increase the $10 billion to remove lead pipes. A person familiar with the Senate negotiations said Democrats in the chamber worked closely with their House counterparts as they drafted the bill, and the $10 billion figure is unlikely to change. Read more from Kellie Lunney.
Omar Says Pelosi to Address Anti-Muslim Comments: House Speaker Nancy Pelosi (D-Calif.) has committed to taking action to address anti-Muslim remarks Rep. Lauren Boebert (R-Colo.) made suggesting that Rep. Ilhan Omar (D-Minn.) posed a threat of terrorist violence, Omar said yesterday. Pelosi made a "promise to me that she will take care of this, and I believe her," Omar, one of three Muslims in Congress, said on CNN's "State of the Union." Omar said she wants Boebert stripped of her committee assignments over the incident at a town hall event last month, where the Boebert called Omar a member of the "Jihad Squad" and joked that she could be a terrorist. "I think it's important for us to say this kind of language, this kind of hate, cannot be condoned by the House of Representatives," Omar said. Read more from Justin Sink.
Ocean Shipping Bill Set for House Vote: U.S. international ocean shipping regulations would undergo their first major update since 1998 under a bill the House is scheduled to vote on this week as lawmakers look to address backlogs in the supply chain. Disruptions from the pandemic have exacerbated challenges in the shipping industry, with major U.S. ports facing backups that have caused shortages and price increases ahead of the holiday season. The bipartisan legislation includes provisions to deal with shipping container issues and to help the Federal Maritime Commission crack down on unfair ocean carrier practices. Read more on the legislation from Lillianna Byington.
House to Vote on Livestock Prices, Chronic Wasting Disease: The House is slated to vote on two bills this week related to animals—one that would shed light on cattle and swine prices and one that would address chronic wasting disease in deer. The first measure would extend the authorization for a federal program that mandates livestock price reporting through Sept. 30, 2022. The other bill would support states and tribes in researching and managing chronic wasting disease, or CWD. Read more from Megan U. Boyanton.
Politics & Influence
Bob Dole, Senate GOP Leader and White House Hopeful, Dies: Bob Dole, the World War II veteran who recovered from near-fatal wounds to become the U.S. Senate Republican leader and a three-time presidential candidate, has died. He was 98. Dole died yesterday morning in his sleep, according to a Twitter post by the Elizabeth Dole Foundation. He disclosed in February that he had stage-four lung cancer. Biden recalled Dole as a friend from the opposing party and "an American statesman like few in our history" who championed legislation for Americans with disabilities and a federal holiday honoring Martin Luther King Jr. "He had an unerring sense of integrity and honor," Biden said in a statement, adding that flags at the U.S. Capitol would be lowered to half-staff in his honor until Dec. 9. Read more from Laurence Arnold and Bill Arthur.
Top Washington Court Accepts Congressional Map: Washington's Supreme Court declined to redraw political district lines and accepted final maps from the state's redistricting commission even though it technically missed a deadline. In a unanimous ruling Friday, the court said the commission in effect complied with state law when it voted to approve new congressional and state legislative maps less than one minute before midnight on the Nov. 15 deadline to complete redistricting, while formally transmitting the maps to the state legislature 13 minutes after midnight on Nov. 16. Read more from Greg Giroux.
Biden Fetes Bette Midler as Kennedy Honors Resume: Biden hosted a star-studded celebration marking the annual Kennedy Center Honors, resuming a tradition of honoring achievement in the arts and culture that lapsed during Trump's presidency. This year's honorees joining Biden at a White House reception were singer-songwriters Bette Midler and Joni Mitchell, "Saturday Night Live" creator Lorne Michaels, Puerto Rican opera star Justino Díaz and Motown record executive Berry Gordy. "You are in a sense the face of America," Biden said. "You're the ones that most people associate with who we are as a country." Read more from Justin Sink and Alexis Shanes.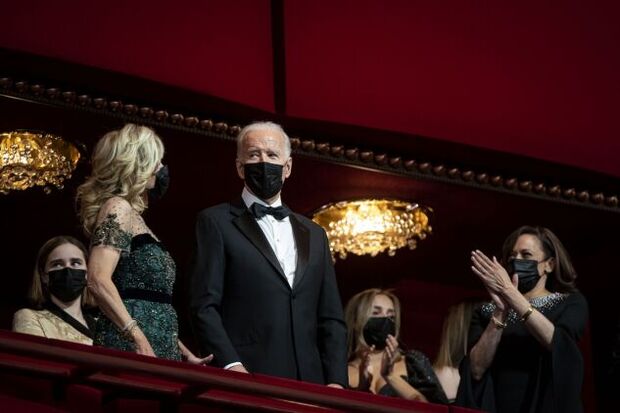 What Else We're Reading
Former Sen. David Perdue plans to announce he'll challenge Georgia Gov. Brian Kemp, setting up an epic Republican Party primary clash in one of the nation's top battleground states, Politico reports. Perdue, who was recruited to run against the governor by former President Trump, intends to make his announcement today in a video and file his paperwork at the same time, Politico's Marc Caputo reports, citing sources briefed on the plans. Read more.
Trump meanwhile brokered a deal this weekend to clear the North Carolina GOP Senate field for Rep. Ted Budd, the candidate he endorsed in June but who has failed to emerge so far as the clear frontrunner, Politico reports. During a meeting at Mar-a-Lago on Saturday, Trump pledged to endorse former Rep. Mark Walker (R), who is currently in third place in the Senate primary, if Walker leaves the race and runs again for the House instead, according to multiple sources present at the gathering. Politico's Natalie Allison has more.
The Washington Post looks back at the seven days during which Trump battled a Covid-19 infection last year, starting with the reported positive test aboard Air Force One on the way to a Pennsylvania rally. Read more from the Post's Ashley Parker and Josh Dawsey.
To contact the reporters on this story: Zachary Sherwood in Washington at zsherwood@bgov.com; Brandon Lee in Washington at blee@bgov.com
To contact the editors responsible for this story: Giuseppe Macri at gmacri@bgov.com; Loren Duggan at lduggan@bgov.com