What to Know in Washington: Biden on Defense Amid Chaos in Kabul
Bloomberg Government subscribers get the stories like this first. Act now and gain unlimited access to everything you need to know. Learn more.
President Joe Biden offered a defiant defense of his decision to withdraw from Afghanistan as he addressed the nation yesterday, even as he acknowledged the "far from perfect" calamity that has become one of the biggest crises of his presidency.
"I stand squarely behind my decision," Biden said yesterday as he addressed the nation from the East Room of the White House. "After 20 years, I've learned the hard way that there was never a good time to withdraw U.S. forces."
Biden said the U.S. would continue to fight terrorism in Afghanistan even after the pullback, what he said was an effort to show he was honoring his commitment to military personnel to end the war in Afghanistan.
The president returned from Camp David in Maryland yesterday to a political firestorm, as he faced criticism from both Democrats and Republicans. Allies and opponents suggested his stubborn determination to withdraw American forces and disregard concerns that the Taliban was quickly advancing across Afghanistan had created a humanitarian disaster.
Images of panic and despair as Afghans crowded the Kabul airport—even clinging to U.S. Air Force planes as they taxied down the runway—threatened to define Biden's presidency and intensified pressure on the president to explain how his administration had misjudged conditions in the country.
Biden noted that former President Donald Trump had already drawn down the U.S. presence in the country to a fraction of its size after striking a deal with the Taliban last year in Doha. "The choice I had to make as your president was to follow through with that agreement or to go back to be prepared to go back to fighting the Taliban in the middle of the spring fighting season," Biden said.
Biden also shifted some of the blame to the Afghans, who received years of training and billions of dollars in military equipment. Nevertheless, the U.S. could not provide Afghan security forces "the will to fight." Afghan leaders "gave up and fled the country. The Afghan military collapsed, sometimes without trying to fight," Biden said. Read more from Justin Sink.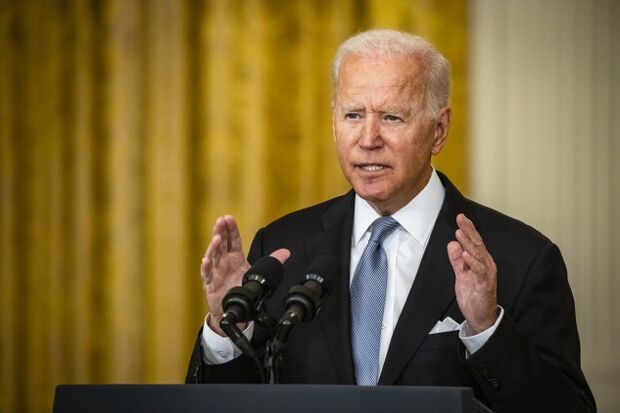 Afghan Collapse Follows 20 Years of U.S. Missteps, Watchdog Says: The chaotic withdrawal from Afghanistan was 20 years in the making, a key congressionally mandated watchdog agency concluded just days before the government's collapse to the Taliban on Sunday.
The nearly $1 trillion in spending by the U.S. since late 2001 was hobbled by a shifting American strategy, Afghan corruption, unsustainable projects and a failure "to understand the Afghan context" after decades of war, according to a report yesterday by John Sopko, the Special Inspector General for Afghanistan Reconstruction, or Sigar.
Thirteen years of Sigar reports issued warnings about inaccurate data inflating the size of Afghan forces. In one province, Sigar wrote, up to 70% of the reported security forces were "ghost soldiers," or fictitious.
The latest Sigar report, beyond criticizing both Biden and Trump, made clear that every administration since George W. Bush's can share in the blame. The report gave Biden credit for recognizing that 20 years of changing or incoherent strategy and nearly limitless spending "had failed to bring the desired change and stood little chance of doing so."
But Biden's decision "regardless of Taliban advances or where prospects for peace stood" also left "uncertain whether even the modest gains of the last two decades will prove sustainable," it said. Read more from Tony Capaccio.
U.S. Must Relocate Afghan Women Leaders, Senators Say: A bipartisan group of 46 senators including Foreign Relations Chair Bob Menendez (D-N.J.) and Majority Leader Chuck Schumer (D-N.Y.) asked Secretary of State Antony Blinken and Homeland Security Secretary Alejandro Mayorkas to take steps to help Afghanistan's women leaders, who are at risk for retaliation by the Taliban, relocate to the U.S.
"While we welcomed the expansion of the eligibility requirements for Special Immigrant Visas and the creation of the Priority 2 category in the U.S. Refugee Admissions Program, we must also protect those women who might fall through the cracks of the U.S. Government's response," they said. "We strongly urge you to create a humanitarian parole category specifically for women leaders," including activists, judges, parliamentarians, journalists, and female soldiers, the senators said, Se Young Lee reports.
Afghan Cease-Fire Deal Struck in Doha Collapsed: The days leading up to Kabul's collapse saw a flurry of diplomatic activity by the U.S. and its allies in Qatar aimed at heading off exactly the chaotic scenes in the capital city that've stunned the world and put Biden on the defense. Among the efforts was a tantalizing deal that could have guaranteed calm. Afghan and Taliban negotiators tentatively reached a deal in which all sides would declare a two-week cease-fire in exchange for President Ashraf Ghani's resignation and the start of talks on setting up a transitional government, according to two people familiar with the matter, who asked not to be identified discussing private deliberations.
That opportunity, which hasn't been previously reported, was lost when Ghani fled the country, according to the people. Ghani's decision to leave Afghanistan—he said he did so to avoid a bloodbath—surprised his negotiating team in Doha, American diplomats and even his chief of staff and other top aides, said the people. Nick Wadhams has more.
China Enters High-Stakes Taliban Relationship: When the Taliban took over Afghanistan the first time in 1996, China refused to recognize their rule and left its embassy shut for years. This time around, China has been among the first to embrace the Islamist militants next door. Beijing's remarkable shift was on display a little over two weeks ago, when Foreign Minister Wang Yi welcomed a Taliban delegation to the northern port of Tianjin as the group made gains in the war-torn country. Read more from Bloomberg.
European Leaders Point Fingers at U.S.: European leaders struggled to mask their frustration with Biden's decision to withdraw the last U.S. soldiers from Afghanistan and sought to distance themselves from the dramatic scenes unfolding across the war-torn country. German Chancellor Angela Merkel told reporters yesterday that the NATO mission in Afghanistan was "fundamentally dependent" on the U.S. while French President Emmanuel Macron stressed that the Taliban took Kabul from the U.S.-trained forces that Biden had backed in just "a matter of hours, with no resistance." Read more from Samy Adghirni.
Facebook Says It's 'Proactively' Pulling Taliban Content: Meanwhile, a Facebook executive says the company is "proactively" removing content from its platforms promoting the Taliban as the group takes power. The Taliban is on the social media giant's list of dangerous organizations and thus any content promoting or representing the group is banned, Adam Mosseri, who leads Facebook's photo-sharing app Instagram, said during a Bloomberg Television interview. Naomi Nix and Emily Chang have more.
Read live updates of the situation unfolding in Afghanistan from Bloomberg News here.
On Lawmakers' Radars
Trump Inaugural Probe Spurs Warning on FEC Bias: A top Democrat wants election regulators to guard against the appearance of bias at the agency after a watchdog cited problems with the Federal Election Commission's review of Donald Trump's inaugural panel. The inspector general report suggests "both the FEC and Congress should act to ensure personal and political bias plays no role in the official business of the Commission," House Administration Chair Zoe Lofgren (D-Calif.) wrote in a statement.
Lofgren responded to an investigation led by FEC Inspector General Christopher Skinner that examined claims the commission's review of the Trump inaugural committee was tainted by a top official's ties to a top Trump campaign adviser, derailing pursuit of possible campaign finance violations. While he found no actual bias in the FEC's review of the Trump committee, Skinner's report said the handling of the committee showed a need for more vigilance from the FEC. Read more from Kenneth P. Doyle.
Democrats Keep Up Pressure on Drug Pricing: House Democrats are using Congress's shortened August break to build support for legislation to lower the price of drugs, both among voters and in their own ranks. Rep. Frank Pallone (D-N.J.), chair of the House Energy and Commerce Committee, told supporters in New Brunswick, N.J., the House will move quickly to take up a bill to allow the federal government to negotiate drug prices when members return next week. "The time to act is now," Pallone said.
The House is expected to vote on a $3.5 trillion budget bill next week, slated to be the vehicle for Democrats' economic and health policy plan. Because Democrats are expected to get scant support from Republicans for that plan, they'll need to remain united to send it to the president. Democrats are publicly taking on the main criticism of their drug bill—that requiring drugmakers to lower the cost of medicines will stymie the creation of new pharmaceuticals.
"Out-of-control drug prices are just padding corporate profits instead of funding new cures," Rep. Susan Wild (D-Pa.), who holds a strongly contested district in eastern Pennsylvania, said during a virtual event hosted by Lower Drug Prices Now, a group that supports Democrats' drug pricing plan. Democrats are getting backing in this effort from a number of lobbying and advocacy groups, such as AARP.
Patients for Affordable Drugs Now announced yesterday it will spend at least $1 million on ads in districts of 12 House Democrats, many facing tough re-election battles next year, thanking them for backing drug pricing legislation. The 12 include Cindy Axne (Iowa), Lauren Underwood (Ill.), Sharice Davids (Kansas), Jared Golden (Maine), Elissa Slotkin (Mich.), Chris Pappas (N.H.), Andy Kim (N.J.), and others, Alex Ruoff reports.
Democrat Wants College CEOs Liable for Closures: Education Secretary Miguel Cardona should pursue personal liability claims against the former executives of ITT Technical Institute, Corinthian Colleges, and other defunct for-profit colleges for debts owed to the government, Rep. Bobby Scott (D-Va.), chair of the House Education and Labor Committee said in a letter. Senate Democrats previously urged the Trump White House to hold CEOs personally accountable for fraud, Andrew Kreighbaum reports.
Bipartisan Duo Want Review of Coast Guard Delays: Reps. Peter DeFazio (D-Ore.), chair of the House Transportation and Infrastructure Committee, and Sam Graves (R-Mo.), the panel's ranking member, yesterday asked the Government Accountability Office to look into delivery delays of the Offshore Patrol Cutter fleet and Polar Security Cutters for icebreaking. The pair expressed concerns to Comptroller General Gene Dodaro about cost growth and more delays, the PSC and OPC letters show, Lillianna Byington reports.
The Coronavirus Pandemic
U.S. Poised to Urge Covid-19 Booster Shots: The U.S. government is poised to offer coronavirus booster shots as soon as next month, with the country facing a renewed wave of infections fueled by the delta variant. Biden administration officials are finalizing a plan expected to recommend booster shots eight months after people received their second dose, according to two people familiar with the deliberations who asked not to be identified. The plan is not yet finalized but an announcement could come as soon as this week, they said. Read more from Josh Wingrove.
Delayed Wuhan Report Adds Crucial Detail to Virus Origin: The origin story of Covid-19 remains a mystery mired in contentious geopolitical debate. But a research paper that languished in publishing limbo for a year and a half contains meticulously collected data and photographic evidence supporting scientists' initial hypothesis—that the outbreak stemmed from infected wild animals—which prevailed until speculation that SARS-CoV-2 escaped from a nearby lab gained traction. The report was published in June in Scientific Reports. Read more from Jason Gale.
U.S. to Ship First of 500 Million Shots Pledged at G-7: The Biden administration is sending 488,370 Pfizer Covid-19 vaccine doses to Rwanda, including the first shipments that are part of a pledge he made at a Group of Seven summit to donate 500 million doses worldwide. The U.S. will ship the doses this week to Rwanda through Covax, the global vaccine sharing initiative, according to an official familiar with the plan. Read more from Josh Wingrove.
Hospital Deaths Hit Previous Peaks in U.S. Hotspots: The number of people dying with Covid-19 in American hospitals is hitting previous highs in some hot-spot states with low-to-average vaccination rates, upending hopes the virus has become less lethal. In Florida, an average of about 203 people a day are dying in the hospital with confirmed or suspected Covid-19, matching the state's November peak, HHS data show. That's a daily average of around 9 per million residents, the data show. Jonathan Levin has more.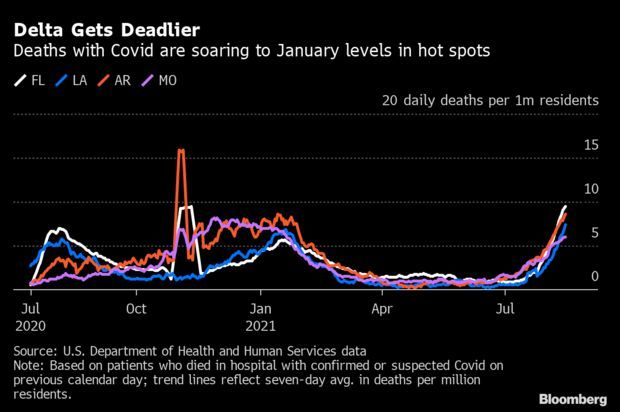 Confusion Over HIPAA Seen Impeding Virus Battle: The Health Insurance Portability and Accountability Act is having a moment in the spotlight, but the federal health-care privacy law is in many cases being mischaracterized. The 1996 law went viral on social media after politicians and athletes, like Rep. Marjorie Taylor Greene (R-Ga.) and the Dallas Cowboys' Dak Prescott, cited it inaccurately as they declined to answer questions on whether they've been vaccinated against Covid-19. Lydia Wheeler has more.
U.S. Scales Back India Travel Warning: The U.S. State Department lowered its India travel advisory to the second-lowest level as the virus situation there eases following one of the world's most deadly resurgences. The shift to advising Americans to "exercise increased caution" when visiting India came after the Centers for Disease Control and Prevention said the South Asian nation now has a "moderate level of Covid-19." Reported cases have fallen sharply since May to around 30,000 daily, Crayton Harrison reports.
DeSantis Asks Judge to Toss Mask Mandate Ban Suit: Florida Gov. Ron DeSantis (R) asked a judge to throw out a lawsuit by parents challenging his ban on strict mask mandates in schools, saying the court lacks jurisdiction over the issue. Angry parents who "fear being around unvaccinated, non-masked people" don't have a right to sue because the executive order raises political rather than legal questions, DeSantis argued in a motion to dismiss filed yesterday in a state court in Tallahassee. Read more from Erik Larson.
Around the Administration
Biden to Resume Selling Drilling Rights: The White House is appealing a federal judge's ruling against its oil leasing moratorium and deepening U.S. scrutiny of the activity it blames for fanning climate change, even as it pledges to resume auctions. The moves announced by the Interior Department yesterday mark the start of an open-ended analysis of the federal oil, gas, and coal leasing programs that may take years, spur higher fees, and bring new caps on development in sensitive areas. Jennifer Dlouhy has more.
Tesla Autopilot Under U.S. Scrutiny: The U.S. has opened a formal investigation of Tesla's Autopilot system, citing collisions with parked emergency vehicles, according to documents posted yesterday by the National Highway Traffic Safety Administration. The investigation covers an estimated 765,000 Tesla Model Y, X, S and 3 vehicles from the 2014 to 2021 model years. The NHTSA said it launched the investigation after 11 accidents that resulted in 17 injuries and one fatality. Craig Trudell and Keith Laing have more.
Medicare Holds Off on Hospital Disclosure Fines: The Centers for Medicare and Medicaid Services is providing hospitals time to change to its price transparency rule, so far refraining from penalizing providers despite recently proposing to increase sanctions for those that do not comply. Hospitals have been apprehensive since Trump's administration announced they would be required to disclose standard charges for items or medical services in a final rule published in November 2019. Read more from Allie Reed.
Survivor Groups Want Expedited Title IX Changes: Six national campus sexual assault advocacy organizers urged Secretary of Education Cardona in a petition yesterday to issue proposed changes to Title IX sexual misconduct regulations by October 1. The groups—End Rape on Campus, It's On Us, Know Your IX, National Women's Law Center, Equal Rights Advocates, and Girls Inc.—said schools would otherwise have to operate under a Trump-era rule issued for two academic years, Andrew Kreighbaum reports.
Maduro to Request U.S. Sanction Talks: President Nicolas Maduro said that negotiations with the opposition to break a five-year political impasse in Venezuela have "got off to a good start," and that he'll also propose direct talks with Washington. Maduro said discussing sanctions directly with the U.S. government is a pivotal issue he wants addressed in order to advance negotiations with the opposition. "The lifting of sanctions is central to us: it's either that or nothing," he said, Alex Vasquez and Fabiola Zerpa report.
Vilsack Details Boost to Food Stamp Benefits: The Biden administration will give the biggest long-term increase in food stamp benefits in the program's history, giving Americans more money to buy groceries, Agriculture Secretary Tom Vilsack said in a call yesterday. The increase also means an approximate $20 billion cost increase per year for the program, Vilsack said. The plan had previously been reported by Bloomberg News. Read more from Mike Dorning.
What Else to Know Today
California's Recall Spurs Democrats to Action: California hasn't elected a Republican to any statewide position since before the advent of the iPhone. As Gov. Gavin Newsom (D) tries to beat a recall, Democrats are facing the possibility that may change. Newsom allies are ramping up ads and social-media posts framing the race as a power grab by Donald Trump supporters. The heightened urgency reflects a fact that had once seemed improbable: A Newsom victory isn't a forgone conclusion. Romy Varghese has more.
Judiciary Calls Absence of Security Money 'Deeply Concerning': Judiciary officials renewed a request for court security funding from Congress, calling the decision to leave federal courts out of a recent emergency appropriations bill "deeply concerning." The officials asked House and Senate leaders to include funding to further protect judges and "harden" federal courts in reconciliation or another funding bill soon, painting a dire picture of its situation months after the Jan. 6 Capitol attack. Madison Alder has more.
Stop, Frisk Doctrine Clarified by Court: Police officers may search an individual on the street if they have reasonable belief they pose a threat, even when their conduct is ambiguous and susceptible to an innocent explanation, the en banc Second Circuit said yesterday in a case closely monitored by civil rights advocates. Among them, the National Association of Criminal Defense Lawyers sent an amicus brief arguing communities of color bear the brunt of illegal frisking by police. Read more from Bernie Pazanowski.
With assistance from Andrew Kreighbaum, Alex Ruoff, and Lillianna Byington
To contact the reporters on this story: Michaela Ross in Washington at mross@bgov.com; Brandon Lee in Washington at blee@bgov.com
To contact the editors responsible for this story: Giuseppe Macri at gmacri@bgov.com; Zachary Sherwood at zsherwood@bgov.com
Stay informed with more news like this – from the largest team of reporters on Capitol Hill – subscribe to Bloomberg Government today. Learn more.