What to Know in Washington: Biden on Brink of Defeating Trump
Joe Biden stands on the brink of claiming the presidency from Donald Trump today, with a handful of states expecting to complete their vote counts despite Republicans opening legal fights to stop counting in at least two states.
Biden held 264 Electoral College votes out of the 270 needed to win the White House, according to the Associated Press. Trump has 214.
Biden needs only to win an additional outstanding state, such as Nevada where he is leading, or Georgia, where his campaign believes absentee votes will push him over the top.
The former vice president said he expects to prevail. "I'm not here to declare that we've won, but I am here to report that when the count is finished, we believe we will be the winners," he told reporters in Wilmington, Del.
His remarks came after he scored a victory over Trump in Wisconsin, closing off one of the president's best routes to re-election.
Trump raged on Twitter about the increasing votes for Biden, and stoked rage among his most ardent supporters with the unfounded allegation that fraud kept him from winning. His campaign said it is suing in Pennsylvania and Michigan to halt vote counts that have been trending toward Biden.
Trump falsely declared victory in Pennsylvania, one of the five states that has yet to be called by the Associated Press. The president was ahead in the state by 383,000 votes but Pennsylvania officials said more than a million ballots still have to be counted.
To win the Electoral College vote, he would have to win all the battleground states that have not yet been called. Read more from Jordan Fabian and Tyler Pager.
As results continue to come, follow the outcomes here: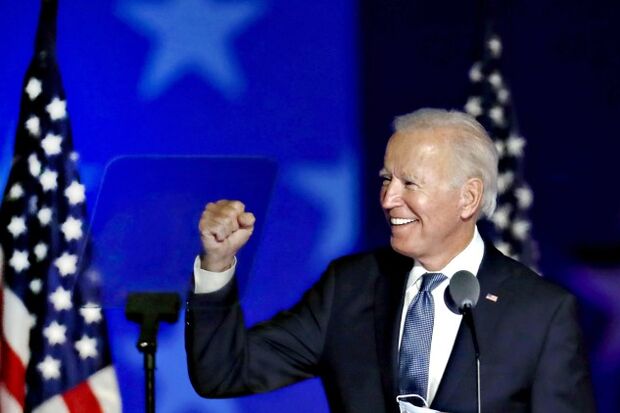 Election Win Hinges on Seven Critical States: The contest now depends on the outcomes of a handful of states, each with varying rules on counting votes and contesting results — complicating the final stretch to declaring a winner. Wisconsin is heading for a recount, while six other states have yet to be called by at least some major networks — Pennsylvania, Michigan, North Carolina, Georgia, Nevada and Arizona. Here's the state of play and potential outlook for these seven states.
Nevada offers Biden his tightest path to the presidency. Its six Electoral College votes would give him precisely the number he needs, assuming other states' unofficial tallies hold up. By last night, he held a slim 7,600-vote lead over Trump there. Follow the latest updates here.
Nevada won't provide any new unofficial election results from its major urban areas until roughly noon or later EST, based on announcements from the secretary of state's office and county officials, Bloomberg News reports. So far, Biden leads the state by fewer than 8,000 votes in returns that represent all in-person votes on Election Day and early voting as well as most mail-in ballots received before Nov. 3. Remaining ballots include all other mail-in and provisional ballots cast by same-day registered voters.
Biden Beats Obama's Popular Vote Tally: With ballots still being counted, Biden had garnered over 70 million votes for president as of yesterday afternoon, beating a record previously held by his former boss, President Barack Obama. Obama collected 69.5 million votes in 2008, Bloomberg News reports.
Biden Faces Prospect of Gridlock
Biden may have the inside track on Trump to win the White House, but his party's otherwise poor performance on Election Night sets up a gridlock presidency, with faint hopes of achieving liberal policy aspirations.
If he prevails, Biden would become the first president since George H.W. Bush to enter office without control of both the House and Senate — promising him at least two years of stasis and gridlock.
In the immediate term, there will be little incentive for Republicans to give in on the sweeping coronavirus stimulus package Democrats hoped a big election victory could secure. But that battle would likely be the first in a string of GOP efforts to stifle a Biden administration at every turn.
There's virtually no chance a Mitch McConnell-led Republican Senate would approve Biden's planned tax hike on the wealthy and corporations, much less a $2 trillion plan to fight climate change he hoped the new revenue would fund. Nor is a GOP Senate likely to entertain expanding access to government health care programs, overhauling the nation's immigration system, or a major infrastructure package. Liberals' most ambitious aspirations — from expanding the Supreme Court to granting statehood to Washington, D.C. — stand even less of a chance. Read more from Justin Sink.
Fiscal Fights: The next president will begin the year facing not only a pandemic, a weak economy, and a projected $1.8 trillion federal deficit, but also a divided Congress where lawmakers have wildly different views about the fiscal outlook.
Democrats had planned to use the budget reconciliation process to pass coronavirus relief and health care measures in the Senate with a simple majority. That is all but off the table.
Whether Biden or Trump is president, the 117th Congress will feature either serious attempts at bipartisanship or gridlock. If bipartisanship is possible, lawmakers may aim to pass a coronavirus stimulus measure and an omnibus appropriations package in the winter lame duck session, before the start of the new Congress.
Beyond the immediate, Washington faces a tense debate over the fiscal outlook that could divide lawmakers for years. The federal government recorded a $3.1 trillion deficit in fiscal 2020, a measure projected to total $1.8 trillion in fiscal 2021, according to the Congressional Budget Office. Read more from Jack Fitzpatrick.
Next President to Face Age-Old Infrastructure Hurdles: Both presidential candidates made sweeping campaign vows to strengthen the nation's roads, bridges, and other infrastructure, but whoever wins will likely hit the same speed bump that has plagued Washington for years: how to pay for it. Biden, like Trump, didn't commit in his campaign platform to a concrete way to raise revenue for the ailing Highway Trust Fund, the U.S. government's central mechanism for paying for highways and transit. The fund is facing insolvency because it mainly relies on gasoline and diesel fuel taxes, which haven't increased since 1993. Courtney Rozen has more.
The Next Congress
Senate State of Play: Democrats do still have a narrow, longshot path to taking the Senate. If they don't notch come-from-behind victories to claim GOP-held seats in North Carolina or Alaska, they'd have to flip both Georgia Senate seats in what would be an epic January runoff for control of the chamber. The tally now stands at 48 Republicans to 48 Democrats, with four races yet to be resolved. Read more from Steven T. Dennis, Laura Litvan and Mike Dorning.
Senate Homeland Security and Government Affairs ranking member and Armed Services Subcommittee on Emerging Threats and Capabilities ranking member

Gary Peters

(D-Mich.) held onto his seat in a close election in Michigan, beating Republican challenger John James, NBC and ABC projected last night, Marissa Horn reports.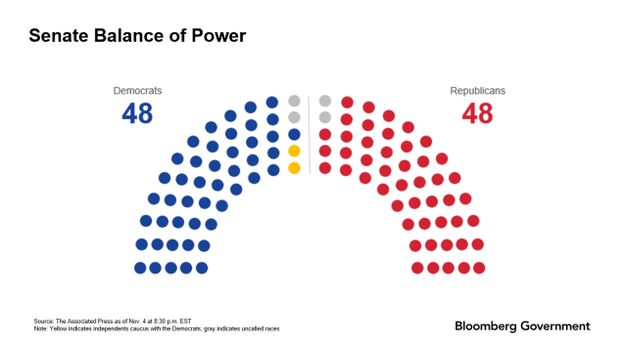 Republican Women Break Party Record: More women will join House Republicans' ranks in the next Congress for the first time than ever before in a single election. At least a dozen non-incumbent Republican women won elections as of yesterday, and House Minority Leader Kevin McCarthy (R-Calif.) said at a news conference that he could see as many as 19 prevailing once all the races are called. It came on a good night overall for House Republicans, who are likely to cut into the Democratic majority despite being projected to lose seats. Read more from Nancy Ognanovich.
Meet the New Members: For a look at all the members of the 117th Congress, including the incoming freshman, see BGOV's lawmaker directory.
Police Oversight, Uber's Win, Taxes: Read Bloomberg Government's round up of ballot measures that passed here.
Post-Election Webinar: Join BGOV's election experts today at 2 p.m. for their analysis of the 2020 results. Register here.
Election Disputes Swirl
Trump Unleashes Legal Onslaught Over Battleground States: Trump's repeated threats to contest election results in court took shape yesterday, with lawsuits filed in Pennsylvania and Michigan trying to halt vote counts trending toward Joe Biden. In both states, the Trump team claimed it hasn't been given meaningful access to counting locations to observe the process for opening and tabulating ballots as guaranteed under state law. The filing in Pennsylvania couldn't be immediately confirmed. Earlier yesterday, the campaign also said it would request a recount in Wisconsin.
Later in the day, the campaign said it sued in Georgia, claiming a Republican poll observer in Chatham County witnessed late ballots being illegally added to a stack of on-time absentee ballots.
Last night, Trump's campaign and the Republican National Committee filed another suit accusing Pennsylvania's top election official of improperly resetting the deadline for mail-in voters to provide missing proof of identification.
The campaign also moved yesterday to intervene in a pending U.S. Supreme Court clash over late-arriving ballots in Pennsylvania. The court had refused to hear the case before the election, but explicitly left open the possibility of doing so after the vote. The campaign's filing could jump-start that process.
At a press conference yesterday afternoon in Philadelphia, the president's personal attorney, Rudy Giuliani, suggested another lawsuit could be filed in Wisconsin. He claimed "exactly the same thing happened" there in terms of denying Trump's campaign access to ballot counts. Trump has often said that he could only lose the election if it was stolen from him, claiming that increased voting by mail would lead to widespread fraud, while never providing evidence.
Even before Election Day on Tuesday, his campaign filed several unsuccessful suits seeking to restrict the use of mail-in ballots. "It's an implausible legal strategy," said Wendy Weiser, who heads a democracy program at the New York University Brennan Center for Justice and isn't involved in the election. "Trump has certainly been trying to cast doubt on the legitimacy of the election—in every way shape and form, all year—and this certainly fits into that pattern." Read more from Erik Larson and David Yaffe-Bellany.
Contradictory Strategy: Trump is attempting to stop vote counting in states where he thinks he's ahead, while demanding the tallies continue, or be recounted, where he's losing to Biden. The former vice president, meanwhile, says every legal vote, everywhere, should be counted. Trump's campaign dispatched a team to Arizona, where the race has been called for Biden, to ensure that hundreds of thousands of mail-in ballots are counted, according to people familiar with the matter. The president has repeatedly claimed that voting by mail is rife with fraud. Yet in Arizona, his campaign manager Bill Stepien said, his team believes those ballots will favor him by up to a 70% margin and flip the state back to his column. Read more from Jordan Fabian, Josh Wingrove and Jennifer Jacobs.
Curing Mail-in Ballots Could Be a Key Tool in Tight Election: In an election with far more mail-in ballots cast than usual, Democrat and Republican operatives are mobilizing to "cure" ballots in battlegrounds where tight races depend on ballot counts still underway. The little-known tool is getting the spotlight this year, as election protection efforts adapt to troubleshooting voting challenges that primarily happened through the mail rather than in-person, where they can be monitored in real time. Georgia, North Carolina, Arizona and Nevada are among the states where canvassers are knocking on doors, making phone calls and sending texts to voters whose ballots were rejected for signature issues. Curing can also include provisional ballots that were cast without proper identification. Read more from Laura Bliss.
USPS Gets Deadline to Report Late-Vote Total: The U.S. Postal Service manager in charge of election mail was ordered by a federal judge to calculate and report the total number of mail-in ballots that were not delivered by Nov. 3. "We want the ballots moved," U.S. District Judge Emmet Sullivan in Washington said at a hearing yesterday as he gave the agency's executive manager, Kevin Bray, a deadline of 9 a.m. today to report the figure to the court. "What I want to focus on is what's in all these postal facilitates, and getting all those ballots out of the post facilities so they can be counted," Sullivan said. Read more from Erik Larson.
Election Misinformation Spreads for Trump: As the presidential election narrowed to a few key states, supporters of Trump began spreading false claims online about election improprieties that favored Biden. The false claims are part of a larger effort to undermine the legitimacy of the vote. Beginning at 8 p.m. on election night and continuing over the next 13 hours, there were more than 415,000 mentions of "steal" or "stealing" in relation to the election on popular social media platforms, according to Zignal Labs. Read more from Kartikay Mehrotra, Daniel Zuidijk and Sarah Kopit.
Cities Prepared for Civil Unrest: Predictions of widespread violence fizzled on Election Night, but police and businesses across the U.S. are keeping preparations in place as Trump falsely claims victory — a scenario that experts warned held a greater potential for unrest. Protesters gathered yesterday into the evening in cities including Washington, Denver, Portland and Los Angeles, leading to scattered arrests. Before the election, more than a dozen states activated National Guard troops, retailers boarded up windows and anxious Americans loaded up on body armor and guns in worries about violence. The question now is whether conflict erupts as Trump sows distrust in the count. Read more from Rachel Adams-Heard, Sarah Kopit, and Kim Bhasin.
Trump Backers Enter Detroit Vote-Count Center: Hundreds of Trump supporters gathered at the TCF Center in Detroit last night, as absentee ballots were being counted by volunteers, shouting for workers to "stop the count" after Trump filed a lawsuit to block ballots until his campaign was granted access to the process. The demonstrators, many of whom said they wanted to be poll watchers, were initially blocked by police at the front door of the convention center. They then entered the building through an unguarded rear door and resumed chanting inside. Gabrielle Coppola and Jeff Green have more.
What Else to Know
Election Coverage Pulls In 50 Million TV Viewers: Just over 56.9 million TV viewers tuned in to watch election returns on U.S. TV networks last night, a decline from four years ago that may have reflected voter exhaustion and the lack of a clear winner. Fox News led overall, with an estimated 14.1 million viewers in prime time, an 18% increase from 2016, according to Nielsen data supplied by the network. AT&T's CNN finished second. Walt Disney's ABC said it was first among broadcast networks with an audience of 6.3 million. ViacomCBS's CBS unit reported record online viewers. Read more from Christopher Palmeri.
Pandemic Gathers Pace With Record New Infections: New coronavirus cases worldwide surged to a record, breaking through 570,000 in a single day, almost one year after the disease emerged.
In the U.S., Wisconsin reported record infections and said hospitals are approaching capacity. New Jersey cases reached a five-month high and Texas had the most since August. Denver is considering tightening existing restrictions. Read more from Bloomberg News.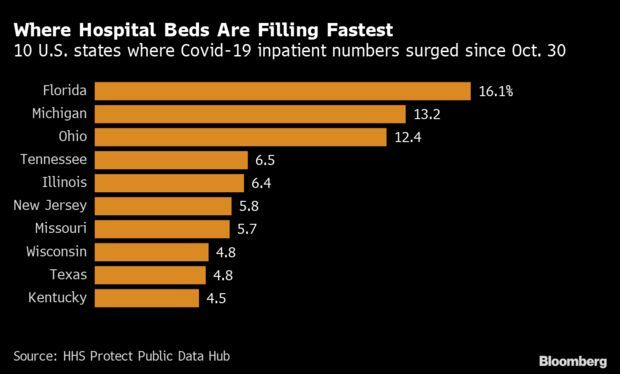 Covid Hotspots Stayed with Trump: The latest results suggest the Covid-19 pandemic may not have dented Trump's support as much as expected—he actually improved his margins from four years ago in some of the counties hardest hit by the coronavirus. Voters in areas that had the highest Covid-19 deaths per capita were more likely to shift toward Trump—compared to his margins in the 2016 election—than counties with lower death rates, according to a Bloomberg News analysis of available election results. Read more from Andre Tartar, David Ingold, Jeremy C.F. Lin and Paul Murray.
To contact the reporters on this story: Zachary Sherwood in Washington at zsherwood@bgov.com; Brandon Lee in Washington at blee@bgov.com
To contact the editors responsible for this story: Giuseppe Macri at gmacri@bgov.com; Loren Duggan at lduggan@bgov.com; Michaela Ross at mross@bgov.com