What to Know in Washington: Biden Mulls Oil Stockpile Release
President Joe Biden's administration is awaiting the release of oil price forecasts as the U.S. weighs whether to tap the strategic stockpile to combat rising prices at the pump. The administration will also look to continue touting the bipartisan infrastructure plan cleared by the House on Friday, a day after the administration announced a global infrastructure finance plan to compete with China.
Here's what Bloomberg Government is tracking for today.
White House Schedule:
Commerce Secretary Gina Raimondo will join today's White House press briefing at 1 p.m.
The president will speak at 4:40 p.m. to a virtual event for the Democratic National Committee.
Biden will speak at a virtual fundraising event for the DNC at 5:45 p.m.
Biden Lacks Tools to Fix Rising Pump Prices
A U.S. government report due out today may determine whether the Biden Administration decides to release crude from the Strategic Petroleum Reserve. Administration officials will likely be looking for significant revisions to price forecasts and the balance of supply and demand from last month's Short Term Energy Outlook before making a decision.
The increase in oil and gasoline prices threatens the U.S. economic rebound and poses a political risk for Biden. But his options for taming the surge are limited, and many of them would be either short-lived or conflict with his agenda of fighting climate change.
"Political leaders have to respond to an energy crisis. History shows that voters rebel against leaders when energy prices are high," said Kevin Book, managing director of research firm ClearView Energy Partners, but still he added: "There aren't really any easy fixes here." Ari Natter and Jennifer A. Dlouhy explore the tools Biden has at his disposal.
Administration officials will be looking closely at oil-price forecasts from the Energy Information Administration's short-term energy outlook today as they consider releasing crude from emergency U.S. stockpiles, Deputy Energy Secretary David Turk said today. "It's very useful to see where their projections are going for oil prices into the future and where their projections for comparable gas prices at the retail pump are going as well," Turk said in an interview at the COP26 climate summit in Glasgow, Scotland. "What you'll see is a dropping-off of that" as more production catches up with post-pandemic demand despite "some near-term challenges," Turk said, Jennifer A. Dlouhy reports.
The White House said it's waiting on a study by the U.S. Army Corps of Engineers before deciding whether to wade into a debate over the future of a controversial oil pipeline that carries Canadian oil across the Great Lakes into Michigan. The idea that the Biden administration is considering shutting Enbridge's Line 5 is "inaccurate," White House spokeswoman Karine Jean-Pierre told reporters yesterday, in response to news reports. Read more from Robert Tuttle and Josh Wingrove.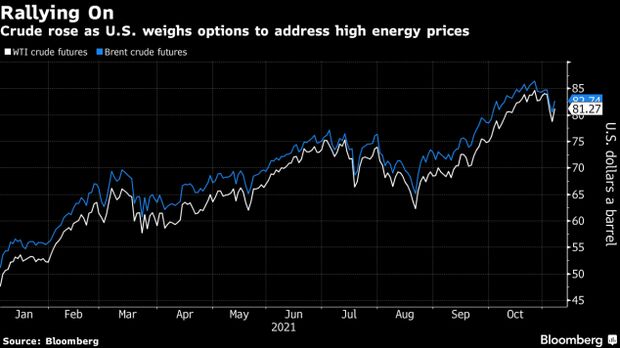 Biden Plans Flagship Projects to Challenge China
The Biden administration is looking to launch a global infrastructure financing program, intended to counter China's Belt and Road initiative, with between five and 10 flagship projects announced as soon as January, a senior official said yesterday.
The "Build Back Better World" program will look to counter Chinese influence by offering funding for projects with higher labor standards, a focus on climate issues and helping disadvantaged minorities like female entrepreneurs. It takes its name from Biden's campaign slogan and was launched at the G-7 summit earlier this year.
Since then, White House officials including deputy national security adviser Daleep Singh have visited nations in South America and Africa for discussions on potential launch projects, with an additional trip to Asia scheduled in the coming weeks.
In each of the five nations visited so far — Senegal, Ghana, Colombia, Ecuador and Panama — U.S. officials have identified about 10 projects that could launch in the coming months as part of the initiative. That list, in addition to any projects discussed in Asia, will be winnowed to a small group of high-profile projects set to receive early funding, the administration official said. Justin Sink has more.
A record $2.75 billion in state grants to help Americans access technology was included in the $550 billion bipartisan infrastructure package the House cleared Friday. The funds are a great start, advocates say, but more is needed. The Covid-19 pandemic illustrated in stark terms the importance of broadband connectivity, both for working Americans and in particular for children, many of whom were forced to attend classes virtually across the U.S. early in the outbreak. The infrastructure package would help low-income and minority populations who lack at-home internet, and train adult populations on how to use computers to help apply for jobs. Read more from Rebecca Kern.
Every major semiconductor company has pledged to comply with a U.S. request for information pertaining to the global chip shortage, Commerce Secretary Gina Raimondo said on the day of a deadline set by the government. "The past two weeks, I personally have called the CEOs of all the major chip producers in the U.S. and overseas, and every CEO has assured me that they will be complying and will be giving us the data that we've asked for," Raimondo said in an interview yesterday. Read more from Eric Martin.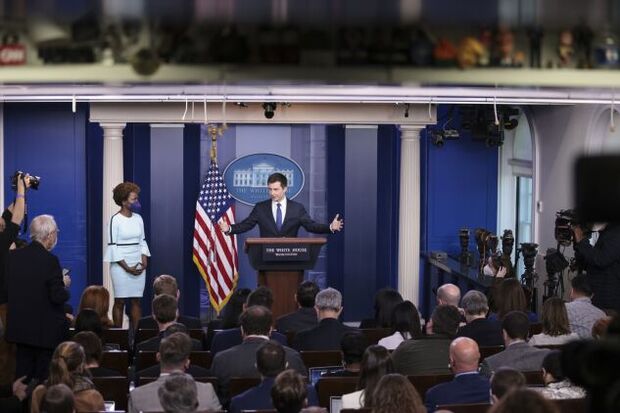 Riot Panel Subpoenas Trump Allies Flynn, Kerik
The House committee investigating the Jan. 6 insurrection at the U.S. Capitol has subpoenaed six campaign aides and supporters of former President Donald Trump, including former National Security adviser Michael Flynn and former New York City Police Commissioner Bernard Kerik.
The subpoenas, announced yesterday, reflect the committee's interest in the activities of a group of Trump backers in the days surrounding and on the day of the Capitol riot and their efforts on Trump's behalf to overturn the results of the 2020 election. Many of the activities described took place at a hotel two blocks from the White House.
According to the committee, Flynn took part in an Oval Office meeting on Dec. 18, "during which participants discussed seizing voting machines, declaring a national emergency, invoking certain national security emergency powers, and continuing to spread the false message" that the Nov. 3 election "had been tainted by widespread fraud." Kerik took part in a Jan. 5 meeting at the Willard Hotel in Washington and paid for rooms and suites that served as command centers. Read more from Billy House.
Meanwhile, Senate Republicans are facing questions of loyalty to Trump in expensive primaries across states that'll decide which party holds the majority in 2023. Super PACs allied with GOP candidates in Arizona, North Carolina, Ohio, and Pennsylvania are already spending millions of dollars on spots targeting fellow Republicans, months before voters head to the polls, new reports filed with the Federal Election Commission show. The spots highlight questions of loyalty to the former president, domestic violence claims and alleged softness on illegal immigration. Kenneth P. Doyle has more.
Rep. Paul Gosar (R-Ariz.), a Trump ally, touched off a social media uproar after he posted a doctored version of a popular anime with him attacking Biden and Rep.

Alexandria Ocasio- Cortez

(D-N.Y.). Twitter said that the post violated "rules about hateful conduct" but that the company "has determined that it may be in the public's interest for the tweet to remain accessible." Read more from John Harney and Vlad Savov.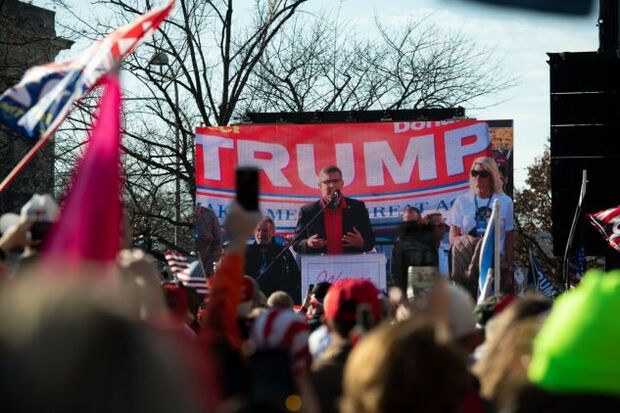 Around the Administration
Vice President Kamala Harris has embarked on a five-day visit to France aimed at raising her international profile as she works to heal a rift ally. Harris is scheduled to mingle with officials from a couple dozen nations as she showers attention on President Emmanuel Macron. U.S.-France ties have been strained in recent months following Australia's decision to cancel a $66 billion submarine contract with France in favor of a new security pact and nuclear-powered submarine deal with the U.S. and U.K. Jennifer Jacobs has more.
The Biden administration asked a federal appeals court to lift the temporary order blocking its regulation requiring large employers to mandate that their workers get Covid-19 vaccinations or submit to regular testing, arguing that there's no emergency that requires the rule to be immediately suspended. The companies that won an emergency stay from the U.S. Court of Appeals for the Fifth Circuit claim no major prospect of harm from the rule until early December, or about a month before the standard's Jan 4. compliance date, the administration said in a brief yesterday. Read more from Robert Iafolla.
A former top Securities and Exchange Commission staff member was named chair of the U.S.'s auditing watchdog, a regulator tasked with protecting investors from financial frauds. Erica Williams, a partner at Kirkland & Ellis, will be the first person of color to head the five-member Public Company Accounting Oversight Board, according to an announcement yesterday. The organization, which is overseen by the SEC, has been in turmoil since June when the board removed its Republican chairman and announced it was overhauling the group. Read more from Robert Schmidt.
Biden hosted the NBA champion Milwaukee Bucks at the White House yesterday, thanking the team for encouraging coronavirus vaccinations and for protesting the local police shooting of a Black man, Jacob Blake. "Last year, as a team, you took a stand for justice and peace" after the shooting, Biden said. The Bucks and other teams boycotted a first-round playoff game to protest after prosecutors in Wisconsin declined to bring charges against the officer who shot Blake in the back, leaving him partly paralyzed. Read more from Jennifer Epstein, Josh Wingrove and Kim Bhasin.
A former U.S. marine imprisoned in Russia has gone on hunger strike to protest his conditions in jail, his family said. Prison officials denied that. Trevor Reed, 30, who's serving nine years after being found guilty last year of assaulting two police officers, is being held in a small room with a hole in the floor for a toilet, an emailed statement from his family said. Read more from Henry Meyer and Irina Reznik.
To contact the reporters on this story: Zachary Sherwood in Washington at zsherwood@bgov.com; Brandon Lee in Washington at blee@bgov.com
To contact the editors responsible for this story: Giuseppe Macri at gmacri@bgov.com; Loren Duggan at lduggan@bgov.com; Michaela Ross at mross@bgov.com