What to Know in Washington: Biden Moves to Claim White House
President-elect Joe Biden is moving more forcefully to make the transition to the White House even as Senate Majority Leader Mitch McConnell and other senior Republicans give President Donald Trump cover to pursue his legal challenges to the outcome of the election.
Biden, who is likely to name his chief of staff this week, is also forging ahead on policy. After naming his transition's coronavirus task force yesterday, Biden plans to speak today on the Affordable Care Act, the same day the Supreme Court takes up a case that could gut the Obama administration's signature health-care law. Biden has promised to expand it in the face of the worst pandemic in a century.
Yet as Trump continued to rage on Twitter and without evidence that his victory had been stolen by fraud, McConnell said yesterday the president is "100% within his rights" to challenge the election results. Only four GOP senators have formally acknowledged Biden's win. Sen. Susan Collins (Maine) yesterday became the fourth Republican senator to congratulate him. Sens. Ben Sasse (Neb.), Mitt Romney (Utah), and Lisa Murkowski (Alaska) have also offered congratulatory words since Biden was projected as the winner on Saturday.
Attorney General William Barr authorized Justice Department officials to open inquiries into potential irregularities in the presidential election, though he acknowledged there's no conclusive evidence, Chris Strohm reports. Barr issued a memo last night allowing U.S. attorneys across the country, as well as his top lieutenants, to "pursue substantial allegations of voting and vote tabulation irregularities prior to the certification of elections in your jurisdictions in certain cases."
"While serious allegations should be handled with great care, specious, speculative, fanciful or far-fetched claims should not be a basis for initiating federal inquiries," Barr wrote. "Nothing here should be taken as any indication that the department has concluded that voting irregularities have impacted the outcome of any election."
The legal transition process remained bogged down as the Republican Party stood behind Trump and his insistence that the election was not over, leaving Biden with messaging to emphasize his presidential posture.
Late yesterday, Biden's transition team insisted that the Trump administration ascertain the Democrat as the winner, an act that would release millions of dollars in funding and unlock access to federal resources like secure rooms for intelligence briefings and State Department facilitation of calls with foreign leaders. Transition officials threatened legal action because the law says the resources must be released when there is "an apparent winner." Read more from Tyler Pager.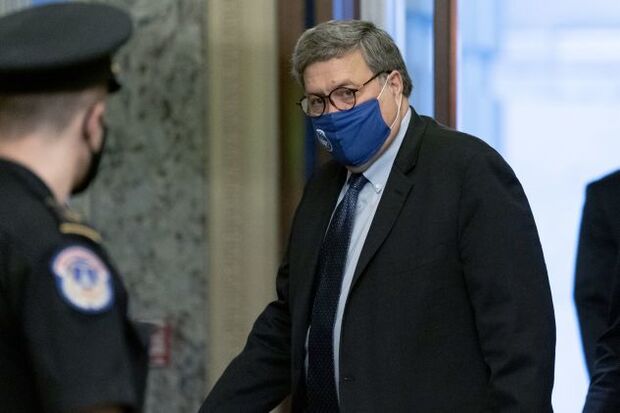 Preparing for Transition
Trump Gets Help From Appointee Holding Up Transition: A little-known agency head who has delayed triggering a formal government transition to the Biden administration has been a top official at the organization when it sided with Trump in disputes. Emily W. Murphy, the Trump-appointed administrator of the General Services Administration, has not yet declared Biden as the apparent winner of the presidential election. Read more on the GSA's role from Jennifer A. Dlouhy and Ari Natter.
Biden's team called on the GSA to designate him the winner so that it can begin accessing federal resources needed to make a smooth transition. A Biden transition official said that with the exception of the 2000 election, when the race between George W. Bush and Al Gore remained undeclared for weeks because of ballot-counting problems in Florida, the administrator had ascertained the winner within 24 hours of the race being called.
"An ascertainment has not yet been made," the agency said in an emailed statement yesterday. "GSA and its administrator will continue to abide by, and fulfill, all requirements under the law and adhere to prior precedent established by the Clinton administration in 2000."
The Biden official said the transition is considering its options, including legal action, to pressure the agency, but declined to detail the moves it is considering. The official shied away from discussing whether Murphy was holding off on her decision under the weight of political pressure. Read more from Jennifer Epstein.
Lawmaker Has Union Support to Be Labor Chief: Rep. Andy Levin (D-Mich.), a former union organizer, is securing some union leaders' support in a bid to become Biden's Labor secretary. "He'll be able to do the job from the moment he walks in there," said Communications Workers of America President Chris Shelton. "I think there are lots of unions who would throw their support behind him." The president-elect, Shelton said, will "want a secretary of Labor who's pro-labor, and I don't know that he can find one that's more pro-labor than Andy Levin."
Shelton said he's shared his support for Levin with the AFL-CIO, and will be making the case for him to the Biden transition team and to fellow labor leaders. After Trump chose management-side attorney Eugene Scalia to run the department, Shelton said, choosing a former organizer "would be a great contrast." Read more from Josh Eidelson.
Trump Judges Will Weigh Legal Challenges: Biden is likely to meet a flurry of legal challenges to his agenda — and a federal bench freshly stocked with conservative judges. Republican state attorneys general, industry groups and conservative activists will sue if they don't like Biden's initiatives, as they did during the Obama administration and as Democrats have under Trump. And the new judges hearing those cases could put up some formidable obstacles to the Democratic agenda.
"You could really have serious restrictions," said John Culhane, who teaches constitutional law at Widener University's Delaware Law School. "It may be very frustrating and very difficult for any kind of progressive measures to pass."
Biden will focus immediately on the pandemic, immigration and climate change. He has promised to act on racial justice, housing, labor, gun control, LGBTQ rights and government reform, and to bolster Obamacare. But Republicans may well hold the Senate, hemming the new president in. A potentially hostile judiciary adds to the constraints. Read more from Bob Van Voris.
Biden's Chemical Concerns: Biden's administration will pay more attention than the Trump administration to the concerns of people with higher-than-average chemical exposures as it decides whether those chemicals should be regulated, attorneys said. In last month's final presidential debate, Biden described the health fears faced by "frontline" communities—generally those in poor areas with a predominantly minority population that live near oil refineries and chemical manufacturers. It matters how you keep them safe," he said. "You impose restrictions on the pollution."
Incorporating concerns of highly exposed and susceptible people into risk evaluations, which determine whether a chemical must be regulated, is part of a broader, significant shift that five attorneys specializing in chemical policies expect from Biden's EPA. Read more from Pat Rizzuto.
Counting Votes
Trump's Legal Blitz Isn't Contesting Enough Votes to Win: Trump's hopes of reversing the outcome of the 2020 election in the courts are running into the reality that the numbers just aren't there in terms of votes he can dispute — at least not yet.
In their most advanced legal challenge, the Trump campaign and the Republican Party are trying to have the U.S. Supreme Court toss Pennsylvania ballots that arrived after Nov. 3. But, with all but four of 67 counties reporting, state officials have only logged 7,800 such ballots, said Jacklin Rhoads, spokeswoman for Pennsylvania Attorney General Josh Shapiro. Biden's lead in Pennsylvania stood at more than 45,000 votes Monday afternoon, not including the late-arriving ballots at issue. "If those ballots couldn't change the election to make any difference to how Pennsylvania will be decided, then he doesn't have a claim he can bring," said Deborah Hellman, a University of Virginia law professor. Read more from David Voreacos, Greg Stohr and Mark Niquette.
Trump Sues to Block Pa. From Certifying Result: Trump's campaign said it sued to block Pennsylvania from certifying the result of last week's election, claiming a variety of voting irregularities, including that observers weren't granted sufficient access to the ballot counting process as required under state law. The campaign claims Pennsylvania violated the Elections Clause of the Constitution by counting a record number of mail-in ballots in a procedure that lacked transparency due to restrictions from the coronavirus. Read more from Erik Larson.
Separately, the elections board of Montgomery County, Pa., yesterday won an emergency petition to open a voting machine to check for any remaining ballots or materials needed to complete the vote count. Judge Richard Haaz of the Pennsylvania Court of Common Pleas granted the Montgomery County Board of Elections' request, filed Friday, to open the machine "to check for any remaining ballots or other necessary Election Day materials solely for the purposes of appropriately tabulating the electors' votes." Read more from Christopher Yasiejko.
Georgia's GOP Secretary of State Says Election Was Well-Run: The top elections official in Georgia rebuffed calls to resign amid baseless claims that the election outcome was affected by fraud. In a statement, Republican Secretary of State Brad Raffensperger said the election administration was "a resounding success." He added: "Was there illegal voting? I am sure there was. And my office is investigating all of it. Does it rise to the numbers or margin necessary to change the outcome to where President Trump is given Georgia's electoral votes? That is unlikely." Read more from Steven T. Dennis and Billy House.
Biden Camp Hits Facebook: A representative of Biden lashed out at Facebook, alleging that the social media giant is "shredding the fabric of our democracy" in the aftermath of the election. "In the days after Election Day, Facebook is flooded with thousands of calls for violence," Bill Russo, a Biden campaign spokesman, said in a tweet. "Some of them are taken down, but many are left up for hours, if not days." Read more from Sarah Frier.
YouTube Loophole Lets Some False Clips Spread: On Monday, cable outlet One America News Network posted two videos to its YouTube account titled "Trump won." The clips echoed several others telling viewers, falsely, that Trump was re-elected and that the vote was marred by fraud. YouTube added a label noting that the Associated Press called the election for Joe Biden. But the world's largest online video service didn't block or remove the content. That approach differs from Twitter, which has hidden conspiratorial election posts behind warnings. Read more from Mark Bergen.
Happening on the Hill
McConnell, Shelby on Stimulus: Senate Appropriations Committee Chair Richard Shelby (R-Ala.) when asked about wrapping Covid-19 relief into spending bills yesterday said: "There's been talk about that, but we haven't seen that. It might not be a bad idea if we can agree on stimulus." Earlier in the day, Senate Majority Leader Mitch McConnell (R-Ky.) said Congress should pass a limited stimulus bill before the end of 2020, in the wake of encouraging data on a Covid-19 vaccine and a slide in unemployment. Read more from Erik Wasson and Mike Dorning.
House Agenda: In December, the House will be "focused on an omnibus appropriations measure to fund the government for the remainder of FY2021 and prevent a government shutdown on December 11, when the current continuing resolution expires," Majority Leader Steny Hoyer (D-Md.) said in a letter to colleagues, Chelsea Mes reports.
Hoyer said the House will consider conference reports on the annual defense policy bill and the Water Resources Development Act, and also vote on a bill "to decriminalize cannabis and expunge convictions for non-violent cannabis offenses."
The "top priority" for the House continues to be enacting coronavirus relief, Hoyer said.
Neal Highlights 2021 Ways and Means Priorities: House Ways and Means Chairman Richard Neal (D-Mass.) spoke with Bloomberg Tax on Monday to discuss his plans for the next Congress, which include pandemic relief, infrastructure, and continuing an effort to obtain Trump's tax documents from the Treasury Department. Neal also expressed optimism about the outlook for a recently released bipartisan retirement bill. Read more from Kaustuv Basu.
The Coronavirus Pandemic
Biden Virus Fight Seeks Balance: Biden effectively took ownership of the fight against the coronavirus yesterday with a presidential-style call to action, but he can do little more than plan, plead for the wearing of masks and hope the "dark winter" he predicted doesn't sour the nation on his ability to quell the pandemic before he gets into office on Jan. 20.
Biden beat Trump by promising to do a better job defeating the virus, and with a short and unforgiving window to show progress, Biden was left yesterday trying to raise hopes without unrealistically raising expectations as the virus spreads. The U.S. hit a grim milestone and recorded more than 100,000 daily cases for the first time on Nov. 5 — and has remained above that threshold every day since. Deaths, a lagging indicator, are rising again. The virus is now uncontrolled in nearly every state.
"No question, he starts with a handicap, for sure, in the sense this will be much more of a burden when he takes over," said George Abraham, chair of the Infectious Disease Board at the American Board of Internal Medicine. "It's not that he's going to inherit some rosy version of the recovery." Read more from Josh Wingrove.
Pfizer, Eli Lilly Breakthroughs Provide Hope: Almost a year into the pandemic, a world facing the unrelenting spread of the coronavirus received a burst of good news, with a vaccine developed by Pfizer showing "extraordinary" results while an antibody therapy from Eli Lilly was granted emergency-use authorization in the U.S. The double shot of progress was somewhat offset by news that the final-stage trial of a frontrunner Chinese vaccine candidate was halted in Brazil due to a serious adverse event, the first time that the Asian nation's rapidly ascendant shots have met such a setback. Read more.
HHS Suspends Shipments of Rapid Tests to Eight States: The HHS will pause shipments of rapid Covid tests to eight states it says aren't utilizing tests the federal government already provided. "We can't let tests sit unused," Department of Health and Human Services official Brett Giroir told reporters yesterday. He leads the federal testing effort for coronavirus. The eight are Hawaii, Massachusetts, North Dakota, Nevada, New Mexico, Virginia, Vermont and West Virginia. The federal government bought 150 million rapid tests from Abbott in August and has distributed millions to governors and localities since September, Jacquie Lee reports.
What Else to Know Today
EEOC to Update Religious Bias Guidance: The U.S. Equal Employment Opportunity Commission approved changes to its workplace religious discrimination guidance to account for recent U.S. Supreme Court decisions on religious defenses and accommodations, teeing it up for White House review. The agency's compliance manual, which is legally non-binding guidance, hasn't been updated since 2008 to reflect numerous high court decisions related to religious discrimination, according to EEOC legal counsel Andrew Maunz. Agency commissioners voted 3-2 in favor of the proposed changes along party lines, with Republicans in favor. Read more from Paige Smith.
Sanctions Show Trump Isn't Finished With China: The U.S. has imposed sanctions on four more officials accused of undermining Hong Kong's autonomy, showing the Trump administration is ready to keep hitting out at China even after Biden won last week's election. The announcement yesterday sanctioned three officials in Hong Kong who are key to implementing a national security law imposed earlier this year that has been used to help snuff out pro-democracy protests: Li Jiangzhou, deputy director of the Office for Safeguarding National Security, which was established under the new legislation; Edwina Lau, head of the National Security Division of the Hong Kong Police Force; and Steve Li Kwai-Wah, the senior superintendent. Read more from Nick Wadhams and Jennifer Jacobs.
'Repugnant' Conduct Allows Bannon Lawyer to Quit: The move by Steve Bannon's lawyer to drop him after the ex-Trump strategist suggested Anthony Fauci's beheading isn't the first withdrawal of its kind after a client's shocking behavior, and follows a string of high profile defendants who parted ways with their attorneys. Ethics rules allow lawyers to terminate their representation for several reasons. These include when a client "insists upon taking action that the lawyer considers repugnant or with which the lawyer has a fundamental disagreement." Read more from Melissa Heelan.
Palestinian Negotiator Erekat Dies: Palestinian negotiator Saeb Erekat, a fixture in on-again, off-again peace talks with Israel over the course of three decades, died yesterday without realizing that goal. He was 65 and had been battling Covid-19. Erekat spent his last weeks in an Israeli hospital in Jerusalem, a city he had labored long and unsuccessfully to partition in order to establish the capital of a Palestinian state there. His condition was complicated by a lung transplant in 2017. Erekat played various roles in the Palestinian national movement, also serving as a top aide to Palestinian leaders Yasser Arafat and Mahmoud Abbas, as well as serving as a lawmaker and cabinet minister. Read more from Yaacov Benmeleh.
To contact the reporters on this story: Zachary Sherwood in Washington at zsherwood@bgov.com; Brandon Lee in Washington at blee@bgov.com
To contact the editors responsible for this story: Giuseppe Macri at gmacri@bgov.com; Loren Duggan at lduggan@bgov.com; Michaela Ross at mross@bgov.com