What to Know in Washington: Biden Misspeaks on Defending Taiwan
Biden sends mixed signals during Asia trip to bolster alliances
Ukraine, baby formula sideline Democrats' midterm agenda
President Joe Biden said the US military would intervene to defend Taiwan in any attack from China, comments that appeared to break from the longstanding US policy of "strategic ambiguity" before they were walked back by White House officials.
Asked during a press briefing on Monday in Tokyo whether the US would be willing to get involved militarily to defend Taiwan after not doing so in Ukraine, Biden said "yes — it's a commitment we made."
"We agree with the One China policy, we signed onto it and all the attendant agreements made from there," Biden added. "But the idea that — that it can be taken by force, just taken by force, is just not — it's just not appropriate. It will dislocate the entire region and be another action similar to what happened in Ukraine."
"It's a burden that's even stronger," he added.
Earlier in the briefing, Biden had said that US policy toward Taiwan "has not changed at all." A White House spokeswoman repeated that comment after Biden's remarks, saying the president reiterated the US's "One China Policy" and its commitment under the Taiwan Relations Act to provide Taiwan with the military means to defend itself.
White House officials later said that Biden simply meant the US would provide military equipment to Taiwan, not send troops to defend the island if China attacks, which would constitute a landmark shift in policy. Read more from Jennifer Jacobs.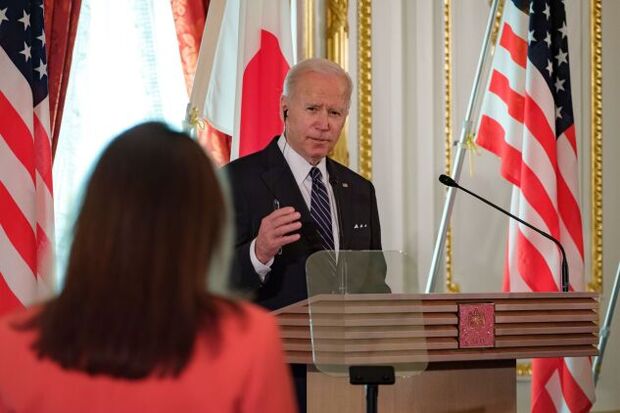 The Biden administration announced that a dozen Indo-Pacific countries will join the US in a sweeping economic initiative designed to counter China's influence in the region, even as questions remain about its effectiveness.
Altogether the nations involved in the Indo-Pacific Economic Framework, or IPEF, constitute roughly 40% of global gross domestic product, according to the White House, which has touted its launch as a marquee accomplishment of Biden's first trip to Asia. Australia, India, Japan, South Korea and New Zealand were included, along with seven Southeast Asian countries. Jenny Leonard, Nancy Cook and Eric Martin have more on the pact.
New Zealand Prime Minister Jacinda Ardern will lead a trade delegation to the US this week but is yet to confirm a meeting with Biden at the White House due to her recent Covid-19 infection, Ainsley Thomson reports.
Biden encouraged Hyundai to partner with unionized American labor. "Hyundai and any company investing in the United States would benefit greatly from entering into partnerships with some of the most highly skilled, dedicated and engaged workers in the world," the president said in a joint appearance with Hyundai's CEO Euisun Chung. "And that is American union members." Read more from Jennifer Jacobs and Sohee Kim.
The prospects for a meeting between Biden and North Korean leader Kim Jong Un remain slim. Biden said Saturday he'd consider holding talks with Kim only if he was convinced the North Korean leader was prepared to meet in good faith. Biden and South Korean President Yoon Suk Yeol agreed Saturday to start talks on expanding joint military exercises aimed at countering the threat posed by North Korea. Biden then said Sunday that he wasn't concerned about the possibility of North Korea holding a nuclear test while he's in Asia. Read more from Jennifer Jacobs.
Happening on the Hill
CONGRESSIONAL AGENDA:
The Senate returns tomorrow to resume work on nominations.
The House has scheduled committee work with no votes planned.
Democrats may be forced to scrap large parts of their ambitious election-year agenda as a series of crises dominate Congress' attention this spring. With less than eight work weeks before the August recess, House Speaker Nancy Pelosi (D-Calif.) and Senate Majority Leader Chuck Schumer (D-N.Y.) continue adjusting their plans to instead address emerging issues such as rising gas prices and advance aid packages to help war-torn Ukraine and alleviate baby formula shortages.
While those became must-do items, the legislation party leaders initially intended to consider, including a revamped Build Back Better spending plan and a voting rights overhaul, remain stalled. Read more from Nancy Ognanovich.
Senate Democrats are crafting changes to an antitrust bill aimed at the largest tech platforms to address concerns that the legislation could hamper efforts to moderate disinformation online. Sen. Mark Warner (D-Va.), a co-sponsor of the bill and chair of the Senate Intelligence Committee, "fully supports" the bill and has been working with sponsors on amendments, a spokeswoman for his office said Saturday. Majority Leader Chuck Schumer (D-N.Y.) has said he plans to bring antitrust legislation on big tech platforms to the floor in early summer, a person familiar said. Leah Nylen and Steven T. Dennis have more.
A bipartisan effort by senators to add tax provisions to a major bill aimed at increasing competitiveness with China is running into headwinds, as some House Democrats balk at adding measures that are seen as helping corporations. Senate Finance Chair Ron Wyden (D-Ore.) and top Republican Mike Crapo (Idaho) want to add a tax credit for domestic fabrication of semiconductors, known as the FABS Act. There is also a push to add a research and development expensing provision that had expired at the end of 2021. Read more from Kaustuv Basu.
More training for electricians and recruiting from a more diverse hiring pool are among the challenges facing the nascent electric vehicle workforce in the US, congressional Democrats said Friday. Labor unions also need to represent the EV workforce to protect employees in the fledging sector, Democrats on the House Science, Space, and Technology Research and Technology Subcommittee said. The bipartisan infrastructure law enacted in 2021 includes $7.5 billion to develop EV charging infrastructure, with the goal of installing half a million chargers nationwide by 2030. Kellie Lunney has more.
Elections, Politics & Influence
Biden has made just two endorsements in Democratic primary races for House seats this year, drawing a contrast with his predecessor while showing limited influence with his party's voters. One of Biden's picks, Rep. Shontel Brown, handily defeated a more liberal challenger in a Cleveland, Ohio, district. The other, seven-term Rep. Kurt Schrader, looks likely to lose to a progressive challenger. The president backed Brown because she supported his agenda in Congress, according to a Biden adviser who asked not to be identified describing internal strategy. Jordan Fabian has more.
Bridgewater alum David McCormick and celebrity doctor Mehmet Oz are girding for a long legal battle in their too-close-to-call Pennsylvania GOP Senate primary, with Donald Trump already casting doubts on the result. The contest is expected to end with an automatic recount that threatens to trigger an intraparty fight over who rightfully won: playing out in a state where the 2020 election aftermath went all the way to the Supreme Court. Oz's fame helped him secure the endorsement of Trump, who's urging him to unilaterally declare victory. Mark Niquette, Sridhar Natarajan, and Max Abelson have more.
The closely-watched race between Oz and McCormick is too close to call and likely headed for a recount, The Associated Press said on Friday. Oz and McCormick were locked in a close race that included conservative firebrand Kathy Barnette. The AP said it wouldn't declare a winner in the race until the likely recount is complete. The winner will face Democratic nominee John Fetterman, the commonwealth's lieutenant governor who won his race while hospitalized after suffering a stroke and getting a pacemaker implanted. Read more from Mark Niquette.
Jerry Nadler and Carolyn Maloney are headed for a showdown after a New York court on Saturday imposed new district lines merging many of their Manhattan constituents. If the map is allowed to stand, it'll guarantee that a long-serving Democrat with seniority and a chairmanship will be forced out of Congress—an extra setback for the party as it seeks to avoid losing control of the laws that get passed in Washington. The presidential party loses seats in the midterms, and this November a net change of five seats would flip the House majority to Republicans. Read more from Greg Giroux.
Hillary Clinton personally signed off on a plan in 2016 to quietly pitch to the media the now-discredited theory that computer servers at Donald Trump's company had a secret communications link with a Russian bank, her former campaign manager told a jury. Robby Mook, a witness in the trial of a former Clinton campaign lawyer charged with lying to the FBI, on Friday testified that he and others at the campaign "weren't totally confident" in the veracity of the server data, but they sent it to reporters anyway a few months before the election. Read more from Erik Larson.
Retired Supreme Court Justice Anthony Kennedy added his voice to those condemning the historic leak of a draft verdict that suggests the court will reverse its landmark abortion decision Roe v. Wade. The 85-year-old jurist said it was a "cowardly, corrupt, contemptuous act," in remarks published Friday at an event marking the 300th anniversary of the Pennsylvania Supreme Court. Kimberly Robinson and Lydia Wheeler have more.
Around the Administration
BIDEN'S SCHEDULE:
The president's public events for Monday took place earlier this morning in Japan.
Biden said that a US recession wasn't inevitable, insisting that the challenges the domestic economy faces are less severe than much of the rest of the world, including China. "No," Biden responded flatly when asked if a recession was unavoidable following a meeting with Japanese Prime Minister Fumio Kishida in Tokyo, Nancy Cook and Jennifer Jacobs report.
White House economic adviser Brian Deese stopped short of ruling out a recession as the Federal Reserve combats inflation, saying the central bank needs space to do its job. Deese, the director of the National Economic Council, said that approach reflects Biden's pledge to make reining in the biggest consumer price increases in four decades his "top priority," Craig Torres and Victoria Cavaliere report.
Biden sought to reassure Americans that the current monkeypox outbreak was unlikely to cause a pandemic on the scale of Covid-19. "I just don't think it rises to the level of the kind of concern that existed with Covid-19," he told reporters Monday in Tokyo at a joint press conference with Japanese Prime Minister Fumio Kishida. Read more from Nancy Cook and Jennifer Jacobs.
A planeload of more than 70,000 pounds of baby formula arrived in the US, starting an emergency program to alleviate a national shortage that has left some parents scrounging to feed their children. More formula will start arriving in stores "as early as this week," Brian Deese, Biden's top economic adviser, said on CNN. The plane that landed in Indiana on Sunday will address "15% of the overall national volume that we need," he said. Read more from Victoria Cavaliere.
A Louisiana federal judge blocked the Biden administration on Friday from ending Title 42. The preliminary injunction provides a more long-term stop to the administration's plans while the lawsuit led by a multi-state coalition of Republican attorneys general plays out—barring a successful appeal by the Biden administration. The border restriction had been set to lift Monday. Ellen M. Gilmer has more on the ruling.
Pentagon Press Secretary John Kirby will move to the White House to take a senior communications role with a foreign policy focus. The decision to shift Kirby to the administration comes after the departure last week of Press Secretary Jen Psaki. Read more from Justin Sink and Peter Martin.
To contact the reporters on this story: Brandon Lee in Washington at blee@bgov.com; Giuseppe Macri in Washington at gmacri@bgov.com
To contact the editors responsible for this story: Andrew Small at asmall@bgov.com; Michaela Ross at mross@bgov.com