What to Know in Washington: Biden Midterm Strategy Hits New Snag
Political reset eludes Biden amid scarce baby formula
GOP primaries this week will again test Trump's sway
Joe Biden's hopes for a political reset have been overwhelmed by an unrelenting series of economic setbacks, adding to the many challenges Democrats face as they court exhausted voters ahead of the crucial midterm election in November. US gasoline prices are at historic highs. Inflation last month surpassed consensus forecasts. Technology stocks have plummeted—taking retirement accounts with them. A record low portion of Americans think it's a good time to buy a house.
On top of it all, a shortage of baby formula has left parents in the world's wealthiest country scrounging empty store shelves to feed their children. The crisis is drawing bipartisan condemnation on Capitol Hill, with lawmakers accusing the White House of moving too slowly after an Abbott Laboratories factory in Michigan was shut down over safety issues.
Cast against the backdrop of Russia's war in Ukraine and the ongoing pandemic—the US surpassed 1 million Covid-19 deaths last week—it's little wonder the nation's mood is grim. Biden's inability to temper Americans' growing unease was further highlighted as a US consumer sentiment measure released on Friday hit its lowest reading since 2011, a six-point decline from April that was worse than any forecast in a Bloomberg survey of economists.
The baby formula crisis presents a particularly acute political risk. Democrats have looked to reorient their midterm strategy to wooing back female voters after the leak of a draft Supreme Court opinion overturning Roe v. Wade. But Biden—whose career was dotted with votes restricting federal abortion spending—has for now acted more like a reluctant messenger in supporting abortion rights, preferring legal arguments for Roe rather than explicitly espousing his support for abortion rights. Read more from Justin Sink.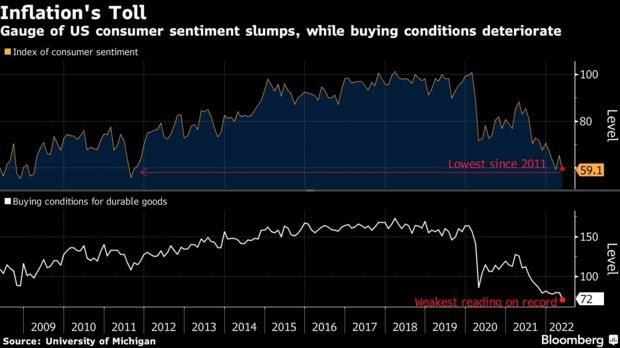 Biden said he expects increased imports of baby formula to relieve the shortage "in a matter of weeks or less." White House officials have been hesitant to offer a timeline. Josh Wingrove and Jordan Fabian have more.
On Roe, Justice Clarence Thomas said the leak of the draft opinion has done deep damage to the court, harming trust among members and causing people to "look over your shoulder." Greg Stohr has more.
Amazon founder Jeff Bezos accused Biden of "misdirection" on Twitter, in response to the president's tweet saying US inflation could be tamed by making wealthier corporations "pay their fair share." Amazon, paid $3.7 billion in US taxes in 2021 on global revenue of $469 billion. Read more from Spencer Soper.
As part of efforts to combat inflation, the Biden administration on Monday released a "Housing Supply Action Plan" meant to help create thousands of affordable housing units in the next three years and urged local governments to dedicate more of their American Rescue Plan (Public Law 117-2) funds to build affordable housing, Jennifer Jacobs reports.
Elections, Politics & Influence
Primary season is underway, setting November's matchups that will determine which party controls the House and Senate next year. Join Bloomberg Government reporters May 17 at noon ET as they recap last week's primaries and what upcoming races to watch. Set a reminder here .
One of the busiest voting days of the 2022 elections is Tuesday, with primaries in Idaho, Kentucky, North Carolina, Oregon, and Pennsylvania. Donald Trump's clout will be tested in North Carolina and Pennsylvania, where he's endorsed candidates for Senate in competitive states that'll help determine which party wins a majority in November. Pennsylvania's bid-spending GOP battle has drawn particular attention, led by television personality Mehmet Oz and former Bridgewater CEO David McCormick.
A few House incumbents facing credible re-election challenges from within their party are also worth watching. That includes a Republican primary in western North Carolina as freshman Madison Cawthorn tries to fend off opponents following a spate of unfavorable publicity in part about his personal behavior. In Oregon, Kurt Schrader (D) faces a more liberal primary challenger, and Mike Simpson (R) is vying to survive a challenge from his right in Idaho. BGOV's Greg Giroux previews Tuesday's major primaries here.
Cawthorn, the youngest member of Congress, had been a rising star in the GOP but is now facing criticism. Sen.

Richard Burr

(R-N.C.) has called Cawthorn an "embarrassment at times," while Sen.

Thom Tillis

(R-N.C.) is supporting one of Cawthorn's primary opponents. Emma Kinery and Billy House have more.
In Pennsylvania's primary, political commentator Kathy Barnette, who has surged into a three-way tie in the closely watched race, defended several earlier incendiary comments as taken out of context as she faces new scrutiny. Read more from Mark Niquette.
On the Democratic side, John Fetterman, the party's leading candidate for the Pennsylvania seat, said he's recovering after being hospitalized for a stroke. "The good news is I'm feeling much better," Fetterman, the state's lieutenant governor, said Sunday in a statement crediting his wife Gisele with recognizing the symptoms early. Gregory Korte has more.
Nine Republicans are on Pennsylvania's ballot as the party picks a nominee for governor. No matter who gets the most votes Tuesday, though, one of the victors will be Donald Trump. Just like Trump, the Pennsylvania candidates have been hammering the point that election misdeeds are a front-burner issue. The Trump-endorsed contender, Doug Mastriano, has pushed that line the farthest, saying he wants to force every voter to re-register, Jennifer Kay reports.
But there has been a movement by some Pennsylvania Republicans to coalesce behind former U.S. Representative Lou Barletta as an alternative to Mastriano, the front-runner in polls, due to concern he would lose the general election to the likely Democratic nominee, Attorney General Josh Shapiro. Mark Niquette has more.
Former Vice President Mike Pence is planning to travel to Georgia to campaign for incumbent Gov. Brian Kemp (R) ahead of that state's primary, his latest public break with Trump, who's supporting Kemp's opponent, former Sen. David Perdue (R-Ga.). Trump recruited Perdue to challenge Kemp for refusing to overturn his 2020 electoral loss to Biden in Georgia. Emma Kinery has more.
Twitter and Facebook will be compelled to allow the dissemination of Russian propaganda as well as neo-Nazi and Ku Klux Klan screeds denying the Holocaust unless a Texas social media law is halted, tech groups representing the companies told the U.S. Supreme Court. The emergency filing Friday seeking to stop the Texas law—HB20—comes two days after a divided federal appeals court let it take effect while a challenge filed by the tech groups advances. Alicia Diaz and Greg Stohr have more.
Also on Lawmakers' Radars
CONGRESS' SCHEDULE:
The House convenes at 2 p.m. and plans to vote on a number of bills under expedited procedure.
The Senate returns at 3 p.m. to continue consideration of aid for Ukraine.
Senate GOP Leader Mitch McConnell said after a visit to Kyiv that he expects the Senate to pass a $40 billion aid package for Ukraine with broad bipartisan backing Wednesday, and countered what he called "isolationist voices" in his own party. Speaking to reporters in Sweden, McConnell (R-Ky.) made the pledge after he led a group of Republican senators on Saturday to meet Ukrainian President Volodymyr Zelenskiy, who called for swift passage of the aid. Read more from Steven T. Dennis.
The Republican delegation also met with Finnish President Sauli Niinisto in Helsinki on Monday. Speaking to reporters after, McConnell said Congress aims to ratify Finland's accession into NATO before the August recess. There's "strong" bipartisan support for its entry and a vote "won't be close," he said. "Finland punches above the weight of many existing NATO members." Read more from Kati Pohjanpalo and Niclas Rolander.
Deputy Treasury Secretary Wally Adeyemo warned representatives of several foreign banks Friday about risks to their institutions should they aid Russia in evading sanctions from the US and allies. Read more from Daniel Flatley.
A summit with Biden and Southeast Asian leaders omitted condemnation of Russia's invasion of Ukraine. The nations participating in the summit, called the Association of Southeast Asian Nations or ASEAN, issued a statement calling for the "immediate cessation of hostilities" in Ukraine. Alex Wayne has more.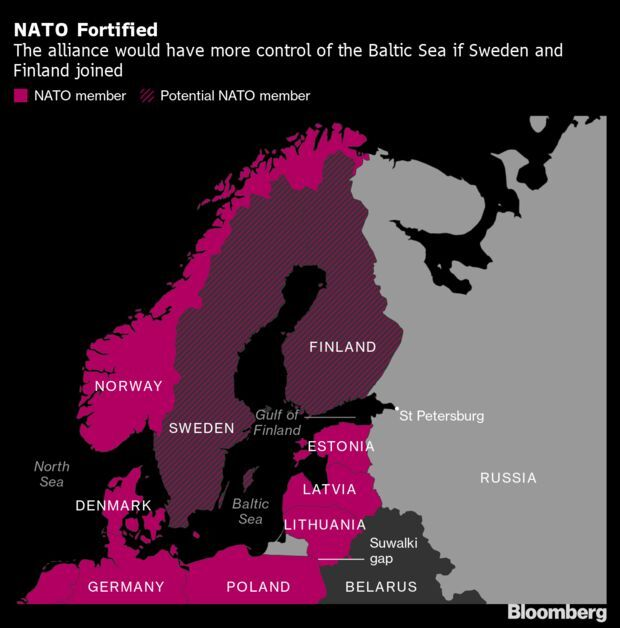 California's iconic giant sequoias would get more protection from catastrophic fires under a bipartisan House effort to make it easier for the U.S. to manage forests with controlled burns and tree thinning. House Minority Leader Kevin McCarthy (R-Calif.) and Rep. Scott Peters (D-Calif.) hope to unveil legislation in weeks, a staffer said. Read more from Kellie Lunney.
Biden is moving to fill the Agriculture Department's chief trade role, which has been vacant since he took office. Biden plans to nominate Alexis Taylor, who's currently director of Oregon's state Department of Agriculture, to be USDA's Under Secretary for Trade and Foreign Agricultural Affairs, Mike Dorning reports.
Sen. Chris Van Hollen was admitted to George Washington Hospital over the weekend "after experiencing lightheadedness and acute neck pain." Testing revealed he'd suffered a minor stroke "in the form of a small venous tear" at the back of his head, Van Hollen (D-Md.) said in a statement. He said he was informed there were no long-term effects as a result, and will remain under observation for a few days before returning to the Senate, Max Zimmerman reports.
Around the Administration
PRESIDENT'S SCHEDULE:
At 11:45 a.m., Biden awards medals to public safety officers for "extraordinary valor."
At 3:30 p.m., he meets with Greek Prime Minister Kyriakos Mitsotakis at the Oval Office.
Biden urged police departments to spend federal law-enforcement aid, saying it can help reduce gun violence "and intervene before it's too late." Hours after his speech at an event for police officers killed in the line of duty, the White House announced the president and first lady Jill Biden will visit Buffalo on Tuesday to grieve the victims of a "senseless and horrific mass shooting" that left 10 dead. The U.S. is investigating it as a hate crime—11 of the 13 people shot were Black and a White man is in custody. Read more from Jennifer Jacobs.
New York Gov. Kathy Hochul pressed social media corporations to do more to crack down on racist, anti-immigrant, and antisemitic rhetoric on their platforms, saying the man accused of murdering 10 people in the supermarket was radicalized on the internet. Read more from Victoria Cavaliere.
A federal appeals court appears poised to void the CFPB's funding structure, a ruling that would throw a fresh shadow across the already beleaguered office's work. The Consumer Financial Protection Bureau is funded through the Federal Reserve System, not via a direct congressional appropriation. Read more from Evan Weinberger.
A coalition of progressive advocacy groups urged the Justice Department to allow Assistant Attorney General Jonathan Kanter to take part in antitrust cases against Google and reject efforts to recuse him because of his previous work for critics of the search giant. Leah Nylen has more.
The Biden administration has cleared up uncertainty about the role of a small office, the Federal Permitting Improvement Steering Council, that irons out complex environmental permit reviews, part of a bid to speed permitting for wind farms and other projects, its executive director tells Bloomberg Law. Read more from Stephen Lee.
Secretary of State Antony Blinken said he's "deeply troubled" by videos and photos of Israeli riot police storming the funeral procession of a Palestinian-American television reporter who was fatally shot in the West Bank last week. Read more from John Harney.
Iran is waiting for US decisions on the Islamic Republic's proposed solutions, Foreign Ministry Spokesman Saeed Khatibzadeh said in a press conference. Talks to revive the country's nuclear deal are "a few steps ahead" after EU envoy Enrique Mora's Tehran visit, Arsalan Shahla reports.
South Korean President Yoon Suk Yeol indicated his new government will take part in a regional economic group Biden is expected to soon unveil, in a show of support for the US president days before he arrives in Seoul for talks, Jeong-Ho Lee reports.
The Labor Department is appealing a Texas federal judge's order blocking Biden's administration from withdrawing a Trump-era rule that made it easier for businesses to classify workers as independent contractors. Read more from Erin Mulvaney.
To contact the reporter on this story: Brandon Lee in Washington at blee@bgov.com
To contact the editors responsible for this story: Giuseppe Macri at gmacri@bgov.com; Loren Duggan at lduggan@bgov.com; Michaela Ross at mross@bgov.com