What to Know in Washington: Biden, Mexico's AMLO Talk Migration
The two will also discuss security, infrastructure along the border
Today's Jan. 6 hearing to focus on extremists, members of Congress
President Joe Biden and his Mexican counterpart, Andres Manuel Lopez Obrador, plan to discuss ways to expand legal migration, improve security and strengthen their shared border during a White House meeting today.
The two leaders will announce joint actions to improve infrastructure and cooperation along their almost 2,000-mile boundary, according to Biden administration officials, who briefed reporters on the condition of anonymity to speak before the meeting.
The visit is the Mexican president's second to Washington since Biden took office 18 months ago, and comes about a month after Lopez Obrador snubbed Biden's invitation to a regional summit in Los Angeles after the US excluded the governments of Cuba, Venezuela and Nicaragua for violating their citizens' democratic and human rights.
Biden and Lopez Obrador will also establish a task force to escalate efforts to disrupt trafficking on fentanyl, the people said. Overdoses of the drug kill tens of thousands of Americans each year, and Mexico for years has been a major transit point for pills coming from China, and is increasingly becoming a production center. Eric Martin previews the meeting.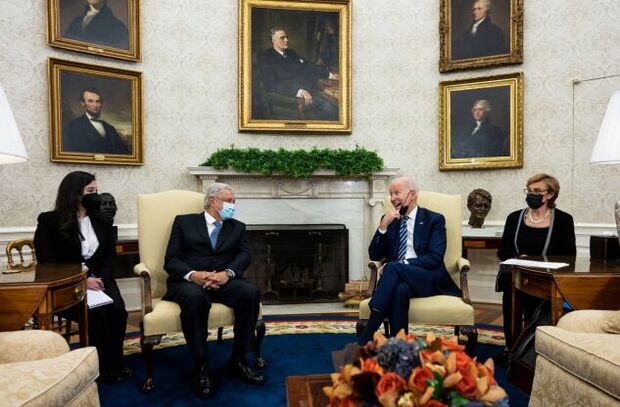 Politics, Policy and Probes
CONGRESS' SCHEDULE:
The Senate meets at 10 a.m. for votes on nominees to DOD, ATF, and the Fed.
House members are in at 2 p.m. to tackle measures under expedited process.
Whether far-right extremists who attacked the US Capitol were encouraged by or even conspired with then-President Donald Trump will be the subject of Tuesday's hearing by the House committee investigating the riot. The panel will also look at the activities of some of the members of Congress regarding Jan. 6, 2021, including a pressure campaign on then-Vice President Mike Pence to reject the Electoral College votes in the House that day. Billy House and Chris Strohm preview the things to watch for.
Longtime Trump adviser Steve Bannon must go on trial next Monday in his criminal contempt case for refusing to cooperate with the congressional committee investigating the Capitol riot, even after he offered to publicly testify. Bannon had argued that the trial should be delayed by three months because jurors would be influenced by the televised House hearings on the January 2021 insurrection. Then, over the weekend, he said he would appear before the committee. Sabrina Willmer has more.
Former US Attorney General William Barr was subpoenaed in a $1.6 billion defamation suit brought against Fox News by the voting-machine company falsely accused of rigging the 2020 election. Dominion Voting Systems Inc. is seeking sworn testimony from Barr, who served as Trump's attorney general, court filings show. Barr contradicted Trump about a month after the election by saying the DOJ found no evidence of widespread voter fraud that would have changed the result. Erik Larson has more.
A House panel will meet with IRS Commissioner Chuck Rettig Thursday, following a New York Times report that two former FBI leaders—James Comey and Andrew McCabe—were audited since Rettig took office, a House source said. Members of both parties plan to be at the closed-door House Ways and Means Committee meeting, the source said. The Times reported Comey and McCabe were selected for rare, invasive audits after angering Trump. Naomi Jagoda has more.
Republican Herschel Walker bolstered his Senate campaign staff in Georgia after several reports intensified questions about his ability to unseat Sen. Raphael Warnock (D) in a race that will help decide party control of the chamber in November's elections. Walker, the former University of Georgia and professional football star, announced on Monday a senior campaign team that featured new key staffers including Chip Lake, a veteran Georgia political operative. Read more from Mark Niquette.
Georgia Democratic gubernatorial candidate Stacey Abrams racked up a huge fundraising win over Republican Governor Brian Kemp in the past two months, the first campaign finance reporting period since the pair became their parties' nominees. Abrams raised $21.7 million between May 1 and June 30, compared to $6.8 million for Kemp. Margaret Newkirk has more.
A Michigan House Democratic primary is testing the power of a woman candidate in the post-Roe era, where abortion rights is emerging as a key campaign issue among female voters. The tense race in the Detroit suburbs pits two largely similar incumbent Democrats against each other. To distinguish herself ahead of the Aug. 2 primary, Rep. Haley Stevens is highlighting gender as a major difference between her and Rep. Andy Levin. Read more from Emily Wilkins.
Two political parties and a candidate raced each other to the courthouse, vying to be the first to challenge New York's new gun law. Buffalo real estate developer Carl Paladino, who wants to go to Congress, appeared to win that sprint when he filed a lawsuit Monday contending that making private businesses automatically off-limits to concealed weapons violates the US Constitution. Read more from Keshia Clukey.
Around the Administration
PRESIDENT'S SCHEDULE:
At 9:30 a.m. the White House Covid Response Team will give a press briefing.
At 11:15 p.m. Biden is scheduled to meet with AMLO.
At 4:30 p.m. the president and First Lady Jill Biden will host the White House Congressional Picnic with Vice President Kamala Harris, 260 members of Congress and other officials and staff.
At 10 p.m. Biden is scheduled to depart for Jerusalem, Israel.
White House Foresees June Inflation Reading as 'Highly Elevated': The White House expects June's consumer price index figures to be "highly elevated" as Americans grappled with substantial increases in the cost of gasoline and food, but said the reading was "already out of date" because of falling energy prices. Economists surveyed by Bloomberg expect the report to show consumer prices rose 8.8% in June from a year earlier, which would be a fresh 40-year high following an 8.6% reading in May. Justin Sink has more.
The Health and Human Services Department said US law requiring emergency medical treatment takes priority over bans on abortions. The guidance is meant to protect pregnant patients facing serious medical situations following the overturning of Roe v. Wade. HHS says physicians' judgment will prevail to protect the health of women in labor and with conditions including ectopic pregnancies or dangerously high blood pressure. Read more from Lauren Coleman-Lochner.
Biden's spokesperson Monday condemned Texas GOP lawmakers' threat to penalize Sidley Austin and other Texas law firms that have pledged to pay for out-of-state abortion procedures. "These punitive actions and extreme proposals from elected Republicans are exactly what the president has been warning about," Biden's assistant press secretary, Alexandra Lamanna, said Monday. Meghan Tribe and Courtney Rozen have more.
Minnesota's constitution protects a fundamental right to choose and to access abortion care, a state court said Monday in an order permanently blocking multiple state abortion restrictions. It's the first decision to hold that a state's constitution protects abortion rights following the Supreme Court's declaration last month that there is no federal constitutional right. A few courts have halted trigger laws from taking effect. Mary Anne Pazanowski has more.
Decades ago, Rich Glick dealt with California blackouts amid a drought, power plant outages, and market manipulation that squeezed electric utilities and became a headache for him and his Energy Department colleagues. Years later, Glick blamed other US entities—including the Federal Energy Regulatory Commission. Now that he's leading that very agency, Glick seeks to avoid a similar situation as he awaits a Senate decision to extend his tenure. Read more from Daniel Moore.
The administration believes the Organization of Petroleum Exporting Countries has room to raise production should an upcoming visit by Biden to the Middle East yield any agreements. "We do believe there is a capacity for further steps that could be taken," National Security Advisor Jake Sullivan said in a press conference on Monday. Read more from Julia Fanzeres and Justin Sink.
A senior US Treasury official said a proposal being explored by several of the world's leading economies to cap the price of Russian oil exports will be crucial for preventing another global price spike to around $140 a barrel. The official spoke to reporters in Tokyo where US Treasury Secretary Janet Yellen has begun a 10-day trip to Asia. Read more from Christopher Condon.
Senior US officials are spreading across Asia following Secretary of State Antony Blinken's brief trip to the region, in the next phase of a diplomatic charm offensive that comes after Chinese Foreign Minister Wang Yi carried out extensive travel there in recent weeks. With Blinken back in Washington Monday ahead of Biden's Middle East trip later this week, some of his top aides have branched out following the top US diplomat's visits to Thailand and Indonesia. Read more from Iain Marlow.
Iran is preparing to provide Russia with hundreds of drone aircraft, including some capable of carrying weaponry, US National Security Advisor Jake Sullivan said Monday. Sullivan said US intelligence "indicates that the Iranian government is preparing to provide Russia with up to several hundred UAVs, including weapons-capable UAVs, on an expedited timeline." Sullivan didn't detail the intelligence or its sources. Read more from Jordan Fabian and Justin Sink.
The Centers for Disease Control and Prevention uses outdated tools to track and analyze how the Covid-19 virus spreads in airplanes, hampering the agency's ability to stop outbreaks, a government watchdog agency said. Air travel is a constant public health concern, since a sick person can spread diseases over vast distances. But the Government Accountability Office says the CDC's tools are too old, slow and prone to issues. Read more from Riley Griffin.
More pedestrians were killed across the US even as fewer cars took to the roads in the first year of the pandemic, a report released Tuesday found. "Danger is increasing everywhere," said Beth Osborne, vice president of transportation and thriving communities at the nonprofit Smart Growth America. "The burden of this danger is being disproportionately felt by Black and Native Americans." Read more from Lillianna Byington.
The US Justice Department is investigating the PGA Tour over potential antitrust violations related to its ongoing dispute with a Saudi-backed rival circuit. Read more from Gerry Smith.
Biden revealed one of the first full-color images from the James Webb Space Telescope, marking the first time human beings have seen a distant galaxy cluster as it appeared more than 4 billion years ago in such vivid detail. The images are the highest-resolution view of the universe ever captured, and demonstrate the capabilities of the $10 billion observatory designed to view deep into space and time. Justin Sink and Nancy Cook have more.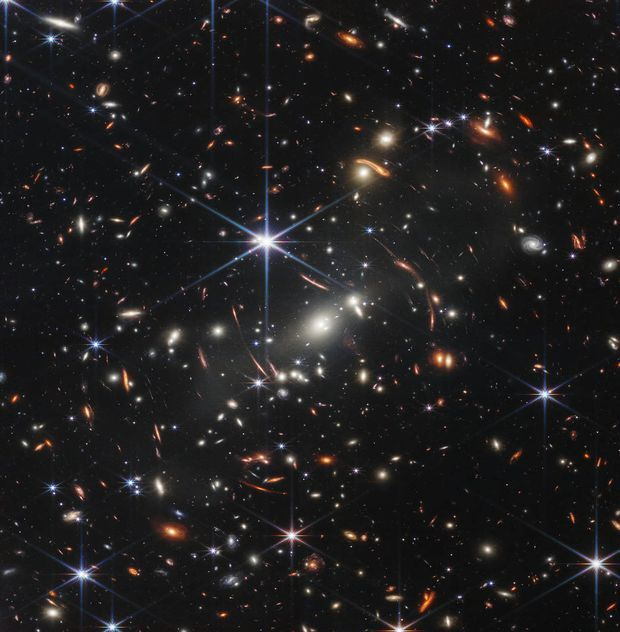 To contact the reporters on this story: Michaela Ross in Washington at mross@bgov.com; Brandon Lee in Washington at blee@bgov.com
To contact the editors responsible for this story: Loren Duggan at lduggan@bgov.com; Giuseppe Macri at gmacri@bgov.com