What to Know in Washington: Biden Meets Europe Allies on Russia
Biden, allies to coordinate response to Ukraine invasion
Senate panel meets for last day on Jackson nomination
A month into Russia's invasion of Ukraine, President Joe Biden and his national security team are meeting NATO, European and G-7 allies in Brussels to discuss ways to pressure Vladimir Putin to withdraw his forces.
The U.S. is set to announce additional measures against Russian political figures and oligarchs, and is close to a deal with the European Union aimed at slashing its dependence on Russian energy. Follow the latest in the Bloomberg News Ukraine Update.
The world's leading economic powers plan to warn Putin against using chemical or nuclear weapons in Ukraine in the draft of a statement the Group of Seven plans to issue on Thursday.
The G-7 leaders also plan to say that they will continue to impose "severe consequences" on Russia by fully implementing the sanctions that countries have already imposed and stand ready to apply additional measures. Read more from Michael Nienaber.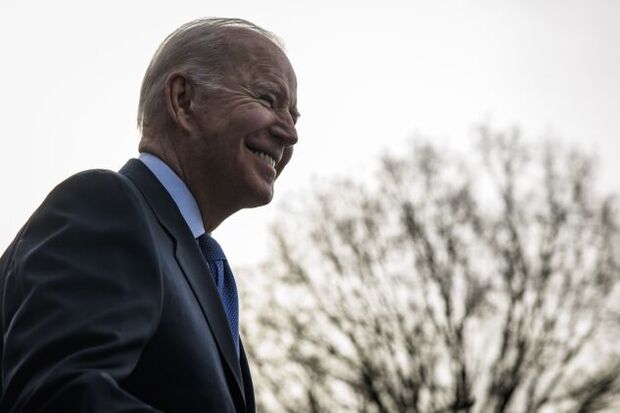 BIDEN'S AGENDA:
The president has a full day of meetings and speaking engagements while in Brussels today on coordinated responses to Russia's invasion of Ukraine. First, Biden meets with NATO Secretary General Jens Stoltenberg at NATO Headquarters before delivering remarks at a NATO summit. He'll then speak at a G7 gathering before a meeting with European Council President Charles Michel. Biden will then deliver remarks at a European Council Summit, and hold a press conference at NATO headquarters after.
Jackson Fends Off GOP Attacks on Last Day of Testimony
Judge Ketanji Brown Jackson fended off an orchestrated barrage of Republican attacks on her record on crime and hours of probing of her views on volatile issues such as abortion, during her final day of questioning for a Supreme Court seat.
Jackson wrapped up her public testimony Wednesday before the Senate Judiciary Committee, which is likely to end up in a party-line deadlock on sending her nomination to the full Senate. But that's unlikely to stop Democrats from using their narrow control of the chamber to confirm her as the first Black woman to the nation's highest court. Senate Judiciary Chair Dick Durbin (D-Ill.) said he expects his committee will vote April 4 on sending Jackson's nomination to the full Senate.
None of the 11 Republicans on the evenly divided panel are likely to vote yes. That would leave the committee deadlocked, but Democrats will be able to advance Jackson's nomination with a simple majority vote of the full Senate, with Vice President Kamala Harris providing a tie-breaking vote if necessary. Senate Democrats aim for a confirmation vote by April 9.
The committee meets Thursday for the fourth and final day of hearings on Jackson's nomination, and will testimony from officials from the American Bar Association's Standing Committee on the Federal Judiciary, which unanimously gave Jackson its highest possible rating, "Well Qualified." Read more from Laura Litvan and Greg Stohr.
Not since the nomination of Thurgood Marshall in 1967 has criminal justice dominated high court confirmation hearings that often revolve around culture war issues like abortion, religious freedom, and gun rights. Criminal issues came up at the high court hearings of former prosecutors Sonia Sotomayor and Samuel Alito to boost their credentials, not shred them. Read more from Kimberly Strawbridge Robinson, Madison Alder and Jordan S. Rubin.
Jackson said she would recuse from a pending case over affirmative action at Harvard University, where she serves on the board of overseers. The Supreme Court is considering abolishing the use of race in college admissions in the case, which will be among the court's first arguments when its next term starts in October. Jackson didn't discuss whether she will also recuse from a companion case involving the University of North Carolina. Robinson has more.
Happening on the Hill
CONGRESSIONAL SCHEDULE:
The Senate will resume consideration of the House-passed bill to boost competition with China.
The House meets for a pro forma session at 1 p.m.
Biden plans to request $813.3 billion in national security spending — including $773 billion for the Pentagon — in the federal budget he will send to Congress on Monday, according to officials familiar with the plan. It's an increase of $31 billion, or 4%, from approved spending for the current fiscal year and about $43 billion more than the White House budget office had projected a year ago for fiscal 2023. Read more from Tony Capaccio and Roxana Tiron.
Biden's Covid-19 team warned that a lack of funding could leave the U.S. unprepared to administer fourth doses of vaccine as administration officials prepared to meet with Senate Democrats on the issue Wednesday. Health and Human Services Secretary Xavier Becerra, budget director Shalanda Young and Biden's coronavirus coordinator Jeff Zients were expected to attend the meeting, according to a White House official who requested anonymity. Sen. Susan Collins (R-Maine) said Wednesday that the White House still has not provided a full accounting of previous spending. The administration is starting to provide spending details, "but they have been really slow," she said. Read more from Justin Sink.
Sen. Elizabeth Warren blamed rising U.S. inflation in part on the largest ocean shipping companies, calling "the anti-competitive nature" of the industry the root cause of soaring prices to transport goods around the global economy. "These price surges cause companies to pass higher costs on to customers and push out smaller businesses, which cannot compete with larger companies for dwindling ship space," Warren (D-Mass.) wrote in letters addressed to each of the nine largest container carriers. Read more from Brendan Murray and Laura Curtis.
The FBI and the Cybersecurity and Infrastructure Security Agency should more closely coordinate to better assist victims of ransomware attacks, according to a report from Sen. Rob Portman (R-Ohio) that relayed accounts from U.S. companies hit by Russia-based ransomware group REvil. Close coordination would let the FBI investigate hackers responsible for ransomware attacks while allowing CISA to provide the technical assistance hack victims need to recover, the report said. Read more from Andrea Vittorio.
Online copyright piracy has found ways around a law dating to the dawn of the internet age, and now debate is ramping up over a potential legal fix. Sen. Patrick Leahy (D-Vt.) and Sen. Thom Tillis (R-N.C.), the leaders of the Senate Judiciary Committee's Intellectual Property Subcommittee, recently proposed a bill that aims to hold service providers accountable for fighting copyright theft. Read more from Riddhi Setty.
One of the biggest issues facing the intellectual property space now is not having a confirmed leader of the U.S. Patent and Trademark Office, retired Federal Circuit Judge Kathleen M. O'Malley says. "I don't think Congress appreciates the fact that it's dangerous to leave agencies untethered, especially an agency with authority for such important issues." Read more from Samantha Handler.
Elections & Politics
One of the prosecutors who led the Manhattan District Attorney's investigation of Donald Trump last year and quit last month claimed that the office had more than enough evidence to win a conviction of the former president. "I believe that Donald Trump is guilty of numerous felony violations of the penal law in connection with the preparation and use of his annual Statements of Financial Condition," Mark Pomerantz wrote in his resignation letter. Read more from Greg Farrell.
Amazon has been dropped as a sponsor for the 2022 Seattle Pride parade because it made donations to politicians who opposed a bill to ban discrimination based on sexual orientation and gender identity, Seattle Pride said Wednesday. Seattle Pride said Amazon had contributed more than $450,000 in 2020 to lawmakers who voted against the Equality Act (H.R. 5), citing data from a Guardian story. Read more from Dina Bass.
A Texas state attorney conceded at oral argument before the state's high court Wednesday that language in the state constitution is clear that redistricting needs to occur during the first regular session after census data is released and that the legislature must therefore redistrict again in its next regular session in January 2023. Read more from Janet Miranda.
Around the Administration
Biden's administration unveiled a plan on Wednesday to tackle home valuation disparity and root out racial bias and discrimination. The plan, announced by Vice President Kamala Harris, lays out a range of actions aimed at modifying such practices, along with recommendations for how to restructure the governance, oversight and workforce of the appraisal industry. Read more from Jennifer Sondag and Brentin Mock.
The largest U.S. airlines urged Biden to immediately end federal requirements for masks on airplanes, along with mandated vaccinations and testing for international passengers. "It is past time" to eliminate the policies, the Airlines for America lobbying group said in a letter Wednesday, citing the level of Covid-19 vaccinations in the U.S. and the end to mask mandates across much of the country, Mary Schlangenstein reports.
The U.S. plans to solicit new designs for vehicles that can ferry astronauts to and from the moon, launching fresh competition to Elon Musk's Space Exploration Technologies. NASA plans to release a draft request for proposals by the end of March for moon lander concepts for missions after the Artemis III program, which aims to bring astronauts to the moon in 2025, the agency announced. NASA Administrator Bill Nelson said details would be included in Biden's budget proposal next week. Read more from Ryan Beene.
North Korea Launches First ICBM Since Days of 'Fire And Fury': North Korea launched its first intercontinental ballistic missile in more than four years, as Kim Jong Un finally abandoned a testing freeze that had underpinned an unprecedented wave of talks with the U.S. The missile was launched from the Sunan area outside Pyongyang on Thursday, reaching an altitude of 6,200 kilometers (3,900 miles) and traveling a distance of 1,080 kilometers, South Korea's Joint Chiefs of Staff said. That's higher and farther than North Korea's last ICBM test in November 2017, suggesting that Kim had successfully launched a long-anticipated weapon believed to be capable of carrying multiple nuclear warheads. Read more from Sangmi Cha, Sophie Jackman and Jeong-Ho Lee.
The U.S. said "the door has not closed on diplomacy, but Pyongyang must immediately cease its destabilizing actions," U.S. Press Secretary Jen Psaki said in a statement on North Korea's ballistic missile launch, Sarah Jacob reports.
U.S. Slams Taliban U-Turn on Reopening High Schools to Girls: U.S. Secretary of State Antony Blinken slammed the Taliban for ditching its commitment to reopen high schools to girls at the last minute, posing the latest setback for a regime struggling to build a footing in the international community. Girls turned up at secondary schools across the country Wednesday only to be told that classes from the sixth grade remain suspended until further notice. The sudden reversal by the Taliban was met with sharp criticism from the United Nations, while Blinken said it would "profoundly harm" the group's ability to build ties abroad. Read more from Philip J. Heijmans.
The Biden administration plans to reinstate exemptions from Trump-era tariffs on about two-thirds of Chinese products that were previously granted waivers, most of which expired by the end of 2020. Read more from Eric Martin.
To contact the reporter on this story: Michaela Ross in Washington at mross@bgov.com
To contact the editor responsible for this story: Giuseppe Macri at gmacri@bgov.com