What to Know in Washington: Biden, McCarthy Vow More Debt Talks
Bloomberg Government subscribers get the stories like this first. Act now and gain unlimited access to everything you need to know. Learn more.
President Joe Biden and congressional Republicans made little tangible progress Tuesday toward averting a first-ever US default, but pledged negotiations on spending that would open the door to a possible agreement.
Congressional and presidential staff will begin crucial budget discussions, while Biden and Speaker Kevin McCarthy (R-Calif.) plan to meet again Friday.
"Over these last few days and weeks, there's going to be a lot of posturing, politics and gamesmanship and it's going to continue for a while," Biden said after the hour-long meeting in the Oval Office with leaders from both parties. But, the president said, he viewed the conversation as "productive."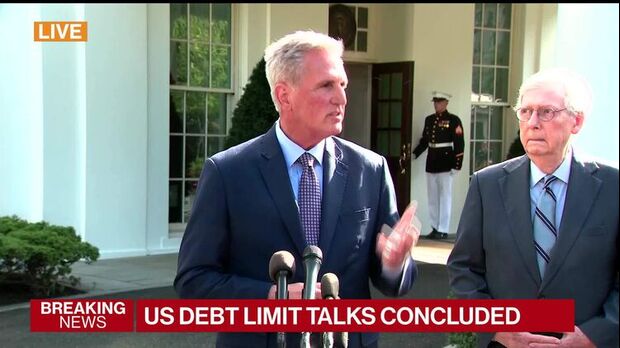 However, warning signs persist. McCarthy — who faces pressure from conservatives to take a hard line in debt limit talks — told reporters there was no headway made on the debt ceiling during the meeting as both sides restated their deeply entrenched positions.
Before Tuesday's meeting, the speaker dismissed the idea of a short-term debt-limit extension, which could be the most expedient solution. While the White House said an interim deal was also not their plan, Biden told reporters after the meeting he isn't taking anything off the table.
Biden also downplayed the possibility of using novel executive action to solve the issue. He said that he had considered invoking the 14th Amendment — which guarantees the validity of public debt — but was concerned that federal courts could overturn the maneuver. The president said he currently viewed the issue as something to explore after a debt ceiling deal was reached, rather than if it was not.
Biden also said his staff had not explored the idea for the Treasury Department to mint a trillion-dollar coin that it would deposit with the Federal Reserve to defuse the crisis.
Meanwhile, the the staff talks could open the door to a face-saving solution for both parties. The White House could call it a "separate" budget deal while McCarthy and the GOP could tout it as a victory. Read the full story from Erik Wasson and Josh Wingrove.
More on the Debt Limit
Finance ministers and central bank governors from the world's wealthiest nations gather in Japan this week with a growing list of urgent issues to discuss, from the risk of more bank failures and the need for debt restructuring to the threat of a US default.
Some of Wall Street's most experienced traders warned of "unthinkable" long-term implications from a US default and argued the debt limit may need to be permanently repealed.
Biden left open the possibility he would cancel upcoming travel to Japan for the G-7 summit, Australia, and Papua New Guinea if it was necessary to remain in Washington for talks over raising the debt ceiling.
BIDEN'S AGENDA
Biden travels to New York's SUNY Westchester Community College and at 1:30 p.m. plans to give a speech on why Congress should pass a clean debt limit bill as opposed to Republican's alternative legislation
Beginning at 5:15 p.m., Biden participates in back-to-back campaign receptions, then arrives back at the White House at 10:20 p.m.
CONGRESS' SCHEDULE
The Senate returns at 10 a.m. to vote on nominations for the International Bank for Reconstruction and Development, the Department of Education, the National Archives, and an ambassador at large for global women's issues
The House meets at 10 a.m. for morning hour and noon for legislative business to start floor action on Republicans' immigration package.
More News From the Hill
Congressional criticism of pharmaceutical industry middlemen has created a rush of spending on lobbying and advertising as insurers and drugmakers battle over blame for the price of medicine in the US.
House Republicans' ambitious border security proposal goes beyond asylum restrictions and wall construction to include some unexpected provisions, including measures involving electric vehicles and spiritual counsel.
Sen. Dianne Feinstein (D-Calif.) is heading back to Washington for the first time in months as Congress approaches an imminent deadline to address the debt ceiling.
Rep. George Santos, the embattled New York Republican who took office despite fabricating much of what he had claimed about his education and career, has been indicted on federal charges, according to a two people familiar with the case.
Harlan Crow, a Texas billionaire and GOP donor, has refused a request by Senate Finance Committee Chair Ron Wyden (D-Ore.) to detail the extent and tax treatment of luxury gifts he provided to Supreme Court Justice Clarence Thomas.
Lawmakers slammed management breakdowns and technical fumbles in the Department of Veterans Affairs' new electronic health records system at a Tuesday hearing.
House Armed Services Committee postpones consideration of fiscal 2024 defense policy bill, Chair Mike Rogers (R-Ala.) says in a statement.
The military faces "unnecessary and unprecedented" risk from a Republican Senator's block on officer promotions aimed at protesting the Pentagon's abortion policy, Defense Secretary Lloyd Austin said.
Politics, Probes and 2024
Biden will be tapping Wall Street donors at a pair of events today as he steps up fundraising for his 2024 reelection campaign, according to a person familiar with his plans.
Steve Schwarzman will hold off donating money to Ron DeSantis for now, after a meeting with the expected presidential aspirant left him unconvinced of the Florida governor's White House prospects.
Biden's campaign to pressure vulnerable House Republicans in the debt ceiling fight gained a boost Tuesday when the sister of Michigan Gov. Gretchen Whitmer (D) announced she's running in a New York swing district.
Bill Clinton says the electoral college system should be abolished, but cautioned that a system for directly electing the president would need safeguards to prevent fringe candidates from taking office.
Tucker Carlson is starting a show on Twitter after being fired by Fox News.
What Else We're Reading
Biden warned of tumultuous conditions at the US-Mexico border after pandemic-era immigration restrictions are lifted later this week.
US Trade Representative Katherine Taiplans to meet China's commerce minister in Detroit later this month, people familiar with the matter said, in what would be the most senior in-person encounter between the nations since the US shot down an alleged Chinese spy balloon.
To contact the reporters on this story: Brandon Lee in Washington at blee@bgov.com; Michaela Ross in Washington at mross@bgov.com
To contact the editor responsible for this story: Kayla Sharpe at ksharpe@bloombergindustry.com
Stay informed with more news like this – from the largest team of reporters on Capitol Hill – subscribe to Bloomberg Government today. Learn more.