What to Know in Washington: Biden, McCarthy Start Budget Talks
Bloomberg Government subscribers get the stories like this first. Act now and gain unlimited access to everything you need to know. Learn more.
President Joe Biden and House Speaker Kevin McCarthy will finally size each other up, after weeks of trading public barbs over spending cuts and deficits while the US debt limit hangs in the balance.
"Show me your budget, I'll show you mine," Biden said Monday when asked what his message would be when the two meet Wednesday afternoon at the White house.
It's their first face to face since McCarthy (R-Calif.) won the speaker's gavel, and veterans of past debt standoffs concur that the threat of a US default is greater than ever. House Republicans are demanding spending reductions, while Biden has said he's open to fiscal reforms but won't negotiate over the borrowing cap.
A default would wreak havoc on the economy, raise borrowing costs and rattle the president's plans to announce a reelection campaign. McCarthy will be eager to strengthen his standing among Republicans after his speakership bid went to 15 ballots, forcing him to make promises to far-right lawmakers that leave him little room to negotiate a compromise.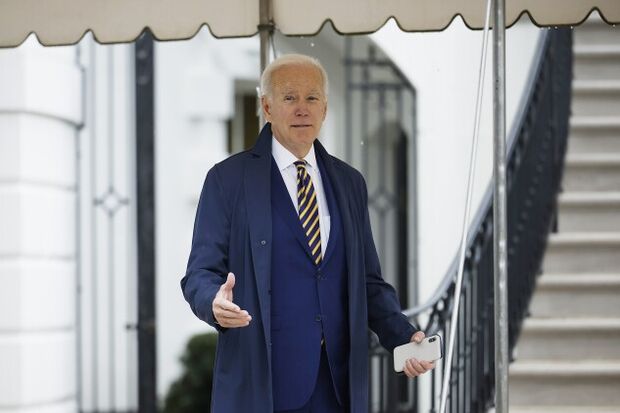 McCarthy, speaking Tuesday, called for Biden to negotiate. "Why would you put the economics of America in jeopardy? Why would you play political games? I'm not," he told reporters, adding he was willing to "get this done long before the debt limit hits a point we have to get something done."
The first meeting between the new speaker and president is not expected to yield any agreement on how to lift the debt ceiling. Such a solution is expected much closer to the true deadline this summer.
The personal dynamics between the two leaders, though, will be closely watched. Unlike Senate Minority Leader Mitch McConnell (R-Ky.) whom Biden served with for decades and personally negotiated fiscal breakthroughs with on several occasions as vice president, Biden's working relationship with McCarthy is limited.
"It's kind of like a first date," said former Speaker Newt Gingrich after meeting with McCarthy on Tuesday, tempering expectations for the encounter between the current speaker and president. Gingrich, a veteran of congressional budget battles during the Clinton years, called on Congress to raise the debt ceiling while also passing "responsible" spending cuts.
Josh Wingrove and Erik Wasson set the stage for the meeting: Biden, McCarthy 'First Date' to Set Tone for Upcoming Debt Fight
Happening on the Hill
CONGRESS' SCHEDULE
House members gather at noon with first votes scheduled for 1:30 p.m. on two Covid-19 policy measures.
The Senate meets at 10 a.m. with roll call votes expected.
The US House is set to vote as early as Wednesday on a resolution to remove Ilhan Omar (D-Minn.) from the Foreign Affairs Committee as Speaker McCarthy persuaded at least two Republican holdouts to support the move.
Cutting nutrition assistance by tens of billions of dollars and allowing fewer work-requirement waivers is a top priority for a key conservative in charge of funding the Department of Agriculture. It's a goal that could cause tension among Republicans crafting must-pass funding and authorization bills.
Rep. Steve Cohen (D-Tenn.) will serve as top Democrat on the House subcommittee that oversees aviation as Congress works on legislation to reauthorize the Federal Aviation Administration.
A bipartisan group of senators introduces legislation that would require the US government to produce a strategy that would at least triple US exports to Africa, Latin America and the Caribbean in real dollar value within ten years.
Senate Judiciary Committee Chair Dick Durbin (D-Ill.) is urging the Department of Justice to review Twitter's handling of child exploitation material, NBC reports, citing a letter from the Illinois Democrat to Attorney General Merrick Garland.

Elections, Politics & Influence
Nikki Haley, a former South Carolina Governor and Donald Trump's ambassador to the United Nations, plans to announce that she's running for president.
Trump raised less than $10 million after he announced his third White House campaign, a disappointing haul for the former president already facing an uphill battle in his comeback.
Businesses are re-orienting their lobbying strategy to more closely gel with new House Ways and Means Committee Chairman Jason Smith (R-Mo.) amid concerns he'll focus less on corporate taxes than past Republican chairs.
Sen. Dianne Feinstein (D-Calif.) said she will announce whether to run for her seat in the spring. Donors are already saying she won't.
The National Archives and Records Administration released a cache of documents related to its retrieval of 15 boxes of presidential records improperly stored at Mar-a-Lago by former President Trump.
George Santos (R-N.Y.) is better known for the lies he's told rather than anything he's actually done in Congress. Now the freshman Republican from New York is running out of road.
Around the Administration
BIDEN'S AGENDA
Biden at 1:15 p.m. convenes a meeting of his Competition Council regarding administration efforts to increase competition in markets.
At 3:15 p.m., the president at the White House meets with Speaker Kevin McCarthy to discuss the debt limit and a "range of issues," according to Biden's schedule.
Biden holds an event at 5 p.m. to thank outgoing Chief of Staff Ron Klain for his service and welcome incoming Jeff Zients to the role.
At 2 p.m. White House Press Secretary Karine Jean-Pierre gives a briefing.
Vice President Kamala Harris will attend the funeral of Tyre Nichols in Memphis, the White House says.
The Biden administration will supply Ukraine with longer-range artillery and ammunition as part of a new $2 billion package of military assistance, a person familiar with the matter said Tuesday night.
The Biden administration is on track to telegraph support for a scaled-back drilling plan at ConocoPhillips's proposed Willow project in northwest Alaska, over the objections of environmentalists who say the world can't afford to burn the estimated 600 million barrels of oil it could yield.
Brazil President Luiz Inacio Lula da Silva will visit Washington, DC to meet with Biden on Feb. 10, the White House says in a statement.
Biden's physical examination will take place on February 16 and will be released publicly the same way as last year, according to a White House official.
Amgen's $27.8 billion deal to buy Horizon Therapeutics will undergo an in-depth review by US antitrust regulators, the companies said.
The Newport Health Care Center is calling it quits.
Exxon's latest earnings reports "make clear that oil companies have everything they need, including record profits and thousands of unused but approved permits, to increase production," White House Assistant Press Secretary Abdullah Hasan says in statement.
A growing number of states are trying to take the pain out of environmental permitting, steeling themselves for the billions of dollars of new construction made possible by the infrastructure and climate bills.
Major League Baseball's century-old antitrust exemption is "of dubious validity" and should not be expanded by the courts, the Biden administration argued in a legal case by a group of minor league teams.
New clinical trial diversity requirements should help panels charged with ethics reviews of human studies, even if they don't have to review the plans directly, research specialists said.
The latest government guidance addressing artificial intelligence risks serves as a launch pad for compliance considerations and could signal regulatory and lawmaker action to come, attorneys say.
To contact the reporter on this story: Michaela Ross in Washington at mross@bgov.com
To contact the editor responsible for this story: Andrew Small at asmall@bgov.com
Stay informed with more news like this – from the largest team of reporters on Capitol Hill – subscribe to Bloomberg Government today. Learn more.