What to Know in Washington: Biden, McCarthy Meet On Debt Limit
Bloomberg Government subscribers get the stories like this first. Act now and gain unlimited access to everything you need to know. Learn more.
President Joe Biden is scheduled to meet Speaker Kevin McCarthy (R-Calif.) and other congressional leaders Tuesday to discuss the debt ceiling.
Biden and congressional Republicans are locked in a staredown over raising the $31.4 trillion borrowing limit, with GOP leaders demanding promises of future spending cuts before they approve a higher ceiling. Biden has insisted on a "clean" increase, with budget talks kept separate.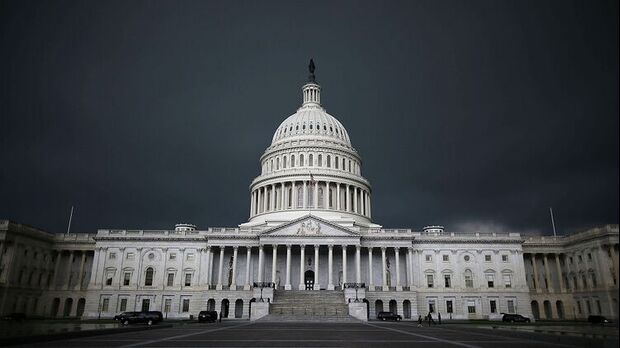 House Financial Services Committee Chair Rep. Patrick McHenry (R-N.C.) suggested that a deal for a short-term debt limit increase is an option, echoing comments by White House Budget Director Shalanda Young on Thursday.
"Everything is on the table at this point," McHenry said on CBS's "Face the Nation" on Sunday. "The key thing that has to be in this equation is addressing our fiscal house, short term and long term."
The federal government reached the statutory cap on borrowing in January and the Treasury has since been using special accounting measures to make cash available. Those measures could run out as soon as June 1, Treasury Secretary Janet Yellen told Congress last week.
Republicans have sought to increase leverage over Biden by narrowly passing a plan that calls for an increase in the debt ceiling by $1.5 trillion — enough to prevent a default until next March 31 — in exchange for $4.8 trillion in budget cuts.
Almost all Senate Republicans said in a letter released Saturday that they'd oppose allowing a vote on legislation with a "clean" debt-ceiling increase.
Biden said on Friday he wasn't yet prepared to invoke the 14th Amendment to avert a breach of the debt ceiling, but didn't rule out the possible executive action.
Invoking the amendment would seem certain to prompt a high-stakes legal fight that risks roiling markets. Yellen said there are "simply no good options" for solving the debt limit stalemate other than Congress lifting the cap, and cautioned that resorting to the 14th Amendment would provoke a constitutional crisis.
"We should not get to the point where we need to consider whether the president can go on issuing debt" without Congress lifting the debt ceiling, Yellen said Sunday on ABC's "This Week."
Constitutional scholars and economists have been split on the idea that the administration continue issuing debt by citing a provision of the Constitution that says the validity of public debts "shall not be questioned." Christopher Condon has the full story.
BIDEN'S AGENDA
At 1:45 p.m., Biden will deliver remarks on new protections for travelers impacted by flight delays or cancellations. Transportation Secretary Pete Buttigieg will also attend.
The president will host a 7:45 p.m. screening of "American Born Chinese" in recognition of Asian American, Native Hawaiian, and Pacific Islander Heritage Month.
CONGRESS' SCHEDULE
The House and Senate return tomorrow
Politics, Probes and 2024
Biden said Friday that his son had not done anything wrong, just over a week after attorneys for Hunter Biden met with prosecutors at the Justice Department to discuss potential criminal charges.
Biden's approval slid to a career low in the latest opinion poll for ABC News and the Washington Post that also showed the president lagging predecessor Donald Trump in early voter preferences for the 2024 election.
More than a decade ago, a member of the court system's leadership body raised red flags about its handling of public allegations of wrongdoing against Supreme Court Justice Clarence Thomas.
Texas Republicans are seeking to take control of elections in the Houston area, a growing Democratic stronghold that is making statewide races more competitive and could eventually turn the state into a presidential battleground.
At least eight of 16 Georgia Republicans who agreed to certify that Trump beat Biden in 2020 have reached immunity deals with the Atlanta-area prosecutor investigating efforts to overturn the presidential election.
What Else We're Reading
Biden plans to announce today that the federal government is drafting new rules that could require airlines to provide meals, hotels and additional compensation to travelers on canceled or severely delayed flights ahead of an expected crush of summer travel.
Steep spending cuts contained in a House Republican budget bill would dramatically exacerbate a shortage of air-traffic controllers that has already led to a reduction in flights to New York this summer, officials said Friday.
The Department of Homeland Security should create a parole program allowing states to sponsor migrants for parole and employment in key industries, Senate Democrats said in a letter to Biden Friday.
Republicans and management-side attorneys are alleging the Labor Department is ignoring a Trump-era independent contractor standard that's more favorable to businesses, despite a court saying the rule takes precedence.
The Navy told attorneys that government regulations and a lack of resources were responsible for slowing its review of claims. The delays have infuriated Camp Lejeune veterans, workers, and their relatives who've spent decades trying to get treatment and compensation for cancer and other health problems they blame on contaminated drinking water on the North Carolina base.
To contact the reporters on this story: Brandon Lee in Washington at blee@bgov.com; Michaela Ross in Washington at mross@bgov.com
To contact the editor responsible for this story: Kayla Sharpe at ksharpe@bloombergindustry.com
Stay informed with more news like this – from the largest team of reporters on Capitol Hill – subscribe to Bloomberg Government today. Learn more.