What to Know in Washington: Biden Marks First Year in Office
Bloomberg Government subscribers get the stories like this first. Act now and gain unlimited access to everything you need to know. Learn more.
President Joe Biden marks one year in office today with a press conference at the White House. Capping off a difficult year for the president is an ill-fated vote in the Senate today on voting rights legislation that Republicans are all but assured to block.
Here's what Bloomberg Government is tracking for Wednesday.
Congressional Schedule:
The Senate meets at 10 a.m. to resume work on the voting rights bill.
The House meets at noon to consider three bills under expedited procedure.
Click here for a complete list of today's hearings and markups.
Biden's Schedule:
The president will hold a press conference from the White House at 4 p.m.
The Highs and Lows of Biden Presidency After One Year
Joe Biden limps into his second year facing a cascade of perils, at home and overseas, as well as the prospect his party will lose control of Congress in November's midterm elections.
On the eve of the anniversary of his inauguration, the president will defend his record so far in the White House at a 4 p.m. news conference in Washington.
Biden inherited the pandemic, and in his first months accelerated the U.S. vaccination campaign while spending political capital to win $1.9 trillion in relief for virus-stricken Americans. But he's getting little love from voters for staving off a recession, as they contend with soaring energy and food bills while the omicron variant of the coronavirus surges across the country.
At the same time, Russia is poised to spark Biden's worst foreign policy crisis yet with a potential invasion of Ukraine.
Justin Sink provides a look at the highs and lows of his presidency so far. Read more.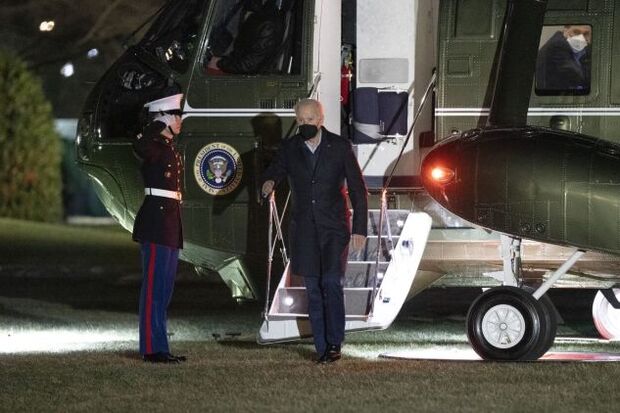 Democrats Set for Voting Rights Gambit
Senate Democrats are moving ahead with voting-rights legislation that has extraordinarily long odds in the evenly divided chamber.
Republicans are expected to block a final vote on the bill today. Senate Majority Leader Chuck Schumer (D-N.Y.) said yesterday he would propose a one-time change to the chamber's filibuster rules to make it harder to hold up the legislation.
But that last-gasp effort has little chance with at least two Democrats saying they won't infringe on the minority party's most powerful tool in the chamber.
Sen. Joe Manchin (D-W.Va.) has said he won't support changing Senate rules with a simple majority vote, which will be necessary to make the change. He insisted late yesterday that while other Democrats have come to support changing the filibuster, he won't. "You have a right to change your mind. I haven't," Manchin said. "I hope they respect that, too. I've never changed my mind on the filibuster."
A loss on the voting rights legislation would shatter yet another Democratic goal and underscore the difficulty of pursuing the party's priorities with the narrowest of congressional majorities. Read more from Laura Litvan and Steven T. Dennis.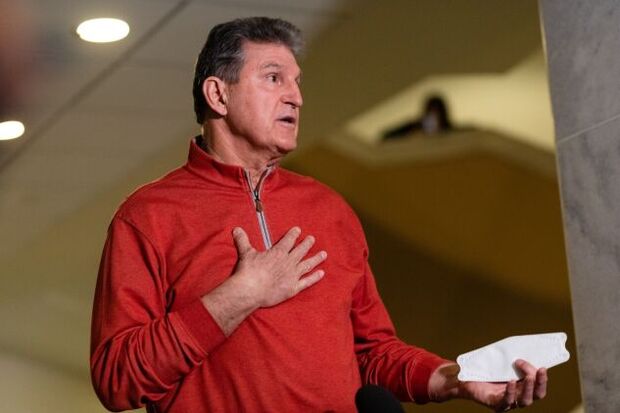 ALSO HAPPENING ON THE HILL:
Rudy Giuliani, Sidney Powell and Jenna Ellis have been subpoenaed by the House committee probing the Jan. 6 attack. Former President Donald Trump's campaign aide Boris Epshteyn also was summoned. The four "advanced unsupported theories about election fraud, pushed efforts to overturn the election results" or "were in direct contact with the former president about attempts to stop the counting of electoral votes," Chair

Bennie Thompson

(D-Miss.) said. Read more from Billy House.
Calls to change the 1887 Electoral Count Act have increased since allies of Trump sought to use the law to overturn the 2020 election that put Biden in the White House. Bloomberg Government's legislative analysts cover the process required by the Electoral Count Act and potential changes to the law that Congress could make. Read the BGOV OnPoint analysis by Adam M. Taylor here.
The Defense Department is requesting refunds from TransDigm for the second time in less than three years after the department's watchdog said the supplier of specialized spare parts continues to collect excess profits. An audit by the Pentagon's inspector general found the company's excess profit amounted to $20.8 million — or more than half of $38.3 million it collected. The inspector general "found that TransDigm's business model is specifically designed to raise prices on defense contracts," House Oversight Committee Chairwoman

Carolyn Maloney

(D-N.Y.) said ahead of a hearing today on the topic. Read more from Tony Capaccio.
Politics & Probes
A number of Virginia school districts signaled plans to challenge one of Glenn Youngkin's first actions as governor lifting the state's K-12 school mask mandate. Through an executive order signed on his first day in office, effective Jan. 24, Youngkin gave parents autonomy to decide whether or not their children will wear masks in schools to protect against Covid-19, rejecting guidance from the nation's top health experts and reigniting tensions with parents and school officials. Youngkin's move throws him into one of the thorniest political and cultural issues of the pandemic at a time when cases are at record highs and school operations are fraying. Read more from Nic Querolo.
New York's attorney general asked a judge to order Trump and two of his adult children to testify under oath as part of the state's civil probe into the family real-estate business, saying investigators have already uncovered a pattern of potential fraud. Letitia James, the state's top law enforcement officer, last night filed a motion to compel the former president, along with Donald Trump Jr. and Ivanka Trump, to hand over documents and answer questions about a series of valuations of key properties of the Manhattan-based Trump Organization. Read more from Erik Larson.
Around the Administration
The administration is exploring ways to rein in the nation's biggest technology companies, possibly through bipartisan legislation that's under consideration in the Senate, according to people familiar with the matter. The White House is planning a meeting this week to discuss the topic, according to two of the people, who were granted anonymity to discuss the deliberations. The event will include critics of the tech giants as well as representatives of smaller digital firms. Read more from Jennifer Jacobs and Anna Edgerton.
Biden's antitrust regime is already facing its first big test of the year. Microsoft's $69 billion all-cash takeover of Activision Blizzard brings together two major gaming platforms in a deal that affects consumers—and could also raise grievances among some of the tech giant's biggest rivals. With a $2.3 trillion market valuation, Microsoft hasn't exactly flown under the radar in D.C. But it's drawn less scrutiny than competitors Google and Facebook, which are already in the crosshairs of Biden's antitrust police. Liana Baker, Sara Forden and Anna Edgerton have more.
The National Labor Relations Board's top lawyer urged the board to strike down a raft of Trump-era limitations on federal labor law's protections for worker activity, in a bid to bolster legal safeguards for on-the-job activism. General Counsel Jennifer Abruzzo asked the Democratic-majority NLRB to revisit eight precedents set by the most recent Republican-controlled board. The general counsel's office filed the brief last week in a case alleging a charter school advocacy group unlawfully fired a worker who criticized a manager's suspected anti-immigrant bias. Read more from Robert Iafolla.
For the third time in less than two months, the U.S. aviation system is facing the threat of widespread flight disruptions over potential 5G interference, only to get a limited and temporary reprieve. A last-minute accord between wireless telephone companies and aviation authorities averted major disruptions but didn't eliminate them—several carriers warned of potential cancellations beginning today, when the new 5G service is rolled out. Read more from Alan Levin, Mary Schlangenstein and Julie Johnsson.
Airlines across the world are adjusting their schedules and aircraft deployments for flights to the U.S. over fears of flight interference with the service change. Read more from Anurag Kotoky.
The Biden administration is preparing to release 400 million non-surgical N95 masks from the Strategic National Stockpile with plans for Americans to be able to pick them up from tens of thousands of sites across the country beginning late next week, the White House said today. The masks will be sent to the same venues where Americans have been vaccinated against Covid-19, including tens of thousands of pharmacies and thousands of community health centers, a White House official said on the condition of anonymity to preview the announcement. Read more from Jennifer Epstein.
U.S. Secretary of State Antony Blinken said a diplomatic resolution to the standoff with Russia lies in the hands of President Vladimir Putin as he began a three-day European tour to pressure the Kremlin to de-escalate tensions with the West. "I strongly, strongly hope we can keep this on a diplomatic and peaceful path, but ultimately this is President Putin's decision," Blinken told U.S. embassy staff today after he arrived in the Ukrainian capital Kyiv, according to a Tweet. Blinken went on to a bilateral meeting with Ukrainian President Volodymyr Zelenskiy to discuss Russia's massing of more than 100,000 troops near the former Soviet republic's eastern border. With U.S. officials warning of a potential attack, Blinken plans to meet Russian Foreign Minister Sergei Lavrov in Geneva on Friday. Read more from Daryna Krasnolutska and Peter Martin.
Two years ago, then-President Trump signed the U.S.-China Phase One trade agreement, hailing it as an "historic" deal. Biden's team spent the presidential campaign criticizing it as too limited in scope and lacking teeth. Yet once the Democrat took office, there was a recalibration. In a speech in October, U.S. Trade Representative Katherine Tai described the framework as "useful" and said it's had "value in stabilizing the relationship." With the midterms looming in November, the White House is under increasing pressure to show it's willing to punish China for not holding up its end of the bargain. Read more from Jenny Leonard.
To contact the reporters on this story: Giuseppe Macri in Washington at gmacri@bgov.com; Brandon Lee in Washington at blee@bgov.com
To contact the editors responsible for this story: Zachary Sherwood at zsherwood@bgov.com; Loren Duggan at lduggan@bgov.com; Michaela Ross at mross@bgov.com
Stay informed with more news like this – from the largest team of reporters on Capitol Hill – subscribe to Bloomberg Government today. Learn more.