What to Know in Washington: Biden-Manchin Talks Aren't Dead Yet
Bloomberg Government subscribers get the stories like this first. Act now and gain unlimited access to everything you need to know. Learn more.
President Joe Biden and Joe Manchin spoke Sunday night about the West Virginia senator's opposition to Democrats' $2 trillion social spending package, leaving a sliver of light for a deal on the package in the new year. Biden today will announced an updated Covid-19 plan as his administration seeks to fight a surge of cases fueled by the omicron variant.
Here's what Bloomberg Government is tracking for Tuesday.
Biden's Agenda:
The president is scheduled to deliver remarks at 2:30 p.m. on the administration's plans to fight the current Covid-19 surge.
Biden-Manchin Call Seen Possibly Reviving Talks
President Joe Biden and Sen. Joe Manchin (D-W.Va.) spoke Sunday night after Manchin torpedoed Biden's roughly $2 trillion economic agenda, a conversation that the White House believes left the door open to revive talks on the package, according to a person familiar with the matter.
Their call came hours after Manchin abruptly announced on "Fox News Sunday" that he wouldn't back the Build Back Better plan. Manchin's rejection triggered a sharp rebuke from White House Press Secretary Jen Psaki and opened a public feud among Democrats over Biden's policy priorities.
Manchin had privately proposed his own version of the plan to Biden five days earlier, with overhauled revenue measures and 10 years of nationwide pre-Kindergarten funding — but without an extension of an expanded child tax credit that's a priority for the president, the person said. Manchin's proposed revenues would not have been supported by all other Democratic senators, the person said. Details of how Manchin proposed to pay for his version aren't clear, but he has previously called for reversing former President Donald Trump's tax cuts — a move that Sen. Kyrsten Sinema (D-Ariz.) opposes.
Senate Democrats will hold a caucus meeting tonight to discuss a path forward on the package, along with other issues. It's not clear if Manchin will attend that meeting.
White House officials viewed Manchin's counter-proposal as a viable starting point to continue talks, saying in a statement Thursday that the West Virginia senator continued to back a plan of the same size and scope as Biden's. But Manchin was angered that the statement named him personally, according to a report by Politico, which cited people it didn't identify. Read more from Justin Sink, Josh Wingrove and Emma Kinery.
The administration's attempt to reframe thinking around federal debt looks to have faltered, undone in large part by an inflationary surge that stiffened Manchin's resistance. While the 10-year package was designed to pay for itself, it wouldn't have done so in 2022, and would have run up bigger deficits if time-limited measures such as an expanded child tax credit were extended without revenue offsets. Manchin said the legislation camouflaged a run-up in borrowing that would "drastically" impair the U.S. from being able to respond to threats including from China and Russia.
It marked a major reversal for attempts to incorporate the long-term shift toward lower rates into fiscal debates. Biden and his team more broadly have tried to get Congress to assess what's affordable by talking about the debt payments the government is actually making — much as a homebuyer or private business might.
Federal debt surged to more than the size of the economy last year, with the ratio of publicly held debt to gross domestic product climbing from 79% in 2019 to reach the highest since World War II. Yet the cost to service that debt declined, to just 1.6% of GDP from 1.8% in 2019, thanks to sliding borrowing costs; that ratio was more than 2% back in the late 1990s and 3% or above in the late 1980s and early 1990s.
But Manchin didn't buy the argument. Mike Dorning takes a closer look at the administration's messaging on inflation and debt.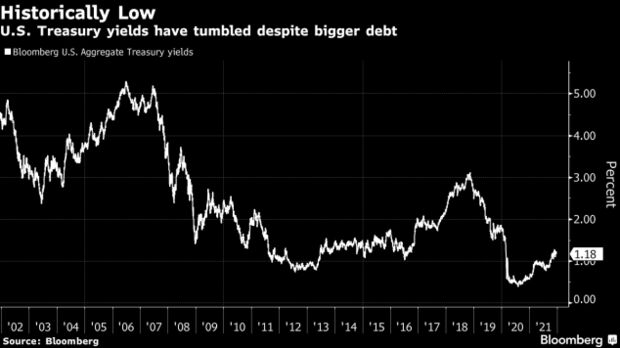 MORE ON BIDEN'S AGENDA:
Biden's promise to reduce income and wealth disparities in the U.S. has suffered a major setback with the collapse of the bill. Early in the pandemic, U.S. policy makers staved off a dramatic increase in inequality with an all-out fiscal response. Biden's legislation aimed to build on that achievement with about $2 trillion of investments focused on child care, health care and early education — delivering benefits to lower-income Americans, financed in part by tax increases for wealthier ones. Scaling down the Biden agenda risks widening the very gaps that the president and his Democrats promised to address, according to Shawn Fremstad, a senior policy fellow at the Center for Economic and Policy Research in Washington. Read more from Katia Dmitrieva and Matthew Boesler.
If the package faulters, rich Americans will escape any tax hikes, saving the top 0.1% hundreds of billions over the next decade. The latest bill's three most expensive items for the super-rich, including a surtax on incomes above $10 million, would raise over $640 billion over the next decade, the Joint Committee on Taxation said. That could come at a time when the coronavirus pandemic has rapidly accelerated wealth inequality in America. Read more from Ben Steverman.
Biden to Send 500 Million Free Tests
Biden will send 500 million free coronavirus tests to Americans' homes beginning next month and dispatch the military to shore up overwhelmed hospitals as the U.S. confronts a resurgent pandemic. Biden will announce new measures to try to curb the virus today, the day after the CDC said the omicron variant first identified in southern Africa now accounts for most new U.S. cases. He aims to boost testing, hospital care and vaccinations without any new lockdowns or closings.
He'll also deliver a stark warning to the unvaccinated, a senior administration official said, telling them that they risk serious disease or death while assuring Americans who've gotten their shots that they can safely gather with their families over the holidays.
In the speech, the president will again seek to reassure Americans that his administration can combat yet another resurgence of the virus, the second of his presidency. But he confronts a perception that the government was caught flat-footed as cases began to mount earlier this month and Americans began complaining that test kits, crucial to control transmission, had become scarce. Read more from Josh Wingrove.
The omicron variant accounted for 73% of all sequenced Covid-19 cases in the U.S., surging from around 3% last week, according to the latest federal estimates. The highly mutated coronavirus strain has been detected across the country, the Centers for Disease Control and Prevention said in a model that it updates weekly. Read more from Timothy Annett.
Biden spent time on Friday with an aide who tested positive for coronavirus infection three days later but has so far tested negative himself, Psaki said in a statement, Alex Wayne reports.
ALSO AROUND THE ADMINISTRATION:
Biden's nominee to lead the agency overseeing the trucking industry is leaving before her confirmation to join New York City's mayoral office. Meera Joshi, who serves as deputy administrator at the Federal Motor Carrier Safety Administration, was picked yesterday by New York City Mayor-elect Eric Adams to be deputy mayor for operations. Read more from Lillianna Byington.
The White House will close gaps in U.S.-Mexico border barriers and finish construction on some related infrastructure amid increasing encounters with migrants attempting to cross illegally into the U.S. Homeland Security Secretary Alejandro Mayorkas yesterday directed U.S. Customs and Border Protection to close construction access gaps that were left open when Biden halted most work on the wall, a signature immigration policy of the Trump administration, on his first day in office. Ellen M. Gilmer has more.
Politics & Influence
California Democrats have a better shot at winning more House seats under the congressional map approved last night by the state's redistricting commission, a win for the party as it seeks to maintain its majority in the U.S. House in 2023. The new map increases the number of Democratic-leaning seats in the state as it lost one congressional district, going from 53 seats to 52. The number of competitive seats would increase from eight to 14, 10 of which would favor Democratic candidates, according to an analysis from the Campaign Legal Center's PlanScore. Read more from Tiffany Stecker.
Rep.

Lucille Roybal-Allard

(D-Calif.), the first woman of Mexican descent elected to Congress, said yesterday she is retiring and won't seek re-election in 2022. Roybal-Allard, who joined the House in 1993, is chair of the House Appropriations Homeland Security Subcommittee.
Hispanics and Latinos are the fastest growing segments of the U.S. population, but that hasn't translated into electoral clout—as a few shifting lines on a Texas map demonstrate. Though Texas gained two congressional seats after the 2020 Census, the map Gov. Greg Abbott (R) signed in October shrinks the number of majority-minority districts from eight to seven. Community advocates are now closely watching the nonpartisan redistricting commissions in Arizona and California, which also have large Hispanic and Latino populations they say should be reflected in Washington. Read more from Ayanna Alexander.
The fundraising arm of House Democrats outraised its Republican counterpart in November and has more cash on hand, less than a year out from the 2022 midterm elections, according to their latest filings with the Federal Election Commission. The Democratic Congressional Campaign Committee raised $12.6 million, a record total for the month in an off year, spent $6.4 million and started December with $73.8 million cash on hand. Read more from Bill Allison.
Black Families Leave Cities for Suburbs—BGOV Special Report
While much of America is getting increasingly more diverse, Black Americans are leaving urban communities in many of the biggest Northeastern cities. A net loss of more than 210,000 Black people occurred in 10 years across the core urban counties of major cities from Virginia to Massachusetts, even as those same areas grew their overall populations by more than 850,000.

An analysis of the census data by Bloomberg Government examined six cities—Baltimore, Boston, New York, Philadelphia, Richmond, and Washington, D.C.—and found similar patterns of Black people leaving city centers for more affordable suburban counties, or even to other parts of the country, notably the American South and West.
Experts in demography point to two countervailing forces at work. The displacement of lower-income urban Black communities fueled by gentrification has made housing unaffordable, pushing people to move away. And at the same time, the allure of a suburban lifestyle drew a greater share of Black Americans to the suburbs, much as it had their White counterparts before them. Read more from Aaron Kessler in an interactive special report from BGOV.
What Else We're Reading
The House committee investigating the Jan. 6 insurrection at the U.S. Capitol asked GOP Rep.

Scott Perry

(Pa.) yesterday to voluntarily agree to a meeting, the panel's first public request to talk to a sitting member of Congress. Committee members want to talk to Perry about his involvement in or knowledge of Trump's efforts to install then-acting Assistant Attorney General Jeffrey Clark as head of the Justice Department to lead that agency in challenging the 2020 presidential election results. Read more from Billy House.
Florida Democrats are sounding alarms over what they believe is a rapidly unfolding campaign across Spanish-language media to tarnish the image of Vice President Kamala Harris, Politico reports. Democrats have been unnerved by the ferocity and speed of the attacks, which have come from callers and guests on local radio programs in recent weeks. Politico's Christopher Cadelago and Eugene Daniels have more.
The National Hockey League is beginning a leaguewide shutdown tomorrow amid a rise in positive Covid-19 test results among players, and with 10 of the league's 32 teams' schedules already paused and their facilities closed, the Associated Press reports. The league announced last night that it will open its annual holiday break two days earlier than scheduled and have it run through Saturday, AP's Stephen Whyno and John Wawrow report.
To contact the reporters on this story: Zachary Sherwood in Washington at zsherwood@bgov.com; Brandon Lee in Washington at blee@bgov.com
To contact the editors responsible for this story: Giuseppe Macri at gmacri@bgov.com; Loren Duggan at lduggan@bgov.com; Michaela Ross at mross@bgov.com
Stay informed with more news like this – from the largest team of reporters on Capitol Hill – subscribe to Bloomberg Government today. Learn more.