What to Know in Washington: Biden Makes Taiwan Policy Explicit
Three times as president, Joe Biden has said the US would defend Taiwan if China invades the island, and each time his staff argued he wasn't changing longstanding US policy to keep Beijing guessing about US intentions. His fourth time makes that much harder to do.
In comments to "60 Minutes" on Sunday, Biden left no doubt where he stood, saying the US would commit military forces in the event of an "unprecedented attack" by China. Pressed if that would involve US men and women — unlike in Ukraine, where Biden has ruled out sending American forces — he said "yes."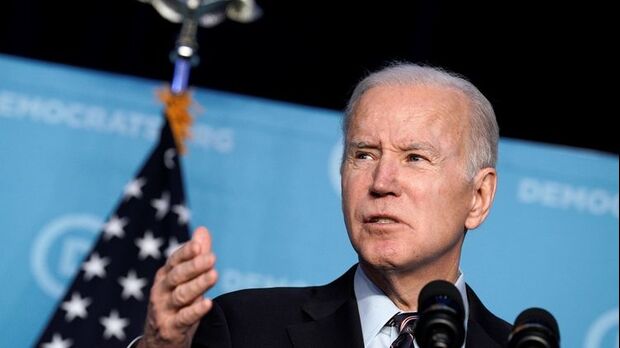 A spokeswoman again insisted that policy toward the island hadn't changed. But with the US stance toward China hardening more broadly, it was difficult to see Biden's comments as anything other than a refutation of decades of so-called "strategic ambiguity" in which the US declined to make its intentions clear.
The consequences of such a policy would be significant, raising the question yet again of whether Biden sought to chart a new strategy or was simply expressing his own beliefs. Even more jarring was that Biden went further. He said decisions about independence are up to Taiwan. Historically, US policy has been not to support Taiwanese independence.
Knowing they have US military backing, Taiwan's leaders could move closer to independence — an explicit red line for Beijing to invade. Countries in the region will likely bridle, wary of the possibility of a war on their doorstep. And US allies like Japan or South Korea will almost certainly be made more uneasy knowing that US bases on their soil would be involved in any conflict — a fact that risks pulling them into a war as well. Read more from Jennifer Jacobs, Jenny Leonard and Iain Marlow.
Happening on the Hill
CONGRESS' SCHEDULE
The House meets at 10 a.m. to consider a dozen bills under expedited procedure and start debate on legislation to let couples, including those who are separated or divorced, sever their federal joint consolidated student loans.
Senators plans to meet at 10 a.m. to vote on a judicial nomination and a procedural vote on the Kigali Amendment to update an international agreement on industrial chemicals.
Patent practitioners hoping for clarity on patent subject matter eligibility in the wake of the Supreme Court's refusal to take up the issue may have to keep waiting, US Patent and Trademark Office Director Kathi Vidal told Bloomberg Law in a wide-ranging interview on Monday addressing her role and plans at the PTO.
Congress passed legislation directing the Labor Department to examine obstacles for skilled immigrants to secure employment in the US.
Around the Administration
PRESIDENT'S SCHEDULE
Biden at 1:45 p.m. will deliver remarks at the White House on the campaign finance transparency bill known as the DISCLOSE Act.
At 7:30 p.m., Biden is scheduled to participate in a Democratic National Committee reception in New York City.
At noon, White House Press Secretary Karine Jean-Pierre will hold a press briefing with National Security Adviser Jake Sullivan.
FEMA Administrator Deanne Criswell will travel to Puerto Rico today to assess needs in the wake of Hurricane Fiona, President Biden told Governor Pedro Pierluisi by phone yesterday, according to a White House statement.
When Hurricane Fiona lashed Puerto Rico Sunday, it left at least one dead, washed out bridges and roads, ripped off roofs and sent more than 2,100 people scrambling to emergency shelters. It also laid bare, once again, just how sickly the island's power infrastructure is.
Records seized by the FBI from Donald Trump's Florida home can be reviewed by a neutral third party at a rate of about 500 documents each business day, the Justice Department said in a court filing, as the former president's lawyers again avoided dealing with claims he declassified them.
The US Department of Energy will offer additional US reserve crude for sale ahead of plans by the European Union to ban most Russian oil in December. The agency will offer 10 million barrels of low-sulfur crude for supply in November from storage caverns in Texas and Louisiana.
A bipartisan group of Midwestern governors on Monday unveiled a coalition aimed at developing hydrogen as an alternative energy source to boost the region's decarbonization efforts, spurred by recent federal legislative action.
Rates of common sexually transmitted infections sharply increased in the US last year, alarming some health officials and sexual health advocates who argue the country needs to do more to stop the spread of preventable diseases.
Maryland is poised to become the sixth state to enact protections against heat stress for outdoor workers in the face of federal inaction after the third hottest summer in 128 years.
The Pentagon will soon unveil specifications for a PFAS-free replacement for the firefighting foam AFFF, and later will eliminate AFFF's use. It's a radical change for the US military that will cascade through the nation's civilian airports, fire departments, oil refineries, and chemical makers.
To contact the reporters on this story: Brandon Lee in Washington at blee@bgov.com; Michaela Ross in Washington at mross@bgov.com
To contact the editor responsible for this story: Giuseppe Macri at gmacri@bgov.com