What to Know in Washington: Biden Makes Moves to Boost NATO
Alliance increases troops in biggest post-Cold War overhaul
Colorado, Oklahoma, more primary winners emerge
NATO leaders prepared to overhaul and boost the alliance's defences in the face of Russian aggression in Europe, including establishing a new force model that would put about 300,000 troops on high alert to deal with any future threats.
President Joe Biden said in Madrid on Wednesday that his country would set up a permanent headquarters in Poland for the Fifth Army Corps, maintain an additional rotational brigade of thousands of troops in Romania and bolster other deployments in the Baltic states. The US will also send two more F-35 squadrons to the UK and add to air-defense systems in Germany and Italy. That adds to 100,000 US troops already in Europe.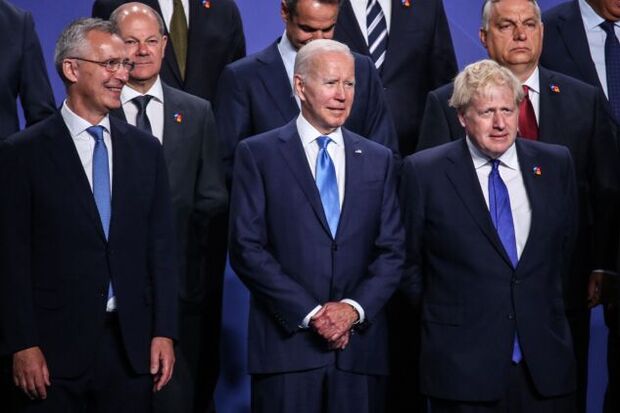 "In a moment where Putin has shattered peace in Europe and attacked the very, very tenets of the rule-based order the United States and our allies – we're stepping up," Biden told reporters at the summit. "The steps we're taking during this summit are going to further augment our collective strength." The Russian president is "getting the NATO-ization of Europe," Biden said.
The leaders will on Wednesday hear from Ukrainian President Volodymyr Zelenskiy via video conference about his nation's battle against Russia following the Feb. 24 invasion. They are expected to sign off on the so-called new force model, under which NATO will pre-position more equipment, boost air defenses and earmark forces to defend specific allies and maintain those forces at a certain level of readiness. Natalia Drozdiak, Jordan Fabian and Kati Pohjanpalo have the story.
Midterm Primary Winners
Rep. Markwayne Mullin and T.W. Shannon are headed for an Aug. 23 Republican runoff in the Oklahoma Senate special election after emerging as the top two vote recipients in Tuesday's primary.
Mullin, a five-term House member, consistently led more than a dozen candidates in fundraising and polls during the primary race, but he fell short of the majority needed for an outright win. Shannon, the first Black speaker of the Oklahoma House, finished far behind in second place. Kenneth P. Doyle sets up the race.
Construction company founder Joe O'Dea won the Republican Senate nomination in Colorado on Tuesday and will now take on Democratic incumbent Michael Bennet in November. Bennet, a former presidential aspirant who's seeking a third full term, starts as the favorite in the Democratic-leaning state. But O'Dea gives Republicans a better chance than his primary opponent, state Rep. Ron Hanks, would have, especially if the party continues to enjoy a favorable national environment by the fall. Read more from Zach C. Cohen.
Mike Flood, a radio broadcaster and small-city lawyer, will enter Congress with almost a decade's worth of service in Nebraska's unicameral and nominally nonpartisan legislature — most of it as speaker. "I like to say I'm a workhorse, not a showhorse," the Nebraska Republican told the Lincoln Journal-Star editorial board during his successful special-election campaign in the state's 1st Congressional District. Greg Giroux profiles the incoming congressman.
IN GOVERNOR RACES:
Illinois' Democratic Governor J.B. Pritzker will seek re-election in November against Republican Darren Bailey, a state senator backed by former President Donald Trump, whose conservative candidacy got an unlikely boost — from Democrats. Shruti Date Singh and Gregory Korte have more.
New York Governor Kathy Hochul handily won the state's Democratic primary Tuesday, becoming the first woman to capture the primary contest for the state's highest office. Still, a path to victory will prove more difficult come November, when she faces off against Republican

Lee Zeldin

. Laura Nahmias, Nic Querolo and Carrington York preview the matchup.
Happening on the Hill
House appropriators on Wednesday will consider legislation that would impose a new inspection fee on oil and gas operators doing business on federal land. The fiscal 2023 spending bill for the Interior Department outlines an onshore fee structure that would range from $1,560 to $14,000 for each lease or unit based on the amount of wells that operators have. Read more from Kellie Lunney.
The House Appropriations Committee, in advancing a $56.3 billion bill funding energy and water programs in fiscal 2023 on Tuesday, rejected seven Republican amendments that offer an indication of GOP priorities if the party takes the House majority next year. The rejected amendments sought to require the Energy Department to spur domestic oil and gas production and advance water management projects in California, among other objectives. Daniel Moore has more.
A House panel adopted a bill Tuesday to block Justice Department funds from being used to prosecute women who get an abortion out-of-state. The Appropriations Committee voted 32-23 to back the language by Rep. Debbie Wasserman Schultz (D-Fla.). Lawmakers added the amendment to the annual fiscal 2023 Commerce-Justice-Science bill. It doesn't bar prosecution by state officials. Read more from Jack Fitzpatrick.
Democrats and civil rights groups are also maneuvering to tie abortion rights to the protection of sensitive data—while not jeopardizing Congress' push to pass landmark bipartisan privacy legislation. The end of Roe thrust data protections into the limelight, as web browsing histories, electronic health records, and location data could be used to incriminate people seeking abortions. Read more from Maria Curi.
Several state constitutions contain explicit privacy rights that some say could apply to abortion—a question now up to state supreme courts to decide. In addition, some state constitutions have language protecting "natural" and "inherent" rights, or rights to bodily autonomy and personal decision-making that could be construed to uphold abortion access, Amy Myrick, a senior attorney for the Center for Reproductive Rights, said. Mary Anne Pazanowski has more.
Foreign interference in federally funded research remains a challenge, but some higher education advocates warn that a slew of proposed legislation may cause more compliance pitfalls for research institutions if the disclosure rules are inconsistent across the government. The House Energy and Commerce health panel holds a hearing today to look into three bills to curb undue foreign influence in NIH-funded research. Jeannie Baumann has more.
Also before the panel is a clinical trial diversity bill to require researchers to submit "measurable goals" in their grant applications to recruit and retain trial participants who reflect the race, ethnicity, age, and sex of the patient or general population. The bill would apply to clinical trials funded by the NIH, and aims to build on laws from the 1990s to improve the inclusion of women and people of color in clinical trials, Baumann reports.
Lawmakers and advocates are pushing for updated border management policies and immigration pathways after the deaths of at least 50 people in a scorching tractor-trailer in Texas this week. The discovery of the victims drew national outrage and stoked debate on border security. The Biden administration's critics are calling for tighter restrictions to detect and deter attempts to enter the US, while others push to open legal migration options to cut back on desperate and dangerous attempts. Read more from Ellen M. Gilmer.
Lingering concerns from the transportation industry are threatening to derail a bill to expand workplace protections for nursing parents. Lawmakers have been pushing for years to boost on-the-job pumping protections to more workers, legislation many argue is particularly needed now that formula is scarce and the lingering effects of the pandemic have increased the need to entice parents back into the workforce. Lillianna Byington and Paige Smith have more.
Government watchdog officials Tuesday called on Congress to take more steps to rein in abuses by private Medicare managed care plans. During a House Energy and Commerce oversight hearing, officials from HHS's Office of Inspector General, the General Accountability Office, and the Medicare Payment Advisory Commission all said more congressional oversight is needed to ensure Medicare Advantage plans are providing quality care. Tony Pugh has more.
Politics & Probes
A former White House aide portrayed a violent and out-of-control Donald Trump in his presidency's final weeks, saying she was told that he reached for the steering wheel and lunged at a Secret Service agent who tried to stop him from traveling to the Capitol to join the insurrectionist mob on Jan. 6, 2021. Cassidy Hutchinson, then an assistant to White House chief of staff Mark Meadows, gave the most gripping testimony yet in a House committee's hearings on the Capitol riot, providing a window into the workings of Trump's inner circle during the attack and days beforehand.
She described a president who smashed dishes against the wall when his attorney general wouldn't back election-fraud claims, constantly ignored requests from his own attorneys to tone down his speech at the Jan. 6 rally that preceded the riot, and ultimately turned callous when his vice president was under threat, suggesting he agreed with the rioters' cries to assassinate Vice President Mike Pence. Read more from Mike Dorning, Steven T. Dennis, and Billy House.
A divided US Supreme Court reinstated a Republican-drawn congressional map in Louisiana for this year's election, blocking a trial judge's order that required a second majority-Black voting district. Over the dissents of the three liberal justices, the court granted state officials' request for intervention on an emergency basis. US District Judge Shelly Dick had said the Voting Rights Act required a second majority-Black district in Louisiana for the House, Greg Stohr reports.
Democrats risk running out of time before filling all current or expected federal appeals court vacancies with their grip on the Senate in doubt, legal scholars who follow judicial nominations say. Progressives want Democrats and the White House to pick up the pace. The typical summer congressional slowdown and November midterm campaigning leaves limited time for committee and floor action before a lame-duck session. Madison Alder has more.
What Else to Know Today
BIDEN'S SCHEDULE:
Biden in the morning will participate in a greeting with NATO Secretary General Jens Stoltenberg, and will attend various NATO meetings throughout the day.
Biden in the afternoon will attend a trilateral meeting with Korean President Yoon Suk-Yeol and Japanese Prime Minister Fumio Kishida. Later Biden will meet with Turkish President Recep Tayyip Erdogan.
The Biden administration unveiled a new plan to vaccinate eligible Americans against monkeypox, prioritizing those who have been exposed to the virus in states with the highest infection rates. Hundreds of thousands of doses of the Jynneos vaccine from Bavarian Nordic A/S will be made available under the administration's new plan through a tiered-allocation system. Read more from Madison Muller.
Covid shots from Pfizer-BioNTech and Moderna should be updated to include components that target the omicron variant, the strain of the virus that causes most of the world's cases, federal regulatory advisers said. Members on the Food and Drug Administration's advisory panel voted 19-2 on Tuesday in support of recommending adding an omicron-specific element to the shots. Fiona Rutherford has more.
The Biden administration needs more data in its quest to cut greenhouse gas emissions from its buildings, vehicles, and operations, Biden officials said. Data on emissions reductions, as well as hydrology and energy usage, is needed to both guide federal agencies' policy choices and make the business case to future administrations that cutting carbon is good for government, they said at a Business Council for Sustainable Energy conference, Stephen Lee reports.
With one foot in the door on European Union membership, Ukraine's leaders are feeling if anything even more bitter about NATO as the military alliance gathers in Madrid for its summit. Ukraine is told "you are not a member because we do not want you," President Volodymyr Zelenskiy's Deputy Chief of Staff Ihor Zhovkva responsible for foreign policy told Bloomberg. "NATO is telling us we are not giving you anything." Marc Champion and Daryna Krasnolutska have more.
Pro-Chinese agents posed as concerned local residents on social media to try and spark protests over the opening of rare earth mines in the US and Canada, cybersecurity researchers said in a new report. The fake Twitter and Facebook accounts were created to give China, the largest producer of rare earth minerals, a competitive advantage, cybersecurity research company Mandiant disclosed on Tuesday. Read more from Margi Murphy.
Environmental groups sued the Biden administration to block its revival of plans to allow new oil drilling on public land in western states. The Sierra Club, Center for Biological Diversity and eight other national and regional environmental groups said the administration's plan to sell 173 oil and gas leases violates the US environmental laws. Read more from Robert Burnson.
To contact the reporters on this story: Brandon Lee in Washington at blee@bgov.com; Michaela Ross in Washington at mross@bgov.com
To contact the editors responsible for this story: Giuseppe Macri at gmacri@bgov.com; Loren Duggan at lduggan@bgov.com