What to Know in Washington: Biden Looks to Unify After Jan. 6
President Joe Biden is preparing to mark the first anniversary of the Jan. 6 attack at the U.S. Capitol and rally his divided party around voting rights legislation, warning that inaction could embolden extremist followers of former President Donald Trump. The House panel investigating the event is considering holding prime-time televised hearings so the public can better understand what led to the attack and its fallout, the committee's chairman said.
Here's what Bloomberg Government is tracking for Wednesday.
Congressional Agenda:
The Senate holds a cloture vote at noon on the nomination of Anne A. Witkowsky to be the State Department assistant secretary for conflict and stabilization operations
The House is not in session.
Biden's Agenda:
The president has no public events scheduled. The White House Covid-19 Response Team will hold a press briefing at 11 a.m. Press Secretary Jen Psaki and the administration's Supply Chain Disruptions Task Force Port Envoy John D. Porcari will hold a press briefing at 12:15 p.m.
Biden Grabs for Jan. 6 Spotlight, Shadowed by False Trump Claims
President Joe Biden will mark the first anniversary of the deadly Capitol insurrection seeking to rally Democrats around voting rights legislation, with a warning that inaction risks emboldening extremist followers of former President Donald Trump before the crucial midterm elections.
The president and his allies in Congress plan a full slate of events tomorrow marking the Jan. 6 riot, preaching unity to a politically fractured nation—and members of his own party, divided for months over legislative priorities including new social safety programs, climate initiatives and voter protections.
Yet Biden's task has been complicated by Trump himself. The former president has turned Jan. 6 into a fealty test for fellow Republicans by obliging them to reject the new administration and accept his revisionist account of the deadly attack waged by his supporters to disrupt certification of his electoral defeat.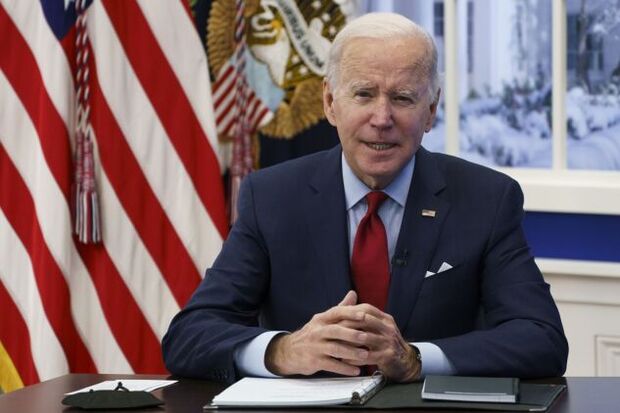 Many Republicans —including lawmakers who came under siege that day and criticized Trump in the immediate aftermath—have in recent months fallen silent, sidestepping questions about the integrity of the 2020 election and the former president's culpability in the riot, underscoring Trump's continued grip on the conservative base.
For Biden, his political and legislative legacy may rest on parlaying Americans' continued disgust over the riot into political momentum and legislative action by a sharply divided Congress.
He'll seek to press that advantage in a speech Thursday from the Capitol, where he plans to "speak to the truth of what happened, not the lies that some have spread since," White House Press Secretary Jen Psaki said yesterday.
"He will also speak to the work we still need to do to secure and strengthen our democracy and our institutions to reject the hatred and lies we saw on January 6, and to unite our country," she added. Read more from Justin Sink, Billy House and Mark Niquette.
The House Committee investigating the Jan. 6 attack on the Capitol is considering holding televised hearings during prime evening viewing hours so that the public can have "the best opportunity" to hear testimony and evaluate evidence, the panel's chairman said. "Maybe a series of hearings," Rep. Bennie Thompson (D-Miss.) said in an interview. "The public needs to know, needs to hear from people under oath about what led up to Jan. 6th—and to some degree, what has continued after." The hearings could occur in late March or early April, but no date has been set, Thompson added. "We're working toward that."
A congressional hearing conducted during what is considered TV's prime viewing time would be unusual. Most such proceedings are held during business hours, sometimes carried on the C-Span public affairs network. Such hearings likely would heighten the partisan rancor surrounding the work of the committee. The committee is made up of seven Democrats and two Republican critics of Trump.
The former president and his allies have steadily derided the inquiry as a witch-hunt focused more on inflicting political damage on Trump and Republicans than finding out what went wrong on Jan. 6 when the violent mob overwhelmed police and stormed the Capitol. Most the committee's nearly six months of work has so far occurred behind closed doors. Thompson said the committee and its staffers to date has collected 45,000 documents, and interviewed over 300 witnesses. Read more from Billy House.
Also Happening on the Hill
The Senate Banking Committee will hold separate hearings next week for Jerome Powell on his nomination to a second term as Fed chair and for Lael Brainard's elevation to vice chair. Powell will appear solo Jan. 11 before the committee, the committee said in a notice on its website. Brainard, a Fed governor, will testify two days later beside Sandra Thompson, the White House nominee to head the Federal Housing Finance Agency. Biden has three more seats to fill on the board, including a new vice supervision chair. Read more from Scott Lanman and Ana Monteiro.
The Labor Department enters the Biden administration's second year with several vacancies in its leadership ranks and an intensifying confirmation battle over the pick to be the nation's wage-hour regulator. Five members of Secretary Marty Walsh's high command were confirmed last year, in addition to an independent inspector general, but seven Senate-confirmed positions remain vacant, including jobs leading crucial enforcement agencies. Nominations are pending in the Senate for all but one of those posts. Rebecca Rainey and Paige Smith have more.
A top aide to Vice President Kamala Harris is leaving his position to become the executive director of the Congressional Black Caucus. Vincent Evans has served as the vice president's deputy director for public engagement and intergovernmental affairs, a position in which he worked with activist groups and organizations on voting rights and other issues. Jarrell Dillard has more.
A tiny Pentagon contract for an influential Washington think tank to study the nation's nuclear arsenal is sparking outsized congressional scrutiny, in a prelude to a bigger fight over whether to spend billions of dollars buying new intercontinental ballistic missiles. The $75,000 contract awarded in December to the Carnegie Endowment for International Peace will result in a five- to seven-page unclassified paper later this month examining "the relative risks and benefits of various options regarding the land-based leg of the U.S. nuclear triad." The top Republicans on the House and Senate Armed Services committees backed language in the $768.2 billion defense policy bill that Biden signed last month demanding documents on any contract studying whether to extend the service of aging Minuteman III missiles or on "the future of the intercontinental ballistic missile force." Read more from Tony Capaccio.
Around the Administration
The Centers for Disease Control and Prevention clarified the rationale behind its move to shorten recommended isolation and quarantine guidance, and not support more testing to resume normal activities, following criticism that the change wasn't driven by current science. In a posting on its website yesterday, the federal public-health office said that it had opted to change its guidelines based on emerging scientific evidence concerning when and for how long a person is most likely to transmit the highly infectious omicron variant. Read more from Fiona Rutherford.
States will now gain the option to skip some of the test requirements to get more school bus drivers on the road as labor shortages roil the transportation industry. The Transportation and Education departments announced yesterday that they are allowing states to waive temporarily the part of the commercial driver's license test that mandates school bus drivers identify parts of the "under the hood" engine. The move is designed to help get more bus drivers on the road as labor shortages have forced schools to cancel classes. Lillianna Byington has more.
Texas abortion providers are back at the Supreme Court, this time asking the justices to expedite the litigation in the lower courts, as the six-week abortion ban remains in place. The Supreme Court Dec. 10 remanded the case back to the New Orleans-based Fifth Circuit, with a narrow path for providers to challenge the law in federal court. Before sending the case back to the trial court to consider that narrow path, the Fifth Circuit scheduled oral argument Jan. 7 on whether the case should first go to Texas state courts. Read more from Kimberly Strawbridge Robinson.
North Korea appears to have launched its first ballistic missile in about two months, after leader Kim Jong Un indicated he was more interested in bolstering his arsenal than returning to stalled nuclear talks with the U.S. North Korea fired what appeared to be a ballistic missile from land into waters off its east coast Wednesday, South Korea's military said. Read more from Jeong-Ho Lee and Isabel Reynolds.
With assistance from Nancy Ognanovich
To contact the reporters on this story: Michaela Ross in Washington at mross@bgov.com; Brandon Lee in Washington at blee@bgov.com
To contact the editors responsible for this story: Giuseppe Macri at gmacri@bgov.com; Zachary Sherwood at zsherwood@bgov.com