What to Know in Washington: Biden Looks Ahead as Trump Hangs On
President-elect Joe Biden called on Americans to put aside the divisiveness of the past four years under Donald Trump with a victory speech that promised swift action against the coronavirus pandemic and an orderly transfer of power after a bitter election.
"Let's give each other a chance," Biden told a cheering, honking crowd at a drive-in rally last night in Wilmington, Del., hours after he clinched the presidency.
"It's time to put away the harsh rhetoric. To lower the temperature. To see each other again. To listen to each other again. To make progress, we must stop treating our opponents as our enemy. We are not enemies. We are Americans," he said, even as Trump claimed victory for himself.
Vice President-elect Kamala Harris acknowledged her place as the first Black and Indian-American woman to serve in the role. She told the drive-in rally that they had chosen "hope and unity, decency, science and yes, truth."
Harris wore white, the color of suffragettes. She said she stood "on the shoulders" of struggling women like her mother, an immigrant. "While I may be the first woman in this office, I will not be the last," she said.
Trump was in no mood to concede or even to signal to his supporters that it was time to stop the competition.
"I WON THIS ELECTION, BY A LOT!" Trump tweeted shortly before the race was called. Yesterday afternoon, former New York City Mayor Rudy Giuliani appeared outside a Philadelphia landscaping company to declare without evidence that the Pennsylvania election was riddled with irregularities. Biden's margin was just over 37,000 votes out of more than 6.6 million cast in the state.
Trump was notably quiet during Biden's speech and the minutes after it ended. During the campaign, he would frequently tweet criticism of Biden and other Democrats as they spoke.
The president's campaign has filed a series of lawsuits and recount demands, but several cases have already been dismissed and none of them so far seems to have the potential to change the race. Read more from Jennifer Epstein and Tyler Pager.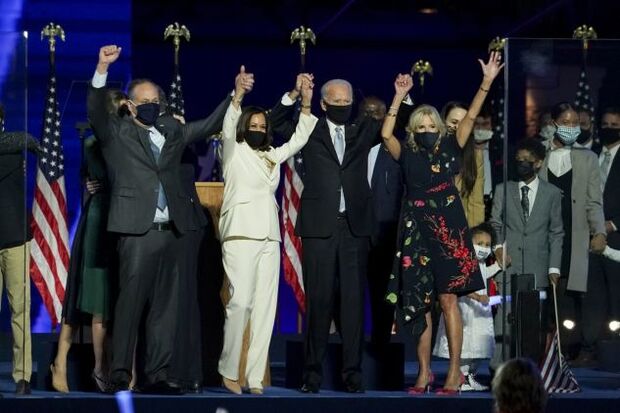 Biden's Day-One Priorities
Biden has a lot of plans for his first day as president, and some of it can actually happen in a single day — a fair amount of which he can set in motion right away even though Democrats have so far fallen short of capturing the Senate.
Biden has promised to rejoin the Paris climate agreement, reverse Trump's rollbacks of public health and environmental rules and call allies worldwide to reassure them, all on his first day in the White House. Before that day is done, he says he will put in place a national strategy for containing the coronavirus pandemic, rejoin the World Health Organization, end the ban on immigration from several predominantly Muslim nations, and expand rights for Latin American asylum seekers.
Biden has also promised swift action on housing, labor, gun control, LGBTQ rights, and government reform.
While some of those plans can be carried out on Day One, several other moves will run into familiar obstacles in the regulatory process that could drag out completion for months. And some of the items require congressional action, which can't happen in a day and will grow increasingly unlikely if Republicans maintain control of the Senate as appears likely. Read more from Jeffrey Taylor, John Tozzi, Greg Stohr and Jennifer A. Dlouhy.
Biden to Announce Coronavirus Task Force: Biden said he would appoint a 12-member coronavirus task force on Monday, his first step toward fulfilling one of his biggest campaign promises — to mount an effective response to the pandemic that has infected millions and damaged the U.S. economy. "I will spare no effort, none, or any commitment, to turn around this pandemic," Biden said Saturday. The panel will convert his coronavirus-fighting plan into an "action blueprint" that "will be built on a bedrock of science," he added.
The task force will be co-chaired by former Surgeon General Vivek Murthy, former Food and Drug Administration Commissioner David Kessler, and Marcella Nunez-Smith, a professor of public health at Yale University, according to a person familiar with his plans. It will also include Ezekiel Emanuel, a former Obama administration health adviser. The co-chairs of the task force are scheduled to brief Biden tomorrow after the members are announced. Read more from Tyler Pager.
U.S. Covid-19 cases rose by more than 126,000 for the third straight day yesterday, as the spread of the coronavirus continues to escalate around the nation and infections worldwide close in on the 50 million milestone. Here's the latest.
Stimulus Unlikely Before January: Biden's victory in the presidential election and the unresolved status of Senate control left slim prospects for a major fiscal-stimulus package before January. While Trump last month pledged a large post-election stimulus act, it was based on his assumption that he'd win re-election. He now has little political incentive — or capital — to drive a deal through a divided Congress in his remaining weeks in office.
Democratic and Republican lawmakers were quick to restate their opposing positions on Friday as Biden closed in on his win. Senate Majority Leader Mitch McConnell (R-Ky.) cited falling unemployment in arguing for a "highly targeted" relief bill. Speaker Nancy Pelosi (D-Calif.) rejected that idea, saying "that isn't something we should be looking at." Read more from Erik Wasson and Jordan Fabian.
Industry by Industry Look at What's Ahead Under Biden: Here's a breakdown of how a Biden presidency may affect some two dozen U.S. industries and what might rise to the top of his agenda as he takes over from Trump in January. There are recurring themes in this compilation: The more closely a company interacts with individual American consumers, the more pressing are matters of Covid-19 restrictions and wages. For technology and industrial companies, trade and visa policies are key. While there's a chance Americans may not know until January whether Republicans keep control of the Senate, some executives are fine if the government stays divided because it lowers the odds of major legislation. Read the list.
What's Next for the Trump Administration
Trump may have lost his bid for re-election, but his presidency and capacity for disruption are far from over.
His final two months in office could see a whirlwind of recrimination, executive action and efforts to make governing more difficult for the president-elect.
And while nearly every president has sought to maximize his influence during his final hours in the Oval Office, few have had the disregard and disdain Trump has shown for the institutions of the presidency and federal government, opening new fronts for possible bedlam.
GOP Silence Leaves Trump Raging Alone: Trump's attempt to reject the U.S. election outcome was mostly met by silence from Republican leaders in Congress.
In the immediate aftermath of television networks and the Associated Press calling the election for Biden, top party officials in Washington, including McConnell and other members of his leadership team, had not responded to the results, even as some GOP-aligned outside groups such as the U.S. Chamber of Commerce offered congratulations to the president-elect.
McConnell tweeted on Friday that every legal vote must be counted, and that the courts are available to resolve disputes. But his office had no reaction to the race being called when contacted on Saturday.
A handful of GOP representatives in the House vigorously defended the president and questioned the results.
Despite his loss to Biden, Trump continues to exert a tight hold on Republican voters that some in the GOP say will endure past his time in the White House — adding risk to any member of the party who extends an olive branch to the Democratic winner. Many also credit the president with helping to pull vulnerable Republican Senate incumbents to re-election in South Carolina, Iowa and other states. Read more from Steven T. Dennis.
Yesterday at the White House: Meanwhile, Trump's aides described a leadership vacuum in the White House after he lost re-election and internal finger-pointing began, even as his associates wondered how he would grapple with defeat.
The race was called while Trump was at his golf course in northern Virginia. Many of his exhausted aides had headed home for the weekend, to rest and to escape the latest coronavirus outbreak sweeping the West Wing. There was no all-hands staff meeting or memo on how officials should react. It was a marked contrast from the scene four years ago, when, after Trump won election, President Barack Obama gathered his own despondent staff in the Oval Office for a pep talk.
The void has left staffers unsure what's next. Trump's advisers are split on how far to take various legal fights, delaying consideration of strategy both politically and in the courts. And the campaign has offered little additional clarity to surrogates, even as they gird them to contest an election that appears beyond the president's reach. Read more from Justin Sink.
Trump's Election Lawsuits: The Trump campaign has filed at least seven lawsuits in battleground states since Election Day to challenge the ballot counts. The president released a statement yesterday rejecting the idea that Joe Biden had won and pledging his campaign "will start prosecuting our case in court to ensure election laws are fully upheld and the rightful winner is seated." So far, his suits have yet to give examples of widespread voter fraud. Trump has scored three wins and five losses since Nov. 3. Read more from Tina Davis.
What Else to Know
Democrats Celebrate: After four years of angry division and five days of breath-held anxiety, celebrations erupted in Democratic strongholds across the country as news of Biden's victory spread, even as Trump's supporters continued to protest the result. A crowd gathered near Manhattan's Trump Tower, with people shouting, "You are fired!" Residents of Chicago, a city derided by Trump, danced in the streets, banged pots and shot off fireworks. In Washington, crowds around the White House jeered Trump's motorcade as he returned from golfing. And the village center of Maplewood, N.J., filled with families as cars rolled through with horns blaring and children poking their heads from sunroofs. Read more from Andrew Rosati, Kriston Capps and Noah Buhayar.
Allies Prepare for Quick U.S. U-Turn: Biden's election win will be greeted with a sigh of relief by many U.S. allies, whose confidence in Washington was shaken over the four years of Trump's combative "America First" approach to the world. The Biden administration is expected to reverse course quickly on parts of Trump's foreign policy agenda by rejoining the Paris climate change agreement, working more closely with other countries to combat Covid-19 and trying to breathe new life into the Iran nuclear accord. NATO allies like Germany and France won't be berated so publicly, and leaders of adversaries like Russia and North Korea won't be showered in praise.
Yet diplomats warn that Biden, constrained by probable continued Republican control of the Senate, can't undo all that's changed and won't be able to sweep away concerns over the U.S.'s long-term reliability in foreign affairs. Read more from David Wainer and Alberto Nardelli.
Issa Wins California House Race: Republican Darrell Issa won California's 50th Congressional District near San Diego, the Associated Press projected, defeating Democratic challenger Ammar Campa-Najjar, Yueqi Yang reports. Issa had served in Congress for nine terms, but decided not to seek re-election in 2018. Campa-Najjar is a former Obama administration official. The 50th District has been open since former Rep. Duncan Hunter (R) resigned from office in January over misuse of campaign funds.
To contact the reporter on this story: Zachary Sherwood in Washington at zsherwood@bgov.com
To contact the editor responsible for this story: Loren Duggan at lduggan@bgov.com