What to Know in Washington: Biden Kicks Off Final Campaign Push
President Joe Biden is kicking off the final campaign stretch before Nov. 8 elections that will determine whether his party retains control of Congress with a visit to Florida, a state where it's become increasingly difficult for Democrats to win.
Biden's Tuesday visit to the Sunshine State — in which he'll appear alongside Democratic gubernatorial candidate Charlie Crist and Senate hopeful Val Demings — begins a push that also will include visits to Pennsylvania, New Mexico and Maryland.
Biden has sought to re-frame the election as a choice between Republican and Democratic economic policies for the middle class, rather than a report card on his first two years in office.
He'll revive a now-familiar refrain Tuesday, targeting Republicans over what he's derided as plans to gut Social Security and Medicare after some GOP lawmakers floated changes to those programs, including in upcoming talks over raising the federal debt ceiling.
Republicans, meanwhile, have hammered Biden on inflation, crime and the surge in border crossings to try to motivate their voters.
Yet Democrats face an uphill climb in swing-state Florida, which has trended toward Republicans in recent election cycles. Polls show both Crist and Demings trailing their incumbent Republican opponents — Governor Ron DeSantis and Senator Marco Rubio — in a state where Donald Trump beat Biden by three percentage points. Read more.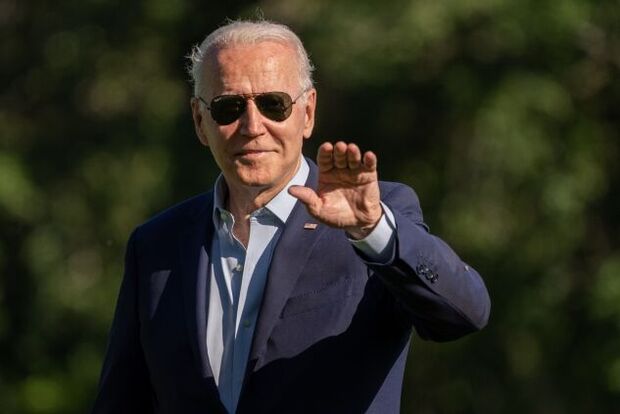 More on the 2022 Midterm Elections
Join BGOV's Final Pre-Election Webinar: Bloomberg Government's election experts will provide their outlook for the 2022 midterms on a webinar at 11 a.m. today. They'll offer their take on the issues driving the battle for control of Congress and the key races to watch in the election's final week. Register here .
It's 5 p.m. and motorists can hear the idle rumble of semi-trucks carrying avocados, tomatoes and other produce inching their way across the Pharr-Reynosa International Bridge connecting Mexico and Texas.
County and city leaders could fuel uncertainty or even violence around the November midterms, especially if control of the evenly divided US Senate comes down to a close race.
Politics & Probes
The intruder who allegedly beat House Speaker Nancy Pelosi's husband with a hammer at their San Francisco home last week was charged in California with attempted murder on top of federal crimes.
A lawyer for the Trump Organization told jurors in its criminal tax fraud trial that the alleged scheme was carried out by longtime chief financial officer Allen Weisselberg and others — not by Donald Trump and definitely not by the company.
Hillary Clinton asked a federal judge to sanction former President Donald Trump and his lawyers for filing an allegedly frivolous lawsuit accusing them of conspiring to undermine his term in office.
Former President Donald Trump Chief of Staff Mark Meadows's lawsuit challenging the validity of a Jan. 6 Committee subpoenas was dismissed by a federal judge who ruled House Speaker Nancy Pelosi and members of the committee can't be sued because they are immune from being sued from doing their work.
Meanwhile, a former Navy reservist who stormed the US Capitol with members of the Oath Keepers on Jan. 6, 2021, testified that they had an "implicit" agreement to stop

Biden

from becoming president. Read more.
The judge overseeing the trial of Tom Barrack and his assistant on charges they acted as unregistered foreign agents said he may dismiss some of the counts against them before the case goes to the jury this week.
Around the Administration
PRESIDENT'S SCHEDULE
Biden at 3 p.m. will give a speech in Hallandale Beach, Florida, on lowering prescription drug costs and protecting Social Security and Medicare.
At 4:45 p.m., the president participates in a reception in Golden Beach, Florida, for Charlie Crist, the Democratic gubernatorial candidate for the state. At 7 p.m., Biden participates in an event at Florida Memorial University for Crist, US Senate candidate Val Demings (D-Fla.), and the Democratic Party.
Biden's effort to free basketball star Brittney Griner is testing just how far he's willing to go to bring home captive Americans and whether hostile governments will be emboldened to seize more US citizens.
Biden said he'd seek to impose higher taxes on oil companies that record "windfall" profits without reinvesting in production, with US gasoline prices still high a week ahead of midterm elections.
The Justice Department on Monday won its first criminal monopolization case in more than 40 years when a construction company executive pleaded guilty to monopolizing the market for highway crack-sealing services in Montana and Wyoming.
US Solicitor General Elizabeth Prelogar noted the "gross" gender disparity favoring men over women arguing before the Supreme Court, saying it would be reasonable for women to ask whether that's even a career path open to them.
The Supreme Court's liberal justices took a page out of the conservative playbook Monday, invoking history and "originalism" in defending the use of race in college admissions.
In the months since the US Supreme Court ended constitutional protections for abortion by overturning Roe v. Wade, there have been 10,670 fewer legal abortions in the country, a decline of 6%.
Penguin Random House's $2.18 billion acquisition of rival book publisher Simon & Schuster Inc. was blocked by a federal judge who found the merger would lessen competition.
Defense & Foreign Affairs
The European Union hopes to resolve in upcoming negotiations a dispute with the US over new subsidies for North American manufacturers, a senior diplomat from the bloc said on Monday.
North Korea threatened to unleash a powerful action if the US does not halt joint military drills with partners including South Korea, in what might be an effort by Kim Jong Un to lay the ground for his first nuclear test in five years.
Biden congratulated Brazil's President-elect Luiz Inácio Lula da Silva in a phone call on Monday, as the US moves quickly to back the new administration amid silence from the country's current leader, President Jair Bolsonaro.
The US plan to cap the price of Russian oil sales, part of the broader international response to the invasion of Ukraine, will temporarily exempt shipments loaded before the Dec. 5 implementation date, offering some clarity to oil shippers, traders and investors.
To contact the reporter on this story: Katrice Eborn in Washington at keborn@bgov.com