What to Know in Washington: Biden Intensifies Anti-Trump Message
Biden deepens attacks on Trump, "MAGA Republicans"
Pelosi throws cold water on national privacy legislation
President Joe Biden is seeking to stoke voters' outrage over the extremism of Donald Trump and his supporters ahead of November's midterm elections, even if the strategy risks exacerbating political tensions in the US.
In a prime-time address to the nation from Philadelphia's Independence Hall, Biden sharpened the criticism he's recently used to describe his predecessor and Trump supporters. Declaring that "equality and democracy are under assault" from "extremist" GOP lawmakers, he implied that the only way to stop them was to vote against Republicans who support the former president.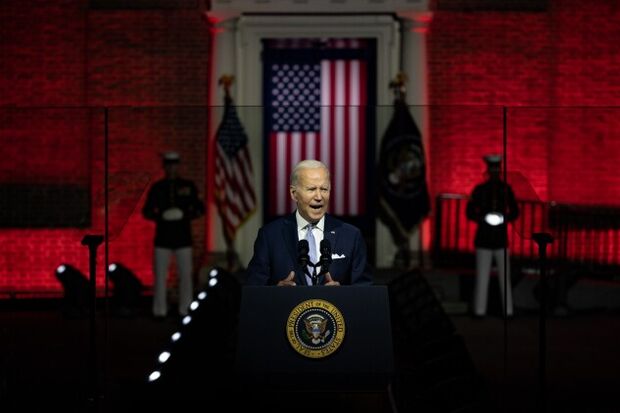 "Donald Trump and the MAGA Republicans represent an extremism that threatens the very foundation of our republic," Biden said, referring to Trump's slogan of "Make American Great Again."
Recap: Biden Urges Voters to Reject Trump, Says Democracy at Risk
Thursday's speech was Biden at his most combative. He strode to a lectern from the front door of the hall where the Declaration of Independence and Constitution were both written, bathed in red lighting and braced by two Marines standing at parade rest.
For some time after taking office, Biden largely avoided mentioning Trump by name and declined to respond to his attacks. But circumstances have changed in the last year: Biden's approval ratings have nosedived as inflation spiked, jeopardizing his party's control of Congress, while Trump's conduct has been thrust back into the spotlight after an FBI search of his Mar-a-Lago estate last month.
All the while, Biden has faced pressure from his left flank to more aggressively confront Trump and his adherents. Read more from Jordan Fabian.
Elections, Politics & Probes
The House committee investigating the Jan. 6 insurrection wants former Speaker Newt Gingrich (R) to submit to an interview about his alleged involvement in "aspects" of attempts to overturn Joe Biden's 2020 election victory. Panel Chair Bennie Thompson (D-Miss.) asked Gingrich to appear for voluntary interview during the week of Sept. 19. The panel said it has evidence Gingrich took part in "advertising efforts" designed to cast doubt on the election's outcome. Read more from Billy House.
Doug Mastriano, the Republican nominee for governor in Pennsylvania and an ally of Trump's, is asking a federal court to block the House's Jan. 6 panel from forcing him to sit for a deposition. The legal complaint, filed Thursday in US District Court in Washington, asserts the select committee investigating the 2021 Capitol riot is not bipartisan enough, Billy House reports.
It was supposed to be a bureaucratic transfer of records from a former president to the nation's archives. But like much of Donald Trump's administration, it was anything but ordinary. A filing from the Justice Department on the search of his Florida estate confirmed the long-standing rumors of haphazard practices.
Officials laid out in detail this week how highly classified documents were kept by the former president at Mar-a-Lago including a photo that went viral showing blurred-out, secret documents arranged over floral carpet beside boxes with keepsakes like a Time magazine cover. The filing marks a high-profile back-and-forth between Trump's attorneys and the government, highlighting how routine document requests from the National Archives have spiraled. Read more from Jack Gillum.
Nebraska's secretary of state likely will win an equal protection challenge to the state's ballot initiative process, the US Court of Appeals for the Eighth Circuit said Thursday, clearing him to reject the inclusion of a proposal to legalize marijuana on the November ballot. Read more from Mary Anna Pazanowski.
Also on Lawmakers' Radars
Speaker Nancy Pelosi says she's working to address California's concerns with a bipartisan bill that would give American consumers cross-sector data privacy protections. The American Data Protection and Privacy Act (H.R. 8152) has faced pushback from California lawmakers who worry it may undermine their state law. The California Privacy Protection Agency, tasked with enforcing the state law, and Gov. Gavin Newsom (D) also have voiced concern with the federal privacy proposal.
Pelosi cited a new proposal governing children's digital data that cleared the state legislature this week as another example of California's landmark protections. "With so much innovation happening in our state, it is imperative that California continues offering and enforcing the nation's strongest privacy rights," Pelosi (D-Calif.) said, Andrea Vittorio reports.
Several House members unveiled a bipartisan framework to overhaul members' stock-trading rules, according to a statement. Lawmakers want to require members of Congress to divest from certain investments, place such investments in a Qualified Blind Trust, or diversify those investments by placing them in widely held, diversified mutual or exchange-traded funds or Treasury bills and bonds. Read more from Megan Howard.
Around the Administration
PRESIDENT'S SCHEDULE:
Biden at 11 a.m. will discuss the Covid-19 stimulus package Congress passed last year, dubbed the American Rescue Plan, alongside Commerce Secretary Gina Raimondo at the White House.
Press Secretary Karine Jean-Pierre holds a briefing at 11:45 a.m.
The president and First Lady Jill Biden depart for Camp David at 3 p.m.
Covid booster shots that target the most common new variants of the virus should become available in the US within days, after the Centers for Disease Control and Prevention signed off on the rollout of updated vaccines Thursday. Director Rochelle Walensky endorsed the use of the new shots after, in twin 13-1 votes, external vaccine and health experts gave their backing to boosters from Moderna and Pfizer-BioNTech. Read more from Fiona Rutherford.
New climate law funds for increased community and federal air monitoring is a victory for environmental justice communities, but advocates see hurdles ahead in how that funding will be spent to monitor frontline areas. The Biden administration's effort to combat air pollution received a boost of billions for new programs in the Inflation Reduction Act, but there isn't a federal roadmap yet that details how the influx of funds will be used. Read more from Jennifer Hijazi.
One of the US's top antitrust regulators is backing the White House's bid to change the way chicken companies pay farmers, a move that could potentially reshape the industry. Federal Trade Commission Chair Lina Khan praised new USDA rules that would shield poultry growers paid via the controversial "tournament system," which pits farmers against each other in a zero-sum game for a pool of money. Read more from Mike Dorning.
The US called Iran's response to the latest effort to revive the 2015 nuclear accord "not constructive," raising questions about whether the two sides can reach a deal that would free more oil for global markets. Vedant Patel, a department spokesperson, didn't elaborate on the remarks Thursday night, but added that US officials were still looking at the response, which Iran had submitted to the European Union. Courtney McBride has the latest.
Biden will meet with South African President Cyril Ramaphosa at White House on Sept. 16, White House Press Secretary Karine Jean-Pierre said in a statement. They'll discuss opportunities to deepen cooperation on trade, infrastructure, climate and energy, and health, as well as work together to address regional issues, she said, Zoe Ma reports.
WHAT ELSE:
To contact the reporter on this story: Brandon Lee in Washington at blee@bgov.com
To contact the editors responsible for this story: Giuseppe Macri at gmacri@bgov.com; Loren Duggan at lduggan@bgov.com