What to Know in Washington: Biden Infrastructure Bet Lags China
President Joe Biden is betting that a multitrillion-dollar economic plan centered around infrastructure spending will do more than bolster an American economy hammered by the coronavirus pandemic: It will ensure his country's competitiveness against China for decades to come.
"If we don't get moving, they're going to eat our lunch," Biden told lawmakers in a pitch for his proposal shortly after his call last month with Chinese President Xi Jinping. "We just have to step up."
Biden's advisers will present him this week with a detailed proposal for a plan whose cost could touch $3 trillion, according to three people familiar with the deliberations. Infrastructure and climate change have long been described as key efforts in the pending program, and the new details show the administration is eyeing some $400 billion in so-called green spending, according to one of the people.
Even if he gets all he asks for, catching up to China on infrastructure won't be easy.
While U.S. officials have been promising an approaching "infrastructure week" since the early days of the Trump administration, China has been plowing ahead for years. In February, Xi's government set out a 15-year plan for the country's transportation network. It pledges to extend China's rail network from 146,300 kilometers (91,000 miles) in 2020 to about 200,000 kilometers by 2035 — enough to circle the equator more than five times.
Biden is hoping to begin leveling the playing field. If he can win support for his plan in a deeply divided Congress, there's certainly no shortage of projects to work on. Read more from Peter Martin and Keith Laing.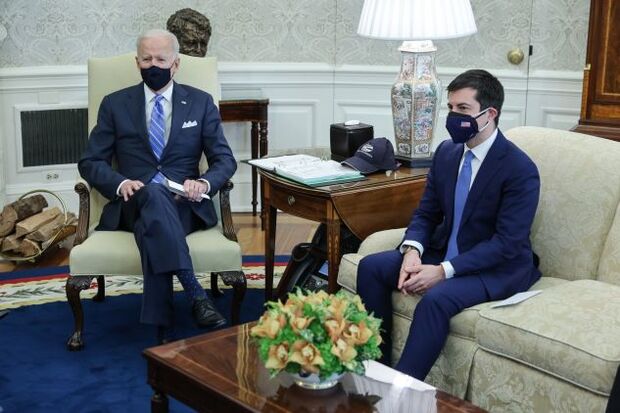 Biden Talks Relief in Ohio: Biden travels to Columbus, Ohio today to continue his tour around the country to promote the American Rescue Plan, which he signed into law earlier this month. Biden will tour the James Cancer Hospital and Solove Research Institute this afternoon and then deliver remarks on the anniversary of the Affordable Care Act being signed into law.
Happening on the Hill
Yellen, Powell to Face Down Deficit, Inflation Fears at Congress: Treasury Secretary Janet Yellen and Federal Reserve Chair Jerome Powell will enter a heatedly partisan arena today to kick off two days of congressional hearings assessing the economic policy response to the Covid-19 crisis. Less than two weeks after Biden signed a $1.9 trillion pandemic relief bill that failed to win a single Republican vote in Congress, the hearings will feature lawmakers positioning over the impact of the package and plans for the next one. Read more from Christopher Condon.
Click here for a complete list of today's hearings and markups.
Water Utilities Eye Permanent Aid: Water and sewer utilities are eligible to access a pot of $350 billion in the coronavirus relief package signed into law earlier this month. Now, they're hoping to capitalize on that momentum and push for funds for upgrading aging infrastructure as Congress begins work on the next economic package. Congress is ramping up debate on legislation related to drinking and wastewater access and affordability and how water issues fit into the larger, forthcoming infrastructure effort. Read more from Kellie Lunney.
Statehood Hearing Shines Light on Rocky Road Ahead: Top House Oversight and Reform Committee lawmakers clashed yesterday at a hearing on a bill that would make Washington, D.C., the 51st state. The heated exchanges illustrated the difficult path ahead for Democrats who, with control of the White House and Congress, see this session as the legislation's best ever chance to become law. Republicans through the hearing insisted that the district isn't a state because states have landfills, mines and airports. Read more from Emily Wilkins.
Climate Seen as Way to Fend Off Defense Cuts: The Department of Defense could stave off calls from Democrats to slash defense spending by developing innovative climate technology including energy-storing batteries, according to House Armed Services Chair Adam Smith (D-Wash.). The department "is investing a ton of money in new battery technology for one thing, storage capacity, all that," he said during an event for the Information Technology and Innovation Foundation think tank. Read more from Travis J. Tritten.
IRS Urged to Expedite $1,400 to Federal Beneficiaries: House Ways and Means Committee Democrats urged the Internal Revenue Service and Social Security Administration to quickly issue the $1,400 stimulus payments to recipients of federal benefits programs, such as Social Security and Railroad Retirees. Top lawmakers from the committee say they were concerned that the IRS had not yet processed such payments for Social Security, Supplemental Security Income, Railroad Retirement Board and Veterans Affairs beneficiaries, Laura Davison reports.
Around the Administration
Walsh Confirmed to Lead Labor Department: The Senate yesterday confirmed Boston Mayor Marty Walsh (D) as Biden's labor secretary on a 68-29 vote. Walsh has sought to forge alliances with Democrats on the federal minimum wage and improving disparities in the workplace. The U.S. response to the pandemic tops Walsh's list of priorities, but he also faces difficult decisions on how to advance a trio of consequential employment law rules, including on when to consider a worker as an employee, rather than an independent contractor. Read more from Ben Penn.
Biden to Name Lina Khan to FTC: Biden will nominate Columbia Law School Professor Lina Khan to the Federal Trade Commission, arming the agency with an antitrust expert who rose to prominence by warning about the power of dominant technology corporations. The White House announced Biden's intent to nominate Khan to the five-member agency yesterday. He has yet to pick a permanent head of the commission. Read more from David McLaughlin.
First Class Mail to Take Extra Day in USPS Plan: The U.S. Postal Service will announce plans to add a day to its standards for First Class mail delivery and to reduce Post Office hours, as it seeks to deal with declining mail volume, financial deficits and slow delivery, a person briefed on the agency's plan said. The service plans a formal announcement of a 10-year plan devised under Postmaster General Louis DeJoy today. Read more from Todd Shields.
Biden's EV Pledge Bumps Against Reality: Biden's call for the federal government to stock up on electric vehicles is running headlong into two harsh realities: the marketplace and the bureaucracy. The president, in an executive order aimed at combating climate change, requested a plan by the end of April to add zero-emission vehicles to the government's inventory. Yet from Inauguration Day until mid-March, the General Services Administration—the agency that does most of the government's vehicle buying—spent $439.7 million on passenger vehicles, with only 13% going for products that use at least some electric power, according to Bloomberg Government's federal contracts database. One potential reason: Trump administration officials likely lined up purchases before leaving office. Read more from Courtney Rozen.
Kerry to Take Part in Summit Co-Hosted by China: The Biden administration is set to participate in a climate summit co-hosted by China today, just days after its first face-to-face talks with that country descended into bickering. John Kerry, the special presidential envoy for climate, is to participate in the Ministerial on Climate Action, according to two people familiar with the matter. Yet no separate virtual session is planned between Kerry and his Chinese counterpart, Xie Zhenhua, the people said. Read more from Jennifer A. Dlouhy and Ari Natter.
Oil Industry Vows Collaboration With Biden: Chief executives of some of the largest U.S. oil companies promised to collaborate with the Biden administration in its battle against climate change at a meeting yesterday with White House National Climate Adviser Gina McCarthy. Oil leaders pledged support for federal regulations explicitly limiting emissions of methane from wells and other oilfield equipment, a declaration that dovetails with Biden's promise to clamp down on leaks of the potent greenhouse gas. Read more from Jennifer A. Dlouhy.
U.S., Allies Sanction China Over Human Rights: The U.S., U.K., and Canada joined the European Union to impose sanctions against China over alleged human rights abuses on the Uyghurs in Xinjiang, drawing an immediate reaction from Beijing. Read more from John Ainger and Lucille Liu.
Variants Rise, Adding Urgency to Vaccine Push: U.S. officials and public health experts are again raising alarms about the resurgence of Covid-19 cases in some regions, and especially are concerned about the role that variants are playing in states including Michigan and New Jersey. Those developments could augur a long-feared possibility: That another surge could occur even as states are flinging open vaccine eligibility, seeking to rapidly get shots in arms. Read more from Emma Court and Jonathan Levin.
Biden Briefed on Colorado Shooting: Biden was briefed last night on a shooting in Colorado, White House Press Secretary Jen Psaki wrote on Twitter. A shooting yesterday at a Colorado supermarket killed 10 people, including a police officer who was the first to respond to the scene, the Associated Press reports.
In the Courts
Biden Can Make Mark on Judiciary: Biden is soon expected to announce his first judicial nominations and much attention is focused on the potential elevation of Ketanji Brown Jackson to the U.S. Court of Appeals for the D.C. Circuit. But trial courts, where Jackson currently sits, are where Biden can change the composition of the federal judiciary right now. Read more from Madison Alder.
'Law and Order' on American Indian Land Faces Test: The Justice Department today will try to convince the Supreme Court to "preserve law and order within reservation boundaries," as the court hears argument over American Indian police power to detain and search non-Indians. Backed by tribes, scholars, and politicians, federal officials are fighting what they deem a dangerous ruling by the U.S. Court of Appeals for the Ninth Circuit that sided with the criminal defendant on the search and seizure issue. Read more from Jordan S. Rubin.
Politics and Influence
Ex-Missouri Governor to Run for Senate: Former Missouri Governor Eric Greitens, who resigned amid scandal in 2018, said he plans to enter the GOP Senate primary seeking to replace retiring Sen. Roy Blunt, a fellow Republican. Greitens, a former Navy SEAL, said on Fox News yesterday that he'll run a campaign focused on support for former President Donald Trump's agenda and opposing that of Democrats. Next year's Republican primary to succeed Blunt is likely to draw multiple candidates. Read more from Steven T. Dennis.
Sidney Powell Says Her Dominion Claims Were Opinion: Former Trump campaign attorney Sidney Powell said the defamation suit filed against her by Dominion Voting Systems should be tossed out because "no reasonable person" would believe her claims about the election software company were "truly statements of fact." In a motion to dismiss filed yesterday in Washington, Powell argued her claims about Dominion were "political speech" that's protected by the U.S. Constitution's First Amendment. Her claims were clearly understood to be nothing more than "opinions and legal theories," she argued, and criticism of her comments at the time as "inherently improbable" illustrate her point. Read more from Erik Larson.
To contact the reporters on this story: Giuseppe Macri in Washington at gmacri@bgov.com; Brandon Lee in Washington at blee@bgov.com
To contact the editors responsible for this story: Zachary Sherwood at zsherwood@bgov.com; Loren Duggan at lduggan@bgov.com; Michaela Ross at mross@bgov.com