What to Know in Washington: Biden Immigration Agenda Takes Shape
President Joe Biden's proposed immigration overhaul will be introduced in Congress today, kicking off what will likely be one of his most difficult legislative challenges.
The legislation, known as the U.S. Citizenship Act of 2021, hews closely to the outline that Biden sent to Congress on his first day in office. The proposal includes an eight-year path to citizenship for most of the roughly 11 million immigrants living illegally in the U.S., bolsters the nation's refugee and asylum systems and calls for additional technology to be used to help secure the southern border, administration officials told reporters late yesterday.
The citizenship path is not explicitly tied to the implementation of border security measures, a trade-off included in past immigration bills designed to earn Republican support.
Rep. Linda Sánchez (D-Calif.) will introduce the bill in the House today, according to an administration official. The bill's lead sponsor in the Senate, Robert Menendez (D-N.J.), plans to introduce the legislation early next week in the chamber, which is now in recess.
Previous attempts at reforming the nation's immigration system have failed over the past two decades, and Biden's bill could face an even more daunting path because GOP lawmakers' opposition to legalizing undocumented immigrants, which they decry as amnesty, hardened during the Trump era. Read more from Jordan Fabian.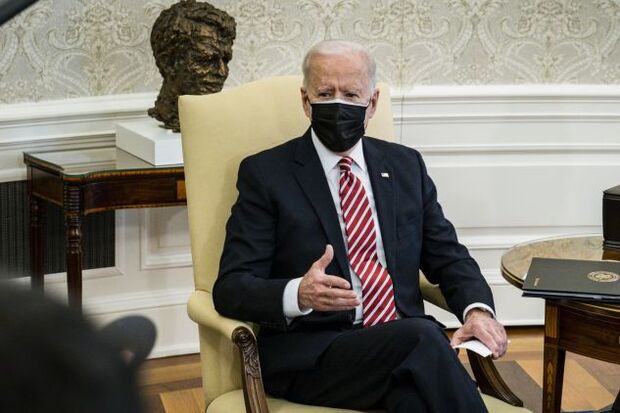 Happening on the Hill
Harris to Host Event to Boost Relief Support: Vice President Kamala Harris plans to meet with a group of women Democratic lawmakers and advocacy groups later today, as part of the White House's push to build support for its $1.9 trillion virus relief bill. The virtual meeting will focus on the economic struggles women have faced as a result of the pandemic and how Biden's proposal would address them, according to Harris's office. Read more from Jordan Fabian.
Robinhood, Citadel Fight Conspiracies Ahead of GameStop Grilling: Robinhood Markets and Citadel, central players in the GameStop saga that riveted markets last month, plan to deliver a unified message to U.S. lawmakers today: conspiracies swirling in Washington that they worked together to harm retail investors are categorically false. Robinhood Chief Executive Officer Vlad Tenev, whose firm has faced a barrage of questions into whether hedge funds such as Citadel ordered it to prevent customers from adding to their GameStop bets, called such claims "market-distorting rhetoric." Robinhood halted trades due to demands from its clearinghouse that it post more capital to deal with increased risk, he said in written testimony for a hearing before the House Financial Services Committee. Read more from Jeff Kearns and Hema Parmar.
Members of the House committee in charge of today's GameStop hearing have more exposure to the market than the average American family but most don't hold any individual stocks. Disclosure forms for the House Financial Services Committee's 54 members show that 83%, or 45 lawmakers, have some exposure to the market in mutual funds, retirement accounts, or direct ownership of individual stocks. That includes Chair

Maxine Waters

(D-Calif.), whose husband holds two mutual funds with equities. That compares to 53% of American families in 2019, according to the Federal Reserve Survey of Consumer Finances. Read more from Bill Allison, Ben Bain and Daniel Avis.
Senators Can't Veto Biden Circuit Picks: Senate Judiciary Committee Chair Dick Durbin (D-Ill.) will keep the same practice in place for lawmaker input on judicial picks as Republicans used, making it easier for Democrats to get appellate picks confirmed. Durbin won't change the policy Republicans put in place during the Trump administration, a Senate Judiciary Committee aide told Bloomberg Law. That means home-state senators can't derail a Biden circuit court nominee by not returning a so-called blue slip. Read more from Madison Alder.
Reparations Get Brighter Spotlight at Capitol: Lawmakers took their first step yesterday in considering whether to provide reparations for Black Americans. At a subcommittee hearing on legislation first unveiled decades ago that would create a commission to analyze the issue, House Judiciary Chair Jerrold Nadler (D-N.Y.) said now is the right time for Congress to move on it. Read more from Emily Wilkins.
Millionaires Get a Lot More Tax Audits in Democrat's IRS Bill: The U.S. government could take in $1.2 trillion in additional tax revenue over a decade without raising marginal rates by aggressively auditing wealthy individuals and corporations, according to a House Democrat's new bill. Rep. Ro Khanna (D-Calif.) is pushing legislation that would require a major boost in audits by the Internal Revenue Service, along with increased penalties for underpaying taxes. The legislation would require the IRS to annually audit 95% of companies with at least $20 billion in assets and 50% of individuals earning at least $10 million. Read more from Laura Davison.
IRS Commissioner Charles Rettig said he expects the agency will receive additional funding from Congress, enabling "radical" staffing increases over the next several years. Rettig, during a virtual event yesterday hosted by the New York City Bar, said he recently met with new Treasury Secretary Janet Yellen to discuss the direction of the IRS and the help the agency needs from the department and Capitol Hill. "I think we're living in our 15 minutes of fame, and I think we're living in—for us—a bipartisan environment," Rettig said on the current appetite to support the IRS. Read more from Allyson Versprille.
Around the Administration
Federal Offices Closed in Washington: Federal offices in the Washington area will be closed today due to inclement weather, the Office of Personnel Management said in a statement. Biden rescheduled today's planned trip to a Pfizer vaccine manufacturing site in Michigan for tomorrow. The president has no public events scheduled today.
Buttigieg Sets Climate, Race Equity as Priorities: The Biden administration is overhauling a key infrastructure grant program to prioritize projects that address climate change and racial equity. The Transportation Department included the new criteria in its announcement that it will award $889 million in grants to major freight and highway projects in fiscal 2021 through the Infrastructure for Rebuilding America program. Read more from Lillianna Byington.
Biden Team Pressing on Auto Chip Shortfall: Biden's top economic adviser, Brian Deese, has sought the Taiwanese government's help resolving a global semiconductor shortage that's idling U.S. car manufacturing plants, according to a letter reviewed by Bloomberg News. In the letter, Deese thanked Taiwan's minister of economic affairs, Wang Mei-hua, for her personal engagement on the microchips shortage and relayed concerns from U.S. automotive companies. Deese's letter shows that top White House officials have become involved in trying to resolve the shortage. Read more from Jenny Leonard and Keith Laing.
Biden, Netanyahu Weigh Peace Efforts, Defense in Call: Biden discussed Middle East peace efforts and defense cooperation in a phone conversation with Israeli Prime Minister Benjamin Netanyahu yesterday, ending a month-long silence that sparked questions about the state of the U.S.-Israel relationship. "It was a good conversation," the president said in the Oval Office yesterday. Read more from Justin Sink.
CDC Gears Up to Track Three New Variants: Three worrisome coronavirus variants are now circulating in the U.S., and the federal government needs significance resources to track their progress, according to the head of the Centers for Disease Control and Prevention. The three strains, which emerged initially in the U.K., South Africa, and Brazil, have all now been seen in the U.S., CDC Director Rochelle Walensky said at a Q&A event hosted by the American Medical Association. Read more from Jill R. Shah.
Phony Vaccines, Masks Trigger Homeland Warnings: The Homeland Security Department, stepping up its pursuit of coronavirus frauds, seized over 1 million fake N95 masks intended for front-line health workers and warned individuals against buying phony vaccines. "There are trusted partners that distribute vaccines," Homeland Secretary Alejandro Mayorkas said yesterday during a news conference. Read more from Shaun Courtney.
Interior Scraps Trump Moves on California Renewables: The White House is revoking plans to change renewable energy development on public lands in southern California first unveiled in the waning days of the Trump White House, Interior Department officials said. The changes that ex-Interior Secretary David Bernhardt pitched in January would have pulled conservation measures from the state's Desert Renewable Energy Conservation Plan, Bobby Magill reports.
Powell Faces Test on Labor With Economic Recovery: Jerome Powell enters the final year of his term as Federal Reserve chair enjoying the support of labor unions with influence in Biden's White House, an advantage as the administration prepares to decide later this year whether to reappoint the central bank chief. But Powell's union support — built in part through explicit outreach that the Fed chair has championed — is likely to be tested as the rebound in growth strengthens and the jobless rate falls. Read more from Saleha Mohsin and Jennifer Jacobs.
Biden's Pentagon Backs Missile Defense After Flop: The Biden administration is pressing ahead with efforts to develop a successor to a failed missile interceptor project that cost $1.2 billion, awarding an initial contract as soon as this month to two of the three biggest U.S. defense contractors. The decision to proceed is one of the first procurement decisions under new Defense Secretary Lloyd Austin. Read more from Tony Capaccio.
To contact the reporters on this story: Zachary Sherwood in Washington at zsherwood@bgov.com; Brandon Lee in Washington at blee@bgov.com
To contact the editors responsible for this story: Giuseppe Macri at gmacri@bgov.com; Loren Duggan at lduggan@bgov.com; Michaela Ross at mross@bgov.com