What to Know in Washington: Biden Honeymoon With Liberals Fades
Joe Biden's honeymoon with the most liberal wing of his party risks an abrupt and politically damaging end, with rising anxiety among progressives that the president won't fulfill their aspirations for climate policy or expansions of voting rights and spending on social programs.
As Biden tries to hold together a $579 billion bipartisan infrastructure deal, progressive lawmakers and the leaders of several major liberal interest groups are publicly calling out his White House for what they regard as insufficient efforts to pursue a more liberal agenda.
The bipartisan agreement Biden cut with a group of moderate senators doesn't include many progressive priorities, in particular aggressive policies to curb climate change. The White House has meanwhile failed to persuade Congress to pass voting rights legislation that would counter new laws in Republican-controlled states that limit ballot access.
Biden hasn't joined liberals in calling for the Senate to make filibusters more difficult. His proposed immigration overhaul never got off the ground. New limits on police powers failed to pass Congress by the anniversary of George Floyd's death — a deadline Biden set — and now look stalled.
The political consequences could be severe for Biden and his party. Democrats hold just a nine-seat majority in the House and control the Senate only by virtue of Vice President Kamala Harris's tie-breaking vote in the 50-50 chamber. They'll need enthusiasm among Democratic voters — including progressives — about Biden and his policies to get out the vote for midterm elections that incumbent presidents typically lose. Read more from Nancy Cook.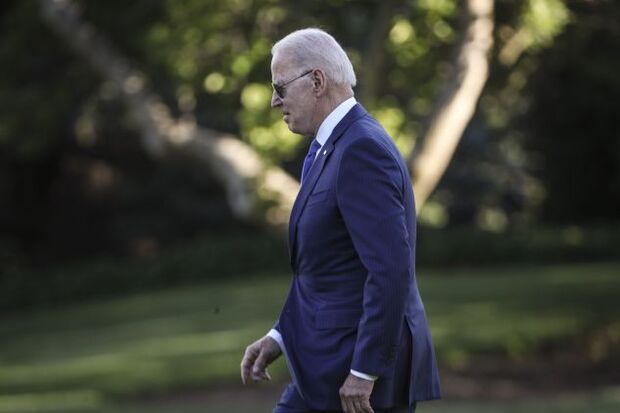 GOP Senators Say Biden's Deal on Track: Republican senators said yesterday Biden's assurance that he isn't linking a bipartisan $579 billion infrastructure plan to a larger tax and spending bill will allow negotiations to move ahead.
Rob Portman (Ohio), a lead infrastructure negotiator for Republicans, said he "was very glad to see the president clarify" remarks he made Friday, which Republicans took as a threat to veto the infrastructure bill by connecting it with the bigger legislation that the GOP opposes. "And I'm glad they've now been de-linked and it's very clear that we can go forward with a bipartisan bill that's broadly popular, not just among members of Congress, but the American people." Portman said on ABC's "This Week" yesterday.
Biden suggested after an infrastructure deal was struck on Thursday that his signature on any infrastructure bill was contingent on Congress also passing the much larger tax and social-spending measure that Democrats are preparing. On Saturday, he issued a statement saying it "was certainly not my intent" to create the impression he was threatening to veto "the very plan I had just agreed to." Read more from Laura Davison and Yueqi Yang.
Happening on the Hill
Today's Agenda:
The House will consider eleven measures under expedited procedure that indicates broad, bipartisan support.
The Senate is not in session this week.
Click here for a complete list of the week's hearings and markups.
Foreign Aid Boosted in House Funding Bill for State: The House Appropriations Committee's fiscal 2022 State and Foreign Operations spending bill—released last night—would provide a total of $62.2 billion, a $6.7 billion increase over fiscal 2021. A House subcommittee plans to consider the legislation today. The bill would provide $29.6 billion for bilateral economic assistance to foreign countries, a $3.1 billion increase from fiscal 2021. It also includes $9 billion for international security assistance, a $30 million increase, and $4.1 billion in foreign aid via international organizations and banks, a nearly $2.1 billion increase. Read more details from Jack Fitzpatrick.
EPA Would Get More Money Under House Bill Than Biden Proposal: The Environmental Protection Agency and Interior Department would each receive roughly $2 billion more in fiscal 2022 than they did for fiscal 2021 under draft legislation House appropriators released yesterday ahead of a markup today. The legislation would give EPA a total of $11.3 billion for fiscal 2022, $2.1 billion above fiscal 2021, and $110.8 million more than Biden requested for the agency. Interior would receive $15.6 billion under the bill—an increase of $2.3 billion above fiscal 2021, but $240 million below the administration's request. Read more details from Kellie Lunney.
Pushing Forward With Capital Gains Overhaul: The chairman of the Senate Finance Committee plans to push ahead with his own plan to alter the way the U.S. taxes unrealized gains on everything from stocks and bonds to real estate and art. In the coming weeks, Sen. Ron Wyden (D-Ore.) will introduce legislation to tax capital assets for wealthier households annually, like income, regardless of whether those assets have been sold or not, his office told Bloomberg Tax. The plan will be redrafted from a proposal Wyden released in 2019 to align with the Biden administration's proposals to raise the top capital gains rate and tax unrealized assets at death. Read more from Colin Wilhelm.
Lawmakers Eye Tax Credit in Housing Bill: A bipartisan group of lawmakers is proposing to boost U.S. affordable housing by 2 million units over the next decade by expanding a key tax credit as part of Biden's agenda on the economy. The legislation, from Reps. Suzan DelBene (D-Wash.) and Jackie Walorski (R-Ind.), would permanently hike tax-credit allocations to states and allow states to fund more projects by easing bond-funding requirements. Read more from MacKenzie Hawkins.
House Panel Scrutinizes Biogen's Alzheimer's Drug: Two key House Democrats are opening a joint committee investigation of Biogen's new Alzheimer's drug, saying its approval and high cost create questions about the regulatory process. House Oversight and Reform Chair Carolyn Maloney (D-N.Y.) and Energy and Commerce Chair Frank Pallone (D-N.J.) said Friday that they "have serious concerns" Aduhelm and the process that led to its approval. Read more from Brody Ford.
Politics & Influence
Montana Seat Gives Democrats Opportunity: Montana's first congressional redistricting in four decades provides House Democrats with an unlikely offensive opportunity after years of futility. The party's nine Senate and governor race victories over the past 20 years always failed to translate down-ballot to the statewide contest for the lone House seat. That could change with the addition of a second seat in reapportionment. But whether its new seat can be part of Democrats' path to retaining their endangered majority in the 2022 midterm elections depends on how Montana's bipartisan commission divides the state in half. Read more form Greg Giroux.
Breyer Leaves Democrats in Suspense: Democrats are watching the Supreme Court warily in the last week of its term to see if its oldest member will retire, allowing Biden to name a replacement while the party still holds a narrow majority in the Senate. But Justice Stephen Breyer, 82, is giving no indication that he will step down. In a speech in April, he underscored the need to keep the court separate from politics, making arguments that might be hard to square with a retirement decision timed to help Democrats. Read more from Ryan Teague Beckwith, Laura Litvan and Greg Stohr.
Biden Challenge to Voting Laws Hinges on GOP 'Intent': The Biden administration injected itself into the controversy around state election law overhauls by challenging Georgia's new statute, while sidestepping the part of the Voting Rights Act that the U.S. Supreme Court could gut next week. The administration decided to fight with one-hand-tied-behind its back, legal analysts said, in claiming Georgia intentionally discriminated against Black voters, Alex Ebert and Kimberly Strawbridge Robinson report.
Trump Restarts Rallies With Familiar List of Grievances, Insults: Trump on Saturday opened his score-settling summer tour with a rally before thousands of supporters in Ohio, returning to his familiar script of grievances, exaggerated claims and support for loyal Republicans. The gathering outside Cleveland was Trump's first public event to back candidates he favors for the 2022 midterms and work to unseat the 10 GOP members of Congress who voted to impeach him for his role in inciting the Jan. 6 insurrection at the U.S. Capitol. Read more from Mark Niquette.
Former Attorney General Bill Barr told Trump that there was no evidence of election fraud, an assertion that was met with profanity from the president, according to a report in the Atlantic. Read more from Laura Davison.
Trump Organization Expects to Be Charged: New York state prosecutors are likely to charge the Trump Organization in coming days, but not Trump himself, a lawyer for the company said. Read more from Patricia Hurtado and Greg Farrell.
Former Alaska Senator Mike Gravel Dies At 91: Mike Gravel, a former U.S. senator from Alaska who read the Pentagon Papers into the Congressional Record and confronted Barack Obama about nuclear weapons during a later presidential run, has died. He was 91, the Associated Press reports.
Around the Administration
Today's Agenda: Biden will welcome Israel President Reuven Rivlin to the White House at 4 p.m.
U.S. Strikes Iran-Backed Groups: The U.S. Air Force struck Iran-backed militias in Iraq and Syria on Sunday, in a test of Iran's incoming president, whose election this month has already complicated efforts to revive a 2015 deal on Iran's nuclear program. The raids on operational and weapons storage facilities were in response to attacks on U.S. interests and were a "necessary, appropriate and deliberate action designed to limit the risk of escalation," Pentagon spokesman John Kirby said. Read more from Tony Czuczka and Nick Wadhams.
Biden Labor Task Force Aims at Federal Purchasing: When the White House in April launched a task force to promote worker organizing and empowerment, some in the labor movement were skeptical, fearing it could be a symbolic effort to distract from lack of progress on comprehensive labor law reform. After all, the Biden administration, despite its steadfast support of unions, can't bend labor law to its interests. Nor has it come close to convincing 60 Senators—let alone all 50 Democrats—to do that for them by passing the Protecting the Right to Organize Act, a House-approved bill to revamp labor law and address decades of decline in union membership. Read more from Ben Penn.
U.S. Urges Pilots to Speak Up Amid UFO Sightings: The federal government wants to take reports of unidentified flying objects more seriously based on unexplained sightings reported by military pilots over the years, according to a new intelligence report that made no mention of theories that aliens may be visiting. Billy House, Daniel Flatley, and Tony Capaccio have more.
U.S. Will 'Stick With You', Biden Tells Ghani: Biden said Friday the U.S. is committed to its partnership with Afghanistan, even as American and other foreign troops withdraw from the country despite a rapid surge of violence. "The senseless violence, it has to stop," Biden told Afghan President Ashraf Ghani at the start of a meeting in the Oval Office. "It's going to be very difficult but, we are going to stick with you." Read more from Jennifer Epstein and MacKenzie Hawkins.
Blinken Urges Stronger Focus Against Islamist Groups in Africa: Secretary of State Antony Blinken urged an 83-member alliance against Islamic State to step up its focus on operations in Africa, while working to prevent a resurgence of the militant organization in Iraq and Syria. Blinken, speaking in Rome on Monday at a ministerial meeting he co-hosted of the Global Coalition to Defeat Isis, said the group had been a critical element in achieving the "territorial defeat" of Islamic State in Iraq and Syria. Read more from John Follain.
U.S., Germany Weigh Pipeline Before Merkel Trip: The U.S. and Germany want to conclude a deal by August to blunt Moscow's geopolitical gains once the controversial Nord Stream 2 gas pipeline is completed, with the two sides exploring ways to shore up the Ukrainian energy sector and deter Russian aggression through the threat of sanctions. Read more from Nick Wadhams and Birigt Jennen.
U.S., EU Willing to Review Venezuela Sanctions: The U.S., European Union and Canada said they're "willing to review sanctions policies" against Venezuelan President Nicolas Maduro and his regime as long as there are "substantive, credible advancements" in negotiations to restore the democratic process in the South American country. Read more from Juan Pablo Spinetto.
To contact the reporters on this story: Zachary Sherwood in Washington at zsherwood@bgov.com; Brandon Lee in Washington at blee@bgov.com
To contact the editors responsible for this story: Giuseppe Macri at gmacri@bgov.com; Loren Duggan at lduggan@bgov.com; Michaela Ross at mross@bgov.com