What to Know in Washington: Biden Hits Wall One Year into Term
Bloomberg Government subscribers get the stories like this first. Act now and gain unlimited access to everything you need to know. Learn more.
For Joe Biden, this wasn't how 2022 was supposed to start.
On the timeline imagined by the White House when he took office a year ago, widely available vaccines would have effectively ended the Covid-19 pandemic in the U.S. by now. The economy would be growing strongly, and a narrowly divided Congress would have already passed the bulk of Biden's agenda. With those mega-missions accomplished, the president could have spent 2022 focusing on voting rights, cutting ribbons on infrastructure projects, and telling Americans what he'd done to make their lives better—with vaccines, stimulus checks, and Great Society-scale investments in child care, education, and the fight against climate change.
It's just not, to put it mildly, how things have played out. Hard on the heels of the delta variant, omicron is now roiling the country. School closures and a shortage of tests are fueling Americans' frustration and despair. Meanwhile, Biden's Build Back Better bill has stalled over the objections of Sen. Joe Manchin (D-W.Va.), leaving the president's agenda in a rut.
Also to contend with: soaring inflation numbers, the highest in 40 years; a simmering standoff with Russia as it masses troops on its border with Ukraine; and progressives' fury at Biden over what they consider to be a late-to-the-game push for voting rights.
Democratic allies say events have forced Biden's White House into reactive mode. "It is hard to control the narrative when you have so many things coming at you, like climate change issues, tornadoes, Ukraine, wildfires destroying parts of the West, and omicron," says former Senate Majority Leader Tom Daschle, a friend to many top White House aides. "I don't know if they feel overwhelmed as much as they feel the gravity of these issues."
The president's approval ratings have slumped as he scrambles to show Americans he's doing all he can. Ipsos polling found that 50% of people disapprove of the way Biden is handling his job, while 45% approve, numbers roughly in line with the fall, when the delta variant was raging. A Gallup poll this month found that 40% of Americans approve of Biden's job performance while 56% disapprove—the 16-percentage-point gap is the largest of his presidency so far.
The latest is voting rights. Biden went to Georgia this month to promote voting rights legislation and advocate for changing Senate rules to pass it—only to find himself stymied again by Manchin and his fellow centrist Democrat, Sen. Kyrsten Sinema (Ariz.). The bill failed to advance in the Senate last night. Nancy Cook and Josh Wingrove have more on the hurdles facing Biden one year into his term.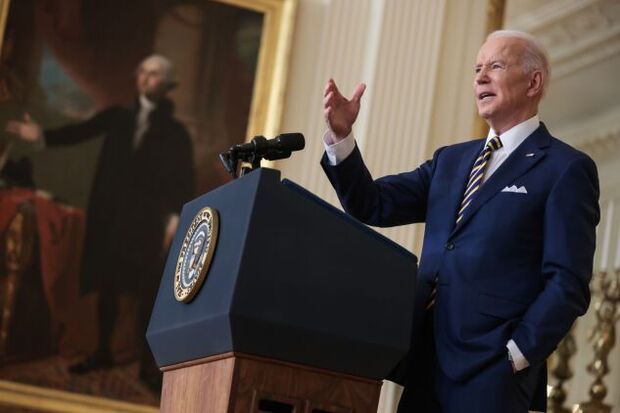 Biden's Schedule:
Biden and Vice President Kamala Harris meet at the White House with the infrastructure implementation task force at 11:15 a.m.
Biden meets at 4:15 p.m. with the President's Council of Advisors on Science and Technology.
The president delivers virtual remarks at 7 p.m. to a Democratic National Committee event.
Congressional Schedule:
The Senate at noon will vote on one of Biden's judicial nominees.
The House meets at 9 a.m. with plans to vote on veterans' benefits legislation.
Click here for a complete list of today's hearings and markups.
Biden-Led Bid to Protect Voting Rights Collapses in Senate
Biden's bid to push voting rights legislation through a divided Senate collapsed yesterday as two key Democrats broke with their party to squash the bill's chances.
With Biden's first year in office bogged down by the persistent coronavirus and inflation, Democrats are starting an already difficult mid-term election year the same way they ended 2021—in a standoff with Manchin and Sinema over the best path for the country.
The latest blow to Biden's agenda was delivered in two stages. Republicans used Senate filibuster rules to block the legislation from getting a vote on passage. Then Majority Leader Chuck Schumer (D-N.Y.) made a last-chance bid to temporarily change those rules to allow a simple majority vote on the bill. That was rejected 52-48 with Manchin and Sinema, who both backed the legislation, joining Republicans in preserving the 60-vote threshold to advance it.
Biden earlier in the day indicated he was resigned to defeat on the election initiative. At a White House news conference, he said Democrats likely would have to break up the voting rights bill—as well as his economic agenda—to get any part of it through Congress.
"There are a number of things we can do, but I also think we will be able to get significant pieces of legislation if we don't get it all now," Biden said. Read more from Steven T. Dennis and Laura Litvan.
Biden Nods to Need to Break Up Tax-and-Spending Plan
Biden said at the same press conference his $2 trillion economic agenda will have to be broken up so that a scaled back measure can pass Congress in the face of resistance within his own party that's stalled the expansive package. "It is clear to me that we are probably going to have to break it up," Biden said yesterday. Democrats will have to "get as much as we can now and come back and fight for the rest later."
Still, the president disputed the idea that his agenda has to be scaled down in its ambition and said he will be making the case to pass it all through road trips around the country this year. "We just have to make the case what we are for," he said.
The package of tax, climate and social safety net legislation has been stalled in the Senate amid objections from Manchin, a pivotal vote in the evenly divided chamber. It had already been scaled back from the version first proposed in the House to meet demands from Manchin and Sinema.
Passing some version of the tax and spending bill in the coming weeks would give Biden a significant achievement to tout when he makes his first State of the Union address to Congress on March 1. But getting the 50 votes needed for the bill to get through the chamber under special budget rules could involve jettisoning popular aspects of the bill like renewing an expanded child tax credit that expired in December.
Progressives are increasingly resigned to the Biden agenda being pared down to win Manchin's support even as moderates who are closely watching the midterms approach have urged the White House to cut a deal soon. Biden conceded that he may not be able to get an expanded child tax credit in the package, as well as free community college, which was already dropped from the plan. Read more from Erik Wasson.
ALSO HAPPENING ON THE HILL:
Supreme Court Clears Release of Trump's Jan. 6 Papers
The Supreme Court cleared the way for some of Donald Trump's White House papers to be handed off to a key congressional panel investigating the Jan. 6 Capitol riot. The order gives a major legal and political victory to the House select committee and its chairman, Rep. Bennie Thompson (D-Miss.).
The National Archives can now turn in about 800 pages of material, such as visitor and call logs, emails, draft speeches and handwritten notes.
"The Supreme Court's action tonight is a victory for the rule of law and American democracy," Thompson and the committee's vice chair, Republican Liz Cheney (Wyo.) , said in a joint statement. "The Select Committee has already begun to receive records that the former president had hoped to keep hidden and we look forward to additional productions regarding this important information."
Trump was trying to override Biden's move to waive executive privilege over the documents, saying a former president's rights can outweigh the views of the incumbent. Greg Stohr has more.
Meanwhile, the committee investigating the Jan. 6 riot announced it's subpoenaed two far-right figures for testimony related to their promotion of false claims about the election and calling for the destruction of the GOP. Nick Fuentes and Patrick Casey, both described by the committee as leaders of the "America First" or "Groyper" movement, are ordered to turn over material to the committee by Feb. 2 and to appear for interviews on Feb. 9. Read more from Billy House.
In Arizona, Maricopa County Superior Court consolidated two lawsuits hanging over Cyber Ninjas, the company hired by the state's Senate to review nearly 2.1 million ballots cast. At issue in both cases are documents detailing how the company audited Biden's 2020 win in the county. Both lawsuits have succeeded in arguing that the requested records are public, and both are stalled because of Cyber Ninjas' refusal to turn them over, the court said in its explanation of consolidation. Read more from Brenna Goth.
In a separate legal fight, Eric Trump invoked the Fifth Amendment more than 500 times when the Trump Organization vice president was deposed as part of a civil probe into the company's asset valuations, New York's top law enforcement officer told a judge. The second son of Donald Trump answered only background questions under oath and cited his right to avoid incriminating himself "over six hours" in 2020, New York Attorney General Letitia James said, Erik Larson reports.
Around the Administration
Biden said he thinks Vladimir Putin will "move in" on Ukraine after amassing over 100,000 troops on the country's border, although he suggested a full-scale invasion may not be in the Russian leader's plans. "I'm not so sure he has, is certain, about what he's going to do," Biden said yesterday. "My guess is he will move in, he has to do something." Pressed on whether that means he has determined Putin is definitely going to attack, Biden said: "I don't know whether he's decided if he wants to do that or not." Read more from Jennifer Epstein and Nick Wadhams.
Biden during the same press conference said the U.S. and its allies had yet to agree on how to hold Moscow accountable over "a minor incursion." The remark risked undermining weeks of escalating warnings from American diplomats and prompted White House aides to clarify—before Biden had even concluded speaking—that any troop movement across the border would prompt "a swift, severe, and united response." Read more from Justin Sink.
Also in foreign affairs, Biden said "it's not time to give up" on reviving the accord restraining Iran's nuclear program as talks between world powers drag on in Vienna. "There is some progress being made," but "it remains to be seen" if Tehran will make a deal, he said. Biden's negotiators say they've largely agreed on the sanctions that would be eased in exchange for Iran coming back into compliance with the Joint Comprehensive Plan of Action. Read more from Nick Wadhams.
On China, Biden said that he's not ready to lift tariffs his predecessor imposed on imports from the Asian giant, despite calls from American businesses to relieve the duties. U.S. Trade Representative Katherine Tai is "working on that right now," Biden said. But "the answer is uncertain," he said. "I'd like to be able to be in a position where I could say they are meeting their commitments" and be able to lift some of it, "but we're not there yet," he said. Read more from Wadhams.
Biden said it's the Federal Reserve's job to rein in the fastest pace of inflation in decades, and supported the central bank's plans to scale back monetary stimulus. "The critical job in making sure that the elevated prices don't become entrenched rests with the Federal Reserve," Biden said yesterday. "Given the strength in the economy and the pace of recent price increases, it's appropriate," as Fed Chair Jerome Powell has indicated, "to recalibrate the support that is now necessary," he said. Consumer-price inflation hit a 7% annual rate in December, the highest in almost four decades. Katia Dmitrieva has more.
Biden also vowed to continue trying to lower oil prices that are running at a seven-year high, despite his faltering bid to persuade producing countries to increase output. "We're going to work on trying to increase oil supplies that are available," he said. "But it's going to be hard." The global benchmark Brent crude has surged 25% since the end of November to about $88 a barrel, and some in the market now think it's now a question of when—not if—oil hits the triple digits, a level it hasn't reached since 2014. Ari Natter has more.
With gasoline prices climbing after falling in November, Biden has few options left to address the price pinch for Americans. It's a political challenge for Democrats hoping to retain control of the House and Senate in November's mid-term elections as well as for Biden. Read more from Jennifer A. Dlouhy and Sheela Tobben.
Republican state attorneys general are asking the Occupational Safety and Health Administration to withdraw the shot-or-test Covid-19 regulation. "OSHA lacks authority to require that tens of millions of employees vaccinate against an endemic virus that presents a generic risk, not a workplace risk," said yesterday's letter from 27 state attorneys general, who earlier convinced the U.S. Supreme Court to prevent enforcement of regulation. "OSHA should, therefore, immediately withdraw the ETS and suspend its efforts to promulgate a similar permanent standard." Read more from Bruce Rolfsen.
Large businesses now must make their own decisions on mandating employees to be vaccinated. The rule would have required employers with 100 or more workers to mandate vaccination or weekly testing, affecting an estimated 80 million employees. Complicating any such decision is the patchwork of state laws and executive actions to restrict or ban vaccine mandates and related rules in the private sector. Read the BGOV OnPoint delving into OSHA's would-be mandate.
The Supreme Court considered multiple options for how judges should handle crack-cocaine resentencings, with some justices exploring an approach that neither side advocated. How the court decides the dispute, argued yesterday, could affect thousands of prisoners trying to reduce stiff prison terms imposed under the Reagan-era drug-war regime that disproportionately impacted Black people. The appeal was brought just a year before the 2010 Fair Sentencing Act, which narrowed the disparity between crack- and powder-cocaine penalties. The 2018 First Step Act made the 2010 act's changes retroactive. Read more from Jordan Rubin.
Kim Jong Un indicated that he may end a four-year-old freeze on major weapons tests, threatening to ratchet up tensions with the U.S. and force North Korea's nuclear program back onto the Biden administration's agenda. Kim ordered ruling party leaders yesterday to "promptly examine the issue of restarting all temporarily suspended activities," state media said, in an apparent reference to the moratorium he started ahead of unprecedented talks with Trump. Read more from Iain Marlow and Jon Herskovitz.
To contact the reporters on this story: Zachary Sherwood in Washington at zsherwood@bgov.com; Brandon Lee in Washington at blee@bgov.com
To contact the editors responsible for this story: Giuseppe Macri at gmacri@bgov.com; Loren Duggan at lduggan@bgov.com; Michaela Ross at mross@bgov.com
Stay informed with more news like this – from the largest team of reporters on Capitol Hill – subscribe to Bloomberg Government today. Learn more.