What to Know in Washington: Biden Hits GOP, 'Mediscare' Ads Air
Bloomberg Government subscribers get the stories like this first. Act now and gain unlimited access to everything you need to know. Learn more.
President Joe Biden assailed House Republicans over their legislative agenda, which he said would add $3 trillion to the national debt over a decade, while benefiting the wealthy and large corporations.
"How are they going to make these numbers add up?," Biden said Wednesday during a speech at a Maryland union hall.
Biden spoke flanked by union workers and in front of a large American flag, the latest campaign-style event at which he has ramped up attacks on Republicans over their demands for spending cuts in exchange for their votes to raise the debt limit, a showdown the president says risks damaging the country's full faith and credit.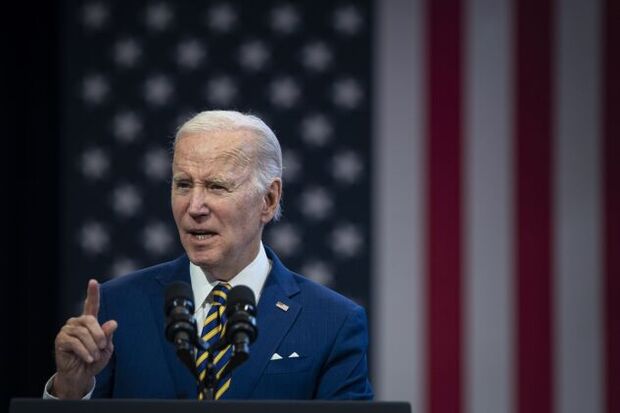 Biden spoke shortly after a nonpartisan Congressional Budget Office report warned that the federal government would be at risk of a payment default as soon as July if lawmakers fail to raise the debt limit, raising the urgency for Republicans and the White House to reach a deal.
Biden said Republicans had voted to raise the debt ceiling under former President Donald Trump without preconditions.
"Why would you want to throw it into a crisis now?" he said. "I'll tell you why: It's just politics."
Biden said his budget — to be released March 9 — would cut the deficit by $2 trillion over that same time frame and "lower costs and protect and strengthen Social Security and Medicare." He has accused Republicans of wanting to slash entitlement programs amid the debt-ceiling standoff, citing a plan Sen. Rick Scott (R-Fla.) issued last year, Jordan Fabian reports.
Insurers intent on getting the government to pump more money into the Medicare Advantage program next year are the latest group pushing out TV and online ads warning about cuts to Medicare, jumping on what health care advocates call the "Mediscare" bandwagon.
The Better Medicare Alliance—backed by insurers such as Aetna, Humana, and UnitedHealth Group—has spent $4.4 million in the past two months on an ad campaign raising the prospect of "cuts" to Medicare Advantage, and urging people to call the White House in opposition, data from AdImpact show. One of the most expensive of these ad buys aired during the Super Bowl this past weekend on local stations in the Washington, D.C., area and warned of higher premiums.
Private insurance companies reap billions of dollars each year from administering Medicare Advantage. But some lawmakers and critics say insurers have over-billed the government in some cases. Alex Ruoff has the story.
Happening on the Hill
CONGRESS' SCHEDULE
The Senate convenes at 10 a.m. to consider judicial and defense nominations.
The Senate has passed by unanimous consent two non-binding resolutions condemning China for the spy balloon that flew over the US.
Biden is expected to give public remarks as early as Thursday on the balloon and the three unidentified aerial objects that have been shot down in recent days, the Washington Post reports, citing unidentified people familiar with the plans. Read more.
Sens. Jim Risch (R-Idaho) and Bob Menendez (D-N.J.) introduced a bill to better protect Middle East civilians from Iranian drones.
The chief executive officers of Alphabet, Amazon, Apple, Meta and Microsoft received congressional subpoenas related to conservative allegations of censorship — an escalation of House Republicans' pledge to use their new majority to investigate the largest US technology companies.
The Federal Aviation Administration is exploring whether it can "accelerate" its updates to the aging technology behind a major outage last month that delayed thousands of flights nationwide, the agency's acting head told Congress Wednesday.
Rep. Dusty Johnson (S.D.), once the top Republican on the House livestock subcommittee, is shifting to leadership of the Agriculture Committee's digital assets panel as scandals fuel calls for more cryptocurrency regulation.
The reauthorization of a decades-old massive workforce development program is on lawmakers' radar as Biden and businesses, especially the tech industry, push for a more skill-based economy.
Ana Reyes, a longtime Williams & Connolly litigator, was confirmed as the first Latina and openly LGBTQ person on the federal district court in Washington.
Elections, Politics & Probes
California Rep. Barbara Lee (D), one of the longest-serving women in Congress, on Wednesday notified the Federal Election Commission she's a candidate for the Senate, a precursor to a formal announcement later this month.
Abortion, gerrymandering, and maybe even Electoral College results in the next presidential election are on the line as voters decide which names will be on the ballot to fill a tie-breaker seat on the Wisconsin Supreme Court.
Former Vice President Mike Pence is pledging to take his challenge to a grand jury subpoena from the special counsel investigating Donald Trump and his allies to the US Supreme Court if needed, declaring he's protecting the separation of powers under the US Constitution.
Mark Meadows, Trump's last chief of staff, has been subpoenaed to testify before a grand jury investigating efforts to overturn the 2020 election results, according to a person familiar with the matter.
Around the Administration
BIDEN'S AGENDA
Biden at 5 p.m. hosts a screening of "Till," a film about Mamie Till-Mobley, the mother of Emmett Till.
At 12:45 p.m., White House Press Secretary Karine Jean-Pierre hosts a briefing.
Secretary of State Antony Blinken will travel to Turkey this week, visiting a critical but at times vexing NATO ally as President Recep Tayyip Erdogan copes with the aftermath of a devastating earthquake.
Russia continues to access foreign chips and technology through intermediaries like Iran, a senior US official responsible for regulating exports said.
Biden is planning to host South Korean President Yoon Suk Yeol for a White House state dinner this spring, according to people familiar with the matter.
The Pentagon is reviewing whether to end a policy that sped up more than $8 billion in payments, much of it to the nation's top defense contractors, with the intent that the dollars would flow to subcontractors coping with disruptions from the Covid pandemic.
Biden hailed Elon Musk's decision to open part of Tesla's charging network to other electric vehicles as a "big deal," flashing a potential thaw in an otherwise frosty relationship between the billionaire and White House.
Emergent BioSolutions's opioid overdose reversal spray is safe for use without a doctor's prescription, advisers to US regulators said in a key step toward increasing access to the life-saving drug amid a surging death toll for the decades-long public-health crisis.
To contact the reporters on this story: Brandon Lee in Washington at blee@bgov.com; Michaela Ross in Washington at mross@bgov.com
To contact the editor responsible for this story: Giuseppe Macri at gmacri@bgov.com
Stay informed with more news like this – from the largest team of reporters on Capitol Hill – subscribe to Bloomberg Government today. Learn more.