What to Know in Washington: Biden, Governors Talk Vaccine Ideas
President Joe Biden will trade ideas with U.S. governors about how to vaccinate more Americans, after the number of people signing up for shots fell sharply over the last month.
Biden will meet today virtually with the leaders of Massachusetts, Utah, Ohio, New Mexico, Maine and Minnesota to discuss "innovative ways governors are working to get the people in their states vaccinated," White House Press Secretary Jen Psaki said.
Biden has said the country has entered a new phase of its vaccination campaign as domestic demand weakens. The U.S. is administering about 2.1 million shots per day, down from 3.4 million shots about a month ago, even though there's enough supply to give more.
But working in the president's favor: coronavirus cases are falling at an even faster pace than vaccinations. The U.S. reported 21,767 new cases on Sunday, the lowest daily total since June 2020. In early April, the country was still averaging more than 60,000 new cases a day, according to CDC data.
The pool of people who will eagerly seek out an appointment to get a vaccine is all but exhausted, forcing the government to shift its attention to those willing to take it but who don't want to go out of their way.
The administration's moves include winding down mass vaccination clinics while steering more shots to rural and mobile sites. Some states are meanwhile trying carrots: West Virginia Gov. Jim Justice (R) has proposed giving a $100 savings bond to anyone age 16-35 who gets a shot, while leaders in New Jersey, New Orleans and Washington, D.C. have offered beers and shots of liquor. Read more from Josh Wingrove.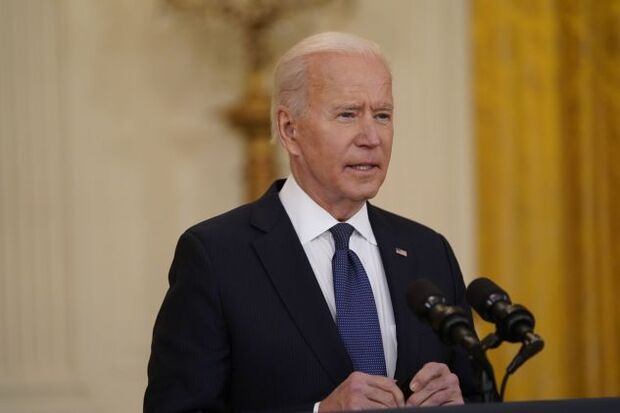 Pfizer Shot Gets U.S. Clearance for Young Teens: Pfizer and BioNTech's coronavirus vaccine was cleared for use in minors age 12 to 15 in the U.S., paving the way for the mass vaccination of middle- and high-school students before the next school year. The FDA said in a statement yesterday it expanded the shot's original emergency use authorization to include adolescents. The move "allows for a younger population to be protected from Covid-19, bringing us closer to returning to a sense of normalcy," Acting FDA Commissioner Janet Woodcock said.
A group of advisers to the Centers for Disease Control and Prevention will meet tomorrow to make recommendations for administration of the shots. Kids in the group may start receiving them very rapidly after that. While adolescent cases tend to be milder, kids can still spread the disease and child cases are responsible for a rising share of the nation's total, as more adults get vaccinated. Read more from Riley Griffin and Robert Langreth.
Happening on the Hill
Today's Agenda:
The House returns today, and plans to consider 14 measures under expedited procedure.
The Senate plans to vote today on Biden's pick to be the second in command at HHS, Andrea Palm. Palm previously headed Wisconsin's Health Services Department, overseeing its $12 billion budget and over 6,000 employees, and served as the HHS's chief of staff and as senior counselor to the secretary during the Obama administration, Shira Stein reports.
The the Senate Rules and Administration Committee will consider the chamber's version of a Democratic-backed elections and ethics bill.
Click here for a complete list of today's hearings and markups.
SECURE Act 2.0 Possible for Senate Finance Panel: Retirement legislation known as SECURE 2.0 could be on the Senate Finance Committee's agenda after the August recess, a committee aide said yesterday. "We are very hopeful at the Finance Committee that we can put together another package" similar to a bill recently approved by the House Ways and Means Committee, said Drew Crouch, senior tax and ERISA counsel for the panel. Read more from Sara Hansard.
Landmark Patent Law Due for Review: Rep. Hank Johnson (D-Ga.) suggested the America Invents Act, landmark patent legislation that created the Patent Trial and Appeal Board, may be due for a hard look from Congress. The AIA reshaped patent litigation with the creation of the PTAB, a U.S. Patent and Trademark Office tribunal. It's become a popular place for accused infringers to challenge patents. Read more from Matthew Bultman.
State AGs Ask to Fund Big Tech Antitrust Enforcement: A group of attorneys general from 44 states and Washington, D.C., is asking senior antitrust lawmakers in Congress to help fund state antitrust investigations of large technology corporations. Several states have launched investigations into Big Tech companies' allegedly monopolistic practices and need additional state and federal funds, the state officials wrote in a letter to the Senate and House Judiciary antitrust subcommittees. Read more from Siri Bulusu.
Agriculture No. 2 Pick Advances in Senate: The Senate Agriculture, Nutrition, and Forestry Committee advanced Biden's pick for deputy agriculture secretary. The farm panel approved by voice vote yesterday the nomination of Jewel Bronaugh, who'd be the first Black woman in the job if confirmed, Megan Boyanton reports.
Politics & Influence
McCarthy Sets Cheney Ouster Vote: House Minority Leader Kevin McCarthy (R-Calif.) told Republican colleagues to anticipate a vote tomorrow on whether to fire Rep. Liz Cheney (R-Wyo.), a strong critic of former President Donald Trump, as their third-ranking party leader. "Having heard from so many of you in recent days, it's clear that we need to make a change," he said in a letter to rank-and-file Republicans. There is no mention of when a vote may be held to pick a successor, if GOP lawmakers agree to remove Cheney. Read more from Billy House.
Republican Midterm Hopes Run Through Covid-Scarred Districts: Republicans aiming to retake the U.S. House next year will have to defend the party's pandemic record, especially in Sun Belt districts that stand out for their grim death tolls or lackluster vaccinations. Forty-seven Democrat-held districts and 21 Republican seats are at the center of the fight. High Covid-19 death rates or low vaccine penetration stand to be issues in around 20 of them, 15 to the potential advantage of Democrats. Read more from Jonathan Levin.
Voting Group CEO on State Election Laws—BGOV Podcast: Tom Lopach, head of the Voter Participation Center, joined Bloomberg Government's Kyle Trygstad and Greg Giroux on the latest episode of Downballot Counts to weigh new voting laws in states. His organization is a nonpartisan nonprofit that seeks to register to vote historically disenfranchised populations. Trygstad and Giroux also explored on the podcast political implications of reapportionments of congressional districts and a few states to watch. Listen to Downballot Counts here.
Around the Administration
Hackers Find Easy Prey as U.S. Ignores Warnings: The ransomware attack that shut down the nation's biggest fuel pipeline prompted an all-too familiar question in the corridors of power in Washington and boardrooms across the country: Can anyone stop debilitating hacks? The assault on Colonial Pipeline last week was a particular affront. Not only did it disrupt fuel distribution on the East Coast, it followed an effort by the Biden administration to act against cyber crime — especially ransomware, where criminals remotely disable a computer system and demand payment. Colonial was hit on day 37 of a 60-day push by the Department of Homeland Security to confront such attacks. The administration's campaign is the latest in a long series of cyber strategies offered by presidents and lawmakers from both parties to curb hackers. Read more from Alyza Sebenius, Jennifer A. Dlouhy and Brody Ford.
Noncitizen Students to Qualify for Covid Aid in Policy U-Turn: International students and those without legal immigration status will be eligible for Covid-19 aid, Education Secretary Miguel Cardona said, in a reversal from the Trump administration. The Education Department announced the release of $36 billion in emergency grants to colleges this morning along with guidance on how they could support struggling students, mitigate the spread of the virus, and re-engage students whose academic progress was disrupted by the pandemic. Read more from Andrew Kreighbaum.
Biden Set to Approve Offshore Wind Farm: The Biden administration is set to approve plans for the first major offshore wind farm in federal waters, according to two people familiar with the matter. The Interior Department's authorization, which could come as soon as today, will pave the way for construction of the 800-megawatt Vineyard Wind project near the coast of Massachusetts, and puts it on a path to begin supplying power to some 400,000 East Coast homes late next year. Read more from Jennifer A. Dlouhy.
Kerry Warms to Green Diplomacy With EU: U.S. climate envoy John Kerry told the European Union he was open to coordinating with the bloc in a bid to encourage other countries to step up their commitments in the fight against global warming. Kerry spoke with European foreign affairs ministers during their meeting yesterday as the U.S. tries to regain its spot as a climate leader. A renewed green alliance could help maintain momentum before international climate talks in Glasgow in November. Read more from Ewa Krukowska.
Walsh Calls Gig-Worker Mislabeling a Major Issue: The misclassification of employment as "gig work" is a major economic issue that the Department of Labor is attempting to address, according to Labor Secretary Marty Walsh. "Misclassified employees often are denied access to critical benefits and protections like overtime, minimum wage, paid leave, unemployment insurance," Walsh said, calling it one of the "most serious issues" in the American job market. "It undermines our economy." Read more from Katia Dmitrieva.
U.S. Fired Warning Shots at Iranian Boats: A U.S. Coast Guard ship accompanying a guided-missile submarine and other vessels near the Strait of Hormuz fired warning shots after a group of 13 Iranian fast boats approached them in an "unsafe" manner yesterday, the Pentagon's spokesman said. The group of fast boats controlled by the Islamic Revolutionary Guard Corps came as close as 150 yards (137 meters) to the U.S. ships when a Coast Guard cutter, the Maui, fired about 30 warning shots from a .50-caliber machine gun, spokesman John Kirby told reporters. Read more from Travis Tritten and Tony Capaccio.
Rahm Emanuel Reported to Be Named Ambassador to Japan: Biden has picked former congressman and Chicago mayor Rahm Emanuel to be the U.S. ambassador to Japan, the Financial Times reports, citing eight people familiar with personnel discussions inside the White House.
To contact the reporters on this story: Zachary Sherwood in Washington at zsherwood@bgov.com; Brandon Lee in Washington at blee@bgov.com
To contact the editors responsible for this story: Giuseppe Macri at gmacri@bgov.com; Loren Duggan at lduggan@bgov.com; Michaela Ross at mross@bgov.com