What to Know in Washington: Biden Goes to Climate Talks Weakened
Bloomberg Government subscribers get the stories like this first. Act now and gain unlimited access to everything you need to know. Learn more.
Joe Biden has embraced climate action as no other U.S. president has, with promises to rapidly cut carbon from power grids and shift to electric cars. That would—potentially—put the country responsible for more than a quarter of greenhouse gas on the brink of dramatic decarbonization.
But U.S. negotiators arriving in Glasgow for COP26 could turn up with almost nothing to show other than earnest pledges of action. A $2.5 billion down payment in funding to help poor countries fight climate change, one of the high-stakes objectives of this year's talks, is unlikely to clear Congress by the start of the summit. There could be little tangible evidence on the global stage to prove Biden can lead the way forward.
Back at home, other initiatives aren't yet looking much greener. Federal regulations to stifle emissions from automobiles, oil wells and power plants are moving slowly. And lawmakers are still deliberating budget reconciliation legislation that would devote hundreds of billions of dollars to spurring renewable energy, propelling clean transportation, and weaning utilities off fossil fuels.
"The ballgame is really riding on this reconciliation bill," says John Podesta, who served as a senior counselor to former President Barack Obama. "If he comes up empty handed," he adds, "he goes with a very weak hand into Glasgow."
It's an unenviable scenario for Biden. He's already struggling to overcome a trust deficit created by former President Donald Trump, who withdrew from the Paris Agreement and dismantled policies that might have delivered promised emissions cuts. And American credibility on climate has long been viewed skeptically, with lingering distrust ever since the country's 2001 withdrawal from the Kyoto Protocol, one of the earliest United Nations-backed climate agreements. Read more from Jennifer A Dlouhy and Justin Sink.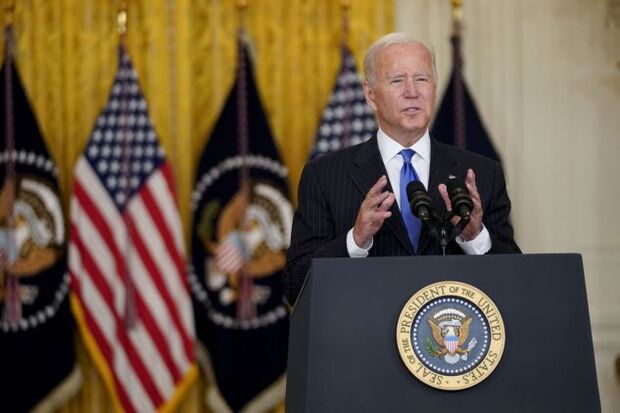 Kerry Plays Down Expectations for COP26 Success, AP Says: U.S. climate envoy John Kerry played down the chances of success at the key climate summit in Glasgow later this month, Emma Ross-Thomas reports. In an interview with the Associated Press, he said two weeks of talks could end with countries still short of the emissions targets set by those pushing for more action on climate change.
"We will hopefully be moving very close to that," he was quoted as saying. "Though there will be a gap and … we've got to be honest about the gap, and we have to use the gap as further motivation to continue to accelerate as fast as we can."
Today's Agenda: Biden at 11:30 a.m. will provide an update on the Covid-19 response and vaccination efforts. Biden will also participate in a bilateral meeting with Kenya President Uhuru Kenyatta at 2:15 p.m.
Happening on the Hill
Trump DOJ Official Gets Subpoena in Jan. 6 Probe: The House committee investigating the Jan. 6 attack on the U.S. Capitol subpoenaed a former Justice Department official described as being at the center of Trump's attempts to overturn the 2020 election results. The subpoena issued yesterday to Jeffrey Clark potentially sets up yet another legal showdown with the former president. A lawyer for Trump has instructed other former aides to not cooperate with the committee or comply with its subpoenas.
The panel's latest subpoena also came as the White House reiterated that it wouldn't support Trump's assertion of executive privilege over a tranche of records related to the Jan. 6 insurrection, and ordered the National Archives to turn over documents to congressional investigators within 30 days. Read more from Billy House.
Extremists' Recruiting of Veterans Spurs Review: Congress, federal agencies, and military groups should collect data and improve coordination to combat domestic extremists' efforts to recruit veterans, academics and advocates told lawmakers. The House Veterans' Affairs Committee heard yesterday from a slate of domestic extremism scholars and veterans' advocates concerned about a rise in former and current service members' involvement in violent extremism incidents. The Center for Strategic and International Studies has tracked an increase in the number of attacks carried out by active-duty and reserve personnel, as well as veterans, said Seth Jones, senior vice president and director of the think tank's Transnational Threats Project. Read more from Ellen M. Gilmer.
Groups Try to Ax Fines for Mental Health Coverage Flaws: Democrats want to beef up enforcement of rules meant to make it easier to access mental health services using insurance. Business groups say the move won't work and is a ploy to pay for Democrats' wide-reaching social spending agenda. Tucked into a once-$3.5 trillion domestic spending package is a provision empowering the government to fine health plans and employers that violate federal laws requiring access to mental health care that's on par with other medical care. Health plans now get cited for violating the law and agree to come into compliance and reimburse beneficiaries. Supporters of the new fines say they'll give the Labor Department an effective tool to expand mental health coverage. Read more from Alex Ruoff.
Changes Sought for Supply Chain Woes: Republicans in Congress and transportation industry stakeholders say Biden's new plans to ease supply chain bottlenecks don't go far enough to address the country's shipping struggles. Lawmakers blamed Biden for the costly delays, which have caused shortages for a range of goods. Independent truck drivers said the government was ignoring their issues, while others say more coordination is needed between transportation modes. The critiques raise questions about the breadth of the administration's plans and how quickly the supply chain delays, which were exacerbated by the pandemic, will be resolved. Read more from Lillianna Byington.
Klobuchar Readies New Antitrust Bill: A bipartisan group of senators is planning to introduce legislation to prevent the biggest U.S. technology giants like Amazon and Apple from giving an advantage to their own products over those of competitors. The bill, announced today by Sens. Amy Klobuchar (D-Minn.) and Chuck Grassley (R-Iowa) would prohibit the companies from using data to hurt competition, stacking search results in their favor, or restricting the way other services use their platforms. The measure matches a House proposal that tech groups have warned would risk user security and make it harder to use services that consumers enjoy. Read more from Anna Edgerton and Rebecca Kern.
In the Courts
Biden's SCOTUS Commission to Release Findings: Biden's commission tasked with studying changes to the Supreme Court, including court expansion, will release draft documents today and hold a public meeting the following day, the White House said. The "draft preliminarily discussion materials" haven't been submitted to the White House for comments, White House Press Secretary Jen Psaki said at yesterday's briefing. The final report, which will be reviewed by the president, is expected mid-November, she said. The documents will be the first public signal by the commission—which consists of mostly academics, along with some judges and lawyers—about how it views potential changes to the high court. Read more from Madison Alder.
Sotomayor Laments Lack of Professional Diversity: Justice Sonia Sotomayor lamented the Supreme Court's lack of professional diversity during a New York University Law School event yesterday. "When Ruth Bader Ginsburg passed, we lost our only civil rights lawyer," Sotomayor said, appearing remotely at the event marking the fifth anniversary of the school's center for diversity, inclusion, and belonging. "That kind of diversity, diversity in experience, is something that I think we are sorely missing," the Barack Obama appointee said during a conversation with NYU law professor Kenji Yoshino. Read more from Jordan S. Rubin.
Law Firms Shouldn't Penalize Former Trump Lawyers, Donoghue Says: Employers shouldn't reject former Justice Department appointees just for working under Trump, said Richard Donoghue, one such designee who began a new Big Law job this week. "Many of those people were career prosecutors before being appointed," said Donoghue, a partner at Pillsbury Winthrop Shaw Pittman in New York. "Law firms and others should be encouraging that type of experience and public service," not "penalizing" those who go in and out of government. Donoghue served as acting deputy attorney general during the final two months of Trump's presidency. Read more from Chris Opfer.
Politics & Influence
GOP-led States Call U.S. Attack on Texas Abortion Law a Threat: A group of Republican-led states criticized the Justice Department for suing to overturn a Texas ban on most abortions, telling a judge that the federal government needs to be reined in. If a temporary injunction blocking the law is revived while the lawsuit proceeds, the Justice Department will be emboldened to file similar suits in the future, the 18 states said in a filing at the federal appeals court in New Orleans yesterday. Read more from Laurel Brubaker Calkins and Erik Larson.
House GOP Raises $25.8 Million in Third Quarter for Midterms: The National Republican Congressional Committee, the fundraising arm of the House GOP, raised $25.8 million in the third-quarter, the largest haul for the period in an off-election year in at least two decades. The NRCC said it took in $12.2 million in September, a record for the month in a non-election year. It raised $105 million over the first nine months of 2021, a 74% increase from the same period in 2019, the last year there wasn't a national election. The organization started October with $65 million in the bank, nearly triple the $23.9 million it had two years ago. Read more from Bill Allison.
To contact the reporters on this story: Giuseppe Macri in Washington at gmacri@bgov.com; Zachary Sherwood in Washington at zsherwood@bgov.com
To contact the editors responsible for this story: Giuseppe Macri at gmacri@bgov.com; Loren Duggan at lduggan@bgov.com
Stay informed with more news like this – from the largest team of reporters on Capitol Hill – subscribe to Bloomberg Government today. Learn more.