What to Know in Washington: Biden Gives Ukraine Fresh Resupply
Biden plans $1.3 billion in Ukraine aid, will seek more
Biden to mark Earth Day with forest protection order
President Joe Biden promised ongoing U.S. assistance for Ukraine as it fights off a fresh Russian offensive in the country's east, announcing Thursday he's sending $1.3 billion in additional weaponry and economic aid and that he'd ask Congress for even more money.
The fresh funds add to $2.4 billion in U.S. aid already authorized for the fiscal year, much of it weaponry. Of the new package, $800 million will go toward arms, including dozens of howitzers and new attack drones. Biden also said no Russian-flagged ships would be allowed into U.S. ports, following a move by European countries.
"We're in a critical window now of time where they're going to set the stage for the next phase of this war," Biden said. "The United States and our allies and partners are moving as fast as possible to continue to provide Ukraine the weapons they need, the equipment their forces need to defend their nation." Read more from Josh Wingrove, Jennifer Jacobs, and Nancy Cook.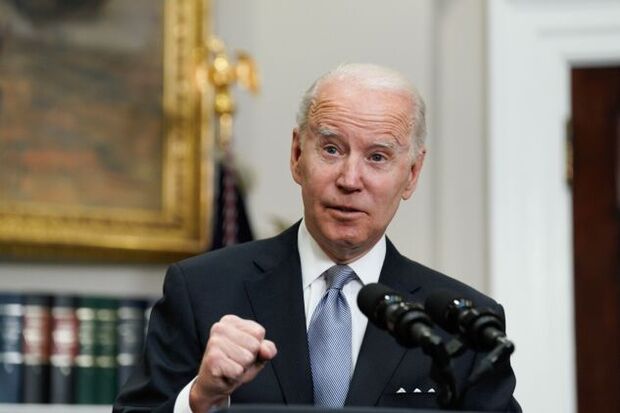 The latest $800 million package of arms Biden is sending Ukraine includes dozens of "Phoenix Ghost" drones the Pentagon says were expedited specifically to aid the fight against Russia. The unmanned aerial vehicles made by AEVEX Aerospace were "rapidly developed by the Air Force in response specifically to Ukrainian requirements," Pentagon spokesman John Kirby said. Read more from Roxana Tiron and Tony Capaccio.
Actions by the U.S. and its allies to restrict Russia's access to high-tech imports and parts has seen those shipments fall by more than 50%, frustrating the nation's manufacturing and servicing efforts, Commerce Secretary Gina Raimondo said, Eric Martin reports.
The U.S. is opening a new door for Ukrainians fleeing Russia's invasion, the Biden administration's biggest step to date to help those seeking refuge. The Homeland Security Department unveiled a streamlined process Thursday for Ukrainians with U.S. ties to come to the country under humanitarian parole. Ellen M. Gilmer has more.
MORE ON THE WAR IN UKRAINE:
Russia barred entry to Meta's Mark Zuckerberg and 28 other Americans, a symbolic retaliation for U.S. sanctions against its top officials and business figures. The latest Russian "stop list" includes Vice President

Kamala Harris

alongside White House, Pentagon and State Department officials, as well as ABC's George Stephanopoulos, the Foreign Ministry said in a statement Thursday. Read more from Bloomberg News.
The Group of 20 failed this week to issue a joint communique following a meeting of its finance ministers and central bank chiefs in Washington. That reality signals it's no longer clear that the likes of the U.S., China and Russia share the same fundamental objectives. Christopher Condon has more.
A senior U.S. diplomat again warned China of sanctions if it offers "material support" for Vladimir Putin's war in Ukraine, while also pledging to help India end its dependence on Russian weapons. China wasn't helping the situation in Ukraine by doing things like amplifying Russian disinformation campaigns, U.S. Deputy Secretary of State Wendy Sherman said Thursday. Read more from Iain Marlow.
More Headlines:
Also on Lawmakers' Radars
Next Week in Congress: The Senate returns Monday to resume considering the nomination of Lael Brainard to be vice chairman of the Board of Governors of the Federal Reserve. At 5:30 p.m., senators will vote on the motion to invoke cloture, or limit debate, on Brainard's nomination. Senate Majority Leader Chuck Schumer (D-N.Y.) has also filed cloture on the nominations of Lisa Cook to be governor for the Fed and Alvaro Bedoya to be a commissioner for the Federal Trade Commission.
The House could take up a second spending bill to support Ukraine, which Biden will send lawmakers next week. Biden when announcing aid yesterday said he's "almost exhausted the drawdown authority" that Congress authorized in a previous $13.6 billion bill. Speaker Nancy Pelosi (D-Calif.) said she aims to bring a bill to the House floor "as soon as we can." Drew Hammill, Pelosi's deputy chief of staff, wrote on Twitter that the speaker "hopes to bring the request to the floor as soon as possible with strong bipartisan support but there's no specific timeline for a floor vote at this time."
A Senate bill requiring greater transparency of financial disclosures for federal judges is expected to get a final vote in the House next week. The House floor vote on the Courthouse Ethics and Transparency Act is expected next week, a Democratic aide familiar with the timing said. If the House passes the Senate version, it'd then go to Biden for his signature. Read more from Madison Alder.
House Democrats want to hear from local elections officials about conspiracy theories and misinformation that are affecting their jobs. In letters to state-based organizations of local election officials across Arizona, Florida, Ohio and Texas, the chairwomen of the House Oversight and Administration committees—Carolyn Maloney (D-N.Y.) and Zoe Lofgren (D-Calif.)—said that to fight misinformation, "is critical to develop a comprehensive, federal, state, and local strategy." Read more from Ryan Teague Beckwith.
Meanwhile, former President Barack Obama warned that the way Americans communicate on social media networks has weakened democracy. Obama said "citizens no longer know what to believe" due to false information online. This is leading to political skepticism among citizens, he said. Read more from Margi Murphy.
Biden and the airline industry want Congress to offer financial incentives for sustainable aviation fuel, which could help lower airlines' soaring energy costs. Lawmakers proposed new legislation this month on funding for sustainable aviation fuel, while continuing negotiations on a tax credit to help the transition to greener fuel. Read more from Lillianna Byington and Colin Wilhelm.
Democrats want the FTC to probe price manipulation in the gas market, including refinery capacity reductions, according to a statement. House Judiciary Chair Jerry Nadler (D-N.Y.) and others unveiled a bill that would also mandate the FTC to submit a report to Congress on a long-term strategy to stabilize gas and oil prices in national crises, Maria Luiza Rabello reports.
Electric vehicle manufacturers and researchers urged lawmakers to help improve the domestic supply of the critical minerals needed for batteries. With rising demand for EVs raising the pressure on already stressed supply chains for critical minerals, the industry is calling for incentives for U.S. semiconductor production, more research funding, domestic lithium and cobalt mining, and work visas for engineers. Read more from Lillianna Byington.
House Homeland Security Committee leaders pressed the New York Metropolitan Transportation Authority for information on its use of federal funding for security camera maintenance after last week's New York City Subway shooting. Cameras were not functioning the day of the shooting, Chair Bennie Thompson (D-Miss.) and ranking member John Katko (R-N.Y.) wrote in a letter, Alisa Parenti reports.
Senate Democrats want the CFPB to probe training repayment agreements that require workers to repay the cost of their trainings if they leave their employer in a certain period of time, according to a letter from Senate Banking Chair Sherrod Brown (D-Ohio) and Health, Education, Labor and Pensions Chair Patty Murray (D-Wash.). Read more from Evan Weinberger.
The Supreme Court, in finding for a law firm in a dispute with the IRS, set a high standard for when Congress wants to set mandatory deadlines for challenging action by federal agencies. Congress must "clearly state" that it wants to set a jurisdictional rule, Justice Amy Coney Barrett wrote for a unanimous court Thursday in sending the case back to the U.S. Tax Court. Read more from Kimberly Strawbridge Robinson and Aysha Bagchi.
The federal government can continue to exclude Puerto Rico from a Social Security benefits program, the U.S. Supreme Court ruled in a decision that will stop more than $2 billion a year from flowing to the island's residents, Greg Stohr reports.
Related:
Join our webinar for insights on the key policy items Congress plans to tackle as it returns from its spring recess. Bloomberg Government's analysts April 27 will discuss what House and Senate leaders plan to prioritize for the remainder of 2022, with an eye on what can be accomplished before the midterm elections or possibly left to a lame-duck session. They'll talk about the latest on bills to boost U.S. manufacturing to compete with China, proposals to reauthorize key programs that committees are exploring, and whether there's any chance for a budget reconciliation. Register here.
More Headlines:
Also in Elections & Politics
After championing the biggest expansion in federal aid to American families in decades, Biden is now putting the government's budget deficit back in the spotlight, a nod to fiscal conservatism that may be needed to pass any more of his agenda. In recent speeches, Biden has promoted the rapidly declining shortfall between revenues and public spending—a result of the country's rebound and the phasing-out of pandemic aid—while also emphasizing that his long-term economic agenda would speed the deficit's contraction.
It's a message the White House plainly hopes particularly resonates with Sen. Joe Manchin (D-W.Va.), who blocked Biden's ambitious Build Back Better economic package (H.R. 5376) in December. Manchin has argued any revised plan—including higher corporate taxes, climate-change measures and drug pricing reform—must cut the deficit. But it's a delicate balancing act. Read more from Josh Wingrove.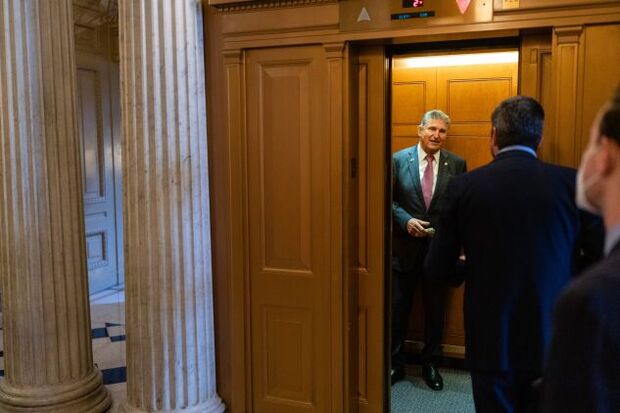 House GOP Leader Kevin McCarthy said he'd urge Donald Trump to resign, according to an audio recording from Jan. 10, 2021, four days after the Jan. 6 Capitol insurrection. In the audio, posted late Thursday by the New York Times and aired on Rachel Maddow's MSNBC show, McCarthy (R-Calif.) can be heard telling fellow Republicans during a leadership call that he planned to discuss with Trump the Democratic effort to remove him from office. "The only discussion I would have with him is that I think this will pass, and it would be my recommendation you should resign," McCarthy says in the recording, which has not been independently verified by Bloomberg.
McCarthy—who ultimately publicly opposed removing Trump from office—tweeted a denial of the New York Times story posted earlier in the day before the audio was broadcast. He called the report "totally false and wrong." Read more from Kathleen Hunter.
Ethics regulators are cracking down on legal expense funds for U.S. officials, like those created for Trump allies facing lawsuits and investigations. The Office of Government Ethics offered a rule on Thursday that would limit the use of the funds for executive branch employees and require public disclosures tracking the flow of the money. Read more from Roy Strom.
Two of Steve Bannon's former co-defendants accused of misusing donations intended to fund a wall with Mexico pleaded guilty. Brian Kolfage and Andrew Badolato told a Manhattan judge Thursday they used money donated to the non-profit Build the Wall Inc. for personal expenses. Bannon, a one-time strategist to former President Donald Trump, was pardoned on the last day of Trump's term in office in January 2021 and is no longer involved in the case. Read more from Bob Van Voris.
Pennsylvania Lt. Gov. John Fetterman's opponents in the Democratic primary for U.S. Senate used a debate Thursday night to criticize his proposal for a gas tax holiday, his plans for a billionaires tax and a 2013 episode in which he confronted a Black jogger with a gun. It was the second debate among the Democrats, and the first in which the front-runner, Fetterman, participated. So Rep. Conor Lamb, State Rep. Malcolm Kenyatta took turns attacking him on fracking, health care and taxes. Read more from Gregory Korte.
Democratic congressional candidate Nyanza Moore, who accused opponent Derrick Reed of domestic violence against his ex-wife, won her challenge to dismiss his defamation suit under Texas's anti-SLAPP law, a state court of appeals ruled Thursday. Moore and Reed were both candidates in the Democratic primary in 2020 for Texas' 22nd congressional district. Read more from Janet Miranda.
Florida Gov. Ron DeSantis is getting the congressional redistricting plan he wants. DeSantis' office submitted a House configuration tailored to maximize GOP interests, and on Thursday lawmakers in Florida left every proposed line intact and sent it back to him with their approval. Earlier, Democrats had been told to limit discussion of racist voting laws in Florida's history. Jennifer Kay has more.
Also yesterday, the GOP-led legislature cleared a bill to strip Disney of its self-governance privileges in Florida, escalating a feud between DeSantis and the entertainment giant. The legislation, which may spur the dissolution of the Reedy Creek Improvement District created in 1967 in parts of Orange and Osceola counties, was approved by the state House. Read more from Nathan Crooks.
An arm of the Justice Department cast doubt on far-right radio host Alex Jones's use of bankruptcy as three companies he once owned prepare for their first day in court Friday. The DOJ's bankruptcy watchdog, known as the U.S. Trustee, said the companies' Chapter 11 filing may be "an abuse of the bankruptcy system," according to court papers filed Thursday, Steven Church reports.
The Education Department urged colleges to help students register to vote, after Biden directed U.S. agencies last year to promote voter access when they interact with the public. Universities under federal law are required to promote voter registration. In addition to helping with registration, university campuses can double as voting sites, the Education Department said Thursday, Courtney Rozen reports.
Kentucky is barred from enforcing a new law adding administrative requirements on abortion providers while its validity is being litigated because the administrative forms and regulations required to comply don't yet exist, a federal court in the state said Thursday, Mary Anne Pazanowski reports.
Biden to Sign Order to Shield Old Growth Forests
Biden will sign an Earth Day executive order designed to safeguard old-growth forests that have come under threat from wildfires and drought. The federal government will inventory the old-growth forests on federal lands and conduct an analysis of the threats facing them—as well as policies that could reduce those risks.
That work will help determine how the administration spends $8 billion in forest and land management funds provided in the bipartisan infrastructure bill passed last year, as well as $5.7 billion for wild land fire management included in this year's government funding bill.
Scientists have identified old-growth trees as critical to fighting climate change, because they function as reservoirs for carbon dioxide—a key greenhouse gas. But timber companies have resisted restrictions regarding their logging operations on federal land, while others have argued that dense forests can fuel more extreme forest fires.
The executive order, which Biden intends to sign at an event on Friday in Seattle, will also require the government to develop reforestation targets, and seeks to bolster federal cone and seed collection and nursery capacity. Shortages of location-specific seeds have hindered efforts to plant new trees in the aftermath of devastating wildfires. Read more from Justin Sink.
MORE IN ENERGY & ENVIRONMENT COVERAGE:
Defense & Foreign Affairs
Lessons learned from the chaotic evacuation from Afghanistan have contributed to ongoing Department of Defense efforts to update data systems, change its acquisition strategy and improve information-sharing across agencies. The initial coordination of over 300 aircraft carrying hundreds of thousands of Americans and Afghans represented a "really bad example of how to manage your data," said Sharon Woods, acting chief of the Defense Department's Defense Information Systems Agency's Hosting and Compute Center, Patty Nieberg reports.
MORE DEFENSE & FOREIGN AFFAIRS:
The tiny agency—the National Telecommunications and Information Administration—that failed to avert a messy fight between airlines and telecommunications companies over 5G airwaves will soon be back in the spotlight as the U.S. looks to deploy more spectrum now used by Navy and Army radars that track targets or artillery fire and launch points for missiles, Todd Shields and Alan Levin report.
The Labor Department opted against wading into the litigation push by military reservists seeking expanded paid leave from their employers, telling the Ninth Circuit Thursday it won't file a brief in a case against Alaska Airlines and Horizon Air, Jacklyn Wille reports.
Spain is confident the U.S. will remove additional custom duties on olive imports in coming months if a court in Washington rules again in favor of Spanish growers. The U.S. Court of International Trade is set to issue its third decision on the matter by the end of July
Honduras Thursday extradited former President Juan Orlando Hernandez to the U.S. where he faces drug-trafficking and weapons charges, Michael McDonald and Bob Van Voris report.
The Coronavirus Pandemic
Biden mixed up the U.S. mask mandate with pandemic-related border controls Thursday, temporarily causing confusion about his response to key issues facing the White House. Asked by a reporter whether he plans to delay lifting a policy, known as Title 42, that allows most migrants to be quickly turned away at the border, the president responded as if he'd been asked about a judge's ruling Monday striking down the government's mask requirement on public transportation. Jennifer Jacobs and Jordan Fabian have more.
MORE ON THE PANDEMIC:
Also Around the Administration
BIDEN'S SCHEDULE:
At 10:30 a.m. Pacific time, Biden is scheduled to deliver Earth Day remarks from Seattle about his climate change agenda.
At 12:30 p.m. Pacific time, the president is slated in Auburn, Wash., to discuss his anti-inflation efforts and call on Congress to pass measures to lower health care and energy costs.
Vice President Harris's chief of staff is leaving the White House, a White House official said on Thursday, in the latest shake-up of the vice president's senior staff. Tina Flournoy's departure comes after the recent exit of a series of high-profile aides, including deputy chief of staff, Michael Fuchs, as well as chief spokesperson Symone Sanders and communications director Ashley Etienne. Justin Sink has more.
A Gallup Poll conducted in September found just 37% of Americans thought the IRS was doing an excellent or good job, down from 50% in a poll conducted in April 2019. Even among Democrats, only half said that the agency was doing an excellent or good job. That lack of trust adds political obstacles as the IRS seeks more funding from Congress, particularly for enforcement. Read the latest installment in a multi-part series from David Hood, Naomi Jagoda, and Jasmine Ye Han on the problems plaguing the IRS.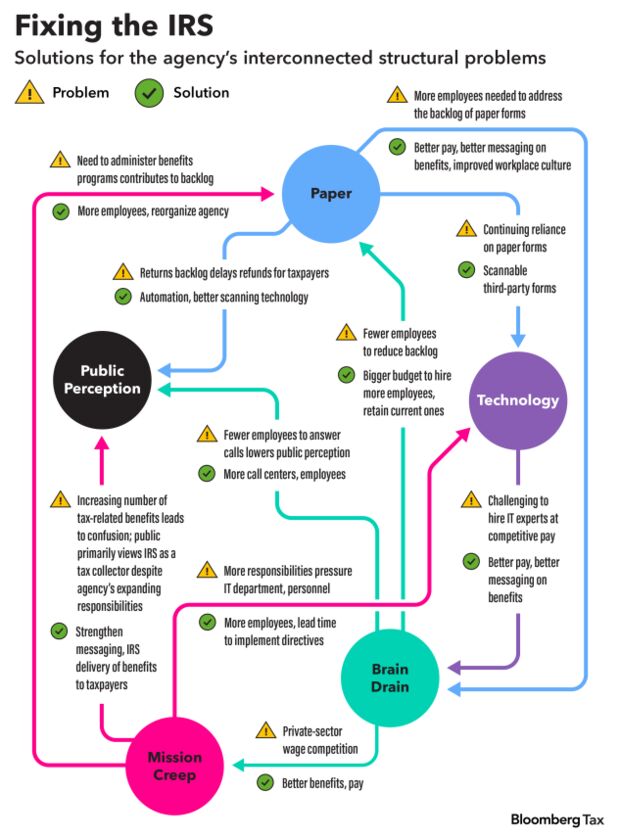 Many unauthorized, tobacco-free nicotine products could stay on the market beyond a summer deadline as the FDA grapples with its new power to regulate them and a surge of marketing applications. A government spending package for fiscal 2022 gave the FDA the authority to regulate synthetic nicotine, closing a loophole that popular e-cigarette makers had used to skirt federal oversight. Celine Castronuovo has more.
FCC Commissioner Brendan Carr asked Apple's CEO Tim Cook if the company plans to allow access to the Voice of America mobile app on its App Store in China, according to a letter Carr tweeted. Maria Luiza Rabello has more.
The Federal Trade Commission intends to update its rule governing telemarketing calls to consumers, according to the agenda for an April 28 meeting. Commissioners plan to vote on initial steps toward launching a rulemaking focused on the FTC's telemarketing sales rule, the agenda says, Andrea Vittorio reports.
The Agriculture Department's Trump-era decision to move several offices from Washington, D.C., to Kansas City missed some key costs and may have been the wrong choice, the Government Accountability Office said in a report. The move has come under fire after it caused an exodus of workers who left the agency rather than move. Meave Sheehey has more.
Federal Reserve Chair Jerome Powell blessed a half-point interest-rate hike next month and signaled support for further aggressive tightening to curb inflation by noting that he saw merit in "front-end loading" policy moves, Craig Torres, Alexander Weber and Catarina Saraiva report.
The CFPB and New York State sued MoneyGram for violations of the bureau's remittance rule, including allegations that the company gave false information to customers about when payments would be available, Evan Weinberger reports.
More Headlines:
With assistance from Courtney Rozen and Jack Fitzpatrick
To contact the reporters on this story: Michaela Ross in Washington at mross@bgov.com; Brandon Lee in Washington at blee@bgov.com
To contact the editors responsible for this story: Giuseppe Macri at gmacri@bgov.com; Loren Duggan at lduggan@bgov.com