What to Know in Washington: Biden Gets a Jobs Ally in Brainard
President Joe Biden will deliver a speech today on the economy and battling inflation after reappointing Jerome Powell to chair the Federal Reserve and elevating Fed Governor Lael Brainard to be his deputy.
The administration also announced the sale of oil from the U.S.'s strategic reserve in an effort to curb rising energy prices.
Here's what Bloomberg Government is tracking today:
Biden's Agenda:
Biden is scheduled deliver remarks on the economy and inflation at 9 a.m.
Biden, Vice President

Kamala Harris,

the first lady and the first gentleman will participate in a local service project at the D.C. Central Kitchen at 4 p.m.
The president and Jill Biden will depart for Nantucket, Mass., around 6 p.m.
Brainard Gives Biden a Jobs Ally
Lael Brainard, picked to be vice chair of the Federal Reserve, is expected to be a critical defender of its commitment to maximum employment across demographic groups at a time when other U.S. central bankers are more worried by inflation.
Her promotion from Fed governor is also the latest step in a career — spanning top echelons of the federal government and academia — that may eventually see her move even higher. She was interviewed by Biden for the post of chair before he opted to keep Jerome Powell at the helm and offer her the No. 2 slot instead.
Brainard is also co-author of the "broad-based and inclusive" language describing the Fed's full employment mandate in the framework Powell unveiled in 2020 — language was also in the last line of her acceptance remarks Monday. While Brainard sought to strike a balance with the Fed's goal of controlling prices in her remarks Monday, she's widely seen as someone firmly committed to spreading job gains as far and wide as possible. Read more from Craig Torres.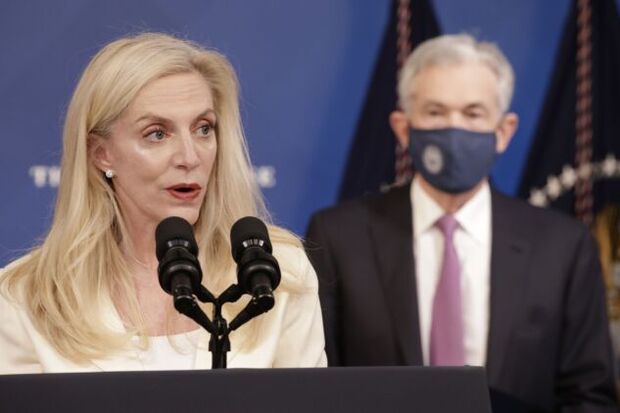 Biden gave the Federal Reserve's political autonomy a needed boost by renominating Powell, despite calls from some Democrats for a pick more closely aligned with Democrats' interest in fighting climate change and racial inequity. "Why am I not picking a Democrat?" the president asked rhetorically. "At this moment of both enormous potential and enormous uncertainty, we need stability and independence at the Federal Reserve." Indeed, Biden's decision comes at a politically delicate time for the central bank. Rich Miller has more.
U.S. to Release Oil From Reserve
The U.S. will release 50 million barrels of crude from its Strategic Petroleum Reserve in concert with China, Japan, India and South Korea, the White House said in a statement — an unprecedented, coordinated attempt by three of the world's largest oil consumers to tame prices that could prompt a backlash by OPEC+.
The decision to collectively discharge stockpiled crude after OPEC+ countries rebuffed calls to significantly boost production marks a diplomatic win for the U.S. and a challenge to the grip that Saudi Arabia, Russia and other OPEC+ producers have on the market, Ari Natter reports.
India plans to sell about 5 million barrels of oil from its strategic petroleum stockpiles as part of the coordinated move with the U.S. and other nations, according to a person familiar with the situation. The release may come within a week, and India and other countries may look at selling more crude later, the person said, asking not to be identified as the matter is private. Read more from Debjit Chakraborty.
A House Democrat who's urging the White House to reduce oil prices by banning exports of U.S. crude says he was told the idea is under consideration. Rep.

Ro Khanna

(D-Calif.) said he disagrees with a number of industry analysts and economists who have said the idea could backfire. "The economics of it makes sense," said Khanna, who chairs the House Oversight and Reform Committee's environmental subcomitteee. Read more from Ari Natter.
Roger Stone Subpoenaed in Probe of Capitol Riot
The House committee investigating the Jan. 6 insurrection at the U.S. Capitol subpoenaed five more aides and supporters of former President Donald Trump, including a long-time ally Roger Stone and radio host and conspiracy theorist Alex Jones.
The subpoenas announced yesterday underscore the panel's focus on actions and statements by Trump and his backers in the days before, during, and after the the siege, when Trump supporters stormed the building as Congress certified the 2020 Electoral College results.
The committee said Stone and Jones were both involved in a rally that preceded the mob marching to the Capitol and storming through police lines in an effort to stop the electoral vote count.
Also subpoenaed Monday were two conservative activists — Dustin Stockton and Jennifer Lawrence — who have ties to former Trump adviser Steve Bannon and allegedly helped organize the rally, as well as Taylor Budowich, a Trump spokesman who the committee said sought to set up a social media and advertising campaign to promote the rally. Read more from Billy House.
Election Challenge Lawyers Blamed by Judge for Fomenting Unrest: Two lawyers who unsuccessfully sued to overturn the results of the 2020 U.S. election must pay almost $187,000 to cover the legal fees spent by Facebook, Dominion Voting Systems and others defending the lawsuit. U.S. Magistrate Judge N. Reid Neureiter said the lawyers, Gary Fielder of Denver, Colorado, and Ernest John Walker, of Benton Harbor, Michigan, must take responsibility for their conduct because the defendants in the "pointless and unjustified lawsuit" were defamed in public court filings. Read more from Joe Schneider.
RNC Paying Trump Legal Fees in N.Y. Real Estate Probe: The Republican National Committee paid $121,670 earlier this year to a law firm representing Donald Trump in an ongoing criminal investigation in New York. Two payments to the New York firm Fischetti & Malgieri for "legal and compliance services" were included in an RNC disclosure report filed Friday with the Federal Election Commission. "I am being paid to represent Donald Trump," Ronald Fischetti, the head of the firm, told Bloomberg Government in an interview yesterday. Read more from Kenneth P. Doyle.
Trump-Backed Hopeful Halts Senate Bid: Sean Parnell (R) suspended his run for a Pennsylvania senate seat, after a judge sided with his wife in a custody battle. Parnell had been seeking the seat held by retiring Sen. Patrick Toomey, a two-term Republican. He was endorsed by former President Donald Trump in September, but the custody fight with his wife Laurie Snell—which included abuse allegations—dampened his prospects. "While I plan to ask the court to reconsider, I can't continue with a Senate campaign," he said. Emma Kinery has more.
McBath Challenges Bourdeaux in Redrawn Map: Two-term Georgia Rep. Lucy McBath announced she'll run for re-election in a redrawn seat that is being combined with the home territory of a fellow Democrat, freshman Rep. Carolyn Bourdeaux. Her decision sets up a two-incumbent primary in a safe Democratic district in the Atlanta suburbs after state lawmakers sent to Gov. Brian Kemp (R) a new congressional map that would reconfigure McBath's current district to give it a strong Republican lean. Read more from Chris Marr.
Around the Administration
President's New Copter Hits Setback: Biden's first flight on the new presidential helicopter built by Lockheed Martin is being delayed after a report by the Pentagon's testing unit warned that it's not yet "operationally suitable" or sufficiently reliable — especially in an emergency. The Biden administration hasn't yet determined if the helicopter can be put into operation because it's still assessing its safety, according to a U.S. official who asked not to be identified discussing the internal deliberations. The White House Military Office will determine the timeline. Read more from Tony Capaccio and Jennifer Jacobs.
Biden Weighs Sending U.S. Military Advisers to Ukraine: Biden's administration is considering whether to send American military advisers to Ukraine as Russian forces on that country's border pose the threat of invasion, CNN reported last night. Citing unnamed sources, the network said the U.S. was also looking into providing more weapons to Ukraine's armed forces, such as anti-aircraft stinger missiles. CNN added that some of the equipment, including helicopters, was originally meant to be used in Afghanistan. John Harney and Jennifer Jacobs have more.
Senate Intelligence Chairman

Mark Warner

(D-Va.) is pushing Biden to work alongside U.S. allies in combating Russian influence and rhetoric. "Vladimir Putin's aggressive rhetoric and actions are a threat to the peace and stability of Europe and the world," Warner said in a statement. The Biden administration "must work with our allies" to show Putin that actions to destabilize Europe's security will bring about "devastating consequences for Russia's economy," he said, Kasia Klimasinska reports.
MORE HEADLINES:
The U.S. levied sanctions on a ship involved in completing the Nord Stream 2 gas pipeline as Biden's White House looks to exert more pressure on Russia while not antagonizing German leaders determined to see the project through. In a report sent to Congress yesterday, the administration designated Transadria, a Cyprus-based entity believed to be a Russian shell company, over pipeline work done by one of its ships, the Marlin, according to a statement from Secretary of State Antony Blinken. Read more from Nick Wadhams.
The U.S. isn't headed for Covid-19 lockdown measures like those imposed by some European Union countries in response to recent surges in infections, White House pandemic response czar Jeff Zients said. Vaccines, booster shots, and therapeutics will "accelerate the path out of this pandemic," Zients said on a call yesterday. "We can curb the spread of the virus without having to in any way shut down our economy." EU members are reinstituting restrictions as Europe faces a new virus wave. Fiona Rutherford has more.
The latest U.S. Covid-19 wave is taking its toll on some states' intensive-care units, with several regions of the country seeing outbreaks that are as bad as ever. In 15 states, patients with confirmed or suspected Covid are taking up more ICU beds than a year earlier, according to Department of Health and Human Services data. Colorado, Minnesota and Michigan recorded 41%, 37% and 34% of ICU beds occupied by Covid-19 patients, the HHS data show. Read more from Jonatan Levin.
To contact the reporters on this story: Giuseppe Macri in Washington at gmacri@bgov.com; Brandon Lee in Washington at blee@bgov.com
To contact the editors responsible for this story: Loren Duggan at lduggan@bgov.com; Michaela Ross at mross@bgov.com