What to Know in Washington: Biden Gains While Trump Eyes Courts
Democrat Joe Biden's hold on the race for the White House continued to tighten as he overtook Donald Trump in a crucial swing state — and steadily chipped away at the president's lead in another — amid mounting legal complaints from Trump's campaign.
Early this morning, the former vice president overtook Trump in Georgia, a state that was last won by a Democratic presidential candidate in 1992.
In a statement at the White House hours earlier, Trump said the election is being stolen from him, despite no evidence of widespread voting irregularities.
"If you count the legal votes, I easily win. If you count the illegal votes, they can try to steal the election from us," a downcast Trump said, reciting a litany of issues with vote-counting in key states. His campaign's lawsuits to challenge the count, however, have gained little traction, with at least two being thrown out in Georgia and Michigan.
Trump Attacks Credibility of Election by Casting Doubt on Count
Each state has been counting a surge of mail-in ballots, which skew Democratic. Biden also expanded his lead in Nevada.
Biden urged his supporters to be patient as the votes are counted and expressed confidence during brief remarks yesterday. "We have no doubt, when the count is finished, Senator Harris and I will be declared the winners," he said at an appearance in the late afternoon, referring to running mate Kamala Harris (D-Calif.).
In many ways, the week has unfolded in the way many observers predicted, with Trump racking up leads in key states in votes counted on election night, while Biden has added to his totals with mail-in votes counted later that eroded Trump's advantage. Trump has pointed to that change in his fortunes as evidence of fraud, but it's common for vote totals to move in the days after the election as vote counts trickle in.
In addition, Trump spent so much time before the election telegraphing his contention that only votes on Election Day should be counted, and his threat to challenge the results, that it gave legal experts a chance to educate voters ahead of time. Josh Wingrove, Jennifer Epstein and Jordan Fabian have the latest.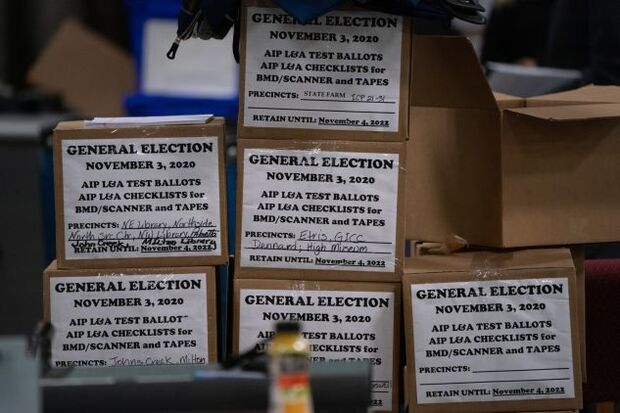 Where Things Stand in Remaining States: The contest now depends on the outcomes of a handful of states, each with varying rules on counting votes and contesting results — delaying the declaration of a winner. Wisconsin is prepared for a recount and Pennsylvania is among several states subject to legal battles. Five others have yet to be called by at least some major networks — Pennsylvania, North Carolina, Georgia, Nevada and Arizona. Excluding those, Biden has 253 electoral votes of the 270 required for victory, with Trump at 217 including Alaska. Here's the state of play and potential outlook for these seven states.
Where the Election Lawsuits Are Playing Out: The Trump campaign has filed at least six lawsuits in battleground states since Election Day to challenge the ballot counts. Republican and Democrat activists have also filed suit, but only a few of the cases may have a real chance to affect the final outcome — and only if the races remain extremely close. Trump has scored two wins and two losses since Nov. 3. Tina Davis provides a list of key court cases to watch.
USPS Says Thousands of Ballots May Be Missing: The U.S. Postal Service yesterday told U.S. District Judge Emmet Sullivan in Washington that a review of processing data revealed roughly 4,250 mail-in ballots in Pennsylvania and North Carolina may have gone missing, and that an estimated 150,000 mail-in ballots were delivered to election officials across the country on Nov. 4 — a day after the election and potentially too late to count in some states. Read more from Erik Larson.
Happening on the Hill
What to Watch Next Week: The Senate returns to work on Monday, with plans to resume consideration of the nomination of James Ray Knepp to be a judge for the U.S. District Court for the Northern District of Ohio. The House will not return until the following week, but will hold a pro forma session on Monday at 10 a.m.
Democrats Trade Blame Over Surprise Losses: Frustration among Democrats over House election losses spilled over during a conference call yesterday as several moderates blamed party progressives for promoting an ultra-liberal agenda that turned off swing voters. Rep. Abigail Spanberger (D), who narrowly won re-election in a GOP-leaning district in Virginia, was one of several Democrats who voiced anger that the party lost in contests they should have won, according to people familiar with the private caucus call. She and others contended that issues promoted by the Democratic left — such as calls to defund the police — gave Republicans an opening to paint the entire party as socialists and radicals. Spanberger's office didn't respond to a request for comment.
At least seven incumbent Democrats, six of them first elected in the 2018 Democratic wave, lost their bids for re-election. And the party fell short of flipping seats in states such as Texas that had appeared to be prime targets in this election. Read more from Billy House.
House Democrats are still expected to retain their majority but lose a handful of seats to Republican challengers. Read full reports on committee changes for the House in the 117th Congress from Bloomberg Government, Law, and Tax here.
Senate Control in the Balance Until January: Both Republicans and Democrats are preparing for the possibility that both of Georgia's Senate races will go to runoffs, which would leave control of the the Senate in limbo until January. Incumbent Sen. David Perdue (R-Ga.) was just shy of the 50% vote threshold needed to claim the seat outright, with most ballots counted. If that holds, he would once again face off against Democrat Jon Ossoff, who trailed in the race by less than 100,000 votes out of about 4.9 million cast as of yesterday.
With Georgia's other Republican Senator Kelly Loeffler already headed to a Jan. 5 rematch against Democrat Raphael Warnock, Democrats would still have a narrow, if unlikely, path to win the control of the Senate by winning both Georgia seats. Read more from Billy House.
GOP Candidates Allege Vote Fraud in Nevada: Two Republican candidates for Congress in Nevada sued the state's top election official claiming more than 3,000 votes had been cast illegally, echoing allegations made earlier in the day in Las Vegas by officials with Trump's campaign. The six-page complaint, including just 1 1/2 pages of detail about the allegations, was filed last night in federal court in Las Vegas against Nevada Secretary of State Barbara Cegavske and Joseph Gloria, the election chief in the state's most populous county. Read more from Erik Larson.
Beyond the Election
Trump's Special Twitter Treatment Would End With Biden: As president, Trump receives special treatment from Twitter when he violates the company's policies around offensive or misleading content. That exemption will end in January if he loses the presidency. The social network treats transgressions from world leaders differently than those from regular users, and often leaves up tweets that violate its content rules, adding a warning instead of forcing users to delete the posts. But former world leaders aren't protected under that policy. Read more from Kurt Wagner.
Twitter permanently suspended an account belonging to Steve Bannon, while Google's YouTube removed one of his videos after the former White House strategist yesterday advocated violence against U.S. officials. Read more from Mark Bergen and Kurt Wagner.
Facebook said after a winner of the presidential election is projected, its platforms will display a notice for users to help combat misinformation about the outcome. Read more from Sarah Frier.
Vote-Count Chaos Unfolds in States That Ignored Lessons: Much of the delay in vote counting that Trump has seized upon to cast a shadow over the election outcome could have been avoided if more states processed mailed ballots before Election Day, as practiced in battleground Florida and elsewhere. That would be "an easy, obvious, nonpartisan reform," said Michael Morley, an election law scholar at Florida State University. "We'd have results much sooner from those jurisdictions and far less of a chance for post-election shifts in apparent outcome." Read more from Todd Shields, David McLaughlin and Andrew Ballard.
U.S. Cities Swing Progressive After Election: As a nail-biter election creeps to its resolution—and tallies in urban areas decide key battleground states—a few things are clear. While the ideological cleavage between urban and rural parts of the U.S. continues to grow, progressive candidates at the local level had a strong showing Tuesday. There is a "dramatic progressive turn" taking place on the local level, said Richard Schragger, a University of Virginia professor and author of City Power: Urban Governance in a Global Age. Read more from Patrick Sisson.
Office of Special Counsel Probing White House 'War Room': Rep. Bill Pascrell Jr. (D-N.J.) said the U.S. Office of Special Counsel is investigating whether the Trump campaign violated the Hatch Act by using the White House and the Old Executive Office Building as an election-day "war room," Max Reyes reports. Neither the campaign nor the White House consulted the OSC on the decision to use those spaces for the campaign, Pascrell said in a statement. The Hatch Act prevents federal employees from engaging in certain political activities in a government building.
What Else to Know
U.S. Daily Covid-19 Cases Top 100,000: The U.S. became the first country to top 100,000 cases in one day, according to data compiled by Johns Hopkins University and Bloomberg. Illinois, Ohio, Michigan and Indiana were among states reporting record Covid-19 infections yesterday. A recent surge in the Midwest has spread more widely, with states from New York to Utah reporting increasing cases. The nation has the most cases, at 9,586,656, and fatalities, 234,777, in the world. Here's the latest on the state of the virus.
Jobs Market Set to Extend Rebound: The U.S. labor market probably extended its rebound last month, though the outlook for continued job growth is weakening for whichever candidate wins the White House. The Labor Department is set to release its October report this morning, with the figures forecast to show payrolls grew by 585,000 in October. That would be the weakest pace since pandemic lockdowns vaporized nearly 21 million jobs in April. The unemployment rate may have edged down to 7.6% from 7.9%. That would be around half of the April level that was the highest since the Great Depression era — and a better decline than economists expected earlier this year — but still more than double the half-century low in February. Read more from Reade Pickert and Olivia Rockeman.
NYPD Arrests 10: New York City Police Department officers were deployed en masse to meet a group of peaceful demonstrators on a night of post-election protests, and the city's public advocate said officers roughed him up. At least 150 uniformed officers, some wearing riot gear, and helicopters responded to a march that began outside the Stonewall Inn — a city landmark and the site of an uprising of gay New Yorkers more than 50 years ago. Read more from Fola Akinnibi and Andrew Rosati.
Mexico's Ex-Defense Minister Pleads Not Guilty: Former Mexican defense minister Salvador Cienfuegos pleaded not guilty yesterday in New York to U.S. charges that he helped a notorious drug cartel while he was the head of his country's military. Cienfuegos, who served as defense minister under former President Enrique Pena Nieto, entered his plea via video conference feed before U.S. Magistrate Judge Steven Gold in Brooklyn. Read more from Patricia Hurtado.
To contact the reporters on this story: Zachary Sherwood in Washington at zsherwood@bgov.com; Brandon Lee in Washington at blee@bgov.com
To contact the editors responsible for this story: Giuseppe Macri at gmacri@bgov.com; Loren Duggan at lduggan@bgov.com; Michaela Ross at mross@bgov.com