What to Know in Washington: Biden Favors Officials Over Industry
President-elect Joe Biden has stocked his transition team with policy experts, academics and former Obama administration officials, a contrast with the industry-friendly figures President Donald Trump sent into the government upon winning office.
The roughly 500-person group Biden's campaign announced this week will prepare federal agencies for the incoming administration and draft plans to overhaul their operations after four years under Trump. The president-elect's team includes people who favor stronger government regulation than Trump — particularly for the financial and energy sectors — and greater consumer protections.
Four years ago, Trump stocked his so-called agency "landing teams" with conservatives from think tanks and advocacy groups — including people who had been openly hostile to the agencies they were charged to review. It foreshadowed an aggressive rollback of regulations under Trump's watch.
Biden has taken a notably different tack with what he calls "agency review teams," though some liberals have raised concerns about the participation of executives from companies, including Amazon, Uber, Lyft and Airbnb.
The groups of advisers that enter federal agencies ahead of Inauguration Day are a hallmark of presidential transitions, but their influence only goes so far. After the 2016 transition, some Trump "landing team" officials later complained their policy recommendations were ignored.
And in Biden's case, they may not have much time to work. They cannot access office space or begin closely working with government officials until the administrator of the General Services Administration, Emily Murphy, issues a finding that Biden is the incoming president. She has so far declined to do so as Trump fights the election results in several states and insists, falsely, that he won.
Biden says that won't prevent his transition officials from beginning their planning. Jordan Fabian, Jennifer A. Dlouhy, Alan Levin and Ben Bain take a closer look at Biden's team.
Biden Taps Ron Klain as Chief of Staff: Biden has selected long-time aide Ron Klain, who played a leading role during the economic and public health crises of the Obama administration, as his White House chief of staff, according to two people familiar with the decision. Biden offered Klain the top job this week and he has accepted, the people said.
White House chief of staff has long been one of the most powerful jobs in Washington. The person is the gatekeeper for the president, deciding who gets to speak with him and who doesn't, and is often one of the last advisers in the room before major decisions. It's generally one of the first jobs that a president-elect fills, setting the tone for a new administration.
Klain twice served as chief of staff to vice presidents — Biden at the beginning of the Obama presidency and Al Gore at the end of Bill Clinton's administration. He also has experience on Capitol Hill that could prove important as the new administration contends with a potential Republican majority in the Senate. Klain's experience with Biden on implementing the American Recovery and Reinvestment Act in 2009, and his role leading the federal government's response to the 2014 Ebola epidemic, will be relevant to the work that the new administration will face in tackling coronavirus and the resulting economic downturn. Read more from Tyler Pager and Jennifer Epstein.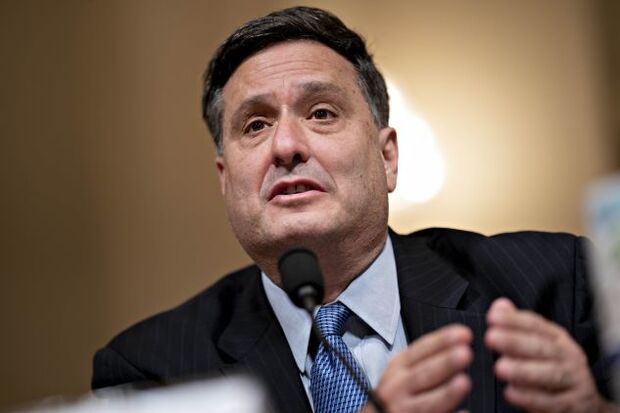 More on the Transition
Ex-Google Official Seen as a Biden Energy Pick: A former Google executive who previously led an Energy Department unit that funded research into experimental power projects is among the front-runners to lead the agency under Biden, according to two people familiar with the matter. Arun Majumdar, a Stanford University engineering professor who was named Tuesday to lead the Biden transition team for the agency, is on the short-list to be its top official, the people said.
"He has to be the front-runner if Joe Biden is looking for a politically savvy technical expert to lead the agency," said Jeff Navin, a co-founder and partner at Boundary Stone Partners, a Washington-based government affairs and communications firm. Majumdar declined to comment, instead referring questions to the Biden transition team that said in a statement that it has "not made any personnel decisions at this time." Read more from Ari Natter.
Boston Mayor Has Backing for Labor Chief: Boston Mayor Marty Walsh is drawing support from top union leaders in the intensifying contest to become Biden's labor secretary. AFL-CIO President Richard Trumka has been reaching out this week to seek union leaders' support for endorsing Walsh, according to labor officials familiar with the conversations, and the union federation could formally back him as soon as this week. Walsh's office didn't respond to requests for comment and the AFL-CIO declined to comment. "I think Marty Walsh is a great idea for labor secretary," said American Federation of Teachers President Randi Weingarten. She said Walsh, a former head of Boston's Building and Construction Trades Council, both understands labor and has a close relationship with the president-elect, which would be important in advancing a pro-labor agenda. Read more from Josh Eidelson.
Tax Credit Proposals Could Gain Traction: A Democratic president-elect and rising economic pressure on the working class are buoying hopes that family-focused tax credits could be expanded by the next Congress, no matter who ends up in control of the Senate. Biden's campaign tax plan included proposals to temporarily expand the Child Tax Credit, boost the Child and Dependent Care Tax Credit as a way to help cover child care costs, and allow people 65 and older to receive the Earned Income Tax Credit.
House Ways and Means Chairman Richard Neal (D-Mass.) is promising to press forward on all three credits in future discussions about pandemic-related aid. "If you are talking about tax relief, let's get some tax relief to the lower end of the economic scale," Neal told Bloomberg Tax in a Nov. 9 interview. Read more from Kaustuv Basu.
NYC-Area Mass Transit Poised to Benefit: Long-delayed efforts to improve transportation in U.S. urban areas are about to get a boost from Biden as president, if his campaign promises provide a guide. Biden is likely to quickly approve the Gateway project, an $11.6 billion commuter-rail link under the Hudson River between New York and New Jersey, say transit advocates and policy makers who have worked with him. The project would replace a 110-year-old, storm-damaged tunnel whose failure could shut down Amtrak train passenger service between Washington D.C. and Boston, a region that contributes 20% of the U.S. gross domestic product. Read more from Henry Goldman.
Biden Set for Civil Rights Pivot: The Civil Rights Division of the Justice Department is headed for a dramatic makeover under Biden, who has pledged to make racial equality a centerpiece of his agenda.
Biden will seek to return the division to its original purpose, focusing on anti-discrimination laws that protect millions of people in minority groups that were mostly ignored in the Trump years, said Vanita Gupta, who led the division under Obama from 2014 to early 2017. That means more enforcement of protections in housing, education and the workplace, as well as pushing for better local policing following a tumultuous year of racial unrest, she said. "This will be an even bigger pivot because of what the Trump administration represents," said Gupta, who now runs the Leadership Conference on Civil and Human Rights. "It's been a kind of systematic erosion of civil rights enforcement that is unlike anything we've seen in recent times or recent administrations." Read more from Erik Larson.
Path Back to the Iran Nuclear Deal Won't Be Easy: America's European allies have struggled to keep the Iran nuclear deal alive after Trump quit the accord more than two years ago. Biden's election victory won't provide a quick resuscitation.
Biden said during the presidential campaign that Trump's Iran policy weakened U.S. national security and left Tehran closer than ever to being able to build a nuclear bomb. He vowed to get on the phone with allies on "day one" to begin rebuilding strained ties and said he'd give Iran a "credible path back to diplomacy." But Iran's mid-2021 presidential election, as well as likely continued Republican control of the U.S. Senate, will put the brakes on quick, substantive action, according to U.S. and Iranian diplomats and analysts. In addition, Biden has signaled that his priorities starting Jan. 20 will be on the economy and getting the coronavirus pandemic under control. Read more from Golnar Motevalli and David Wainer.
Biden Reassures Japan, South Korea: Biden assured the leaders of Japan and South Korea of his commitment to alliances with the two Asian nations in phone calls, signaling that he will pursue a markedly different strategy from Trump. Biden told Japanese Prime Minister Yoshihide Suga that the security treaty between the two countries covers East China Sea islands also claimed by China. In a separate call with South Korean President Moon Jae-in, Biden reaffirmed his commitment to defending South Korea and resolving North Korea nuclear issues together, calling the country a "linchpin" for regional security. Read more from Isabel Reynolds and Kanga Kong.
Trudeau Strikes Hopeful Tone: Prime Minister Justin Trudeau said the incoming Biden administration offers Canada the chance of a return to a more harmonious relationship with its largest trading partner. Trudeau, speaking yesterday in an online interview with the Financial Times, said there are many areas of common ground with Biden on issues such as multilateralism, the environment and the approach to dealing with the Covid-19 pandemic. Trudeau became the first foreign leader to call Biden after he was declared the winner of the U.S. election earlier this month. Read more from Kait Bolongaro.
Trump Contests Votes
Supreme Court Lays Low: The U.S. Supreme Court has been conspicuously quiet as Trump and his allies press ahead with lawsuits challenging the election results and citing unfounded claims of widespread fraud. Since Friday, when one justice ordered Pennsylvania counties to segregate ballots received up to three days after Election Day, the nation's highest court has taken no other election-related steps, even with minor issues seemingly ripe for action.
The silence stems in part from a lack of opportunity, as lawsuits brought on behalf of Trump in six battleground states remain at the lower court level and so far offer no prospect of reversing Biden's victory. Yet it may also speak to a broader desire to steer clear from a fight that could leave an indelible stain on a court that now has three Trump appointees. The president has only heightened the stakes for the court's legitimacy by saying he is counting on it to side with him in any election dispute. Read more from Greg Stohr.
A State-by-State Guide to Trump's Challenges: Trump's challenge to the 2020 election results runs through six battleground states, five of which he won in 2016. This time around, Biden has five-digit vote leads in all six states with some counting continuing, including three where he leads by more than 35,000 votes in each. In order to reverse the results of last week's vote and get the 270 electoral votes needed to win the White House, Trump would need to move at least three of those states into his column. He's trying to achieve this through some combination of lawsuits and recounts that he hopes can flip the results. Experts say that would be a long shot in any one of the states and a virtual impossibility in several of them. Here's where Trump's efforts stand in each of those six states.
Georgia: By most measures, Georgia's Republican secretary of state, Brad Raffensperger, should have been taking a bow this week. Record numbers voted in a pandemic. Lines, after early hiccups, were measured in minutes, not the hours endured in the chaotic primary. Instead, Raffensperger is fending off attacks from his own party, including calls that he resign, egged on by Trump's campaign to discredit election returns. On Wednesday, Raffensperger responded, announcing an unusual hand recount of the more than 5 million votes — and then told CNN the audit will confirm Biden's victory. Georgia has until Nov. 20 to complete the recount before state law requires the secretary of state to certify the results. Read more from Margaret Newkirk.
Pennsylvania: Republicans are trying to illegally scrap 6.75 million votes in Pennsylvania because Trump is "upset" about his loss in the state, the Democratic National Committee told a federal judge. A lawsuit filed this week by Trump's campaign seeking to block Pennsylvania from certifying the election result "not only violates state law, it obliterates the constitutional rights of voters and candidates and improperly inserts this court into issues of state law and election administration minutia," the DNC said in a filing last night seeking to intervene in the case. Read more from Erik Larson.
Michigan: A lawyer for Detroit slammed a Michigan state court lawsuit alleging widespread voter fraud in the city as an "absurdity" hours after Trump's campaign filed a separate federal suit making roughly the same claims. Biden has been declared the winner of Michigan, with a roughly 146,000-vote margin over Trump. "They're looking wherever they can to get validation for the unsupported conspiracy theories they have," David Fink, a lawyer for Detroit, Michigan's largest city, argued in a hearing yesterday in Wayne County Circuit Court. Read more from David Voreacos.
What Else to Know Today
Pelosi Nominates Bustos for Steering and Policy Co-Chair: Speaker Nancy Pelosi (D-Calif.) said she is nominating Reps. Cheri Bustos (D-Ill.), Eric Swalwell (D-Calif.) and Barbara Lee (D-Calif.) as co-chairs of the Democrats' Steering and Policy Committee for the next Congress, Maria Monteros reports. Committee Co-Chair Rosa DeLauro (D-Conn.) is stepping aside to run for Appropriations Committee chairwoman.
Bustos, who won her own surprisingly close re-election race in Illinois last week, is not running for another term as chair of the Democratic Congressional Campaign Committee. House Democrats suffered a set-back to the majority in the election, sparking disagreements in the caucus over messaging and direction of the party.
Republicans Hold Alaska Senate Seat: Sen. Dan Sullivan (R-Alaska) won a second term, NBC and ABC projected, defeating Al Gross, an independent backed by Democrats, Vivek Shankar reports. Sullivan prevailed in one of the state's most expensive Senate races after Gross outraised him as the election approached. The incumbent cast Gross, an orthopedic surgeon and former commercial fisherman, as too liberal for Alaska. Gross had accused Sullivan of corruption. The Anchorage Daily News called it Alaska's ugliest Senate contest.
Latest on the Virus Surge: The American pandemic's most sustained increase in Covid-19 infections appears poised to get even longer, a worrisome indicator for overworked doctors and nurses. The nationwide uptick in cases that became noticeable around mid-September is now in its ninth week, counting from the previous low point in the seven-day average. That's a longer run than the March-April tragedy that unfolded largely in the Northeast, and the June-July upswing that hit the Sun Belt hardest. The latest upswing may not have initially been the most dramatic, but it started from a much higher base. Read more from Jonathan Levin.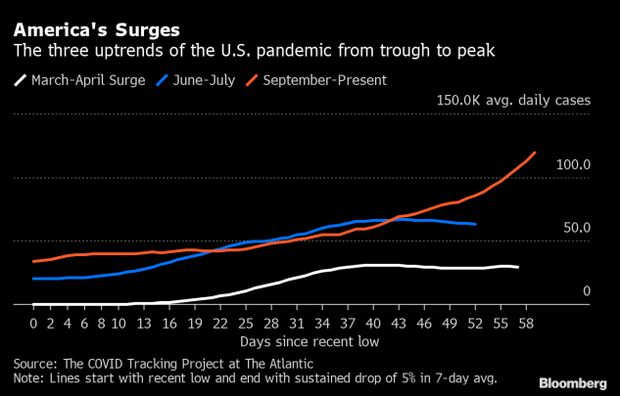 Two White House Aides and Guest of Giuliani Test Positive: At least three more people in Trump's orbit — including White House political director Brian Jack — have tested positive for coronavirus, widening the latest outbreak to ravage the West Wing. Jack, who attended Trump's election night event in the East Room of the White House, and one of his aides both tested positive for the virus, according to two sources familiar with the diagnosis who requested anonymity to discuss private medical information. So too did political adviser Healy Baumgardner, a Trump ally who attended the White House party as a guest of Trump lawyer Rudy Giuliani. Read more from Jennifer Jacobs and Justin Sink.
Trump Makes Push to Speed Up Chicken Lines: Coronavirus cases are rising, but the Trump administration is making its last push to allow chicken slaughterhouses to speed up production lines, potentially threatening social distancing that's crucial to keeping workers safe. Three days after Trump lost his re-election bid, the U.S. Department of Agriculture submitted a proposal to raise the maximum line speed by 25% to the White House Office of Management and Budget for review. Read more from Mike Dorning and Michael Hirtzer.
Top-to-Bottom Rule Review Poses Test for HHS: Ambitious plans to review all HHS regulations every decade would demand thousands of hours of staff time and open the agency up to a rash of new legal challenges, health-care attorneys and regulatory researchers say. The goal of the top-to-bottom review is to improve policies that are outdated or aren't working as intended. But combing through the Department of Health and Human Services' mountains of rules will be an extremely difficult undertaking—with the threat of regulations expiring if they aren't reviewed in time. Read more from Shira Stein.
China Moves to Snuff Out Hong Kong Dissent: President Xi Jinping effectively neutered the most democratic institution under China's rule, sending a message to Biden that no amount of pressure will prompt him to tolerate dissent against the Communist Party. China's top legislative body yesterday passed a resolution allowing for the disqualification of any Hong Kong lawmakers who aren't deemed sufficiently loyal. Chief Executive Carrie Lam's government immediately banished four legislators, prompting the remaining 15 in the 70-seat Legislative Council to resign en masse. U.S. National Security Advisoer Robert O'Brien warned of new sanctions in a statement. Read more from Iain Marlow and Natalie Lung.
Taiwan is hoping to repeat a convention-breaking telephone call with the incoming U.S. president, in defiance of warnings from China. Taiwan's government is in discussions over arranging a phone call between President Tsai Ing-wen and Biden, Foreign Minister Joseph Wu told lawmakers in Taipei today, Samson Ellis and Cindy Wang report.
China Readies Free-Trade Zone: Fifteen Asia-Pacific nations including China aim to clinch the world's largest free-trade agreement this weekend, the culmination of Beijing's decade-long quest for greater economic integration with a region that encompasses nearly a third of the global gross domestic product. Read more from Philip J. Heijmans, Michelle Jamrisko and Bryce Baschuk.
To contact the reporter on this story: Zachary Sherwood in Washington at zsherwood@bgov.com
To contact the editors responsible for this story: Giuseppe Macri at gmacri@bgov.com; Loren Duggan at lduggan@bgov.com