What to Know in Washington: Biden Faces Headways on Voting Push
President Joe Biden's call for Democrats to push through voting rights legislation faces opposition within his caucus and a backlash from constituents and advocates. Meanwhile, the administration is preparing for an inflation report today that is likely to show consumer prices continue to climb at the fastest rate in decades — though they may begin to fall in the coming months.
Here's what Bloomberg Government is tracking for Wednesday.
Congressional Agenda:
The Senate at 3:30 p.m. plans to vote on Biden's nominee to lead Federal Railroad Administration.
The House meets at noon and plans to vote on a bill to expand eligibility for veterans' benefits.
Click here for a complete list of today's hearings and markups.
Biden's Schedule:
The White House Covid-19 response team holds a press briefing at 11 a.m.
Biden will deliver remarks at the funeral of Gen. Raymond Odierno at Fort Myer, Va., at 12:45 p.m.
Press Secretary Jen Psaki holds a press briefing at 3 p.m.
Congressional Agenda Webinar: Join Bloomberg Government's legislative analysts today at 11 a.m. for a deep dive into the policy areas, spending fights, and other activity to watch on Capitol Hill this year. The analysts will discuss Democrats' social spending package, fiscal 2022 spending negotiations, and legislation to address U.S. competition with China. Register here.
Biden Demands Voting-Rights Action
Biden called on the Senate to change its rules to allow a simple majority to pass voting rights legislation, saying in Atlanta yesterday that GOP-supported state laws threaten democracy.
"The threat to our democracy so grave, we must find a way to pass these voting rights bill, debate them, vote," Biden said yesterday at Morehouse College, after visiting the crypt of Martin Luther King Jr. and the church where he was a pastor, Ebenezer Baptist. "Let the majority prevail."
His visit came amid a growing backlash from voting-rights advocates who accused the president of leaving the issue on the back burner until now to focus on his economic agenda. Some activists released an open letter dismissing his appearance as "an empty gesture, without concrete action," while the Democratic Georgia gubernatorial candidate Stacey Abrams skipped events yesterday with Biden and Vice President Kamala Harris.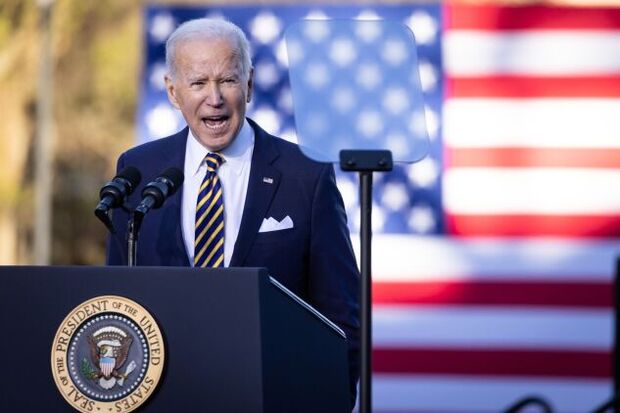 Biden faces an uphill battle for passage of the voting legislation, which is opposed by Republicans and has languished in the Senate. Biden blamed former President Donald Trump's false claims of widespread fraud in the 2020 election for GOP-controlled legislatures passing laws limiting voting access. "The goal of the former president and his allies is to disenfranchise anyone who votes against them," Biden said, referring to the measures as "Jim Crow 2.0."
Biden is seeking to pressure reluctant Senate Democrats — including West Virgina's Joe Manchin and Arizona's Kyrsten Sinema — for a controversial one-time change in Senate filibuster rules that would clear the way for action on voting rights. Senate Majority Leader Chuck Schumer (D-N.Y.) is planning a vote on changing the rules later this week, a tally that comes as voting rights legislation is stymied in a chamber split 50-50 between Democrats and Republicans. Read more from Nancy Cook.
Biden's speech received a lackluster reception from civil rights groups, a troubling sign from a crucial constituency less than 10 months out from the midterms. The NAACP, one of the nation's largest civil rights groups, and the family of the late Reverend Martin Luther King Jr., called on the White House to go beyond speeches and act with the same urgency it has on its economic agenda to pressure the deadlocked Senate to pass voting rights legislation. Read more from Mark Niquette.
MORE POLITICS & ELECTIONS:
The House committee investigating the insurrection at the Capitol issued subpoenas for testimony from three more people, including the speechwriter who helped draft the address that Trump delivered at a rally on the morning of the attack. Along with that former official, Ross Worthington, the panel said it also subpoenaed Andy Surabian and Arthur Schwartz, identified as advisers to Donald Trump Jr. Read more from Billy House.
Democrat Sheila Cherfilus-McCormick won election to the U.S. House in Florida's 20th Congressional District, defeating Republican challenger Jason Mariner, according to the Associated Press, Max Zimmerman reports. She fills the seat of the late Rep. Alcee Hastings (D). Reclaiming Hastings' seat increases the Democratic majority to 222-212.
A North Carolina court upheld the state's newly adopted legislative and congressional maps, rejecting claims of voters and advocacy groups who challenged them as partisan gerrymanders that undermine Black voting power. The verdict from a three-judge panel in Wake County is subject to appeal to the state Supreme Court. Read more from Chris Marr.
Preparing for Today's Inflation Report
Things are about to get worse — but after that, they should steadily get better. That's roughly how economists envisage the path of U.S. inflation in the year ahead.
Data today may show that consumer prices climbed 7.1% in December from a year earlier — the fastest annual pace in four decades, according to the Bloomberg survey median forecast. That may prove to be the high-water mark, or close to it, as the forces that have driven inflation up during the pandemic are expected to weaken.
Supply networks are seen becoming somewhat more orderly by later in the year. There's unlikely to be a repeat of the lockdown-era splurge on big-ticket goods, which sent those prices soaring. Some key commodities including oil are already off pandemic highs, the Federal Reserve is hitting the monetary-policy brakes, and statistical quirks will tip the scales toward lower inflation prints. Read more from Ben Holland.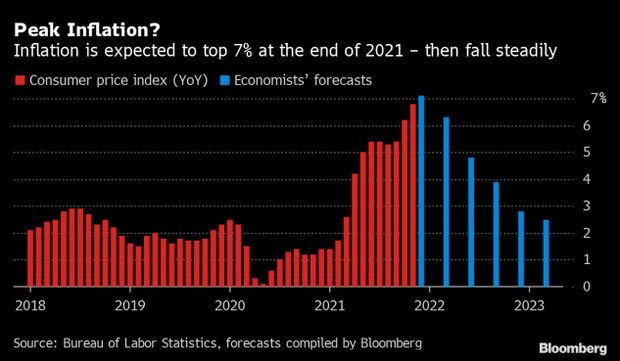 Federal Reserve Chair Jerome Powell sought to reassure lawmakers yesterday that the central bank can pull off the tricky task of bringing down four-decade high inflation without damaging the U.S. economy. In a 2-1/2 hour congressional confirmation hearing that was notably free of rancor, Powell said the Fed was on course to begin raising interest rates from near zero and reducing its mammoth $8.8 trillion balance sheet. But he portrayed those steps as a move away from an ultra-expansionary emergency policy put in place to fight the pandemic, not as a shift to a restrictive stance aimed at cooling off an over-heating economy. Read more from Rich Miller and Craig Torres.
The most common prediction among political pundits for 2022 is that Democrats will lose control of the House of Representatives in November. But political handicappers and strategists in both parties can envision plenty of scenarios for how Democrats might pull a rabbit out of their hat. Any upset would be predicated on one thing: a return to normalcy. Insiders agree that inflation would have to fall and Covid subside to the point where schools stay open and masks are an afterthought. "It needs to feel like 2019, not 2021," says Liam Donovan, a Republican strategist. Read more from Joshua Green.
Still, social-media sites are full of photographs of empty grocery-store shelves, and the head of one of the biggest U.S. supermarket chains says the situation will take weeks to improve. Albertsons had been expecting that supply outages would be improving by now, but "omicron has put a bit of a dent" in that, CEO Vivek Sankaran said yesterday. As a result, the company is still contending with a range of products that are out of stock after months of similar headaches. Read more from Brendan Case and Daniela Sirtori-Cortina.
And, workers in most states paid nearly 12% of median income for health insurance premiums and out-of-pocket expenses in 2020, up from 9% in 2010, according to a study published today. The costs of premiums and annual deductibles—expenses health plan enrollees need to pay before health-care claims are covered—consume a greater share of income in every state than they did a decade ago, the Commonwealth Fund study found. Read more from Sara Hansard.
Around the Administration
The White House is moving to prevent future shortages of Covid-19 tests by ensuring they continue to be produced in large numbers even after the surging omicron variant recedes and demand fades. "We're going to keep moving at this speed, and faster, to get volume up on a monthly basis," Tom Inglesby, Biden's newly appointed testing coordinator, said in an interview.
Biden is under pressure to bolster availability of testing as the highly transmissible omicron variant fuels a record number of coronavirus cases. Americans are waiting in long lines — sometimes for hours — to get tested, and quickly snap up the limited supply of at-home kits from store shelves, leading to widespread frustration that poses a political risk for the president. Read more from Josh Wingrove.
The administration will increase the amount of Covid-19 tests available for schools by 10 million per month, according to a White House statement, Max Zimmerman reports. The would more than double the amount of testing available for schools compared to testing that took place in November 2021. The U.S. will also send 5 million no-cost rapid tests per month to schools, with the first shipments set to be delivered later this month.
The administration's mandate that health insurers and employer health plans cover free over-the-counter Covid-19 tests for beneficiaries was "thoughtful," and addressed their primary concerns about price-gouging by test providers, an executive with a major industry trade group said. "The guardrails that were included in that guidance will protect consumers and patients and will help employers to operate efficiently," according to James Gelfand, an executive for the ERISA Industry Committee. ERIC represents large employers on employee benefits. Sara Hansard has more.
Gary Gensler's bold push for new rules already has Wall Street on edge. Now, his hard-charging style is fueling a clash with some of the Securities and Exchange Commission's own employees. The agency's labor union took an unusual step of singling out the chair by name last month, accusing Gensler of pursuing "an aggressive, anti-employee agenda" in talks about pay and benefits. The two sides are now in federal mediation after the group demanded an intervention—an unwelcome distraction as Gensler is counting on the SEC's rank-and-file to help churn out new regulations. Read more from Ben Bain.
Meta Platforms's Facebook must face the U.S. government's monopoly lawsuit alleging that the company abused its dominance and should be broken up, a judge ruled. U.S. District Judge James Boasberg in Washington yesterday denied Facebook's motion to dismiss the Federal Trade Commission's revised antitrust complaint, which the agency refiled after the judge in June dismissed the case. Read more from David McLaughlin.
Happening on the Hill
The new U.S. Space Force would have to curtail space launches and the Marines would have to delay the arrival of Lockheed Martin F-35 Joint Strike Fighters. These are a few of the scenarios military leaders plan to describe to House lawmakers today as they press to avoid funding the Pentagon at last year's levels for the rest of the fiscal 2022. Under a full year of stopgap funding, the Navy also would lack enough resources for the first Columbia-class ballistic missile submarine. The Air Force would lose $3.5 billion in buying power. The Army would have $9.2 billion in "misaligned" funds. Read more from Roxana Tiron.
Sen. Pat Toomey said he has "serious concerns" about the possible nomination of former Fed governor Sarah Bloom Raskin as vice chair of supervision at the Federal Reserve. Raskin's advocacy for financial regulators, including the Federal Reserve, to act to counter climate-change risks has drawn praise from top Democrats including Senate Banking Chairman Sherrod Brown (D-Ohio). But Toomey (Pa.), the top Republican on the committee, took a critical tack yesterday. If nominated and confirmed, Raskin would be empowered to propose changes to the Fed's regulations. Read more from Steven T. Dennis.
Sen. Maggie Hassan said she will vote against the nomination of Robert Califf as the Commissioner of the Food and Drug Administration, Se Young Lee reports. Hassan (D-N.H.) said it does not appear that the current "substance misuse epidemic" will change with Califf as head of the FDA, leading her to vote against his nomination. "I look forward to continuing to work with the administration to end the substance misuse crisis and make sure that New Hampshire has the resources and funding it needs to tackle this epidemic head on." Califf is scheduled to appear for a Senate hearing on his nomination tomorrow.
Biden's nominee to lead the Commerce Department's National Telecommunications and Information Administration was confirmed by the Senate yesterday, Maria Curi reports. Alan Davidson was approved by the chamber on a 60-31 vote. The Infrastructure Investment and Jobs Act, passed in November, allocated $42.5 billion in new broadband subsidies for NTIA to implement. Davidson will be tasked with leading efforts to dole out the funds through grants to eligible state authorities.
To contact the reporters on this story: Zachary Sherwood in Washington at zsherwood@bgov.com; Brandon Lee in Washington at blee@bgov.com
To contact the editors responsible for this story: Giuseppe Macri at gmacri@bgov.com; Loren Duggan at lduggan@bgov.com; Michaela Ross at mross@bgov.com