What to Know in Washington: Biden Faces First Review from Voters
A deeply divided US electorate delivers its verdict Tuesday on whether Democrats or Republicans have the right prescription to guide the nation through a bout of inflation, a looming recession and bitter splits on cultural and social issues.
Voters will decide control of Congress as well as state capitals across the country, but two politicians with the most at stake aren't even on the ballot: President Joe Biden and his predecessor, Donald Trump, who suggested at a rally on Monday that he would announce his third presidential run next week.
With worries about the economy at the top of voters' minds, Biden confronts daunting odds of staving off a Republican takeover of one or both chambers of Congress. That would stymie the rest of his unfinished agenda. For Trump, the election opens an opportunity to solidify his nativist ideology and election denialism in the GOP and pave the way for a comeback.
A final outcome may not be known for days or even weeks if races are as close as polls suggest and if losers challenge results. In several states, GOP nominees for top statewide offices are promoters of Trump's false claims of election fraud.
The defining mood of the 2022 electorate is outrage. Democrats are angry about the Supreme Court's decision overturning the national right to an abortion and Republicans still are waging a fight over the 2020 election and promoting conspiracy theories.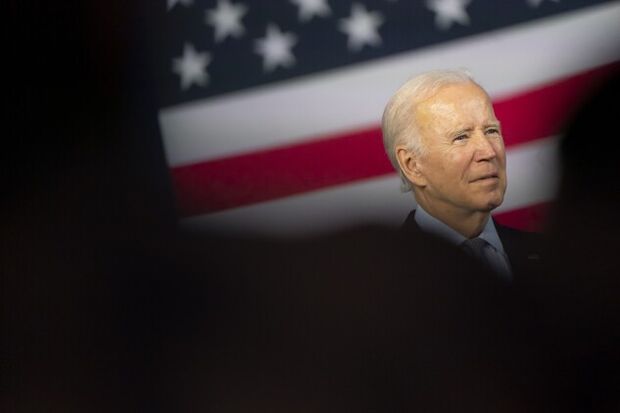 The extraordinary discontent and partisan enmity has deepened the peril to the nation's democratic institutions. Lawmakers and other state and federal officials have received an unprecedented level of threats. Barely more than a week before the election, a hammer-wielding assailant fractured the skull of Democratic House Speaker Nancy Pelosi's 82-year-old husband in their home. On the eve of the vote, Trump called Pelosi an "animal."
Polling and historical precedent suggests voters will turn the House and potentially the Senate over to Republicans, forcing Biden to spend the remaining two years of his term defending achievements such as climate funding and student debt relief from GOP attempts to undo them. On Monday, Biden acknowledged that it would be "tough" for Democrats to keep control of Congress.
Republicans need a net gain of only five seats to take control of the House, and nonpartisan forecasters anticipate the GOP will gain as much as 25, including some districts where Biden won in 2020. Senate control hinges on a handful of closely fought contests, including Georgia, Pennsylvania, Ohio, Wisconsin, Nevada and Arizona, with North Carolina, New Hampshire and Colorado also potential harbingers. Read more from Mike Dorning and Akayla Garner
Americans say the economy is their No. 1 priority as they prepare to cast ballots in today's midterm elections. The two parties competing for their votes have been painting dramatically different pictures of its current state of health.
Republicans have put soaring prices front and center as inflation — which, along with the economy in general, regularly tops the lists of voter concerns — is the highest in a generation, eating into paychecks. Meanwhile, unemployment is near its lowest in decades. For Biden's Democrats, abundant jobs and rising wages are at the heart of their economic pitch to voters.Read more from Reade Pickert and Nancy Cook
Here Are Key Races to Watch Hour by Hour as Midterm Voting Ends
Poll watchers are up for a late night tonight as they wait to hear the outcomes of the elections that will determine control of Congress for the next two years of Joe Biden's presidency.
Nonpartisan political analysts project Republicans will make the net gain of at least the five seats they need to overturn the House's Democratic majority. The evenly divided Senate, which Democrats lead only with the tie-breaking vote of Vice President Kamala Harris, is more in play.
Greg Giroux, Zach C. Cohen, and Andrew Small lay out this an hour-by-hour guide of what to watch in some consequential House and Senate races as Tuesday's election results begin to arrive. The 50 states are ordered by the time when they finish voting.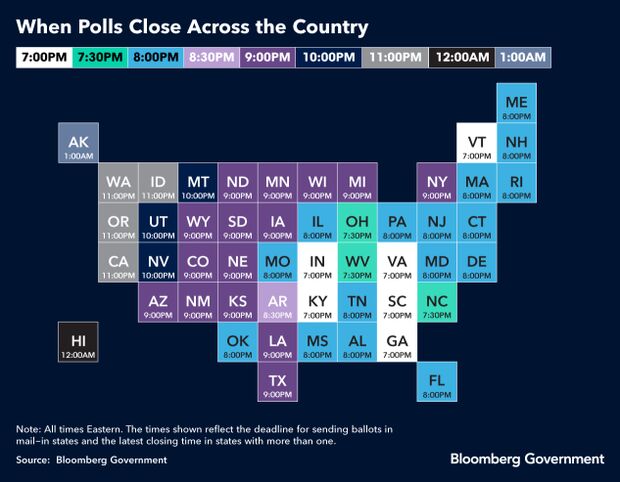 More in Politics & Influence
Voters are about to determine whether their states should legalize cannabis, set abortion limits, allow sports betting, tax millionaires, and more. The questions at the bottom of ballots can easily be overshadowed by top-of-the-ticket races and candidate attack ads. This year, though, an anti-abortion proposal in Kansas demonstrated how potent such initiatives can be because of their impact on lives and their potential to drive voter engagement.
Donald Trump said on the eve of US midterm elections that he would be making a "big announcement" next week, all but confirming his widely anticipated third White House bid that he's been teasing for weeks.
President Biden acknowledged Democrats face a "tougher" challenge holding the House than the US Senate on the eve of Tuesday's midterm elections.
Pelosi said the attack on her husband, Paul, would be a factor in deciding her political future, and expressed dismay that Trump and others, including Elon Musk, had cast doubt on the attack.
Trump appealed a judge's decision to have an independent monitor review many of his company's business activities until New York Attorney General Letitia James's lawsuit alleging fraudulent asset valuations is resolved.
Former California law school dean John Eastman fails to persuade federal appeals panel to set aside lower-court judge's order that he turn over documents to congressional committee investigating Jan. 6 attack.
Law firm political action committee donations to Republicans have caught up with those for Democrats this year as the GOP was poised to take control of the US House in Tuesday's midterm election.
An online database for tracking stock and other financial disclosures by federal judges went live Monday, a congressionally mandated site aimed at making information about courts more accessible to the public.
Happening on the Hill
The chief financial officers of 178 companies called on Congress to restore a tax break on research and development expense amortization, warning that failing to do so could lead to job losses and hurt competitiveness.
Practitioners and a key lawmaker welcomed the addition of a new estate-tax item on the 2022-2023 IRS priority guidance plan released Friday that will address whether certain trust assets are eligible for stepped-up basis.
Around the Administration
PRESIDENT'S SCHEDULE
Biden has no public events today.
North Korea denied US allegations it was selling arms to Russia for use in Ukraine, amid worries Pyongyang could be moving closer to Moscow as it faces criticism from Washington over its weapons tests.
Nvidia, the most valuable chipmaker in the US, has begun producing a processor for China that conforms to new rules aimed at limiting that country's access to artificial-intelligence computing.
Energy Department officials on Monday warned of growing threats of grid cyberattacks through renewables and customer-owned devices like rooftop solar, electric vehicles, batteries, and smart thermostats.
The fate of a Supreme Court case on the use of race in university admissions could upend decades of efforts to diversify and reverse a shrinking biomedical research workforce, researchers and academic medicine leaders said in interviews.
Brendan Carr, a Republican member of Federal Communications Commission, said Chinese social media giant TikTok should be banned in the US.
US Food and Drug Administration Commissioner Robert Califf tested positive for Covid-19, adding to the list of administration figures infected after vaccination and booster shots.
Optimism among US small businesses retreated in October for the first time in four months as the sales outlook worsened, while some measures of inflation accelerated.
To contact the reporter on this story: Andrew Small at asmall@bgov.com
To contact the editor responsible for this story: Andrew Small at asmall@bgov.com