What to Know in Washington: Biden Eyes Tax Hike to Fund Medicare
Bloomberg Government subscribers get the stories like this first. Act now and gain unlimited access to everything you need to know. Learn more.
President Joe Biden's budget will propose hiking payroll taxes on Americans making over $400,000 per year and allowing the government new power to negotiate drug prices as part of an effort the White House says will extend the solvency of a key Medicare program for another quarter century.
"The budget I am releasing this week will make the Medicare trust fund solvent beyond 2050 without cutting a penny in benefits," Biden said Tuesday in an op-ed published in The New York Times shortly before the announcement. "In fact, we can get better value, making sure Americans receive better care for the money they pay into Medicare."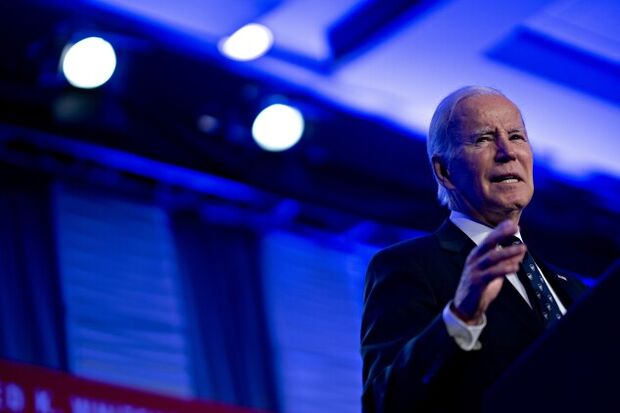 The president's budget, which will be released on Thursday, proposes raising Medicare taxes from 3.8% to 5% on annual income above $400,000, and eliminating a loophole business owners and higher-earners can exploit to avoid additional taxes, according to a White House fact sheet. The plan would also help bolster Medicare reserves through some $200 billion in prescription drug reforms over a decade by allowing the program to negotiate costs on more medications, and sooner, after they come to market.
The Medicare portion of the budget plan was announced by the White House on Tuesday and reported earlier by the Washington Post. The moves are part of a concerted White House effort ahead of looming negotiations over the debt ceiling and government funding, where Republicans vow to seek deep cuts to federal spending.
Biden's plan has little chance of becoming law, especially after Republicans took control of the House this year, but the proposal is an important signpost for negotiations over federal government spending, and it offers the president a chance to publicly outline his priorities. Read more from Justin Sink and Josh Wingrove.
Join Bloomberg Government's budget experts on Friday for a deep dive into Biden's budget request for fiscal 2024 and what it means with a divided Congress. Learn more here .
Also on Lawmakers' Radars
CONGRESS' SCHEDULE
The House returns at 2 p.m. to debate five measures under suspension of the rules.
The Senate convenes at 10 a.m. to vote on several judicial and Health and Human Services nominations.
The US is moving closer to restricting access to TikTok, with Senate Intelligence Chairman Mark Warner (D-Va.) set to unveil a bill Tuesday that the Biden administration is poised to support, according to people familiar with the issue.
The leaders of the House Foreign Affairs Committee urged Biden in a bipartisan letter to weigh sanction authorizations on China-based Hangzhou Hikvision Digital Technology. Read more
Amid US-China tensions, Taiwanese President Tsai Ing-wen persuaded Speaker Kevin McCarthy (R-Calif.) to meet in the US due to security worries, the Financial Times reports. Read more
China granted a ministry new powers and created a bureau to oversee increasingly valuable data, shaking up oversight of its tech arena as Xi Jinping battles the US in areas from AI to chips. Read more
After his first month as the top Republican on the Senate's labor panel, Sen. Bill Cassidy (R-La.) predicts there could be bipartisan action on workforce development and movement on paid leave legislation.
House Judiciary Chair Jim Jordan (R-Ohio) has subpoenaed the former head of a defunct Biden administration advisory board on disinformation, which was disbanded just months after being formed amid public backlash.
Companies' response to the global deal's domestic minimum tax will determine the impact on US corporate tax revenues, an official said Monday.
Elections, Politics & Probes
The Justice Department's staffed-up congressional-response team is working to strike a collaborative tone while girding for high-profile showdowns with the House Republican majority.
The US Supreme Court's surprise decision to seek additional briefing in a North Carolina voting case could push an open question on the role of state officials in setting federal election rules into 2024.
White House Press Secretary Karine Jean-Pierre offered a dismissive response to Democrat Marianne Williamson's long-shot 2024 presidential campaign, poking fun at the self-help author and spiritual adviser.
California Gov. Gavin Newsom (D) said the state will stop doing business with Walgreens after the drugstore chain moved to halt sales of abortion pills in 20 Republican-led states.
Around the Administration
BIDEN'S AGENDA
Biden has no public events scheduled.
At 1:30 p.m., Press Secretary Karine Jean-Pierre holds a briefing.
Regulators around the globe need to step up efforts to coordinate how they keep tabs on the digital-asset industry, according to a top US regulator.
SEC Chair Gary Gensler downplayed concerns that the agency's climate reporting requirements for companies will be sidetracked by legal challenges from Republicans and industry opponents.
The Federal Trade Commission extended the public comment period by a month for its proposed rule banning employers' noncompete agreements.
US employers are increasingly relocating employees abroad to hold onto key talent in the face of restrictive quotas on high-skilled foreign workers.
Cheese firms in the US are scared they'll lose the ability to brand their products with terms like "parmesan," "asiago," and "havarti" as the European Union increasingly pushes for geographical indications.
Two planes have yet again come within an uncomfortably close distance of each other in the US. The US National Transportation Safety Board said it's investigating a Feb. 16 incident at Sarasota Bradenton International Airport in Florida.
To contact the reporter on this story: Brandon Lee in Washington at blee@bgov.com
To contact the editors responsible for this story: Michaela Ross at mross@bgov.com; Giuseppe Macri at gmacri@bgov.com
Stay informed with more news like this – from the largest team of reporters on Capitol Hill – subscribe to Bloomberg Government today. Learn more.