What to Know in Washington: Biden Eyes First Tax Hike Since 1993
President Joe Biden is planning the first major federal tax hike since 1993 to help pay for the long-term economic program designed as a follow-up to his pandemic-relief bill, according to people familiar with the matter.
Unlike the $1.9 trillion Covid-19 stimulus act, the next initiative, which is expected to be even bigger, won't rely just on government debt as a funding source. While it's been increasingly clear that tax hikes will be a component — Treasury Secretary Janet Yellen has said at least part of the next bill will have to be paid for, and pointed to higher rates — key advisers are now making preparations for a package of measures that could include an increase in both the corporate tax rate and the individual rate for high earners.
With each tax break and credit having its own lobbying constituency to back it, tinkering with rates is fraught with political risk. That helps explain why Bill Clinton's signature 1993 overhaul stands out from the modest modifications done since.
For the Biden administration, the planned changes are an opportunity not just to fund key initiatives like infrastructure, climate, and expanded help for poorer Americans, but also to address what Democrats argue are inequities in the tax system itself. The plan will test both Biden's capacity to woo Republicans and Democrats' ability to remain unified. Read more from Nancy Cook and Laura Davison.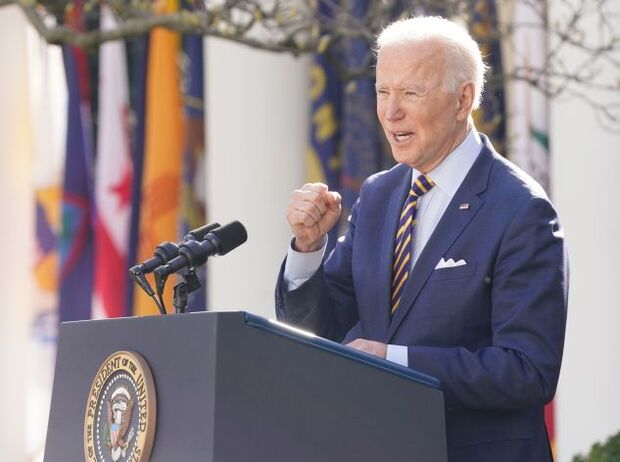 Happening on the Hill
Politics Weigh on House GOP Earmark Debate: House Republicans' internal deliberations about whether to support the return of earmarks threaten to affect the party's ability to win back control of the chamber in 2022. Democrats, who control both the House and Senate, are working to allow lawmakers to once again propose federal spending for specific issues in their districts after a decade-long ban. House Republicans would be free to participate, but they'd have to eliminate their own party's earmark prohibition, put in place in 2011. The change has set off a fierce debate within the GOP conference, with practical and political concerns on both sides of the argument. Read more from Emily Wilkins.
Republicans Press Biden on Child Migrant Surge: Republican members of Congress are trooping to the U.S.-Mexico border to put a spotlight on a surge of migrants at the frontier that they say is the result of Biden's shift from the hardline immigration policies of his predecessor. "On the border, we see that Biden's policies created a border crisis," House GOP leader Kevin McCarthy (R-Calif.) said last week as he prepared to lead a dozen other Republicans on a trip today to a detention center in El Paso. "President Biden announced that it was his priority to offer citizenship for 11 million undocumented immigrants. What did he think would happen?"
So far, Democrats in both chambers are struggling to shore up support for a comprehensive immigration approach. Speaker Nancy Pelosi (D-Calif.) decided to move in a piecemeal way, with the House to vote this week on a measure providing a pathway to citizenship for immigrants with DACA protections. A second bill would provide green cards to farm workers who don't have legal status. Read more from Laura Litvan and Billy House.
Ninth Circuit Poses Sticking Point for Court Expansion: The federal judiciary will release its latest proposal as soon as this week for creating new judgeships, and the biggest sticking point in Congress is expected to be expanding the appeals court that encompasses California. The judiciary's last proposal in 2019 included five seats on the U.S. Court of Appeals for the Ninth Circuit along with 65 district court judges in California and other states. Any expansion of the Ninth Circuit is unpopular among Republicans who think the 29-judge court covering nine western states and two territories is already too big and liberal-leaning. Read more from Madison Alder.
Grassley Wants Gupta to Explain Company Stake: The Senate Judiciary Committee's top Republican, Chuck Grassley (R-Iowa), wants senior Department of Justice nominee Vanita Gupta to answer questions about her multimillion-dollar stake in a U.S. chemical firm. Avantor, whose board is chaired by Gupta's father Rajiv Gupta, stopped all Mexican and Latin American sales of acetic anhydride, the only essential heroin chemical, after a Bloomberg Businessweek investigation last year found it was easily diverted for narcotics production. Steven T. Dennis and Chris Strohm have more.
Graves Eyes VMT as Test: The top House Republican on the Transportation and Infrastructure Committee is proposing that the U.S. Postal Service test out a new way to tax road users that would apply to both electric and gas vehicles. Rep. Sam Graves (R-Mo.) said that USPS, which recently awarded a contract for new trucks that would include some electric models, is in a good position to launch a vehicle-miles-traveled pilot program. Read more from Lillianna Byington.
Telehealth Researchers Look to Sway CBO: Telehealth organizations are rushing to publish a sweeping study of the surge in virtual doctor's visits in the past year in hopes of convincing congressional scorekeepers that allowing seniors to see their health-care providers remotely won't break Medicare's bank. The Center for Telehealth and e-Health Law is raising funds for a national analysis of telehealth use, made possible by a boom in remote doctor visits to help prevent the spread of Covid-19 at clinics and hospitals. Read more form Alex Ruoff.
Around the Administration
Sperling to Lead Covid Rescue Law's Implementation: Biden has selected Gene Sperling, a former White House economic adviser to both Bill Clinton and Barack Obama, to oversee implementation of the $1.9 trillion coronavirus relief package signed into law last week. Sperling will work with the heads of the White House policy councils and leaders at federal agencies with the mission of quickly distributing federal dollars, according to an administration official who requested anonymity to confirm the appointment before its official announcement. He will also be responsible for maximizing the impact of federal dollars and partnering with state and local governments, the official said. Read more from Justin Sink.
Biden will speak at the White House at 1:45 p.m. on his plans for implementation of the relief package, according to the White House daily schedule.
Yellen said U.S. inflation risks remain subdued as the Biden administration pumps $1.9 trillion into the economy and a return to full employment comes into view. "Is there a risk of inflation? I think there's a small risk and I think it's manageable," Yellen told ABC yesterday. Some prices that fell last year when the Covid-19 pandemic spread across the U.S. will recover, "but that's a temporary movement in prices," Yellen said, Tony Czuczka and Christopher Condon report.
Biden's Vaccine Bet Tied to Several Variables: Biden has promised Americans they can sign up for Covid-19 vaccines by May 1 and return to a semblance of normal life by Independence Day. He's gambling that his administration can make it happen. He'll either bask in the feat or suffer the consequences. Success will require coordination of federal and local governments, industry and, most crucially, citizens themselves. That won't be an easy task. Read more from Jonathan Levin, Nic Querolo, and Angelica LaVito.
At the same time, the vaccine-hesitant must be converted. Reluctance among certain parts of the population to getting a vaccine is one of the biggest risks to coronavirus control efforts, Biden's chief medical adviser said. "I just don't get it," Anthony Fauci, director of the National Institute of Allergies and Infectious Diseases, told NBC when asked about polling showing many Republicans, especially men, don't want a vaccine. Read more from Ros Krasny and Christopher Condon.
HHS Moves to Retain Vaccine Injury Payments: The Biden administration is taking the final steps toward dropping a Trump-era policy hindering people injured by vaccines from seeking federal compensation. The decision has implications either way for the effort to immunize all Americans against Covid-19, but the Health and Human Services Department said Friday that any changes to the injury program "could have a negative impact on vaccine administrators," and also be at odds with the White House's push to get all U.S. adults vaccinated this summer. Read more from Jacquie Lee and Ian Lopez.
Biden Envoys Kick Off Asian Allies Visit: Secretary of State Antony Blinken started his first overseas trip since taking office, heading to the U.S.'s two key allies in Asia as Washington seeks to counter security threats from China and North Korea. Blinken, expected to arrive in Japan today, and Secretary of Defense Lloyd Austin will hold talks with their counterparts in Tokyo and then head to South Korea later in the week for similar discussions. The meetings are intended to reassure the U.S. allies of Washington's commitment. Read more from Jon Herskovitz.
Biden Team Vows Fast Response on SolarWinds: The Biden administration said it's moving quickly to respond to recent cyber attacks on the U.S., vowing executive maneuvers on a hack using SolarWinds software, while working with Microsoft as users apply patches for the latest breach that company has faced. A senior administration official, speaking to reporters Friday, discussed the U.S. investigations into the two sprawling hacking campaigns. Read more from Alyza Sebenius and Jenny Leonard.
Politics & Influence
New Maps Drawn for Trump's GOP House Foes: Former President Donald Trump is vowing to take revenge on the Republicans who voted for his impeachment by backing candidates willing to take them on in a primary. But the new congressional map based on the 2020 Census may do some of the work for him. Six of the 10 House Republicans who voted to impeach Trump are from states expected to lose congressional seats when legislatures redraw their districts based on state-level population data from the Census Bureau coming in April. Read more from Gregory Korte and Mark Niquette.
Trump Faces N.Y. Probes: Many top-flight lawyers abandoned Trump during his divisive presidency, but he still has two in his corner as he faces his biggest legal threats. Alan Futerfas and Marc Mukasey are representing Trump in two separate New York investigations which could lead to a historic prosecution of the former president. Both lawyers have big courtroom wins under their belts and, perhaps most importantly, won't ditch their client if the political temperature rises. Read more from Greg Farrell.
Top Democratic Election Lawyer Sanctioned in Texas Suit: One of the Democratic party's top election lawyers, Marc Elias, was hit with sanctions by a federal court for violating ethics rules in a suit against Texas over straight-ticket voting, a rare rebuke for a seasoned attorney following months of tumultuous litigation over the November election. Read more from Erik Larson.
Pelosi Questions Cuomo's Future: Pelosi called on New York Gov. Andrew Cuomo (D) to "look inside his heart" and ask whether he can still do his job after other top Democrats demanded he step down over multiple allegations of sexual assault and harassment. While Pelosi sharpened her tone on the national stage, Mayor Bill de Blasio (D) said he expects the third-term governor to be impeached by state legislators "and perhaps right before that, he'll decide to resign," Jenny Surane and Tony Czuczka report.
To contact the reporters on this story: Zachary Sherwood in Washington at zsherwood@bgov.com; Brandon Lee in Washington at blee@bgov.com
To contact the editors responsible for this story: Giuseppe Macri at gmacri@bgov.com; Loren Duggan at lduggan@bgov.com; Michaela Ross at mross@bgov.com