What to Know in Washington: Biden Eyes $715 Billion for Pentagon
President Joe Biden plans to request $715 billion for his first Pentagon budget, a decrease from Trump-era spending trends, three people familiar with the plans said.
The White House plans to release an outline today of Biden's spending priorities, including defense. The plan had been widely expected last week, but its unveiling was delayed in part because of disagreements over defense spending. The three people asked not to be named because the budget isn't yet public.
The $715 billion Pentagon "top-line" is likely to be presented as a compromise to Democrats pressing for cuts in defense spending, as some funds would be slated for the Pentagon's environmental initiatives, two of the people said. The Pentagon-only budget doesn't include defense-related spending that goes to other agencies, such as to the Department of Energy, which maintains the nation's nuclear weapons.
In a change from previous administrations, Biden will also forgo labeling funding for current military operations as "overseas contingency operations," or OCO, according to one official. Lawmakers from both parties have criticized OCO as a "slush fund" of money that should be spent as part of the regular Pentagon budget.
The Trump administration had planned to propose about $722 billion for the Department of Defense in the fiscal year starting Oct. 1, although lawmakers of both parties have predicted less would be available amid competing funding demands and rising deficits from pandemic relief packages.
A $715 billion discretionary top-line would amount to a decrease of about 0.4% in real terms, adjusting for inflation from this year's enacted appropriations of about $704 billion. That's in contrast to a push for 3% to 5% real annual increases in national security spending endorsed by then-Defense Secretary James Mattis in 2017. Roxana Tiron and Tony Capaccio have more.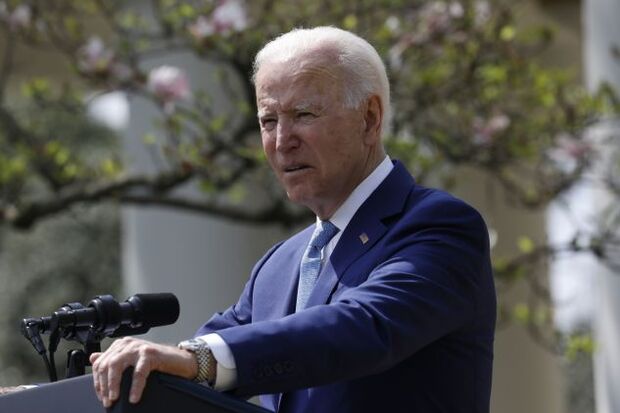 On Lawmakers' Radars
Progressives Push Back on Breyer Over Court Packing: Progressives pushed back strongly against Justice Stephen Breyer's recent warning that efforts to add seats to the U.S. Supreme Court could hurt public trust. "I didn't understand why he was weighing in on the prerogative of the legislature" as a member of the judiciary, Rep. Mondaire Jones (D-N.Y.) said. And Nancy Zirkin, a former vice president for the Leadership Conference on Civil and Human Rights, said she "was surprised by his lack of, evidently, knowledge of history." Madison Alder has more.
Utah Seeks Action on Bears Ears Monument: Utah lawmakers are pushing the Biden White House to offer a legislative option for the future of Bears Ears and Grand Staircase-Escalante national monuments. The Interior Department's review of former President Donald Trump's actions diminishing the monuments in 2017 presents an "unusual opportunity" for legislation that could end the debate over the use of the Antiquities Act to create federal monuments in the state, Sen. Mitt Romney (R-Utah) said yesterday. Read more from Bobby Magill.
Manchin Becomes Kingmaker: Democrats' upset victories in the twin Jan. 5 runoff elections in Georgia gave them a 50-50 split and control of the Senate, bumping Senate Republican leader Mitch McConnell (R-Ky.) into the minority and shifting the spotlight to someone else: Democrat Joe Manchin of West Virginia. As the Democrats' most conservative senator, Manchin represents the 50th vote on almost every issue. Little that Biden hopes to achieve will happen without his consent. "Manchin has always held some power," says Jennifer Duffy, an independent Senate analyst. "Now he holds a lot more." Read more from Joshua Green.
Around the Administration
U.S. AstraZeneca Stockpile Reaches 20 Million Shots: The U.S. stockpile of the controversial AstraZeneca Covid-19 vaccine has grown to more than 20 million doses, people familiar with the matter said, even as the vaccine looks increasingly unlikely to factor into Biden's domestic vaccination campaign. AstraZeneca has yet to request FDA authorization for the double-dose vaccine, and the company faces safety questions abroad and scrutiny from federal regulators who have already rebuked it for missteps during clinical trials and partial data releases. Read more from Josh Wingrove.
Austin to Visit Israel, Germany, U.K., Brussels: Defense Secretary Lloyd Austin will travel to Israel, Germany, the U.K. and NATO headquarters in Belgium beginning April 10, according to a statement. In Israel, Austin will meet with Prime Minister Benjamin Netanyahu and Defense Minister Benjamin Gantz. In Europe, he'll meet with NATO Secretary General Jens Stoltenberg and his counterparts and defense officials in Germany and the U.K., where he'll "reinforce the United States' commitment" to "burden sharing," the statement says, Caitlin Webber reports.
Iran Atomic-Talk Progress Could Set Stage for Blinken, Zarif: Negotiations over Iran's nuclear program are set to continue next week amid signs the sides could be closing in on a compromise, potentially setting the stage for meetings between Tehran and Washington's top diplomats. Officials will reconvene on Wednesday following days of technical nuclear talks in Vienna. While negotiators in Austria this week didn't ultimately possess the authority to make decisions needed to resuscitate a 2015 agreement, which capped Iranian nuclear activities in return for sanctions relief, they've transmitted signals that diplomacy is moving in the right direction.
Iran's willing "to continue serious discussions" as long as the other side is too, its lead envoy, Abbas Araghchi, said in a statement. Other participants, including Russian International Atomic Energy Agency Ambassador Mikhail Ulyanov, said progress was made. Direct future engagement by ministers including Iranian Foreign Minister Mohammad Javad Zarif and U.S. Secretary of State Anthony Blinken would be tangible evidence talks have advanced. Read more from Jonathan Tirone and Yasna Haghdoost.
Kerry Calls Carbon Pricing Weapon Against Climate Change: A price on carbon can be an effective tool in the fight against climate change, Special Presidential Envoy for Climate John Kerry said yesterday. Kerry said Biden "hasn't decided or made an announcement about it, but we all know that one of the most effective ways to reduce emissions is putting a price on carbon." Kerry's remarks come amid a surge in interest in carbon pricing from business groups, with both the American Petroleum Institute and Chamber of Commerce endorsing some kind of price on carbon this year. Read more from Jennifer A. Dlouhy.
What Else to Know
JetBlue Defends Donation to Election Objector: JetBlue Airways is defending its decision to make a PAC contribution to a Republican who objected to the presidential vote certification in January, saying it was resuming donations to candidates who are relevant to its business. The firm had "temporarily paused candidate contributions" to "understand how PAC contributors wanted to move forward in the current political climate," said in a statement yesterday. Read more from Kenneth P. Doyle and Mary Schlangenstein.
Ally of Gaetz to Plead Guilty in Sex-Trafficking Case: A former Florida tax collector and ally of Rep. Matt Gaetz (R-Fla.) is likely to plead guilty in a child sex-trafficking case, in a move that could pose a legal threat to the Republican congressman. At a status hearing in a federal court in Orlando yesterday, Joel Greenberg agreed with his prosecutors that his case "should resolve by guilty plea" at a hearing set for May 15 before U.S. District Judge Gregory A. Presnell, court records show. Read more from Erik Larson.
Texas Keeps Covid at Bay After Scorn for 'Neanderthal' Mask Move: When Texas Governor Greg Abbott announced that businesses in the state could fully reopen and residents could remove their masks, health experts objected and Biden declared it "Neanderthal thinking." Since the March 10 order, however, Covid-19 has been on the wane in the Lone Star state, even as infections climb in places where tougher restrictions remain. Fewer Texans are getting infected, becoming seriously ill and dying than at any time since a surge that strained the state's hospitals last summer. On April 5, as hospitalizations dropped below 2,800, Abbott said in a tweet that the state had only three Covid deaths that day. Read more from Fiona Ruthorford.
To contact the reporters on this story: Giuseppe Macri in Washington at gmacri@bgov.com; Brandon Lee in Washington at blee@bgov.com
To contact the editor responsible for this story: Michaela Ross at mross@bgov.com