What to Know in Washington: Biden Eviction Ban Eases Liberal Ire
President Joe Biden quelled for now a brewing confrontation with progressive Democrats with a new moratorium on evictions during the pandemic, but the order invites a legal fight with high-stakes consequences for public health that the government may well lose.
The Centers for Disease Control and Prevention's order yesterday, following several days of legal wrangling within the administration, aims to keep tenants who are in arrears from losing their homes until Oct. 3. White House officials hope that's enough time to stand up a long-delayed $47 billion rental assistance program.
The ban came after Biden's White House failed to anticipate outrage and finger-pointing from its own party after he called Thursday for Congress to extend a previous moratorium set to expire just two days later. Lawmakers in the House, under lobbying by landlords, failed to act before leaving town for the rest of the summer.
The drama illustrated the White House's struggle to contain a resurgence of the pandemic fueled by the delta variant of coronavirus, which has the U.S. again recording tens of thousands of infections per day and testing hospital capacity in under-vaccinated states, particularly in the politically conservative South. Biden showed his frustration yesterday, chastising Republican governors in seven states for banning mask mandates, including in schools. Read more from Nancy Cook, Billy House and Jennifer Epstein.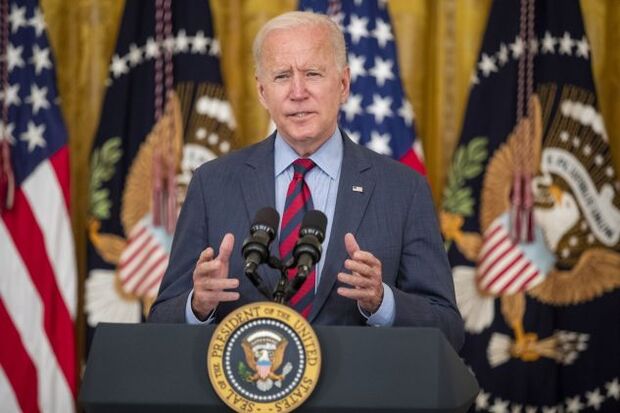 Happening on the Hill
Today's Agenda:
The Senate continues debate on bipartisan infrastructure legislation, with plans to vote on an amendment relating to border security.
Click here for a complete list of today's hearings and markups.
Nominations: The Senate yesterday by voice vote confirmed Stacey A Dixon to be principal deputy director of national intelligence.
Cut-Off Neighborhoods Shorted in Deal: A new program to reconnect communities split by highways would get $1 billion in the Senate infrastructure bill, just 5% of what the Biden administration initially proposed, and well below the cost of major projects. Advocates were disappointed with the cuts, especially given the administration's pledge to ensure equitable transportation policy. But some said the program's inclusion was a small step in the right direction if it is followed by more funding and policies to address the way communities of color have been disproportionately harmed by infrastructure in decades past. Read more from Lillianna Byington and Courtney Rozen.
Fixes for Tax Court Filing Woes Tucked in Bill: Individuals grappling with disasters or who are unable to file Tax Court petitions could get some extra help under a provision in the bipartisan infrastructure package. When a filing location isn't available—including online portals—the bill would provide 14 additional days, plus the days lost, to file Tax Court petitions. Under current rules, individuals generally have 90 days to petition Tax Court after receiving a deficiency notice from the IRS. Read more from Aysha Bagchi and Jeffery Leon.
Support Builds for Retirement Plans: Efforts to require automatic workplace retirement savings in Oregon, California, and Illinois were so successful that now the pressure is on Congress to include mandatory coverage and a tax credit in a broad retirement savings proposal for the U.S. Nearly one in four working-age Americans aren't saving for retirement, and those who are say they aren't saving enough, according to a PwC analysis earlier this year. Congress took a stab at closing that retirement gap in 2019 with legislation designed to make it easier for businesses to establish voluntary 401(k)-style plans. Lawmakers in both chambers are considering legislation that would complement the 2019 SECURE Act, automatically enrolling new employees in voluntary workplace plans and rewarding participation even more. Read more from Austin R. Ramsey.
Democratic Bill Seeks $500B Climate Damages From Firms: A group of Senate Democrats is proposing a bill that would direct the Treasury Department to tax Exxon and Chevron among other big emitters of climate pollution, according to the New York Times, citing a copy of the draft plan, Deana Kjuka reports. The draft from Sen. Chris Van Hollen (Md.), and backed by Sens. Bernie Sanders (I-Vt.) and Elizabeth Warren (Mass.) would direct Treasury and the EPA to identify companies that released the most greenhouse gases from 2000 to 2019 and assess a fee based on the amounts they emitted. This could generate $500 billion over the next decade, Van Hollen said.
Trump Pick Wins Primary for Ohio House Seat: Mike Carey, the candidate backed by former President Donald Trump, won the Republican primary for an open U.S. House seat in central Ohio, the Associated Press reports. Trump endorsed Carey, a coal industry consultant and former lobbyist, as one of 11 primary hopefuls to replace Rep. Steve Stivers in Ohio's 15th District. Stivers backed state Rep. Jeff LaRe, and Sen. Rand Paul (R-Ky.) backed former state Rep. Ron Hood. Read more from Mark Niquette.
Nunes Sues NBC Claiming Maddow Smeared Him: Rep. Devin Nunes (R-Calif.) sued NBCUniversal Media alleging that MSNBC's liberal talk show host Rachel Maddow defamed him with on-air suggestions he'd conspired with a Russian agent to rig the 2016 presidential election for Trump. Nunes, who is the ranking member of the House Intelligence Committee, says Maddow has repeatedly targeted him with defamatory statements that accuse him of obstruction of justice and treason. Nunes said Maddow has also called for him to lose his committee post and be stripped of his security clearances. Read more from Laurel Brubaker Calkins.
Around the Administration
Today's Agenda: Biden will meet at 11:15 a.m. with Eric Lander, the president's science adviser and director of the Office of Science and Technology Policy, to discuss preparing for future pandemics.
Biden Says Cuomo Should Resign: Biden called on New York Gov. Andrew Cuomo to resign after the release of a state report finding that Cuomo sexually harassed multiple women, created a "climate of fear" in his office and violated both state and federal laws. Biden and Speaker Nancy Pelosi (D-Calif.), the nation's two most senior Democrats, yesterday both joined a chorus of politicians from both parties demanding that Cuomo step down. Read more from Emma Kinery and Erik Larson.
Yellen Says Enacting Biden's Agenda Key: Treasury Secretary Janet Yellen today will warn that putting into effect Biden's economic agenda is key to preserving the status of the U.S. as the globe's superpower, according to CNBC, citing a copy of her remarks it obtained, Colin Keatinge reports. "We've grown used to America as the world's pre-eminent economic power. We aren't destined to stay that way, but with these investments, I believe we will," CNBC cited Yellen as saying in her prepared remarks. Yellen credits the rapid rebound from recession as the direct result of the Biden administration's policy decisions.
Markets Primed for Powell Second Term at Risk From Surprise Pick: On Wall Street, investors are banking on another four years for Jerome Powell as chair of the Federal Reserve — introducing a potential risk for Biden should he opt to replace him. "My view is that he would be the right choice and I think that the financial markets also believe that he would be the right choice," said Bob Diamond, chief executive officer and founder of Atlas Merchant Capital and the former head of Barclays. "I don't believe there is another candidate who kind of has a consensus around him." Diamond's take aligns him with the bulk of Fed watchers. Read more from Vildana Hajric, Max Reyes and Liz Capo McCormick.
Judge Halts Texas Restrictions on Migrant Transports: A federal judge temporarily blocked Texas state troopers from enforcing the governor's order to stop anyone who isn't in law enforcement from transporting migrants along the Texas border. The judge's order, in effect until Aug. 13, also temporarily prevents troopers from pulling over and impounding any vehicle suspected of transporting migrants who might have Covid-19. The U.S. Justice Department sued Texas and asked for an emergency suspension of Gov. Greg Abbott's (R) order, claiming Texas has no right to interfere with the federal government's administration of immigration policy. Read more from Laurel Brubaker Calkins.
With assistance from Brandon Lee
To contact the reporter on this story: Zachary Sherwood in Washington at zsherwood@bgov.com
To contact the editors responsible for this story: Giuseppe Macri at gmacri@bgov.com; Loren Duggan at lduggan@bgov.com; Michaela Ross at mross@bgov.com