What to Know in Washington: Biden Elevates Ransomware Threat
President Joe Biden, will take on the rapidly growing threat of ransomware against companies and localities by convening key officials to discuss administration strategy in the wake of a high-profile attack by hackers.
Biden will meet with various agency leaders behind closed doors today to discuss ransomware and ways to combat it, the White House said in a statement last night that called the risk a "national security and economic security priority for the administration."
The discussions will follow a similar meeting held yesterday by Anne Neuberger, the deputy national security adviser for cyber and emerging technologies, who discussed vulnerabilities and strategies with the U.S. Conference of Mayors.
Confronting ransomware is gaining new urgency for the administration following an audacious attack over the holiday weekend that affected more than 1,000 businesses with victims in at least 17 countries, according to cybersecurity researchers. A Russia-linked ransomware gang known as REvil is believed to be behind the attack, which exploited multiple previously unknown vulnerabilities in IT management software made by Kaseya Ltd.
Cities and towns and local institutions, including hospitals, have fallen victim to attacks. Neuberger, in the virtual meeting, told the mayors that a recent pilot program to bolster the defenses of electric utilities would "soon be followed by similar initiatives to strengthen the cyber resilience of other critical sectors like pipelines, water, and chemicals," the White House said. The statement did not elaborate. She pledged that that local and state and governments would "have the full resources of the federal government when responding to a cyber incident, including the assistance of cybersecurity professionals from the FBI and the Cybersecurity and Infrastructure Security Agency," the White House added. Read more from John Harney and William Turton.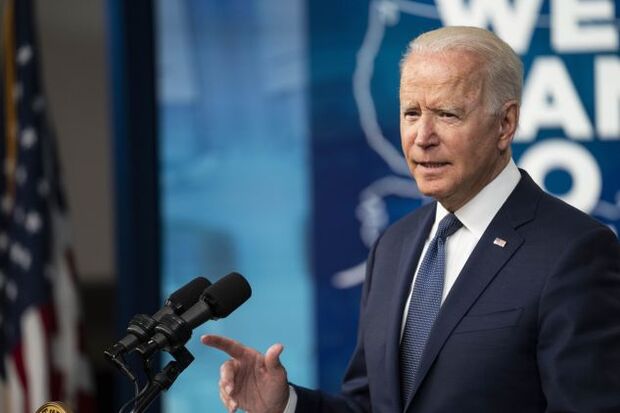 Russian Hackers Breach GOP: Russian government hackers breached the computer systems of the Republican National Committee last week, about the same time of the massive ransomware attack, according to two people familiar with the matter. The government hackers were part of a group known as APT 29 or Cozy Bear, according to the people. Read more from William Turton and Jennifer Jacobs.
Happening on the Hill
Democrats Push for DHS Funding Cut: A dozen Democratic senators are calling on colleagues to cut funding for Department of Homeland Security immigration enforcement—an area set to be a key point of contention as lawmakers determine DHS's budget. Sens. Bob Menendez (N.J.) and Alex Padilla (Calif.) led a letter to appropriators asking for cuts to U.S. Customs and Border Protection and Immigration and Customs Enforcement, as House Democrats have proposed, Ellen M. Gilmer reports.
Democrat Warns Against Budget Bill Without Immigration: A House Democratic lawmaker warned that he would decline to vote for the legislative package in which party leaders plan to incorporate much of Biden's longer-term economic proposals if the legislation doesn't include immigration reforms. Speaker Nancy Pelosi (D-Calif.) can only afford to lose a handful of votes from her caucus and still pass a bill if Republicans are united against it, underscoring the potential complication from yesterday's comments from Rep. Jesus Garcia (Ill.). Read more from Sophia Cai.
Broadband Fight Pits Fiber Fans Versus Cable Industry: A large coalition of industry groups and public interest lobbyists are pushing Congress to invest in "future-proof" high-speed fiber networks in a battle over how to divvy up the $65 billion proposed to expand broadband internet service. The spending is included in an infrastructure package tentatively agreed to by a bipartisan group of senators and Biden. But as they move to hammer out details of the plan, lawmakers must address a clash between companies and groups that want the country to invest in the fastest, most innovative networks, and some of the more traditional providers who argue such an approach is too expensive and distracts from the goal of expanding internet reach. Read more from Megan R. Wilson.
Groups Press Vilsack on Animal Testing: The USDA must bar its commodity research and promotion boards from funding animal experiments with assessment fees required of agricultural producers, a national advocacy group for Black farmers wrote in a letter today to Secretary Tom Vilsack, Megan U. Boyanton reports. Family Agriculture Resource Management Services joined animal rights organization People for the Ethical Treatment of Animals in an effort to curb spending by agricultural checkoff programs on tests the nonprofits say are meant to boost food marketing. Struggling farmers "don't need barbaric tests on animals to sell their agricultural commodities," wrote F.A.R.M.S. founding director Jillian Hishaw in the letter. "Rather, they need economic relief from inflated assessment fees that are wasted on worthless experiments on animals."
Education Civil Rights Pick to Get Hearing: Catherine Lhamon, Biden's nominee for assistant Education secretary for civil rights, will get a confirmation hearing at the Senate Health, Education, Labor, and Pensions Committee on July 13. Lhamon served in the same role during the Obama administration from 2013 to 2017. During that time, she led the administration's policies to push for tougher responses to sexual misconduct on college campuses, Andrew Kreighbaum reports.
Republicans Question Tech Firms on Student Data: Republican lawmakers led by Rep. Michael Cloud (R-Texas) questioned Microsoft and Google about data-collection practices regarding students, teachers and schools. "Parents should be able to protect their children online and monitor their activities to ensure they are not accessing inappropriate content or being targeted," Cloud and 14 other Republican lawmakers said in a letter, Brody Ford reports.
Permanent Fix for Deported Vets: Lawmakers on both sides of the aisle are pushing legislation to help people who were deported after serving in the U.S. military. The Biden administration announced last week it would review the removals of noncitizen service members, veterans, and family members; bring home those wrongly deported; and ensure they can access government benefits. Several members of Congress praised the development but said it must be reinforced on Capitol Hill. Read more from Ellen Gilmer.
Around the Administration
Today's Agenda: Biden will meet officials at 9:30 a.m. to discuss efforts to counter ransomware. The president will then depart the White House at 10:30 a.m. en route to Illinois, where he will tour McHenry County College and tout his economic proposals in a speech at 2:05 p.m. Biden in Illinois today will discuss tax cuts for businesses and consumers investing in clean energy technologies and setting a clean electricity standard, Kasia Klimasinska reports. He will lay out a goal for climate, conservation and resilience workers, White House said.
Microsoft, Amazon to Split Contract as $10 Billion Deal Canceled: The Defense Department will pivot to a new enterprise cloud contract after canceling its embattled $10 billion cloud award to Microsoft. Instead, the Pentagon will split the work with Microsoft, Amazon Web Services, and possibly three other U.S. providers, senior Pentagon officials announced. Microsoft and AWS are the only two vendors capable of meeting the Pentagon's cloud requirements, Acting Pentagon chief information officer John Sherman told reporters yesterday. Awards could come as early as 2022, he said. Read more from Chris Cornillie.
Biden to Shift Covid Funds to Kids at Border: The Department of Health and Human Services plans to reallocate $860 million of funds appropriated to the National Institutes of Health to cover an increase in pandemic-related costs associated with unaccompanied children at the border. Health Secretary Xavier Becerra notified members of Congress yesterday that the department would reallocate the funds to cover increased costs in ensuring the safety of children arriving at the Southwest border, as well as staff attending to them at shelters, according to a letter seen by Bloomberg News. Read more from Riley Griffin.
Pentagon Weighs Mandating Vaccines for Troops: Pentagon officials are discussing whether to require troops to take Covid-19 vaccines as the Food and Drug Administration inches toward full approval of the shots, DOD spokesman John Kirby said yesterday. Inoculation remains voluntary for 2.9 million military service members and civilian personnel because Pfizer-BioNTech, Moderna, and Johnson & Johnson vaccines have only been granted federal emergency use authorizations. Read more from Travis J. Tritten.
Trump Country Rejects Vaccines: Biden set a goal for 70% of American adults to get at least one Covid-19 shot by July 4, a symbolic nod to Independence Day. Despite ample vaccine supplies, he missed that target, largely because the government has struggled to give away shots in rural, deeply conservative regions that are bastions of support for his predecessor, Donald Trump. Read more from Josh Wingrove.
U.S. Says More Than 535 Defendants Arrested Since Jan. 6 Attack: Half a year after the Jan. 6 Capitol riot, over 535 people have been arrested, according to a Justice Department statement, Brody Ford reports. 495 defendants have been charged with entering or remaining in a restricted federal building or grounds. At least 165 have been charged with assaulting, resisting, or impeding officers or employees. The public provided more than 200,000 digital media tips.
Veteran of Obama Admin Tapped to Head Medicare Program: An Obama-era veteran of the Affordable Care Act wars and surgeon will take charge of the nation's Medicare program under Biden, the Centers for Medicare & Medicaid Services announced. Meena Seshamani, a head-and-neck surgeon who most recently was vice president of clinical care transformation at MedStar Health, became deputy administrator of CMS and director of the Center for Medicare yesterday. Read more from Christopher Brown.
U.S. Names Taiwan Envoy: The U.S. appointed a new top representative to Taiwan, in the Biden administration's latest move to strengthen ties with Taipei amid increasing pressure from Beijing. Sandra Oudkirk is the incoming director of the American Institute in Taiwan's Taipei office, the de facto U.S. ambassador in the absence of official ties, succeeding Brent Christensen later this summer, the institute said in a statement last night. Read more from Samson Ellis and Betty Hou.
U.S. Worker Aid Becomes a Casualty as Biden Trade Authority Ends: Biden's pledge to refrain from pursuing new trade deals is leaving a key training and assistance program for workers, who the administration says are at the center of its agenda, without a clear path for renewal. Biden on July 1 officially lost Trade Promotion Authority, or TPA. But TPA expiration coincided with the end of enhanced Trade Adjustment Assistance, or TAA — a program renewed along with the fast-track authority six years ago. TAA provides aid for Americans who lose their jobs or whose hours and wages are cut due to competition from imports. An estimated 48,000 workers, primarily in service industries, will lose eligibility for benefits over the next year, according to the Department of Labor. Read more from Eric Marin and Benjamin Penn.
U.S. Allowed to Appeal Assange Extradition: The U.S. government was granted permission to appeal a London court decision not to extradite Julian Assange on a "limited basis," a spokesman for the WikiLeaks founder said. The U.S. is allowed to challenge whether the Judge applied the law correctly, if she gave the U.S. sufficient advance notice of her decision and whether assurances given by the government mitigate Assange's risk of suicide. Read more from Ellen Milligan.
With assistance from Megan U. Boyanton
To contact the reporters on this story: Giuseppe Macri in Washington at gmacri@bgov.com; Brandon Lee in Washington at blee@bgov.com
To contact the editors responsible for this story: Zachary Sherwood at zsherwood@bgov.com; Loren Duggan at lduggan@bgov.com; Michaela Ross at mross@bgov.com