What to Know in Washington: Biden Economic Plan Hits Crunch Time
Slimmed-down economic agenda faces summer deadline
House Jan. 6 panel holds two hearings this week
Crunch time has finally arrived for President Joe Biden's economic agenda as congressional Democrats scramble for a deal on a slimmed-down version of what was once a multi-trillion-dollar overhaul of domestic policy.
The Senate aims to pass the revised package before its summer recess begins Aug. 8, a move that would line up a win for Democrats defending their slim congressional control ahead of November's midterm elections.
Democrats appear to have learned from last year, when progressives and the White House tried to force holdout Sen. Joe Manchin (D-W.Va.) to accept a bill of up to $6 trillion. They later scaled it down to $2.2 trillion, but the moderate West Virginian — whose vote is pivotal in the 50-50 Senate — ended up walking away.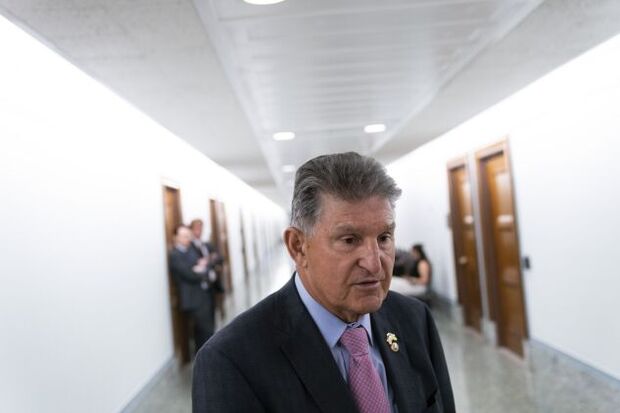 This time, Senate Majority Leader Chuck Schumer (D-N.Y.) has worked closely with Manchin to reach agreement on prescription drug price cuts and extending Medicare's solvency. More contentious details on energy spending and tax provisions aren't finalized between the two senators, but Democrats hope to unveil deals on those this week.
The new bill is expected to raise about $1 trillion in revenue, half of which would be used on new spending and half on cutting the deficit over a 10-year period. Read more from Erik Wasson.
The effort to reduce skyrocketing US drug costs, one component of Democrats' plan, may hurt its own goal by stripping pharmaceutical companies of the incentives for producing blockbuster drugs and their cheaper counterparts, industry groups and analysts warn. Ian Lopez has more.
Also on Lawmakers' Radars
CONGRESS' SCHEDULE:
The Senate returns at 3 p.m., with votes planned on Defense, ATF, Fed nominees
The House is back tomorrow to take up abortion, defense policy, and active shooter bills
Lawmakers are strategizing on how to advance their major priorities this summer as they face a barrage of deadlines. Two packages—bipartisan legislation (H.R. 4521) to bolster competitiveness with China and a budget reconciliation bill covering key Democratic priorities—are likely to dominate talks. After the August recess, lawmakers are facing a Sept. 30 deadline to extend government spending and several expiring programs. BGOV reporters break down Congress' July agenda in an OnPoint.
Senate Republican Leader Mitch McConnell is creating an ill-timed "false choice" by threatening to block the legislation carrying over $50 billion to subsidize US semiconductor chip manufacturing, Commerce Secretary Gina Raimondo said. "That has to pass," Raimondo said on ABC. "It has to pass now. Not six months from now."

McConnell

(Ky.) has said he'll block the bipartisan competition legislation if Democrats plan to use a partisan budget process to pass a separate economic package. Billy House has more.
The House returns from its July 4 recess tomorrow with plans to vote on updated legislation to codify Roe v. Wade (H.R. 8296) and a measure that would ensure women can cross state lines to obtain legal abortions (H.R. 8297), according to a letter that House Majority Leader Steny Hoyer (D-Md.) sent to colleagues on Friday. The House Rules Committee is set to consider both bills on Tuesday. Read more from Zach C. Cohen.
Elections, Politics & Probes
Former President Donald Trump cleared Steve Bannon to speak to a House panel investigating the Capitol insurrection, setting the stage for a fresh round of potentially dramatic testimony.
His ex-chief adviser's refusal to testify had raised the possibility of two years in jail and large fines. This last-minute reversal could either result in significant revelations by an unpredictable former confidant, or stonewalling or even a public spectacle in Trump defense.
The committee, which Trump has regularly vilified, is heading into what may be a climactic week of two public hearings — one on Tuesday to parse to what extent Trump incited extremist groups such as the Proud Boys and Oath Keepers in the Jan. 6, 2021 Capitol storming.
The second, likely on Thursday, will examine his actions between the start of the attack and when he urged his supporters to go home. Billy House and Sabrina Willmer have the latest.
The founder of the Oath Keepers militia group, Elmer Stewart Rhodes, is willing to testify to the House committee, his lawyer said, but only if it's a public session. "He's willing to waive his Fifth Amendment rights, he wants to testify in public, and he wants to testify live," James Lee Bright said in an interview. "I don't think they'll go along with that," Billy House reports.
Separate from the Jan. 6 probe, a court ordered Trump to hand over financial records to a congressional committee investigating his potential conflicts of interests. A Washington appeals court ruled the House Oversight Committee can obtain among other things documents related to payments made by government officials to Trump hotels, accounting records and information related to a hotel in the Old Post Office building that Trump leased. Sabrina Willmer has more.
Trump had harsh words for billionaire Elon Musk at an Alaska rally over the weekend, accusing the Tesla CEO of inconsistency. Referring to Musk's pronouncement that he'd never voted Republican until this June, Trump said that contradicts with what Musk had told him. Trump followed with an expletive description of the world's wealthiest man. Read more from Vlad Savov.
At a time when airwaves are saturated with political ads, the Koch Group says it's found a more effective way to reach key voters. Leaders say they re-emphasized paid canvassing, digital ads and direct mail because human contact is the best way to convey agendas in an environment awash with competing and confusing political messages. Congressional primaries and the November election will test the effectiveness of that approach. Zach Cohen and Kenneth Doyle have more.
Black gun rights groups are seizing on a Supreme Court ruling that makes it easier to carry handguns in public, touting it as an important vindication of their rights to self-defense and an opportunity to reshape the debate in the Black community over gun ownership six years after the killing of Philando Castile. The justices in June struck down a New York state law on concealed carry that restricted the carrying of handguns in public by most people. Ayanna Alexander has more.
Around the Administration
PRESIDENT'S SCHEDULE:
Biden at 11 a.m. hosts an event commemorating enactment of the Bipartisan Safer Communities Act (Public Law 117–159).
At 5 p.m. Biden and Vice President Kamala Harris will receive a briefing from NASA and preview the first images from the Webb Space Telescope.
Biden's move to protect abortion access includes an effort to enlist the Federal Trade Commission to help the Department of Health and Human Services safeguard reproductive health care privacy. In a July 8 executive order, Biden urged the FTC to help combat "digital surveillance" of reproductive care based on data like fertility app usage. Read more from Andrea Vittorio and Allie Reed.
The death of Roe has sparked alarm about the potential use of sensitive data in states where abortion is illegal to investigate whether a person has had the procedure. Five states—California, Virginia, Colorado, Utah and Connecticut—have enacted comprehensive consumer data privacy laws in recent years, part of a growing trend of state action in the absence of a sweeping federal law. Read more from Jake Holland.
Biden said he's asked his team to explore the possibility of declaring a public health emergency to protect access to abortion services. "I've asked the folks on the medical, people in the administration to look at whether I have the authority to do that and what impact it would have," Biden told reporters Sunday, pressing abortion-rights supporters to "keep protesting." The president reiterated his "bottom line" goal is to codify abortion rights in US law. Read more from Nancy Cook.
Biden defended his upcoming visit to Saudi Arabia in The Washington Post and pledged to give attention to human rights on his visit with the crown prince, a meeting that's been widely criticized by opponents of Mohammed Bin Salman's policies. Read more from Nancy Cook.
Even if Biden secures a pledge for more oil when he visits Saudi Arabia this week, it may do little to drive down the high fuel prices roiling the global economy. The president's visit to a country he once vowed to isolate represents a significant thawing of relations, but the Saudis and their OPEC partners have limited spare production capacity to offer in return for this political concession. Read more from Grant Smith.
Biden and his Chinese counterpart Xi Jinping are set to speak again in the coming weeks, Blinken said Sunday. Blinken spoke with Chinese Foreign Minister Wang Yi a day earlier for more than five hours to help lay the groundwork for a call between both leaders. While Biden said last month he would speak with Xi "soon," Blinken suggested it was getting closer. The call would come as the US steps up criticism of China for its diplomatic support of Russia. Read more from Iain Marlow.
Blinken on Saturday blasted Beijing over its support of Russia after the talks on the sidelines of the G-20 meeting. Blinken said he told Wang that China wasn't neutral on the Ukraine war because there's no such thing as being neutral when there is a clear aggressor. Iain Marlow has more highlights from their talks.
Biden said the White House is still discussing possible action on US tariffs on Chinese imports, after Commerce Secretary Raimondo said she expects a decision shortly. "No, we are having further discussions on that," Biden said Sunday when asked if there was a decision. Read more from Nancy Cook and Leah Nylen.
Biden praised the Central Intelligence Agency's efforts to expose Russia's plans to invade Ukraine, telling the staff that they had "punched a gigantic hole" in President Vladimir Putin's objectives. "It was thanks to the incredible work of our intelligence professionals that we were able to forewarn the world what Vladimir Putin was planning in Ukraine," Biden said during his first visit as president to CIA headquarters in Langley, Va. Read more from Akayla Gardner, Justin Sink and Jordan Fabian.
Biden called Japan's premier to extend his sympathy and outrage over the fatal shooting of former leader Shinzo Abe, whose killing at a campaign rally shocked a nation where political violence and guns are rare. Prime Minister Fumio Kishida denounced the act that took place ahead of a Sunday election as "despicable and barbaric." Read more from Yoshiaki Nohara and Jon Herskovitz.
The Justice Department is calling on the Supreme Court to toss a ruling that sidelined the Biden administration's immigration enforcement priorities. DOJ lawyers filed a stay request Friday, saying a district court overstepped when it froze the enforcement policy. The Department of Homeland Security's guidelines in question direct officials to prioritize the deportation of people who threaten national security or border security. Ellen M. Gilmer and Kimberly Strawbridge Robinson have more.
To contact the reporter on this story: Brandon Lee in Washington at blee@bgov.com
To contact the editors responsible for this story: Giuseppe Macri at gmacri@bgov.com; Michaela Ross at mross@bgov.com